Dear Laurel
After reading your earlier posts about sofas and sectionals I was hoping you would also address sleeper sofas. We're considering replacing a sofa for a sleeper in my husband's office. (Currently, there is a 72" tuxedo sofa in there, which, for size & style, has worked great) The sleepers I remember always had this god-awful bar across the middle and no amount of foam egg crate would improve it much. Have they improved, and what features does one look for?
Thanks for your blog. I always look forward to reading it.
Julie
***
Julie asks a very good question and so I'm going to do my best to address the best sleeper sofas – PLUS alternative options when you have guests coming and have no designated guest room for them to stay in.
First of all, you have to decide how long you'd like your guests to stay. If you would rather that they leave quickly, then I would go for something cheap and uncomfortable.
Just kidding.
But, here are the other considerations you need to make when trying to figure out sleeping arrangements for out-of-town guests
Which room or area of your home will your alternative sleeping arrangement take place?
Well, it depends on how large your home is. If it's a studio apartment, your guests will be bunking with you. Slumber party! In a one-bedroom apartment like I have, it's the living room.
But the most common space is a room that's usually designated as the office or den. In this case, the style of the piece of furniture being used for sleeping could be more contemporary which opens up a lot of options, even if your style is more traditional.
Do the guest(s) require privacy and if so, can you create that for them?
In my apartment, my zuber screen fits perfectly over the doorway affording privacy if my son is here with his girlfriend.
Are they adults and/or children?
Adults usually want to be comfortable. Kids will sleep anywhere. When I was a kid in Indiana, I used to love it when my two first cousins would come and visit from Wisconsin. My mom took the mattresses off the bed and two of us, slept on the box spring. It didn't care. It was so much fun with the room being wall-to-wall bed!
Are there any other restrictions, such as an uncle that weighs 350 lbs? Or any other difficulties, like an elderly parent who has mobility issues?
And, if everyone is elderly, do you have the strength to open up a sleeper sofa? Most of them require a hefty pull to get open.
How many guests will you need to accommodate?
Do you have the space, required?
Well, you might not need any extra space for just one person.
There is a wide variety of options from an air mattress either on the floor (or a stand that you can get), to a high end sleeper sofa with down cushions.
But, you want to know…
Are the best sleeper sofas comfortable?
Well, I can't say for sure in this regard, however, there are two aspects of comfort to consider.
One, the sofa before it becomes a bed
The bed after it ceases being a sofa.
In my experience, the best sleeper sofas are comfortable as sofas. But, most are not comfortable as beds. In order to get the mattress to fold, it needs to be thin and that doesn't give adequate support.
However, a solution for that issue that should help is to get a mattress topper after the bed is open. I love memory foam.
Some of the current models already come with a memory foam mattress. And some sleeper sofas come with an air mattress. Those options should provide better comfort.
However, the thing that I've noticed over the years, either when we needed to use our sleeper sofa or we were in a place where we had to sleep on one, is this. Invariably either our guests or us hauled the mattress out of the sleeper and put it on the floor. So, what is the point of having a sleeper except for a place to store the mattress?
Hence, if you have any doubt whether it's a good idea or not, why not save yourself the hassle and get some air mattresses for your out-of-town guests?
Or, if you have the room to store one, a good old-fashioned roll-away cot is not a bad idea.
Gosh, hardly anyone talks about those anymore. But we used to have one when I was growing up and my grandparents used to set their cot up in the small kitchen where I got to stay a few times. I'm trying to remember what happened to the table, but I guess, they moved it out-of-the-way and then we had to fold the cot up each morning.
The issues with a cot are that they take up a fair amount of space and they only sleep one person.
I had a self-inflating air mattress when I first moved six years ago. That's because I had my lovely Serena and Lily Harbour bed, but no mattress for three weeks. It was okay, but I was very glad when my mattress came.
It was like this Ivation bed which you can see here. They have a fun video to show how EZ it is to inflate.  They also have a full-size.
Is it as EZ as they show it to be?
No, of course not. It's cumbersome and you have to wheel it to where you need it to be. But, it's not terribly difficult; it really does inflate in a jiffy. And, it's not too difficult to put away. After I got my sleep sofa, I gave the self-inflating bed to my wasband. It still took up too much room in my closet and I don't need it.
The other thing I've noticed is that when there is just one person, they usually can't be bothered to open up the sleeper.
So, the options there, are to either get a bona fide day bed or a chaise-sofa combo.  There are quite a few nice ones on the market.
OR, some sofas, especially those with loose-back pillows are deep enough for one person. My son never opens up my Lee sleep-sofa when he comes to visit on his own. It's really not bad.
The next option is a day-bed. A daybed holds a twin size mattress which measures 39″ x 75."
My favorite Harbour Cane Daybed from Serena and Lily.
Oh, if you didn't see yesterday, S&L sent me a catalog with a promo code for 20% off the ENTIRE SITE. And they just got 500 new items in. You can find out more about that here.
A daybed or lounge sofa is a great option for a situation where the room is mostly functioning as a room with a sofa, but that it frequently needs to also be a bed for one person. Or, the cheaper ones are also a good option for dorm rooms or young 'uns or folks who feel young but aren't. ;]
Are they comfortable, you want to know?
Some are probably more so than others.
I found this daybed on Wayfair that also comes in a beige. It has great reviews and it's super inexpensive. I could see it for someone young who needs a bed that doubles as a sofa.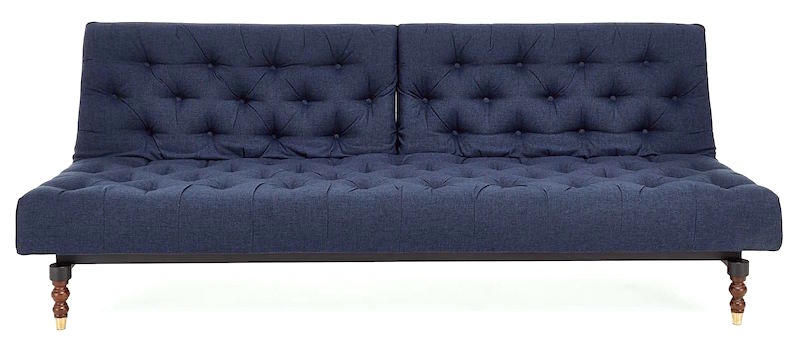 This one is available at ABC Carpet and Home. The cool thing about this one is that the back folds down to make a twin and one half bed. I guess that can accommodate two people who aren't terribly large for a couple of nights. The company is called Crash Pad. haha. How brilliant is that!
I also love the following loungers. A lounger is a cross between a chaise and a sofa.
West Elm Mid-Century Lounger
Oooohhh, it's on sale right now and comes in a bunch of different fabrics and of course, right facing too.
But, all you would need to do is put a sheet over the cushion and you could put your head on the wide end. Or, which ever way your guests are more comfortable. And I think this would be a great solution for when you need a sofa and a bed.
Of course, you could also have a nice deep sofa with back cushions like mine as mentioned earlier. This one is a sleeper sofa, but it also comes in a non-sleeper sofa, if you think that the cushion will be enough for your needs. We've also put the seat cushion on the floor and used the sleep sofa when I've had both sons home.
And in case you think that this would only work for a small person, well, my son, Cale, is 6′-3″ and 180 lbs.
Room and Board Hutton Chaise – This comes in numerous fabric options.
@mychicagohouse on instagram – Room and board daybed
Apt2B – Colbalt velvet Samson Lounger
Lots of fabric options here too and good for those who aren't fond of the button tufting.
Crashpad's cool retro-inspired Napper daybed can serve as a bench if floating or a daybed, against the wall with lots of pillows would be chic and sleek. It's on sale at ABC Home.
Serena and Lily have done it again with the Spruce Street version of a sleeper sofa. This one is so incredibly compact at only 69″ wide and yet, there's a queen-sized bed in there. And don't forget that it's 20% off right now! Click here to get your promo code for the discount.
But if you need a longer sofa, there's also a three-seat version. And you can have it made without the nailheads, if they're not your thing. There are dozens of gorgeous fabrics, too!
Lee Industries Queen Sleeper 3232-05 is reminiscent of the beautiful deco sofas of the 1930s.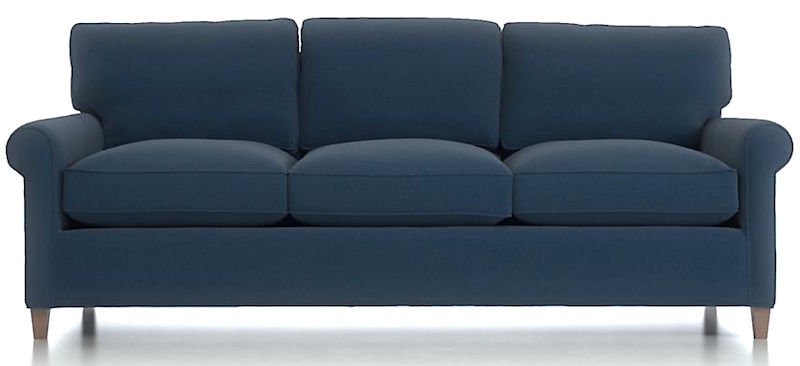 Montclair three-seat queen size sleeper sofa
Another classic silhouette is at Crate and Barrel. There's also a two-seat version. And this is a high-end piece if done in one of the custom fabrics. There are the standard fabric versions and those are a lot less expensive.
It comes with an air mattress! I am not sure, but I think it is made by Lee. That sure looks comfy.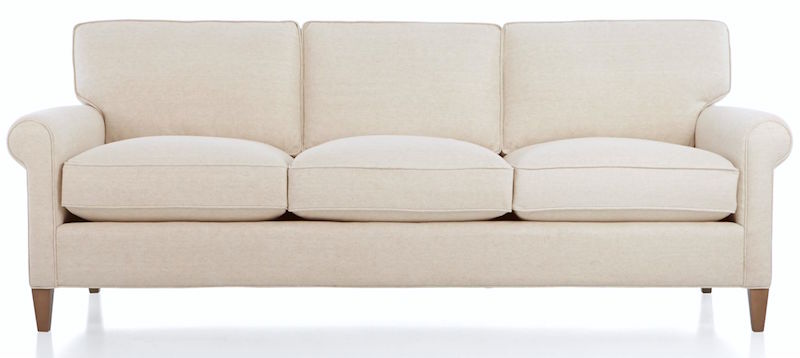 There is a plain sofa version of this in a few different sizes. Now, please notice that the legs are only about three or four inches on the sleeper sofa and the front rail is longer than on the plain version of this sofa that is directly above. This is to hide the mechanism of the sleeper.

This is the Robin Bruce Brooke Sleep Sofa and you can see that with the casters and legs and shorter rail that the mechanism is showing a little. It's the same frame as on the regular Brooke Sofa. Will you actually see it? I'm not sure. In real life, the underneath part will be in shadow and you would have to be standing at a pretty far distance and/or on your hands and knees to be able to see the hardware, I would think.
But, if you are considering ordering this piece, and it's bothering you, I would call Rowe Furniture who manufactures the sofa.
I wouldn't bother calling One King's Lane. They are unlikely to know. However, you could call the store in Manhattan and ask them. It is a lovely piece and as long as you won't see the mechanism, is a wonderful choice for a traditional sofa that turns into a bed.
It also comes in several fabrics.
And, it is 20% off right now with you promo code that you can get here.
Duralee Whistler Sleeper Sofa – Wayfair
Duralee is a manufacturer of fine designer fabrics and upholstered furniture. So, this is going to be a more expensive piece, but the quality is excellent. I like this Billy Baldwin inspired piece.

Apt2B-Avalon-2pc-Sectional-Pecan-Stone
I don't know too much about this company. But they have some more moderately priced contemporary pieces that look quite nice. And this one has excellent reviews. It opens up to a full-sized deluxe innerspring mattress. And if your guests have a young child, they could sleep on the chaise, perhaps.
Well, I hope that this post gave you some ideas if you're needing some alternative sleeping arrangements in your home.
Those of you who don't have a designated guest room and/or have over-flow situations, what do you do to solve that issue. And if you have a sleeper sofa that you either like or don't like, please let us know in the comments.
xo,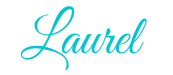 PS: Don't forget to check out all of the wonderful hot sales this weekend and get your promo codes for 20% off One Kings Lane and Serena and Lily!
Oh blimey! I almost forgot! I made another graphic for you to post to your pinterest boards.