Working on this in the middle of a big storm and lost everything, but fortunately didn't get too far into this 4th of July post. Alright. Yes. Red, white and blue. Very original. haha! However, I can't tell you how many times I've said to a client with a wry smile… "Well, we don't want it to look like a flag, right?" It's not that I don't like our flag or am not patriotic. I just think that for a color scheme it can get either a bit cutesy or cloying or sometimes, just too marine-like. So, are there ways to avoid that?
yes.
Make the room primarily blue and white with red accents
Introduce other colors into the scheme such as taupe, beige, gold, brown, black and lots and lots of white
vary the shades of blue. Even one other shade of blue adds a certain depth and interest
consider introducing analogous shades such as orangey-red, magenta, pink or blues with more green in them
adding in small amounts of other colors such as yellow and green
Here are several examples of well-done red white and blue rooms that pass the test, IMO.
I know that I've posted the above room, a lot, but it's so well-done and a perfect example of what I'm talking about.
Above and below by Meredith Heron.
Another recent photo by Ryan White.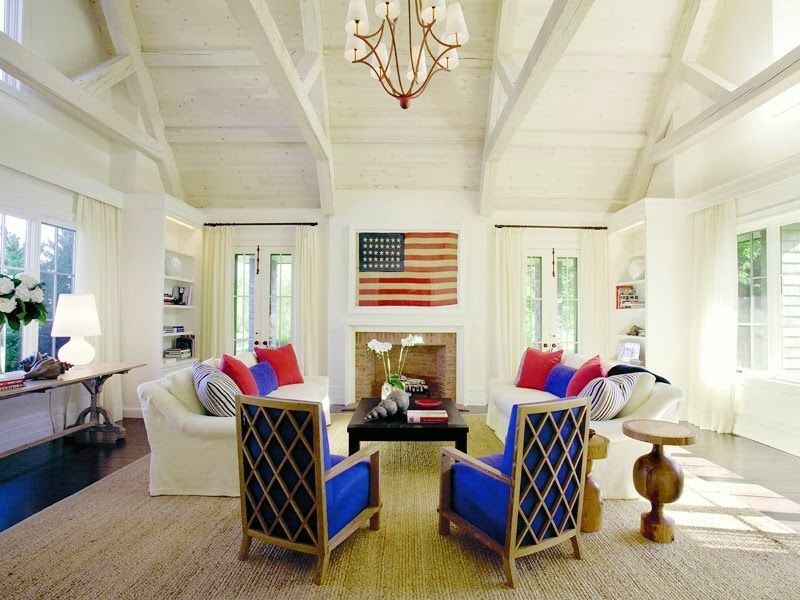 from a Long Island real estate listing. Found on the Cococozy blog.
source unknown
Maggie O'Neill
Above and below by the wonderful Kathryn Ireland
Sig  Bergamin
Lulu DK
Michele Bonan once again with the JK Place in Capri
The most subtle red white and blue rooms ever!
Jennifer Beshears from the fabulous Pink Pagoda Blog and website. Those are her prints for sale on her website too!
Ruthie Sommers
Kristen Kelli Interiors
Another wonderful vignette from Jennifer Beshears. I never realized how much I love blue, white and pink until I found her blog!
Please have a wonderful holiday weekend all!
I am busy, busy, busy with work. I know… But I'm going to Atlanta next week [brace yourself for all of the hottest and newest from the Americas Mart Furniture Market] and I just got a new project [I think] which I'm very excited about. I love my work so much and all of the exciting new directions I'm going in that time off… makes me a bit antsy, sometimes. That's not a bad thing, is it?
xo,