Hi Guys,
About two or three times a year, in recent history, I have a day where I do a "Jenny" in Forrest Gump.
"She was so tired because she went to bed and slept and slept like she hadn't slept in years."
I set my alarm this morning, and I guess it went off.
I have no recollection. The next thing I knew, it was 2:00 PM. That's not normal. Oh well. That fact has already been well-established. ;]
So, what's going on with my renovation plans?
Before working with Crown Point, Susan Serra, a fantastic kitchen designer, was helping me sort some things out. The other day she asked me how it was going, and I said great and sent her the plans so far.
I haven't gotten into the finer points with my fabulous kitchen designer at Crown Point, who's just back from vacation. Although we know where everything is going, we haven't worked out the minute details because I don't need the cabinets for at least another six months. That's not normally the case.
After I sent the plans, Susan got back to me immediately with the observation that between the sink and dishwasher was a 21″ cabinet.
She asked me: "Why is the dishwasher a cabinet away from the sink? Things will be dripping across 21″ when you travel to the dw. 🙂 There's the sink, 21″ drawers to the right, and then the pantry cabinet. "
In addition, Susan isn't crazy about the sink bump out and thinks it's too busy. If the sink doesn't bump out, then the sink cabinet can be made as one piece, and I can eliminate several inches of inset.
That certainly gave me pause.
Above are recent plans and elevations of the sink cabinet.

Above, you can see the dishwasher is the entire bottom of the pantry cabinet.
At first, I thought it was no big deal. And, in fact, the dishwasher is closer to where the dishes will be going– in the glass cabinet.
However, I realized later that it was TOO close. To empty it and put the dishes away, I will have to reach over 32″, including the fills, to open the glass doors and then put stuff away. Now, I do recall testing this out earlier, and I did so again. I can easily reach, but only the first shelf.
So, ideally, I should be standing in front of where the dishwasher is currently taking the dishes out of the dishwasher next to the sink.
BUUUUUUT, here's the difficulty. I only have six feet to work with for the curved sink cabinet, and I want the two end sections to be the same size because of the panel moulding above.  Do I have to do the panel moulding? No, but it's a lot of wall, and I feel the need for something, even if I put artwork up.
I thought maybe I could make both ends 24″. Nope.

The Mass building code says all passages must have a minimum clearance of 32″. It's fine if that's the way it was before the rendering. But, as soon as you change something, it must be up to code.
I tried working on this on Sunday but struggled to figure out the panel mouldings.
I want it to match in overall size to the fridge cabinet. That cabinet with fills is 32″.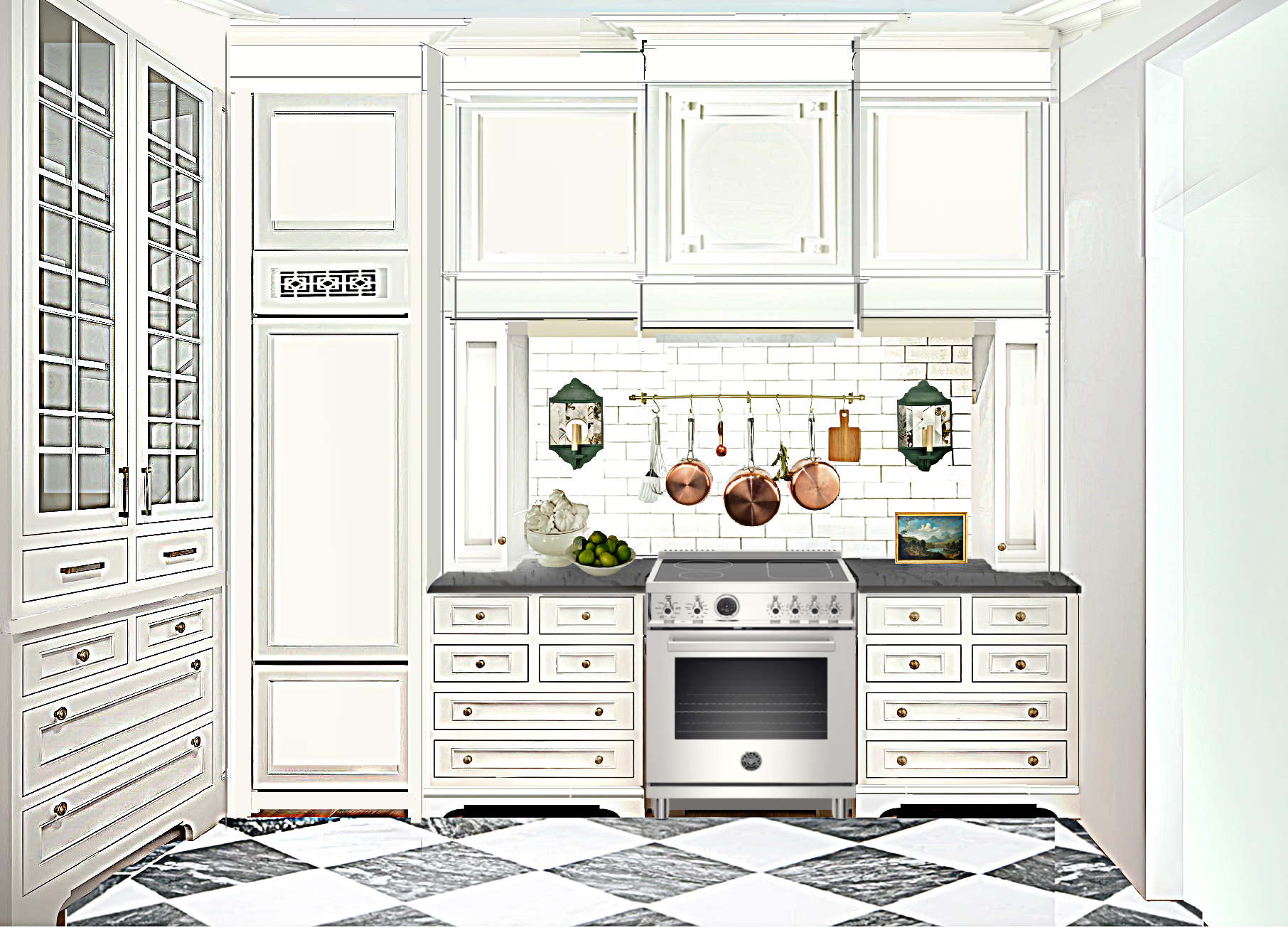 There's a big fill on the farthest side of the fridge cabinet because that is the clearance needed to open the door far enough to remove shelves and bins.
So, the pantry also needs to be a 32″ cabinet.
Fortunately, the pantry does not need the big fill on the far end.
It can have the standard 1.5″ fill on both sides. None of my hardware is more than 1.25″ deep. So the drawers will have clearance. If necessary, we can make the fills two inches.
Remember how I said to be as visual as possible in Sunday's post?
Now, this is more difficult to do without some training, but if you can see a perspective drawing, I find that very helpful. These days, most designers can show you a 3-D drawing or rendering.
I told Susan I needed to think about her recommendations a little longer. She's very kind and patient. If you're looking for a kitchen designer to consult with, she does that and does so beautifully long distance. Here's Susan Serra's website with contact info.
At one point, I was considering a built-in coffee station and a built-in microwave drawer.
I do love the microwave drawers and enjoyed Mary's when I stayed in her home three times in 2021. But, I have always wanted a mini coffee station and a Dualit 4-slice polished chrome toaster. However, I don't want the toaster on the counter. But, I'd still like to see it.
Below are two long-time favorite kitchen images.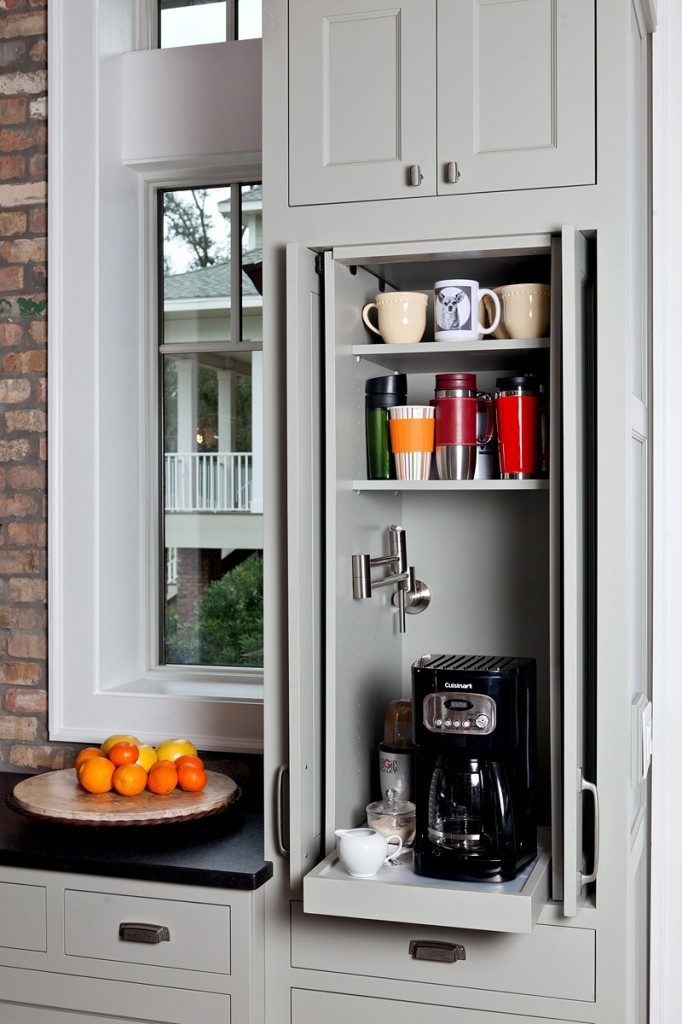 Small kitchen appliance storage via BHG – photo: Phillip Harvey
After reviewing these favorites, particularly the bottom image, (Please ignore the mixer. lol), I realized I don't need or want a microwave drawer. In fact, some of the new microwaves also act as induction ovens. And, some have "air frying" capabilities.
Laurel, what about the pocket doors?
Actually, I love them. Although, in all honesty, I probably won't close them. One reason is that this is in the back of the kitchen. From the living room, you won't see any of it. However, doors would be nice if I ever wish to close them.
The jury is out on that one.
Laurel, where are you putting the dishwasher?
Thank you, yes, I've decided that an 18″ dishwasher will suit me just fine. So, that will go next to the sink where I formerly had the 21″ cabinet with drawers. Again, Susan kept me from making a mistake.
The beauty is that the pantry really will be a pantry-coffee station with lots of storage space now. No, I will not be putting a mixer way up high. lol
However, I can have the bottom section used for drawers only. I love that!
The sink cabinet's footprint stays as designed. Except it can now be made in one piece, and I can save some space not having to do the extra insets needed for the bump out. In other words, there will only be 1.5″ between each cabinet section.
Still, I wasn't sure how this was going to work. So Monday, with fresh eyes, I decided that this would be Wednesday's post, and I got to work.
Susan sent me a super quick rendering, and I used that as a base, making subtle changes to the two end sections.
But, here's the really interesting part. When I did this exercise, I realized that she was right. The bump out is too busy. I would rather have that extra three inches inside the cabinet because that is where a pullout trash and recycling bins will go. Yes, they will be on the small side; that's fine for me.
Here's the other thing.
Are you guys familiar with the brilliant work of Jeannette Whitson? Either way, you must check out her Instagram account. (in the link above)
Jeannette is the brilliant designer who did everyone's favorite little library.
I rarely use the word "obsessed" because it makes me sound vapid. However, I am all of the words below regarding Jeannette's work, particularly this kitchen you're about to see.
Get ready…
Jeannette Whitson on Instagram
This looks genuinely old, but it's not. And, it looks European too, doesn't it? Well, Jeannette is based in Nashville, TN!
Jeannette is seriously funny, too. She uses the hashtag #KitchensAreMyGatewayDrug.
Haha. Indeed!
I am so in love with this marble that I have decided I will do it, and a marble backsplash on the sink side. While I love the marble sink, I will stick to an undermount sink, most likely porcelain.
And, I am still planning on doing subway tile for the big backsplash in the dramatic range area. And no, not marble. I want porcelain or ceramic there.
Can you do that? Can you do two different backsplashes?
Sure, why not? They are two completely separate situations. I know it's unusual. However, I love the look of the marble for the sink area, but not as much for behind the range.
Okay, As always, I spent the most time on the rendering. This one is part drawing, part rendering, but it is in perspective.
It's not perfect, but I think it gives a good idea of how I'd like that side of the kitchen to look.
I decided to treat the area from the pantry to the curved end as one cabinet. I still have an extra fill there. Well, this is a conceptual rendering. We'll get it sorted out. However, the reason is, I don't want to get too carried away with the charming toe kick valance feet. Altogether there will be ten of them, and I think that's a reasonable number. This might change, but for now, I very much like the look of this.
Again, Susan was right. Although the bump out is a beautiful detail, it is too much for my small kitchen.
I LOVE the gallery rail. I stole it from another fantastic Instagram account, @thelinenrabbit.
Her website has a fantastic tutorial on making a beautiful gallery shelf.
BTW, I am doing doors for the lower section of the back cabinet.
The two shallow drawers are fine, but four more will probably make me crazy(er).
Do you guys remember when I considered doing faux windows behind the sink? haha! However, it's all part of the design process.
I'm very fortunate to have two amazing kitchen designers watching my back!
How do you feel about the pocket doors? I realize there are other types of doors. For me, it's either no doors or some sleek pocket doors. I feel if I don't do them, I might regret it down the line.
In closing, when working with a kitchen designer or even two kitchen designers, it is important to listen to them.
However, it is also important that they listen to you. It's like that in all interior design working relationships. There is seldom one way of doing things.
So, don't let a contractor or designer strong-arm you into doing something you know in your heart is what you want. Ask them to explain why. If the explanation is: "I don't like it," or "I've never seen that before," but you have seen it and want it, show them. Nobody knows everything, no matter how experienced they are.
xo,