Hi Everyone,
Before we get into the beautiful collection of (mostly) affordable table and lamp and end table pairings, who has had cake on the brain since last Sunday?
Raise your hands, please.
What? Are you kidding? Only four of you?
Just kidding. And, thank you all for your sweet comments. I've been zonked since that post and couldn't get the cake image out of my head. By Monday afternoon, I couldn't take it any longer, and it was a sublime evening, so I marched myself over to Flour Bakery. (a local Boston chain with 10 locations)
I got two things. (just in case)
They were the lemon, raspberry cake, and a buttermilk cupcake piled high with blackberry with not-a-speck-of butter in the frosting. They describe it:
lemon raspberry cake – lemon cake (No, it was vanilla) filled with lemon curd, (questionable) crushed raspberries, buttercream, (No way!) and fresh seasonal fruit. (one raspberry and one blueberry)
There was not a spec of butter to be found.
Frankly, both were dry, bland, and fake tasting; very disappointing.
I think they forgot to put sugar in the cupcake. I didn't detect any.
However, it did cure me of my cake craving. haha
After three attempts, all of them mediocre at best, I'm done with Flour Bakery. I have no idea why it's often mobbed.
Okay, I started working on this post and began to collect cheap coffee tables. After a couple of hours, I was utterly bored. I was bored because they all began to look the same.
So, I thought I would look for cheap table lamps and end tables. (Sometimes called side tables.)
However, there is a post about cheap table lamps. Although, it's pretty old.
And, there's this post about high-low Chinoiserie lamps.
This time, I'm going vintage.
I adore vintage furniture, as you may have noticed, being more than half of my furniture is vintage.
However, as in all vintage furnishings, you can also find these items in consignment shops, tag, yard, estate sales, and both live and online auction places. Also, you might try Craig's list and Facebook Marketplace.
Sorry for the obnoxious color. I have to do that for those who skim and then remind me of these sources.
You might also enjoy this recent post featuring vintage dining room pieces.
But, the focus today is on table lamp and end table pairings.
Let's first go over a few rules and other things you need to know regarding table lamp and end table pairings. And, this goes for all table lamp and end table pairings, whether they are vintage or not.
Let's begin with the end tables.
I feel the best height for an end table is from one or maybe two inches lower than the arm to about two or three inches higher.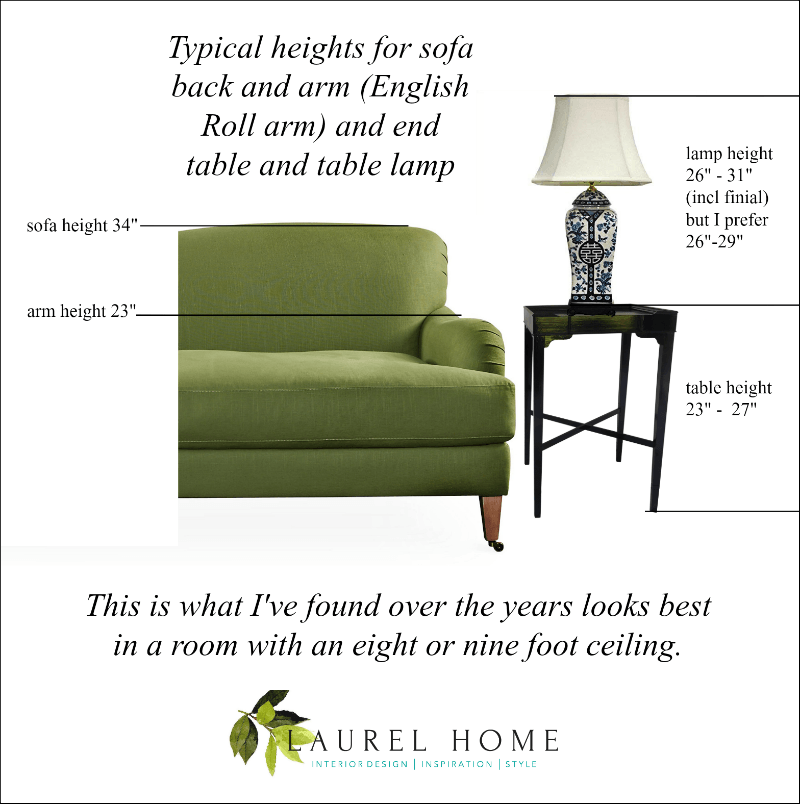 I made this graphic a while back and added it here after I wrote about inexpensive lamps.
Most sofa arms, except for tuxedo and chesterfield styles with arms at least 30″ high, have arms from about 23″-25″.
I learned from experience that the absolute highest to go for an end table is 27″.
With a high-arm sofa, I would never go higher than the arm, but you can go up to five or six inches, max, lower than the arm.
If the table is rectangular, for end tables, the short way usually faces the front. Using the end table as a nightstand is the opposite unless the space is very tight.
However, when looking for a nightstand, it is better not to go past 20″ deep, and ideally not past 18″ for the depth. This is so you don't gouge your thighs out getting in and out of bed. That's why most nightstands are from 13″-18″ deep.
Laurel, how big should an end table be if you put a lamp on it?
That's a terrific question.
It's always better for the table to be at least four inches wider than the shade, if possible. If space is super tight, it's best to choose a thinner lamp that can take a more narrow (in diameter or width) lamp shade.
Please go here for a post about selecting lampshades for your table lamps.
For the past 18 years or so, lamps have kept getting bigger and bigger.
Now, a mistake some people make is that they equate a larger room with larger furnishings.
Yes, you can have a large, low coffee table in a large room. Maybe you can have more seats on a sectional.
However, the room size doesn't affect, to any significant degree, the furniture sizes in terms of height and depth.
Furniture is still made for PEOPLE. Right? And, since people don't get larger (unless they eat too much horrid cake) when they walk into a large room, the size of the furniture should not change much, either.
The furniture can have more visual weight, and there can be more than one seating area in a large room.
Okay, I wrote a post about sofa and coffee table pairings not too long ago. And, yes, the coffee table and the sofa are integral parts of the composition, along with the table lamps and end tables.
However, it's too much for me to bite off in one blog post.
The only thing I'm going to say is this:
Please do not match your end table to the coffee table. Please don't, even if they're cool vintage pieces. The pieces need to coordinate, however. For 20 other hideous decorating mistakes, please go here.
The trick to coordinating coffee tables with end tables is in the materials, scale, and color or finish.
Please know that I am mostly excluding some specific styles, such as mid-century modern. That's another post. (Okay, that's not entirely true, as you'll see in a bit.)
As most of you know, my preferred style is some version of what many call the new traditional or neo-trad. Or, some might call it eclectic.

A vignette from my living room in January 2020, shortly after I moved in. Everything is vintage or antique except the lamp I got in 2013.
There's a post here that talks about mixing modern and traditional pieces; I explained how the 80/20 or 90/10 rule applies. Either the room is 80 or 90% traditional, with no more than 10-20% modern. Or, it's the other way around. It never looks right if a room is 50% trad and 50% modern.
Also, it doesn't usually work if the room is 98% one style and 2% the opposite.
So, beginning with the coffee table. Let's say the room is mostly trad. If one does a more modern, glass and brass coffee table, that is a great way to interject some modernity into a space that is 80% trad. Then, more modernity could be in a desk lamp and art. Or, it could be a super interesting modern chandelier. And then, there will be enough modern elements. It's not an exact science, but you get the point.
Could the end tables be the modern element? It depends on the sofa and the lamps, and the coffee table. This is why I think making mood boards is such a valuable exercise. It's a terrific way to visualize how everything will look together.
For this exercise, I'm mainly staying away from anything super informal and country.
There is a disproportionate glut of that already existing in the marketplace.
Okay, here's what I'm going to do.
Three widgets are coming.
The first widget contains some gorgeous table lamps. I know I said I was going to say what goes with what. Okay, that's impossible with this many lamps and tables. If I had six lamps and six tables, I could do that. But, since this is me, Laurel, who can't stop at six, many will not be paired up.
However, most of these are interchangeable. And, also as stated before, some of it depends on the sofa and coffee table.
Please enjoy the table lamps! If you're interested in any of these, they're for sale. If you click on the image, you'll be taken to the source.

Next are the end and side tables. There are not as many of these. I could've put up more, but I'm trying to be kind to your pocketbook, should you be interested in getting any.
Many of these tables need a little TLC. And most of them could be either refinished or painted.

And, finally, what's left?
Well, I found what I call "statement lamps." Some are Chinoiserie, but most of these are mid-century, and some of them are well over 40″. They look best either with a very low table. Or, they could also go in a more maximalist space. All of them would look smashing in a primarily contemporary room.
I have a friend back in New York who has a living room that has simple white slipcovered sofas and then these huge, gorgeous statement lamps. They make the room! I so wish I had a photo.

Okay, I hope this makes some sense, and that you enjoyed the classic and mostly affordable table lamp and end table pairings. It's actually a super broad topic. I suppose I could've just done lamps and the end tables in a separate post. However, talking about them simultaneously, is hopefully more helpful.
xo,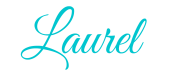 PS: Please check out the newly updated HOT SALES!
PPS: My back is almost 100% back to normal. I guess it was the petroleum jelly they used to make the cake?