Hi Everyone,
Thank you so much for your kind notes and comments. My back is still sometimes sore, especially after I went shopping today. However, after icing it and one Advil, it feels okay now.
Today, we're going to talk about the color yellow and yellow walls.
Wait, Laurel, I thought you said you like to talk about cool colors in the summer.
Well, summer's over. haha, It's almost time to put up your tree. ;] Anyway, please try to listen. I know most of you hate yellow walls. Or, at least don't want to see a big drink of it.
I understand. But, here's the thing. A big drink isn't good, but yellow walls are a fantastic background for art.
However, I've read more than once that it's the worst color to paint your home if you want to sell it.
But, in reality, is it?
Maybe I was fortunate; however, as most of you know, I had yellow walls in my living room in Bronxville, NY. I put it on the market two days before Thanksgiving, 2020. Two days after Thanksgiving, I had a full asking price offer from a lovely young woman with a handsome income and perfect credit.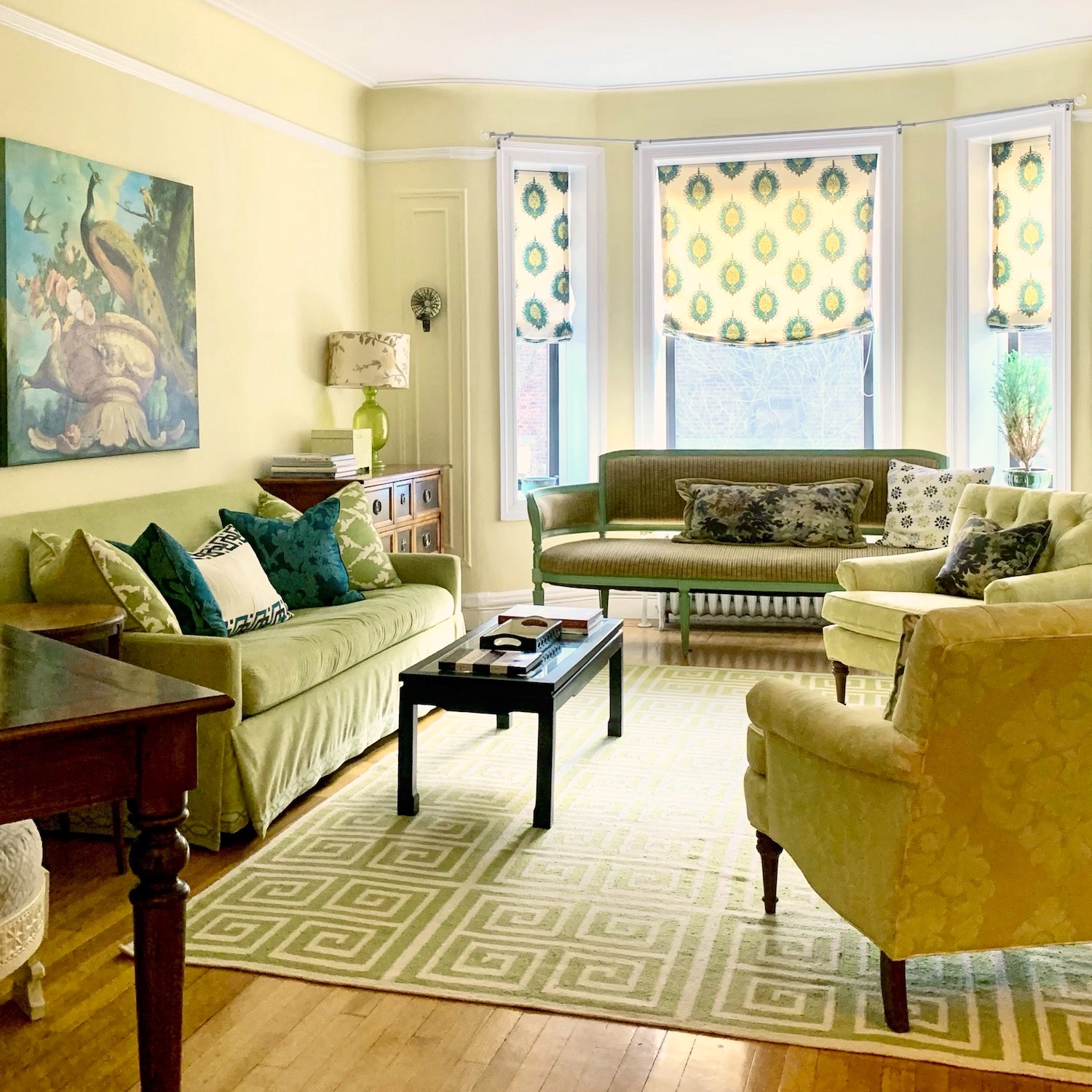 Awww… there's Joe. I miss him.
While this color may not be your favorite, it's definitely not the worst color you can paint your living room. In fact, all of the warm shades of yellow, gold, and even orange look absolutely amazing in the evening. That's with warm lighting from lamps and sconces primarily.
This living room glowed at night. Truth be told, the original color was a tad deeper, Hawthorne Yellow.
This shade of yellow looks the same at night but is a touch paler during the day. It is Benjamin Moore, America's Heartland. Both of them are in the Laurel Home Essential Paint Color Collection. It comes with a coordinating guide using all the paint colors in 40 palettes; you can mix up according to palette families. At least three of those palettes are in the yellow family. And, I have to say that one of them is my favorite board.
I love it because that shot of saturated lemon yellow walls makes a fantastic backdrop for art. And, it looks fresh with all of the shades of white.
OMG! That looks incredibly delicious.
The lemon cake recipe is here via A Love Affair blog.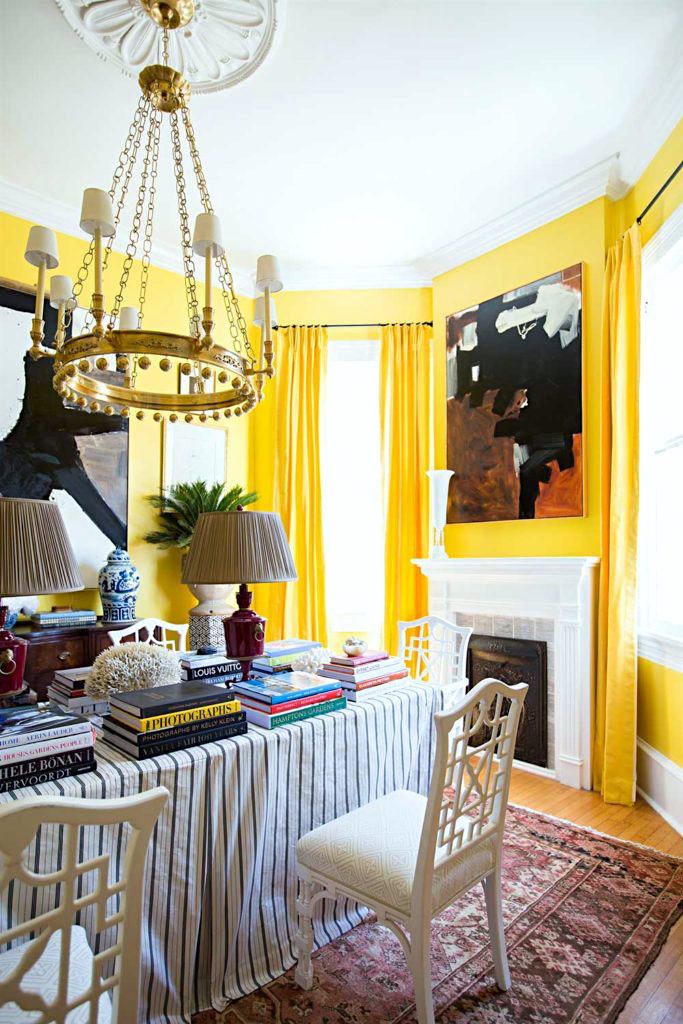 Remember William McLure's gorgeous dining room with the bright yellow walls? I could eat this yummy room too!
Of course, like any color, intense yellow walls would be a nightmare of a paint color.
Yeah, this is why you hate yellow. And, I can't say I blame you.
Yellow wall hell is where they take prisoners of war to get them to talk.
But, here's the thing, I bet a lot of you don't know.
Yellow is actually a historical color. And, I don't mean cream, gold, or some pale shade.
Let's go back in time about 250 years ago when the US was severing ties with England.
Remember this handsome guy?  He was an architect, a lawyer, and an esteemed statesman in the infancy of the United States. Of course, he penned, along with a bunch of others, the Declaration of Independence. He was also the third president of the USA. Yes, Thomas Jefferson.
Thomas Jefferson was a true Renaissance man, a classicist who was enamored with the work of architect Andrea Palladio who has been talked about numerous times.
Jefferson was so in love with Palladio's masterpiece, the Villa Rotonda, that he did one of my favorite design tricks.
He stole it. Well, not all of it, but much of it. However, Jefferson also added many of his own touches.
Above is a drawing Jefferson did back in the 18th century of his Monticello. Yes, it's a "modern" pared-down version of Palladio's La Rotonda built about 250 years before Monticello. Both buildings have entrances in the middle of each of the four sides. Of course, there are many more differences, but one can see the influence Palladio had on Jefferson's design of Monticello.
Well, it was at that time that someone developed a color called "Chrome Yellow." It was all the rage, but only the well-heeled could afford it. However, artists figured out a way to make this super-saturated yellow with synthetic pigments that cost a lot less.
Jean-Honoré Fragonard (French, 1732 – 1806 ), Young Girl Reading, c. 1770, oil on canvas
Fragonard was one of the first artists to use the synthetic pigments in the gorgeous painting above.
Jefferson caught onto this new trend and embraced it for his Monticello.
However, over the years, the old saturated yellow walls had been painted over.
Several years ago, the main dining room at Monticello looked like this.
Yawn. We really should've stayed united with England. While this color is nothing objectionable, it's nothing special, and looks tired. Of course, the architecture is so gorgeous that almost anything would look okay.
However, a few years ago, they decided it was time to repaint, but this time, they decided to restore the dining room color to the original deeply saturated yellow walls. In a brilliant PR move, Ralph Lauren got involved, donated the paint, and then put it in his line.
Clever guy.
Naturally, it is called Monticello Yellow.
And below is the beautifully restored dining room.
It makes my day when they put back stuff the way it was initially intended.
Love the plain white swag. Excellent choice.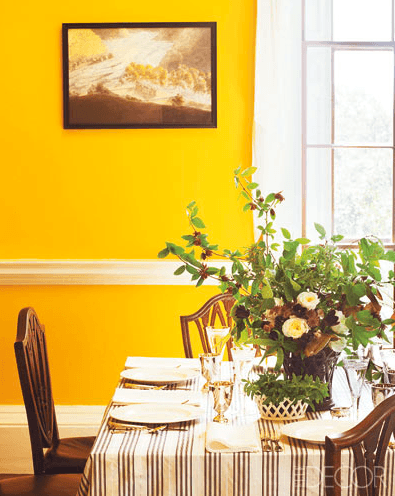 This room with the jaw-dropping yellow walls is now stunning.
BTW, if you are looking for a Benjamin Moore equivalent of the Ralph Lauren color, please check out these two colors.
SUNRAYS 343
SUN VALLEY 350
Also, please have a look at Pratt and Lambert  ALE. My fan deck is almost as old as Thomas Jefferson, so that the number might have changed. Mine says 1723.
And Farrow and Ball BABOUCHE is very nice too.
It's not easy to find rooms in this color.
But, this saturated yellow is actually a very classic color.
However, would I have the nerve to use this color in my home? It's one thing to visit a place with this stunning color than it would be seeing it every day for years.
These saturated yellow paint colors were a favorite of the 18th-century classical architect, Sir John Soanes.
During my trip to England in the fall of 2017, we visited the University of Cambridge in a Soanes-designed building.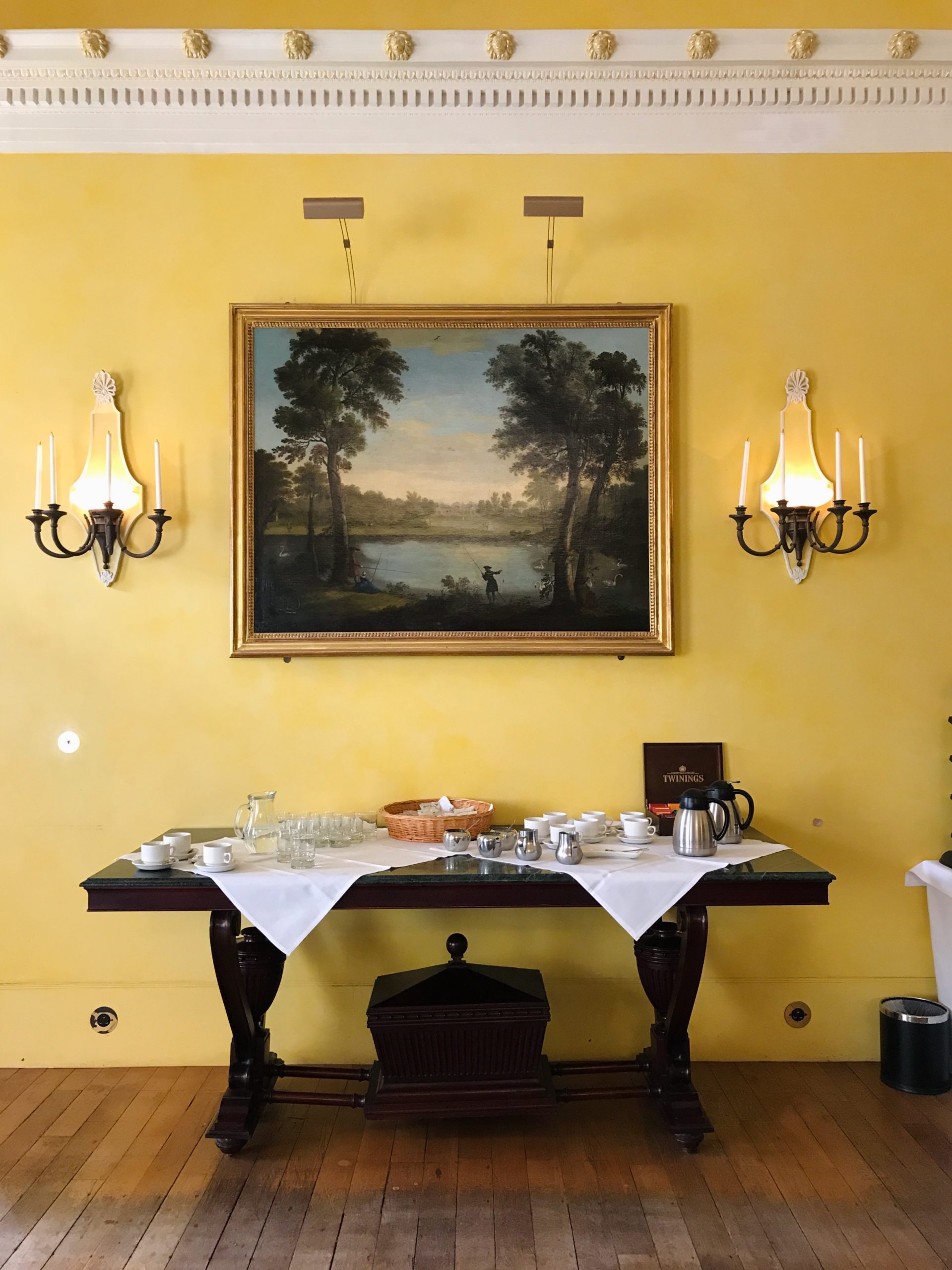 The tea and coffee station was laid out for our group.

See what I mean about how fantastic the art looks against the yellow walls?
But, that reminded me of another home in late 18th century Boston, featuring yellow walls.
Yes! Architect Charles Bulfinch designed the fantastic first home for Harrison Gray Otis and his growing young family in Boston's most fashionable West End. You can read here and see much more of the lovely Otis House and gorgeous art.
Above is a portrait of Harrison Gray Otis on the yellow walls of the Otis House dining room. Incidentally, this home is only a stone's throw away from where I had my accident last Tuesday on Cambridge Street.
But, getting back to Sir John Soane. He painted his own home in that saturated color.

What I love about this image is the yellow furnishings with yellow walls. This room looks like it could've been done today.
Above is another room in the Sir John Soane Museum.
However, yellow is not only used for walls.
Aristocrats of the 18th – 20th century also embraced the color yellow for clothing and decor.
80 years after Monticello was built,  Thomas Wilmer Dewing (1851 – 1938) painted this lovely portrait – 1888 Oil on panel-Lady in Yellow. It is part of the exquisite collection of art at the Isabella Stewart Gardner Museum.
If you're in Bahstahn, you must say, "The Gahdnuh."
I've been to the Gardner museum twice, but I don't recall this lovely painting. So, I went to see if I had taken a pic when I visited last September. Well, yes, I found an image! However, there's a good reason why I didn't notice it.
I was too busy noticing the mismatched silk damask wall covering. Is this original? It's in pristine condition if so. However, I don't think Mrs. Gardner would've approved of this. I can only conclude that someone didn't order enough fabric, and then Tim Gunn showed up and said, "Make It Work."  haha.
But, here's what's also funny. I DID take a photo of this beauty the first time at the Gardner in the spring of 2017.
Today I came across it while looking for something else.
In addition, I also found some other gorgeous old art pieces with women in gorgeous yellow dresses.
I can't resist sharing this incredible portrait of Mrs.Joshua Iremonger, painted by Joseph Highmore. The colors are incredibly sublime. It was painted in 1792. Tragically, she died in 1744, soon after the birth of their son, Joshua, Jr.
The colors remind me of my Zuber screen.
still-life-of-yellow-roses-in-an-oriental-vase – Artist -George W. Seavey (American, 1841-1916)
Sotheby's – Wilfrid Gabriel De Glen – "Blue and Gold" 1911 oil on Canvas 42″ x 52″
The original image is pretty hi-res, so I'm able to include a detail of the masterfully painted face. Again, gorgeous colors and magnificent painterly technique.
Speaking of technique, (I'm doing my version of Thomas Jefferson. haha.)
But, I found this young pianist on Instagram yesterday. Giuseppe DeMaglie
He's amazing!
This is his composition. It is NOT Bach.
Gunn, Herbert James; Pauline in the Yellow Dress; Harris Museum & Art Gallery – 1944
(not related to Tim Gunn, I don't think. haha)
And, an incredible detail view of Pauline, the artist's wife. What an elegant woman!
Now that we've arrived in the 20th century, many other designers have embraced these strong, saturated yellow walls.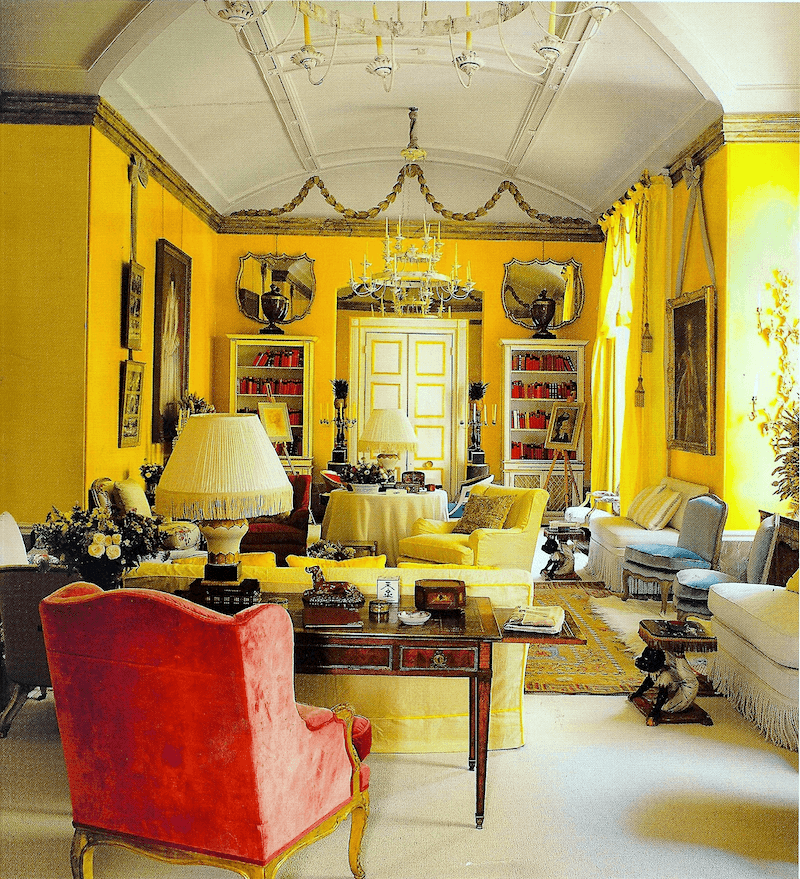 I'm sure many of you recognize Nancy Lancaster's iconic room for the Colefax and Fowler showroom in London, decorated circa 1950.
Above is a very young Nancy Lancaster in 1916. Whoa, look at the furniture and the mouldings. The wall moulding is the same as what I'd like to see on my range hood. (If we ever got this project going). And that lamp!
However, Nancy isn't the only decorator in love with these intense yellow walls.
The legendary English team of Sybil Colefax and John Fowler used it in their beautiful London showroom.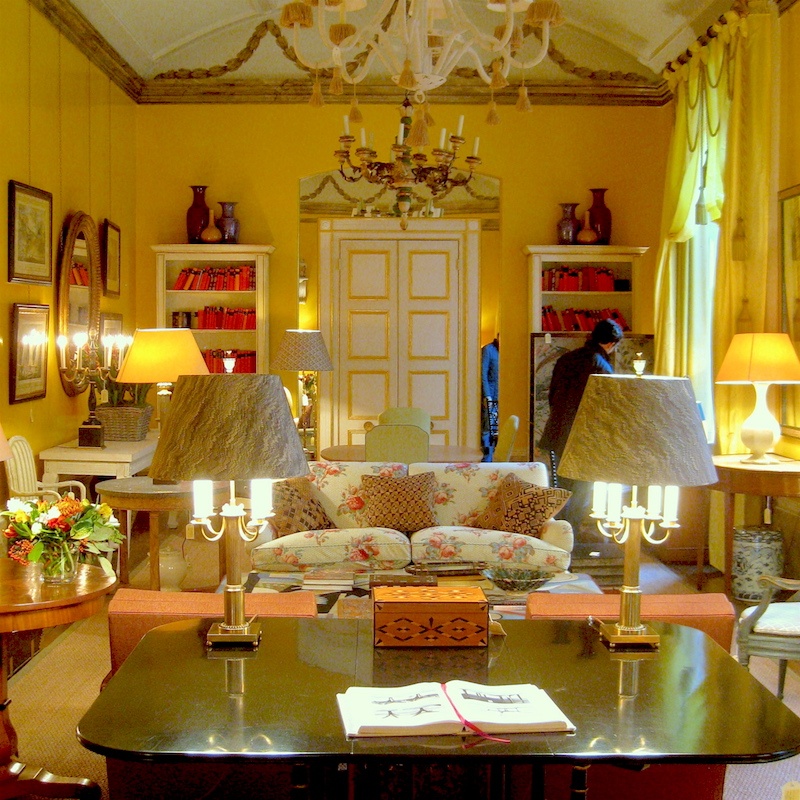 Above and below are two recent images of the Colefax and Fowler showroom in London. They recently moved after many years at this address.
In fact, Colefax & Fowler have created their own shade of yellow paint.
Another iconic English designer, Jasper Conran. Ironically, he's associated with contemporary designs, but his taste runs otherwise. I could definitely live here!
At the end of the 20th century, there was still a mystique about a woman in a "yellow dress."
Did you see this show? Contact. I was incredibly fortunate to see it in late August 2001 with my mom. Two weeks before the show closed due to the World Trade Center attacks. It's my favorite Broadway musical.
Below are some more favorite places with beautiful yellow walls.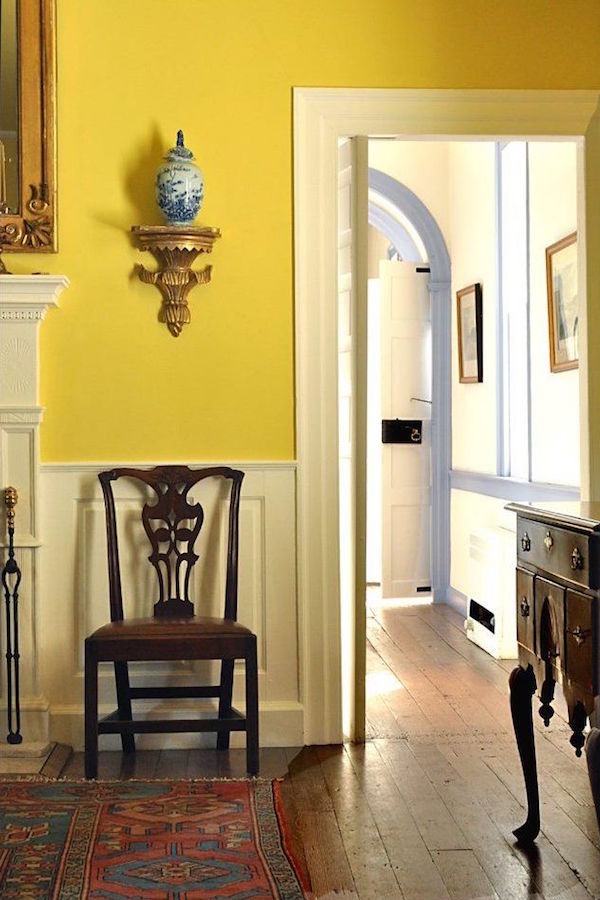 Another historic room with yellow walls. I so wish I could see more and also know the original source. If someone knows, please let me know.
I took an image of Ben Pentreath's fantastic kitchen when I visited his home in Dorchester, UK.
Historic Charleston Greek Revival double parlor renovated by Gil Schafer
And here are the Benjamin Moore Hawthorne Yellow walls in my old New York apartment. The Zuber screen is behind my desk.
For those of you, who are warming up to yellow (no pun intended) but are still weary of the more saturated shades,
photo: Peter Aaron/Esto
please check out this phenomenal home designed by Robert A.M Stern. Can you guess where it is? My guess would be someplace like Newport, RI.
But, no, it's in Florida!
Below are some beautifully saturated yellows for the brave.
SUNRAYS 343 – Benjamin Moore
LEMON GROVE 363 – Benjamin Moore
SUN VALLEY 350 – Benjamin Moore
BABOUCHE Farrow and Ball
MONTICELLO YELLOW – Ralph Lauren
Pratt and Lambert ALE 1723 – Benjamin Moore
How do you feel about these saturated yellow paint colors?
I have to be honest. I love the yellow walls in the photos, but not sure if I have the courage.
xo,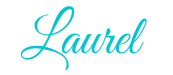 PS: Please check out the newly updated HOT SALES!