Dear Laurel,
Thank you for the beautiful post about masculine bedrooms. Or, at least bedrooms that both men and women will love.
Well, you're half-way there.
But, before I tell you my dilemma which I'm hoping you can turn into a blog post, I just need to say this.
My husband and I have one of those marriages that I guess is pretty rare. I mean, whenever he walks into the room, I still get a thrill. How many people can say that after 35 years?
Plus, this is funny. But, I could probably do the bedroom in pink rose buds and lace everywhere and he would be absolutely fine with it.
However, no worries. That is definitely not our style.
Okay, here's the problem.
It's important to note that we enjoy doing so many things together like hiking to antiquing, gardening, cooking… on and on.
But, there's one activity that I find impossible to carry out with him.
Sleeping.
And, I don't mean intimacy. I mean– literally SLEEPING.
Seriously, sleeping with my husband is dangerous.
Get this; one time he kicked me so hard in his sleep, my knee blew up to twice its normal size!

Then, there's the temperature differential. And, mattress/bedding preferences.
On and on… Laurel.
Well, I don't need to go on. I could, but I won't.
Suffice it to say. Sleeping in the same bed with him is out of the question.
Well, not if I'm to get a decent amount of sleep. And, not get maimed in the process!
That means it's twin beds.

Is it possible to have a bedroom with sophisticated twin beds?
I mean, I don't want it to look like a kid's bedroom.
Sincerely,
Beddie Tyme
***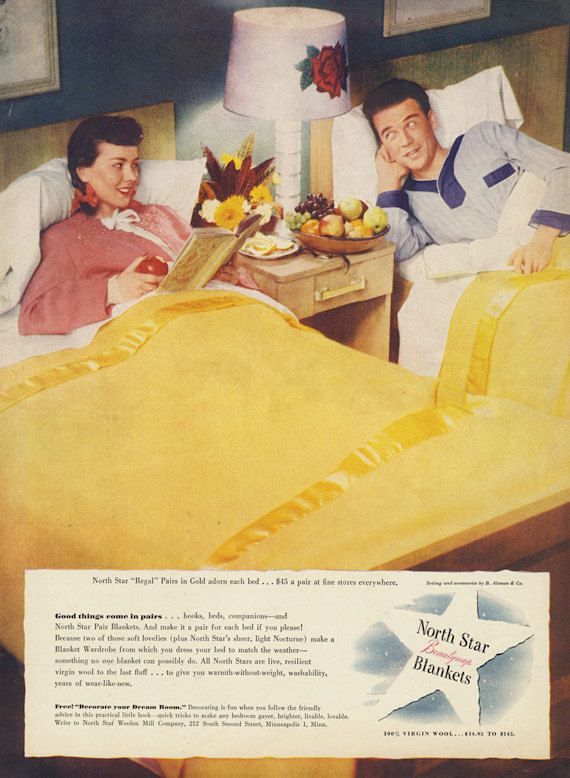 A penny for your thoughts. hehehe
Hi Guys,
Well, someone did write in wanting a post on this topic of sophisticated twin beds, but forgive me, I don't remember who. So, Beddie, it is.
Therefore, let's dive in because I have a lot to share with you.
First of all, let's talk about kids' bedrooms for a sec.
I have a board on pinterest called Kids rooms that can grow with them.
And some of these bedrooms would be perfectly fine for adults to live in.
The second thing on my mind is what is the difference between a master bedroom with one big bed or two twin beds?
In a regular master bedroom, we have one bed that's large enough to accommodate two people. Even if there's only one person in the bed. Usually, it's at least a queen-size bed.
But, like I said the other day, the vast majority of my clients opted for king-size beds. The only exception might be if they don't like the way a king size bed looks. Or, the bedroom is just too small to fit one in.
So, the difference is that in a bedroom with one bed, it's usually flanked by two night tables.
And, in a master bedroom with twin beds, There is a storage piece in the middle. It could be a chest, dresser, desk, single nightstand, or console table.
If the table or chest is large enough, there can be two lamps. But, if the table is small, it should be one lamp.
There can also be a combination of a lamp and individual sconces over each twin bed.
The good news is that in the market-place there are dozens of gorgeous, sophisticated twin beds.
After all, a bed is a bed.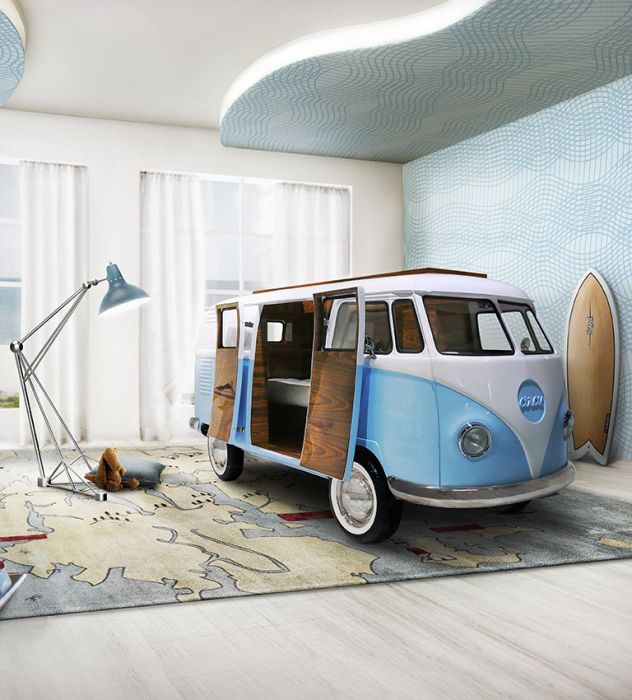 That is, unless you're doing some weird thing, like this $35,000 van bed.
Uh huh, you read that correctly. It is not a typo.
And, yes, it also comes in pink. ;]
I wonder if you need a license to sleep in it?
I dunno. Can't you get a real van for less than 35k?
How do you get it into the house?
Or, do you build the house around the bed-van?
Oh, never mind. I think it's hideous.
Is there anything else we need to know about twin beds?
Well, yes, as a matter of fact, there is. And, it has to do with the height of the headboard. But, that is also in relation to the height of the mattress.
However, most of the time, the highest I like to see a twin headboard is at about 50″.  And, if the mattress is about 24″ high, then, 45″-50″ should be good.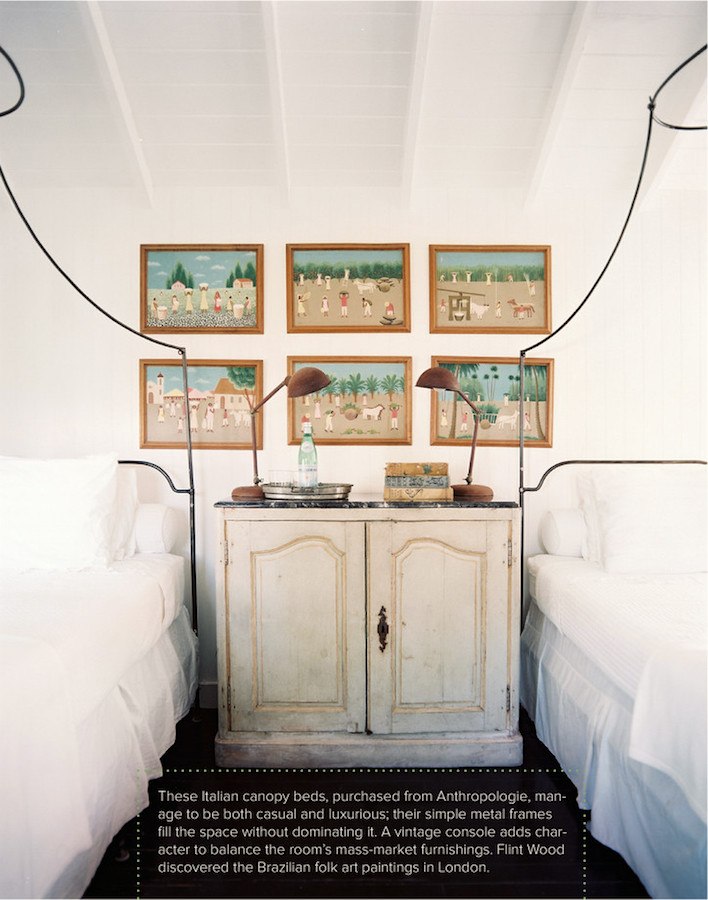 For the life of me, I can't figure out why Anthropologie discontinued this bed. In fact, I always thought it was one of the best things they sold. But, I adore this charming bedroom by India Hicks.
To begin with in our quest for sophisticated twin beds (and bedrooms) let's stick with those beds that are either four poster and/or canopy beds
Architectural Digest – Designer Bruce Budd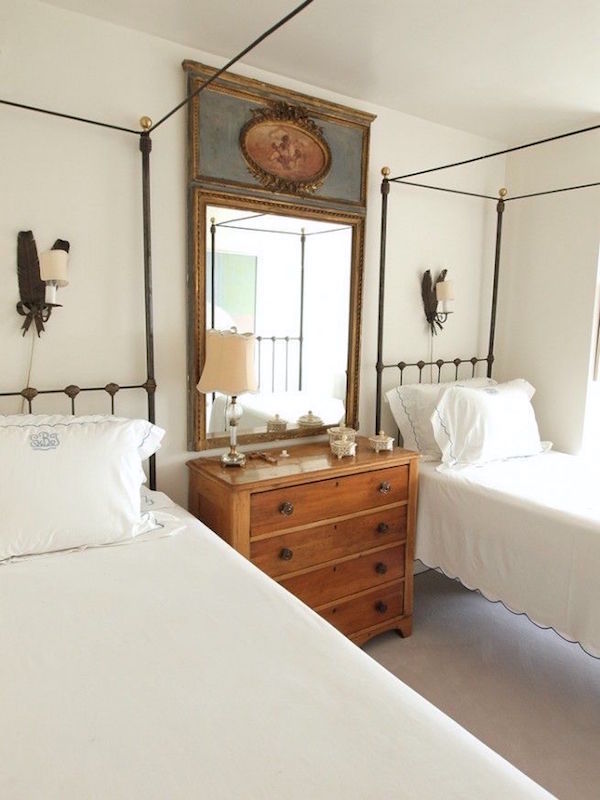 Gerrie Bremmermann
Tara Shaw manufactures some gorgeous furnishings. In fact, she has designed a few different iron beds. And, they are all gorgeous and come in a twin size.
Do we HAVE to do a twin bed if we want two beds in the master bedroom?
That's a very good question. Thank you. :]
Well, I think that in the case of a four poster bed in a very tall and good-sized room that it's absolutely fine. And, of course, some people might want more bed to roll around in. Therefore, the answer is yes, I think it's fine to do a full sized bed.
However, if the bed gets larger than that, and it has a low boring headboard, it could begin to look like a hotel room.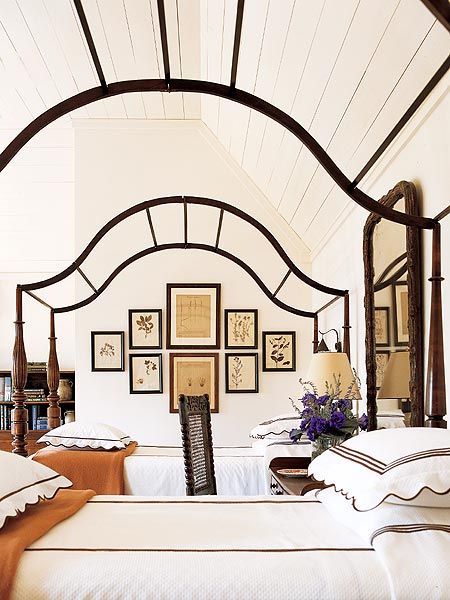 Amelia Handegan
This image is several years old if not more than that. But, I remember it well. I couldn't find one that has a better res. That's one indication that it's from a while back.
I love the elegant minimalist aspect of this bedroom by Mimmi O'Connell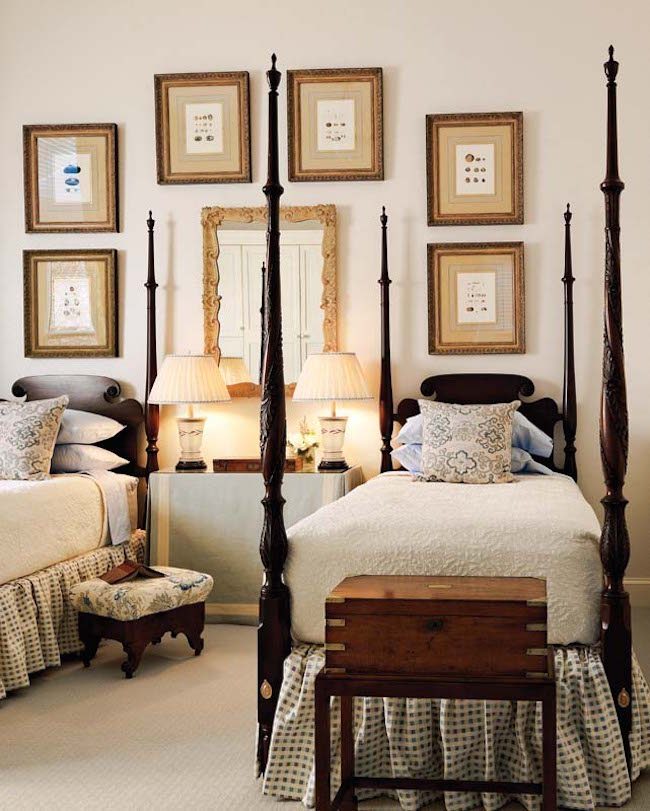 Photography by Robert Benson – New England Home
Classic four poster twin beds. But, beautifully composed.
And, that's it for the four posters and canopy sophisticated twin beds
Next up are some beds with canopies
Amelia Handegan
Boho beach twin beds
Beautiful, sophisticated design.
A word of caution about beds with frames and things protruding. I would not put them in a guest bedroom unless you want your guests to leave quickly. And, especially if there are two beds, close together, with things protruding and sharp corners.
It's fine if it's your own bedroom. But, don't say you weren't warned.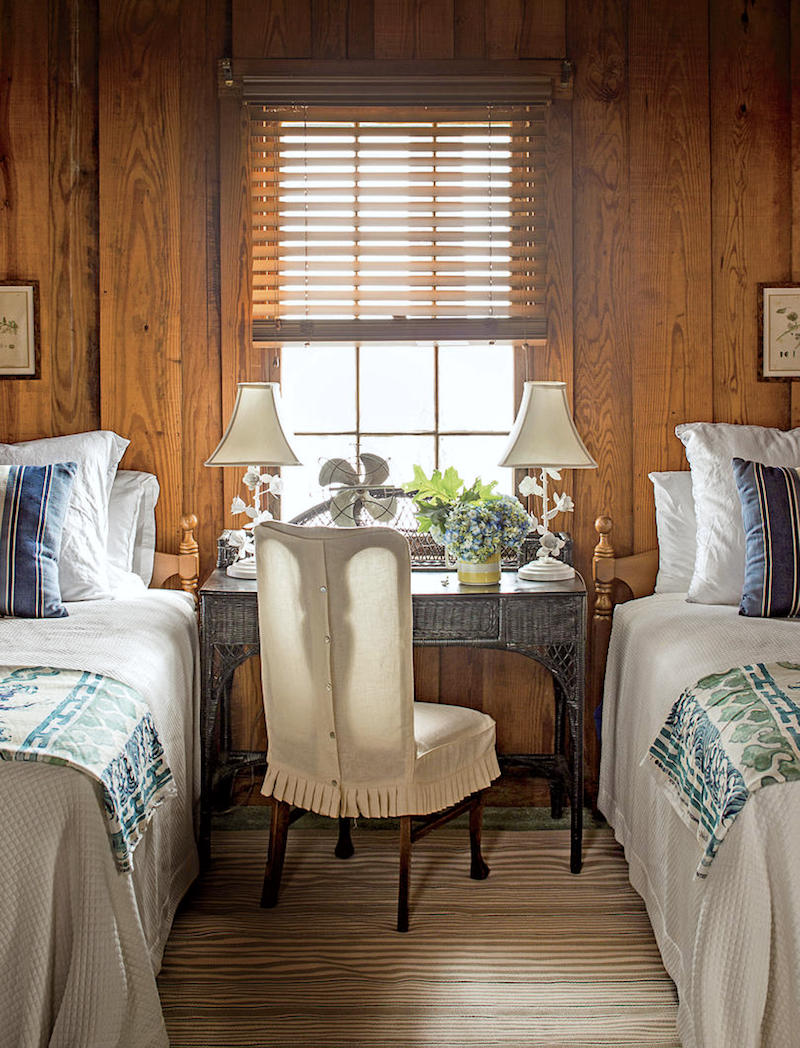 Potomoc River House, Alana Woerpel residence, upstairs bedroom
How charming is this! And, I adore the slipcover on the desk chair.
Traditional – Jenny Lind style sophisticated twin beds – original source unknown
Crate and Barrel makes this bed. You'll find it in the widget below.
Serena and Lily makes a similar bed called the Webster that comes in black or white.
It also comes in larger sizes.
Serena and Lily that was featured on Sunday does make most of their beds in a twin size. However, they don't picture most of them in that size. So, that's why you're seeing the majority of them in a larger size.
Serena and Lily Balboa Bed also comes in a twin size
However, I found the Balboa twin beds in this lovely tropical room by Gray Malin
And to finish off this series of sophisticated twin bed ideas for grownup kids.
Andrew Brown Interiors – sophisticated twin beds
Below is a widget of mostly sophisticated twin beds.
But, a couple are full-sized beds. One is the wonderful canopy bed from Pottery Barn TEEN. Yes! And, it's something to consider.

While I was working on this post, I saw many twin beds that are marketed as children's beds and I think it's a mistake in some cases. There is nothing about these beds that says "juvenile."
Therefore, it seems to me that those brands are losing a share of the marketplace. And, it's a pretty large one. Those folks might not want to buy something that's supposed to be for someone 50 or more years younger.
Well, I hope that gave y'all some good ideas about sophisticated twin beds for grownups.
xo,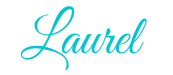 PS: Please check out the newly updated hot sales!
PPS: It's true that a decade or two ago, it was difficult to find wonderful sophisticated bed linens for twin beds.
Well, not anymore. Please check out the bed and bath sales pages for some of my favorite bed linens. I can't promise that every style will be available in a twin size. Sometimes they sell out of sizes.
Boll and Branch – Sublime brand of organic bed linens
But, also you can check out – One Kings Lane. The promo code OKL20CARD works for their Matouk linens and some of the other brands. But Matouk is my favorite brand they carry.
Pottery Barn. And, not kids or teen, but regular adult PB has fabulous linens. At the moment they're on sale with code: FALL
Serena and Lily. – Superb collection of linens, throws and pillows. Some are on sale and most are available in twin bed sizes.
Of course, there's a lot more, but that should probably suffice for most people's needs, for the time being.