Dear Laurel,
It's mid-September and you know how some people say they love this month the most?
Well, for me, it hearkens as the beginning of a six-month long depression, for winter is coming soon. The first couple of months (September, October) it's not so bad. It's more of the anticipatory sort of sadness. Oh, I know, I'm supposed to be "living in the moment."
If you knew that you were going to be executed tomorrow, would you be living in the moment? Right.
So, please spare me the lame platitudes. Thank you. And, I'll relieve you from this tiresome diatribe against the bitterness of winter.
But, here's the really cool thing. I can live ANYWHERE. I could even live in Longyearbyen Norway except that's not going to help as the sun doesn't even rise for at least two months!
I could be one of those snow birds; except that the name, "snowbird" kind of turns me off. Ya know? I prefer to think of it as owning two homes. And, since I'm a hothouse flower, I need to stay warm. I ain't no bird.
So, here are my requirements, Laurel. Not wish list. Must haves.
I need a classical home in Florida. No tacky architecture, please.
It should not be more than $300,000. I realize that's tight, but see what you can do.
But, if it's something really awesome in southern Florida, near the beach, I might be able to go up a little.
No condo. I want a house so that I can have some fruit trees.
I do not need to have a pool, but it's fine if there is one as long as its in good working order.
Would prefer it not to be more than 2,500 sq feet, but minimum 800 sq feet.
The house does not need to be near the beach, but of course, I wouldn't mind if it is.
I would like to be in an area that has a modicum of culture.
The home should be move-in ready. But, of course, if I need to paint, that's okay.
Just, no hideous remuddling, like you showed the other day. I almost lost my dinner!
Did I say that I want classical architecture? Surely, there must be some old homes in Florida built in the classical style?
Therefore, nothing built after 1936.
I realize that there are new homes built in the classical style, but they are way beyond my budget.
Of course, there must be air-conditioning! After-all, it's Florida.
I will supply the furniture.
The neighborhood should be attractive and relatively safe to live in.
And, within walking distance of cool shops and restaurants.
There should be not be a lot of other women living there, unless they are married, very young or very old. However, the place should be teaming with handsome eligible men between the ages of 48 and 65.
Thank you, Laurel.
Love and Kisses,
LB
***
Uhhh… anything else, LB?
No?
You've gone quiet. Did you fall asleep on me?
Ahhh… I just remembered why. Of course, LB is me. Well me, fantasizing, that is. And no worries. I wouldn't say that I go into a six month long depression every year. However, I do feel slightly anxious as the sun starts setting earlier and earlier.
And, then there's that first day where I have to at least wear a sweater when I go out. Then, bam as if a switch gets turned on, there are a million tiny needles slapping me in the face. That's what winter feels like for you southern folks.
Just go stick your face in the freezer for five minutes; right after you've gotten out of a cold shower.
I've been wanting to focus on classical architecture in Florida, because at first, it sounds like an oxymoron. Well, to us in the north. Or, at least to me. Mostly what I see are huge places and condos on the beach.
While it's true that the bulk of the architecture is not what I would deem as classical. Classical homes in Florida definitely do exist. And, that goes for both new and old homes.
So, lets begin with some gems I found. Of course, there are many more. But, I love the work of the architectural firm Fairfax and Sammons
They do a lot of work in Palm Beach, FL, but also have an office in New York City's Greenwich Village. Noice! Below are some examples of their beautiful work in Florida.
Fabulous classical portico
This is from their instagram account. I just started following them.
Another view of the house in Palm Beach by Fairfax and Sammons
And, it is actually on the market for a cool $6,000,000!
One last classical beauty from Fairfax and Sammons – from a classical home in Florida
Durstan Saylor Photography
If you want to live in Palm Beach or West Palm Beach, you can't get a dog house for $300,000.
Below, is about the best you can do.
916 Almeria Rd West Palm Beach, FL
This place has a ton of potential. And it's only $360,000 but it's going to take probably at least double that amount to bring it back to life. But, you can see that it was once a glorious beauty.
Therefore, it's going to be a challenge I think to find a house in my price range of around $300,000. However, since "LB" is a masochist, is on a budget, we'll have to make do.
And, it can't be in a swamp, either.
But, as you may surmise, my $300,000 dream home in Florida is not going to be in Palm Beach or Coral Gables, South Beach (Miami Beach) or any of those cool, but very expensive areas.
In fact, I was not sure if I was going to be able to find anything anywhere in Florida that would also have some culture and walkable neighborhoods.
But, I did.
So, let's jump in and look at the gems I found. The place that has a lot of inexpensive and classical old homes is Jacksonville, FL, on the northeastern coast of Florida.
Does anyone live there? If so, please let us know if it's a nice place to live. Or, maybe it is a nice place to live, but you don't want other people to know. haha.
Actually, one way to find old homes is to check out the oldest cities in Florida.
Old city. Old houses.
Below is classical house in Florida #one in Jackson, FL
335 W 6th St. Jacksonville, FL
Isn't the facade beautiful? I love the simplicity and the white paint color. The link above goes to the real estate listing, but no fair peaking, just yet.
Let's check out the inside.
It's thoroughly renovated, and while modernized, they did leave most of the original detailing.
I can see that they redid the kitchen and put in a new hardwood floor. Ideally, I would've maybe done either a checkerboard painted finish or else a different pattern. But, the color is a fairly decent match. It's not easy to do.
Something I just learned recently from one of my kind Floridian readers (and there are a lot of you!) is that hardwood floors ARE very sought after as they are in the north.
Everyone has air-conditioning. (I hope) In fact, the humidity levels are far more constant in Florida than in the steamy hot – bone dry cold in the north. And, it's not dry because the air is dry. It's dry because of the heat we need to stay warm. Therefore, there isn't the massive amount of shrinking in the winter and swelling in the summer that we have to deal with in the north.
In fact, my building is usually so hot in the winter, that even on the coldest days, I have to open the windows. Yes, I know. Sick. And not the good kind of sick.
One of the bedrooms from upstairs. There are four bedrooms and 2.5 bathrooms
What do you think? Any idea how much this lovely costs?
It's listed at $403,000.
Alas, that's a little over budget. So let's see what else we can find in the way of classical houses in Florida.
418 W 7th St, Jacksonville, FL
How pretty is this! My only criticism would be that given the heavy columns on the first floor, I wouldn't have done those little Corinthian columns on the balcony. But, they look to be original in this home built in 1912, so I guess it's just one of those charming quirks.
Wonderful tall ceilings
How much do you think this home is? It is listed for only $279,000!!! Hooray! I'll take it. haha
Speaking of columns. I found this home which is a bloody hot mess. Remember when we looked at the five classical orders. Apparently, whoever did this, botch job, did not look at them. The four columns should be identical. And for a plain home such as this, I would probably do a square column. However, the round columns in the center would be fine.
But, also. What is going on with that gable that's floating above the porch roof? It just seems to me that they should connect. Something doesn't look right. If you know, please chime in.
I have more classical homes, for you, in Jacksonville.
But, Laurel. It doesn't look like Florida.
Well, yes. You are right. It is mild in the winter in Jacksonville, but it is northern Florida, so the vegetation will look more like southern Georgia.
1337 Hubbard St, Jacksonville, FL 32206
Well, how about this beauty? (link above) Love the property and this one is definitely looking like Florida with that Spanish moss and palm tree in the distance.
Lovely living spaces. Bright and area. And, blessedly, they haven't massacred the place.

The kitchen isn't bad. I wish the cabinets went all the way up, however. And I might've done the over-all design differently, but on the whole, a very nice reno.
How much is this classical house in Florida?
Listed at $415,000. It's nearly 2,500 square feet.
332 E 9th St, Jacksonville, FL 32206
I really like this house. But, what on earth is going on with those columns? Fortunately, that can be fixed pretty easily, I think. Still, I would've taken care of that before the place went on the market.
In addition, I think a few stylish changes outside would make a big difference to potential buyers as they are walking into the house.
In addition, I think it would be great to replace the stoop planters with black urns like the beauty above from Pottery Barn and currently on sale.
And I would replace the planter by the door with a blue and white Chinoiserie planter. Maybe like one of the ones above from Williams Sonoma Home.
Let's go inside and see what's doing, as we say in New York. ;]
This looks terrific. And, the kitchen is very nice too.
Love the builtin closets in this  bedroom
And, this house is only $230,000. Oh wow!
2869 Post St, Jacksonville, FL 32205
And what is this charmer, here?
Yes, they painted the brick!
I think they did a very nice job with the reno.
And, it's now listed for $270,000.
I found a listing from a year ago, before this reno. This house is a flip!
1215 N Liberty St, Jacksonville, FL 32206
Seeeeee? There are indeed  many classical homes in Florida. Unfortunately, for this one, the exterior is lovely, however, they murdered the interior. Don't believe me? Click on the link. In addition, they added this hideous deck in the back. Really bad.
Which house is worse? The one above or the first cousin from this post.  Hard to say.
But, I found some other architectural blunders

At first, this house looks to be quite lovely. But, the tell are the bright orange rafter tails. Like, who does that? Nobody. That's who.
What the hell are rafter tails, Laurel?
Below are two beautiful examples. Sometimes they are structural and sometimes decorative.

These are decorative rafter tails by Intex Millwork. But, check out the link. Just gorgeous!
And another elegant home with beautiful rafter tails by RKA Build
But rafter tails aside, please check out the horror-show inside.
I mean. It's  Florida. Please just paint the interior white. Or, a pale, pale gray would be lovely.
However, the price is listed at only $259,900.
And, get ready. Swallow, please before scrolling down. You must.
oy veys iz mir!!! as my aunt Francine used to say.
I mean, the house is really cute. (bright blue accents aside) But it's not a houseboat!
I have one more beautiful classical home in Jacksonville. This one is a little more money, but nothing crazy.
2122 Post St, Jacksonville , FL 32204
I'd definitely paint the brick and a few other things, but all-in-all, I think that this is a very nice house.
It's on the market for $559,000.
But, Laurel, isn't there anything on or near the beach?
You mean southern Florida? Honestly, if you want move-in-ready in a nice neighborhood in Boca or West Palm Beach, you're going to need at least a million.  You southern Floridians, can you please corroborate that? I really couldn't find much. That is, in the way of a cool prewar home. I'm sure that you can find housing for less in those towns.
The best I could find in at a reasonable price in the way of classical architecture in Florida is this home in New Smyrna Beach.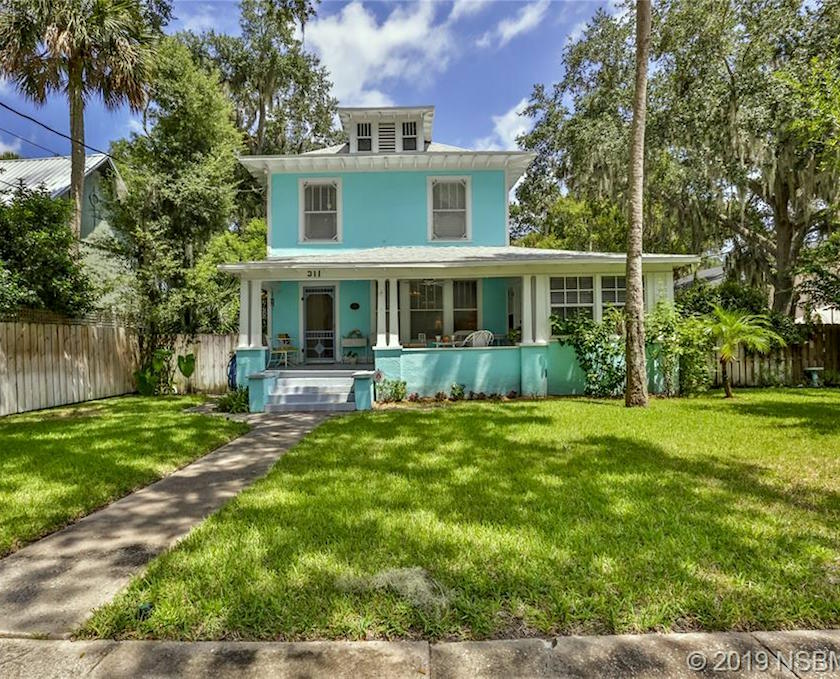 311 Faulkner St, New Smyrna Beach, FL 32168
New Smyrna Beach is still pretty far north, but not too far from Daytona Beach
The interior is pretty good. Although, I do feel slightly blinded by that red sofa. And, please yank those lights out of the fan. You guys know by now that I'm not a fan of fan lights. At least, not those kinds of lights.
However, it's only $329,000. So for a 1923 house, in good condition and close to the ocean, not bad.
And, closing with one last house, a craftsman beauty on 40 acres of land in Monticello, FL.
Monticello is about 30 minutes east of Tallahassee and very close to the Georgia border.
This is a lovely place to check out.
194 Murmuring Creek Rd – Monticello, FL
Do check out the rest of the home; it's quite lovely and the price is only $424,900
Of course, one doesn't have to buy a classical home in Florida.
Of course, I could also just do an Air BnB for a couple of months. And then when I come back home, I won't have to worry about anything associated with having two homes.
Has anybody done that? Anything else we should know?
xo,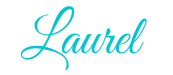 PS: Please check out the newly updated hot sales!
The Serena and Lily custom upholstery sale is ending 11.18 at 11:59PM Pacific Time.