Dear Laurel,
I know you've gone over this before. And, I've read all of your posts about trim and wall colors and love them. However, I'm still driving myself nuts. My husband is no longer talking to me, and the dog runs for cover every time I take out my paintbrush. lol, I'm hoping you can write a post about this.
I know. I'm stark raving bonkers. Please make it stop.
Just tell me the ONE color, the one white trim color, and wall color that will look good with everything!

Sincerely,
Olivia C. Deepshitz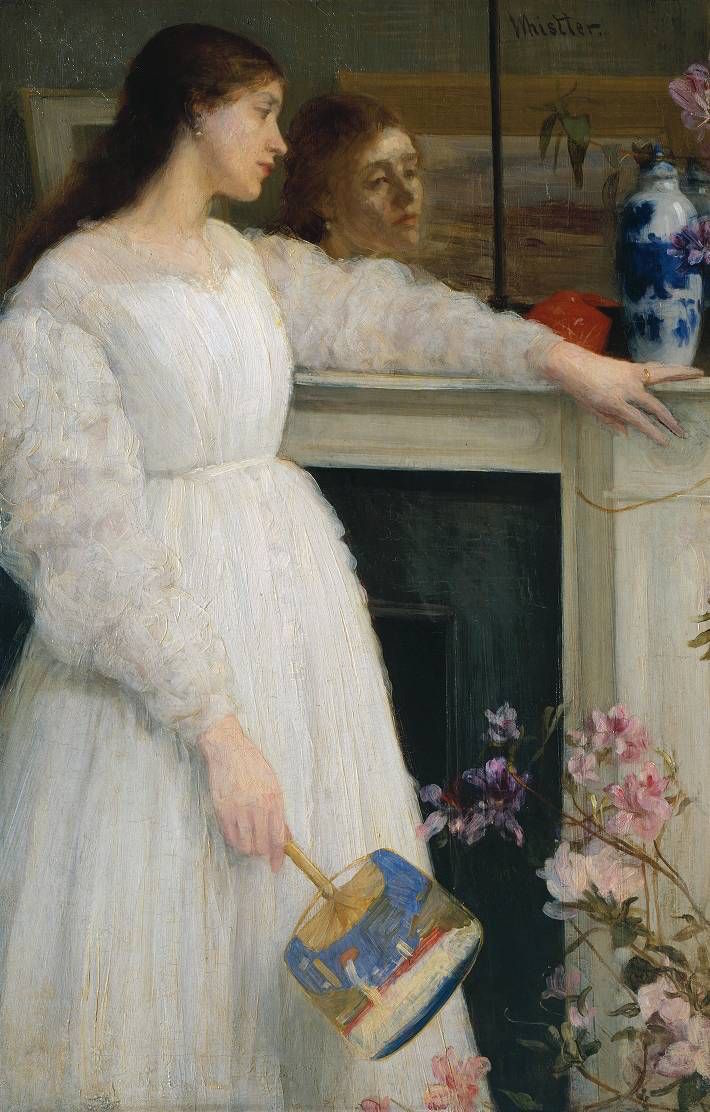 James Abbott MacNeill Whistler – "The Little White Girl – 1865"
Hi Everyone, this is an updated version of a post from six years ago. Of course, Olivia C. Dipschitz (OCD) is a fictional charachter.
Dear OCD,
There, there now. Don't you know?
"It's only paint."
Well, that's what they say when talking about paint colors.
Although, I fully understand your frustration. Many years ago, I, too, drove myself to the edge of my sanity. I made dozens of trips to the paint store, frothing at the mouth. I could just sense the bored clerk snickering to himself…
Oh, here she comes again… hehe… The "pathetic paint lady." I wonder what shade of white she's going to select today. hehe
Sheepishly, I requested another 2 or 3-quart samples of white trim and wall color.
And, then when I got home, I did exactly what you're supposed NOT to do when selecting paint colors.
The painter needed to know- NOW. So, under duress, I convinced myself, "I've-got-this."
Got this meant that I mixed TWO Pratt and Lambert whites.
Well, of course, that was not necessary, and it wasn't really that great, either. What was wonderful were the beautiful mouldings we had our contractor put up. That made a tremendous difference in our townhouse.
Well, that was in 1996, and in the ensuing years, I got a lot savvier about selecting trim and wall colors. Sometimes making the wrong choice helps to make the right one, next time.
So, today, I want to focus on selecting the perfect WHITE trim and wall color.
Below are some of my best tips

One, if the color is dark, the trim ideally needs to be a little deeper white. Otherwise, the white may appear to be insanely bright by contrast
yellows definitely need warm but none-beige whites
blues also need non-beige whites
I generally stay away from cool, icy whites– just because I don't like them.
Warm doesn't necessarily mean yellow
The next thing I'm going to say is:
STOP IT!
I mean that most lovingly, of course. Just stop it. Stop driving yourself nuts, and here is why.
I'm going to let you in on a little secret.
A little secret that's going to shock the drop cloth off of some of you.
Much of the time, it really doesn't make that much difference.
John Singer Sargent – Helen Sears (excerpt) 1895
(As an aside. The painting above is in the Museum of Fine Arts in Boston.)
I'll repeat. Much of the time, the shade of white paint you choose won't make that much difference.
What, are you some kind of a sadistic freak, Laurel? Stop messing with us!
Haha! Okay, freak maybe, sadistic, never! I'm completely serious! Based on experience, I have found that many trim colors will do just fine in a lot of different situations. And they are the ones in this post about the only six white trim colors you'll need.
There, doesn't that make you feel better already? I mean, does your pearl necklace only go with one outfit?
By the way, when I say "trim colors," the same goes for wall and ceiling colors, as well.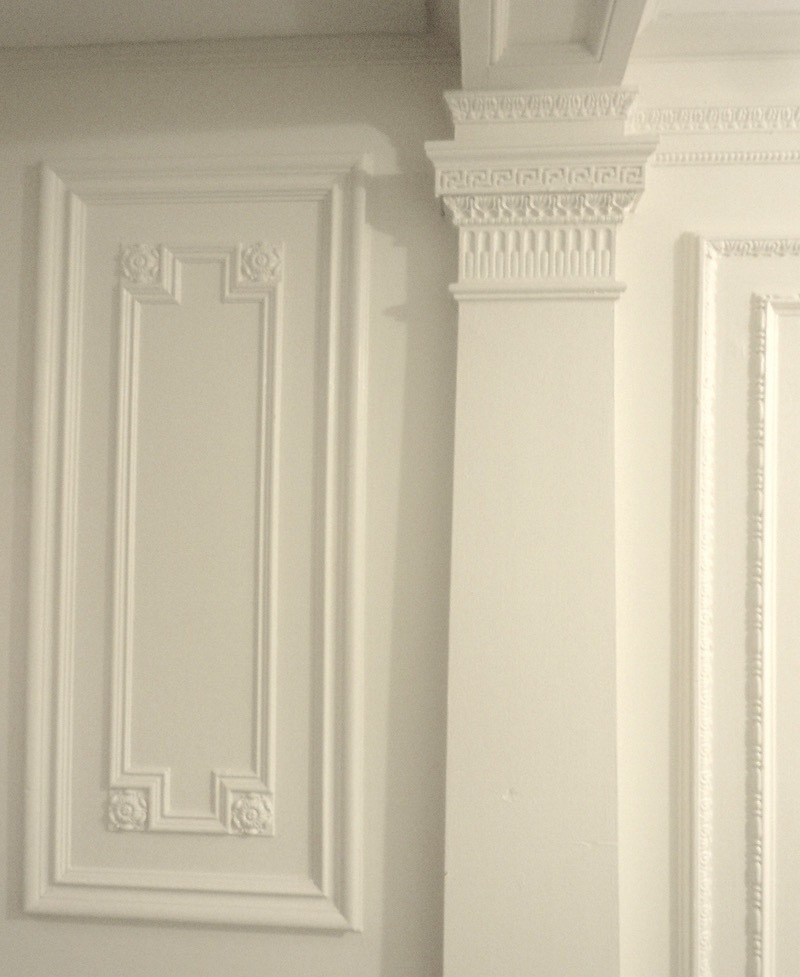 A photo I took in 2013 at a beautiful inn in Boston while visiting my son.
The problem is… well, it's simple. There are just way too many whites to choose from.
We could get rid of 3/4 of them and still have more than enough to choose from. Please see 20 of the best white paint colors.
I understand the fear.
Paint is fickle. It changes with the light. Remember my apartment where Benjamin Moore classic gray looks like pale gold! And, maybe you did make a mistake one time. Did you learn from it? Please know that we ALL make mistakes. However, I'm going to do my best to help you, not make one.
White is the most reflective color. It's reflecting light. The light changes color. It's like the sky.
God didn't expect mom nature to pick just one color for the sky. Right? And that sky, clouds, exposure is going to change your shade of white throughout the day. So, while it may be the most difficult color, it's also the most forgiving color.
John Constable – Cloud Study 1822
If you stick to the warmer whites, you'll seldom have to worry about icy unless the contrast is too great. But maybe you want that stark contrast!
The issue here is that you want only one trim and wall color for the entire home.
This is a very valid point because then you don't have to rack your brain. (as much) :] So, one day, your three-year-old decides to practice his writing on the wall with a sharpie. You'll probably want to touch that up.
Now, you're racking your brain–was that the mascarpone or the creme brulee? Oh, wait, no. It might've been swiss coffee. Life is confusing enough. I usually recommend sticking to one or two trim colors throughout the house if possible.
And, yes, it is a great look to paint the walls and trim the same color. So, there's no need to stress about that. And, if painting the ceiling white, use the same color there, too. However, I usually do matte or eggshell for the walls, semi-gloss for trim, and flat or matte for the ceiling. That's a general rule.  Please see why your paint sheen is confusing you.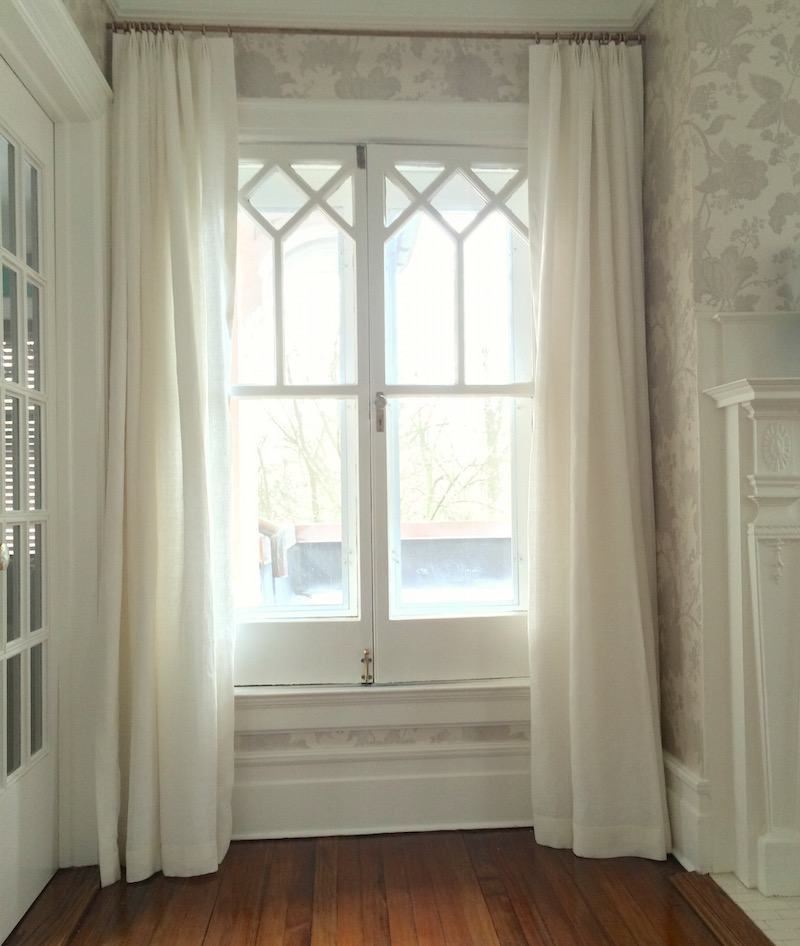 From a recent installation we did in a Bronxville bedroom
(the trim color is Benjamin Moore White Dove OC-17)
If you only want one trim color, then what needs to be considered are the kitchen and bathrooms. The cabinetry needs to match the trim– or at least be very close. Toilets, bathtubs, and sinks are usually pretty white. No, the paint doesn't have to be an exact match, but of course, it needs to coordinate. That means one of the whiter whites.
White on white. Gorgeous cabinetry and millwork by builders George Hummel and Associates
For bathrooms, plain old Benjamin Moore White usually looks pretty darn good.
My old bathroom was this color.
Okay, is plain old outta the can white, the IDEAL trim color? Well, it's in the top 20 best white paint colors because it looks good with a lot of colors. Plain white actually has a good amount of gray in it. However, sometimes it looks very stark, and sometimes it looks a little dirty.
So, that leaves about eight other possibilities for white wall and trim color if you only use one trim color in every room in the house.
All colors by Benjamin Moore (not an affiliate link, but it should be!)
Chantilly Lace – OC – 65
Cotton Balls – OC-122
Mountain Peak White – OC- 118
Simply White – OC-117
Snowfall White – OC – 118
Super White – PM – 1
White Dove – OC-17
So,  which one?
Here's what you do. Take eight pieces of paper with the names on them, put them in a hat, close your eyes and pick one. OR, play a game of eeny-meeny-miny-mo.
Oh, Laurel, please stop being so glib and tell us the best one!!!
Gee, sorry. I thought I had made my point. They are ALL the best one. Yes, in some situations, some are going to be a bit better than others. However, the differences are so minute that the average person will not see the difference.
But you want only one trim color.
Fine.
That's what I said in 2015. And, I still stand by that color 95% of the time.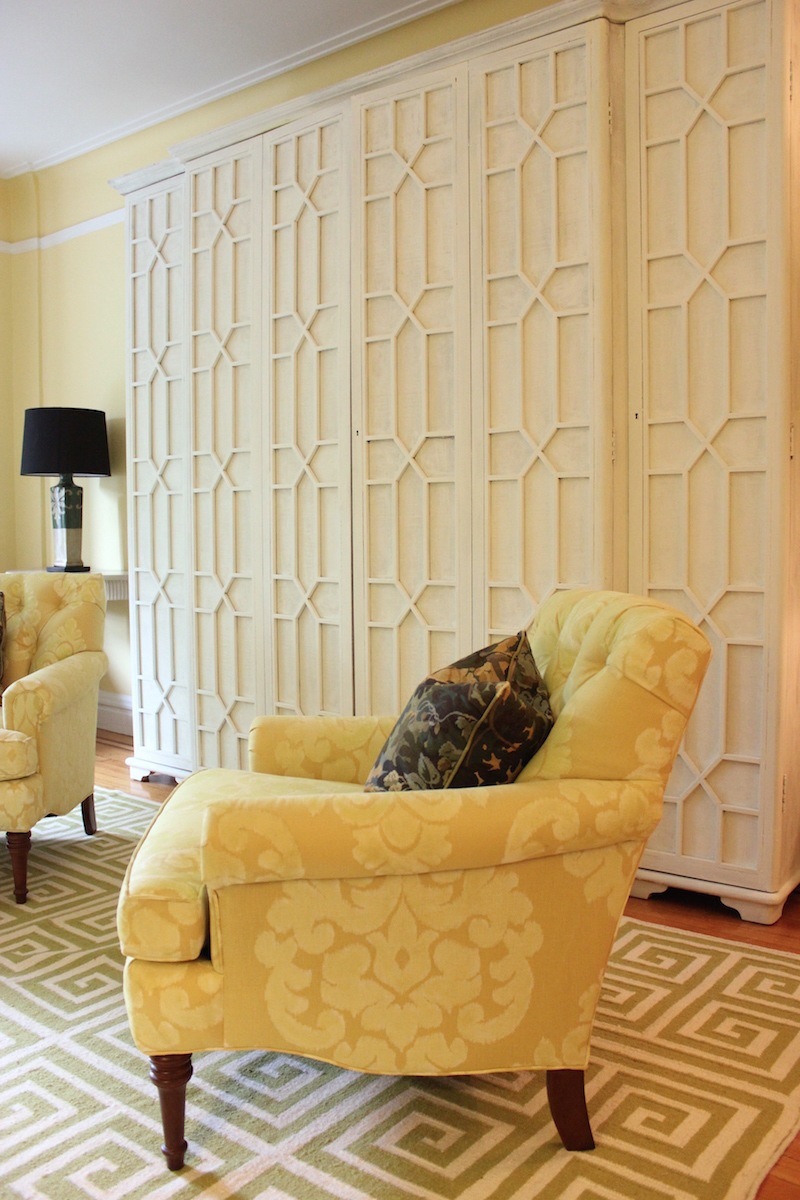 My old living room in Bronxville with a cabinet painted with Benjamin Moore Cotton Balls. There is a lamp on, so that is skewing the color on the right.
So, is there a better choice?
I bet you're going to change it to White Dove, Laurel.
Actually, no. I'm definitely not going to do that. I lived with White Dove oc-17 in my old bedroom with the Mural Source wallpaper for over 2.5 years. And, at the time, I virtually lived in my bedroom. So, I looked at White Dove – A LOT. All of the doors, trim, ceiling, and space between the moulding is White Dove.
Here are my observations.
On this wall, the color always looked terrific.
And, here, pretty much, too.
Please note, the cabinets were painted the same color as the trim. It is slightly different than the wall color. However, both are white dove. Before I sold my place, some repairs needed to get fixed already. So, they repainted the walls and ceiling. And, guess what? The new paint matched the trim much better.
This is why I can't stress enough that there will be slight variations even with the SAME color. So, to be stressing about minute differences isn't really worth your time or attention.
You see, the trim version of white dove was perfect, but the original wall version was ever so slightly off. Most people would not have noticed.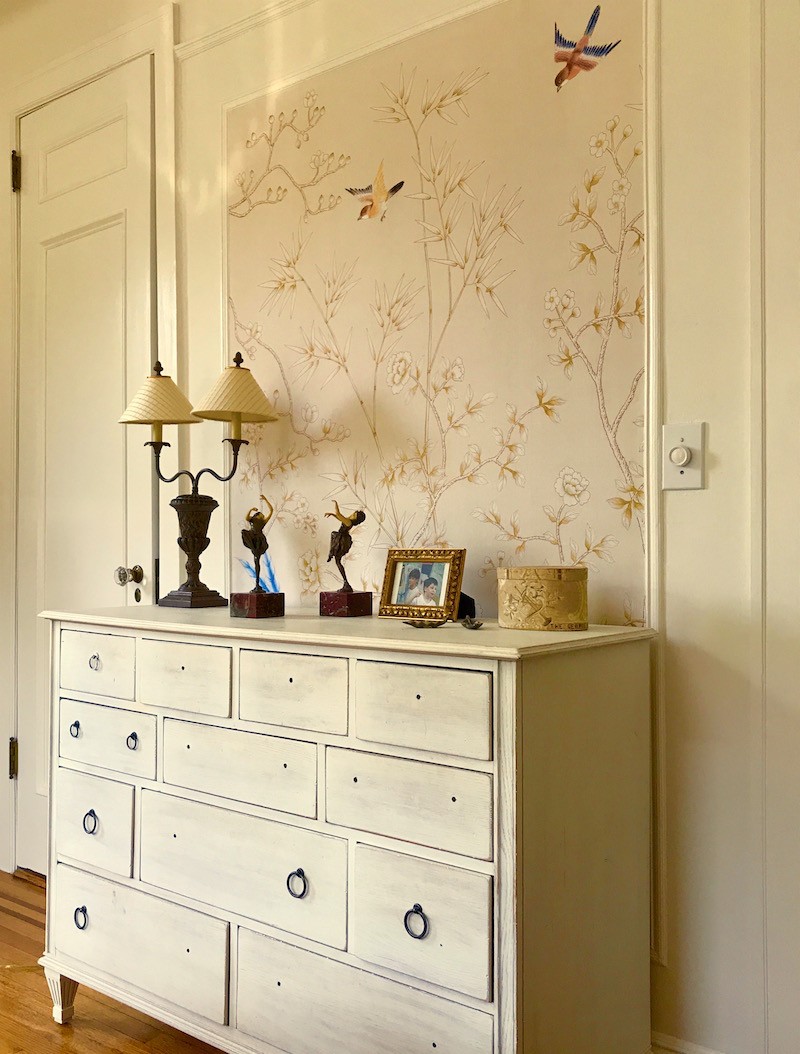 However, on this side of the room with my funky dresser, the White Dove often looked like a light golden beige, just like you see here. If that wallpaper were any pinker, it would've been horrid.
White Dove would also be horrid with a clear yellow.
Where it's nearly foolproof is with deep colors. In fact, with deep colors, you can go creamier, like Swiss Coffee or Ivory White.
And, White Dove is also quite lovely all on its own.
Okay, where does this leave us when talking about the best white trim and wall color?
Well, when I repainted the rest of my Bronxville, NY apartment last November, I decided to go with Super White for the rest of the trim and ceiling in the living room and kitchen. And, let me tell you. It was beautiful! In fact, it was so beautiful. I wish that I had changed the plain white years earlier.
What about Simply White, Laurel?
Thank you, you read my mind. ;]
I do talk for a bit about these three colors in the Laurel Home Paint Collection. They're like identical triplets. Oh, there are always some subtle differences between triplets.
However, when it comes to Cotton Balls, Simply White, and Super White, I guarantee that you will not know which one it is if you go into a space painted one of them.
But, but, but. Here's the thing.
Simply White and very occasionally, but not usually, Cotton Balls, like White Dove, can skew towards the yellow.  I mean, if Classic Gray can look yellow, any color can!
So, this is what I suggest if you don't know how your paint color will react. Although, if you have a south and west-facing room, you will most likely see those golden tones in the afternoon and early evening.
However, if Cotton Balls or Simply White look YELLOW, then most likely Super White will too. However, Super White is ever so slightly cooler than the other two. But, all, according to Encycolorpedia, are pale yellow-green.
Uh-huh.
But, don't worry. The operative word is PALE.
So, what do you do if one or all of those colors looks yellowish and you don't want yellowish?
I would then try Decorator's White or Chantilly Lace.
However, in all of my years, I have never actually used either of those colors. I have seen them, however. Decorator's White tends to be pretty cool. And, Chantilly is the whitest of them all, but still with a touch of creamy off-white. It is on the cool side without being icy.
The only other white that will not ever read yellow is plain white. It won't read pink or green or blue, either.
Alright, here's the bottom line. 99% of the time, Cotton Balls IS a wonderful, soft, warm white trim and wall color that will look great in all situations.
However, I have to say that I really loved the Super White.
And, Simply White in this lovely white kitchen is beautiful!
John Singer Sargent – The Fountain Villa Torlonia, Frascati, Italy 1907
What about the rest of you? Do you have a favorite white trim and wall color? OR, one that didn't live up to its promise? I'd love to hear your opinions about THE most difficult color.
By the way, since this post is a do-over, like the original 20 favorite shades of white paint, I saved all of the comments. So, I'm saving the comments for the only white color you'll need on this page as well.
For more help with paint colors, please check out my curated Benjamin Moore paint collection of 144 colors.
Along with the colors, you'll get trim color suggestions. And, it also comes with another huge guide where I put the colors into 40 palettes with furniture suggestions. You can start to read about these guides here. Some links will take you to more information.
Please feel free to share on Pinterest!
Do you love white on white as much as I do?
Well, if you like it even half as much, please enjoy the following grouping of white on white home furnishings. I included some accent pieces that I think complement the white furnishings.
For more info about the products and their sources, please click on the individual images.

Other posts about white paint colors you might enjoy are linked below.
For my very favorite shade of white paint, click here.
Are White Painted Walls Boring?
White on White Decor Inspired by a Top Magazine Stylist
Do You Live With a Drove of Pigs But You Want To Decorate With White?
And What About Your Ceilings? Must They Always Be White?
xo,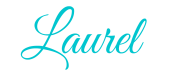 PS: Please check out the newly updated HOT SALES!