Hi Guys,
Today, I'm going to broach a sensitive subject. And, it's one that most of us have had to learn from, the hard way.
It's about when paint colors change unexpectedly.
In the morning, the color looks yellow, the afternoon, lavender, and the evening slightly pink. At night it looks white.
On top of it, the paint colors change on every wall– at the same time of day.
Sometimes they look one way at the top and another way at the bottom.
Or, the wall changes color from one end to the other.
This is why when you put up samples like this; you are playing Russian Roulette with your paint colors.
You put up a little sample, and it's perfect.
Once upon your walls, it looks like a completely different color.
However, if you look back where you first saw this sample, I bet in that spot, you'll like the color. Yes! Just one problem, the predominant walls don't look like this, and now the TV is covering where the color is perfect.
Why does this happen?
Well, I could write an entire book about this if I wanted to do about 10,000 hours of research.
However, it has to do with:
this:
this
And this.
Brain illustration via Britannica
But, please watch these two short videos that explain some simple basics about how we perceive color.
And, the second one about optical illusions with color.
I also touched on some color illusions in this post.
But, Laurel, what about undertones?
What about them?
Look. I know full-well where this is going, and I'm not going down that trap.
Maria is a good friend who I respect immensely and agree with 99.999% of what she says.
(If you don't know who Maria is, that's fine.)
However, I have not taken her course. But, I have colleagues who have taken it and have raved about it.
I think she's very talented, and in the end, our philosophies are not contradictory.
All things being equal, if you look at a paint color in relation to others, then the principles hold true.
However, all things are not equal.
In a room, there are windows, doorways, recesses, other walls, a ceiling, a floor, furniture, and maybe a big snowy hill outside, blue ocean, green meadow, etc., outside the window. Plus, other colors.
All of these things can affect the way a color looks. I'm sure that Maria addresses all of this. Again, I have not taken her course.
In addition, there's the time of day, the time of year, and artificial vs. natural light.
Natural light is different by season and very different on cloudy vs. sunny days.
This is why you must make large samples of a color and move it around the room and in different lights.
Really?
Yes. And, it's fine. You can use those peel and stick samples from Samplize. Or, you can make your own with real paint.
Now, I am going to demonstrate with my Boston apartment just how great paint colors change. So, hang on.
Many of you have asked me what the colors are. I did not paint these rooms. I am only going by the cans of leftover paint left for me in my storage closet.
However, please go back and read this post about why it doesn't matter what the paint color is. The only reason you want to know my paint colors is because I am blessed to own the Paulina Porizkova of living rooms.
When I am through, I hope you're going to understand with crystal clear reasoning why it drives me berserk when I am asked. "What color is that?"
My apartment has three huuuuuge south-facing windows. However, because of the bay in the living room, those two face south-southeast and south-southwest.
The one big window in the den faces due south.
I've been enjoying the differing lights depending on the time of day and night.
Let's begin with this pic we saw the other day when we discussed plans for a new door with a transom.
Remember when I said that the color looks nothing like this? It might've been in a comment if you happen to be looking for it. Below is what the paint color is.
It is Benjamin Moore Cedar Key – oc-16.
It's a true greige (warm gray/beige) that sometimes has a very slight purple undertone. But, like other greiges, it can also go more to khaki. (ever so slightly green.)
The living room is Benjamin Moore Classic Gray which is also a warm, ethereal light gray.
We will look at the living room more closely, but first, let's look at how paint colors change in the den.
A photo of the den was taken from the living room on Jan 14, 12:23 PM. I know. It looks like the living room is Cedar Key, and the den is Classic Gray. But, that is not the case. The trim is Super White, which looks nothing like the image above.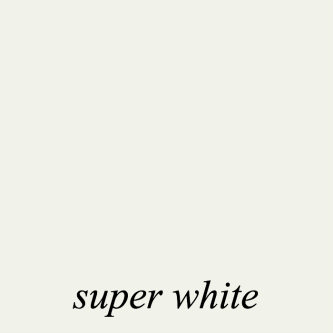 For more super white, you can see it on my trim in my living room, bathroom, and kitchen in my Bronxville apartment.
Let's look at images in the den taken while sitting there.
The photo was taken on Jan 19, 11:49 den – Benjamin Moore Cedar Key.
Yes, the closet wall and the back wall are the same color.
Jan 19, 11:51 am den – Benjamin Moore Cedar Key South-east corner.
You can see that at this time of day, the pinkish-purplish undertones came out.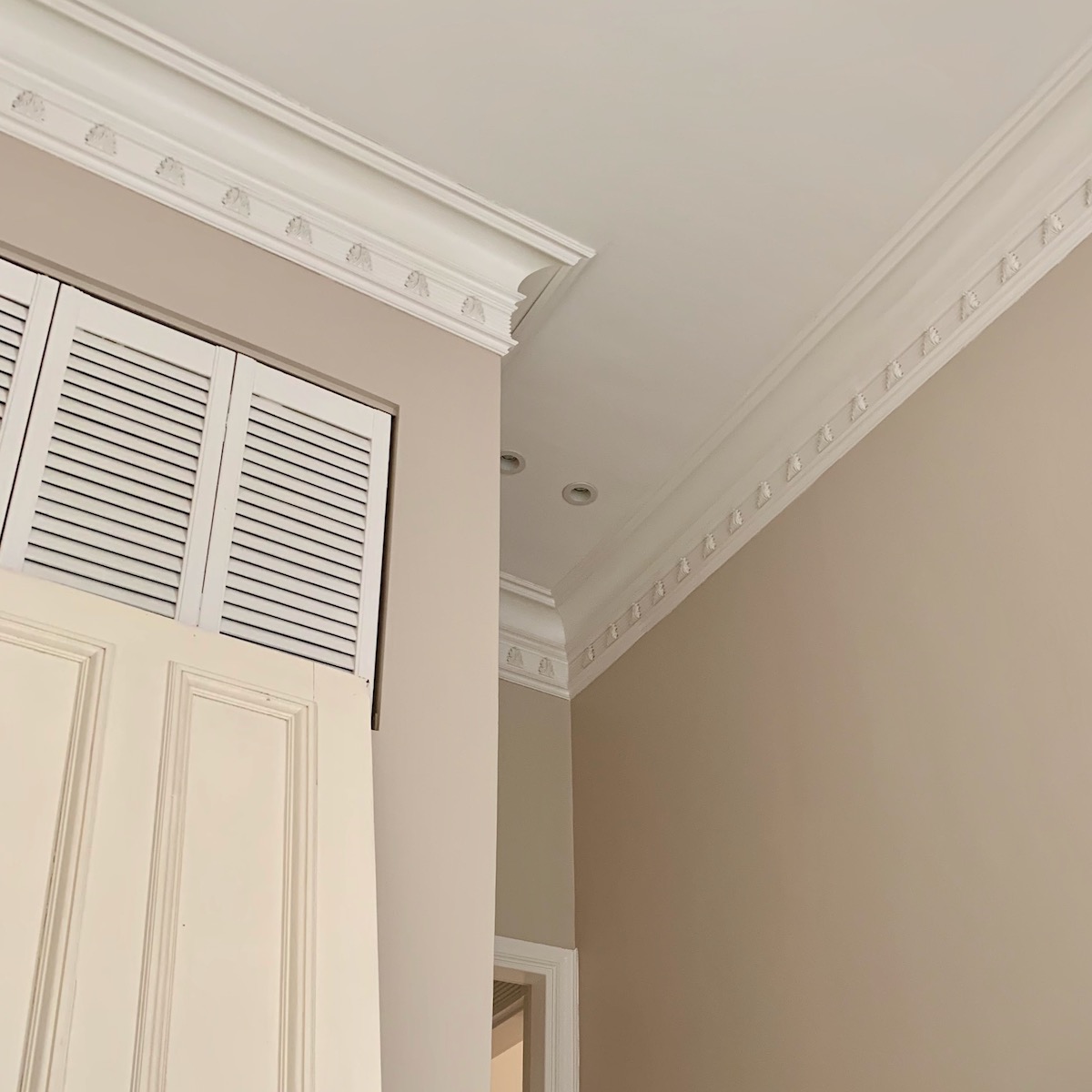 Jan 19, 1:51 PM den -A little later, the tone had calmed down and was a cooler version. By the way, the door is a different color than the trim as it was painted a while back.
The pic below taken from the den looking into the living room Jan 8, 12:22 pm
Notice the variation of the same color on either side of the doorway. And, then we look beyond in the living room to see Benjamin Moore's classic gray looking almost YELLOW.
Is this an anomaly?
No.
Jan 13, 12:20 pm living room Benjamin Moore Classic Gray
The sun was streaming in full-force.
The next day, the 14th, at 12:24 PM. I wasn't trying to take photos at the same time. But, this time of day at this time of year is prime sunlight.
But then, there's this photo from Dec 29, 2:15 pm, also on a sunny day, but after the sun had almost dropped behind the buildings.
So, this side of the room looks slightly yellow-ish, much of the time.
Again, this is Benjamin Moore classic gray.
But, let's look at the other side of the room.
Jan 14, 12:23 pm living room back corner. This corner typically looks cooler and more like I think that Classic Gray should look like in a well-lit room, but further from the light.
However, this same view taken at 11:54 this morning is also looking quite creamy.
Today at noon, it was blindingly bright in the living room.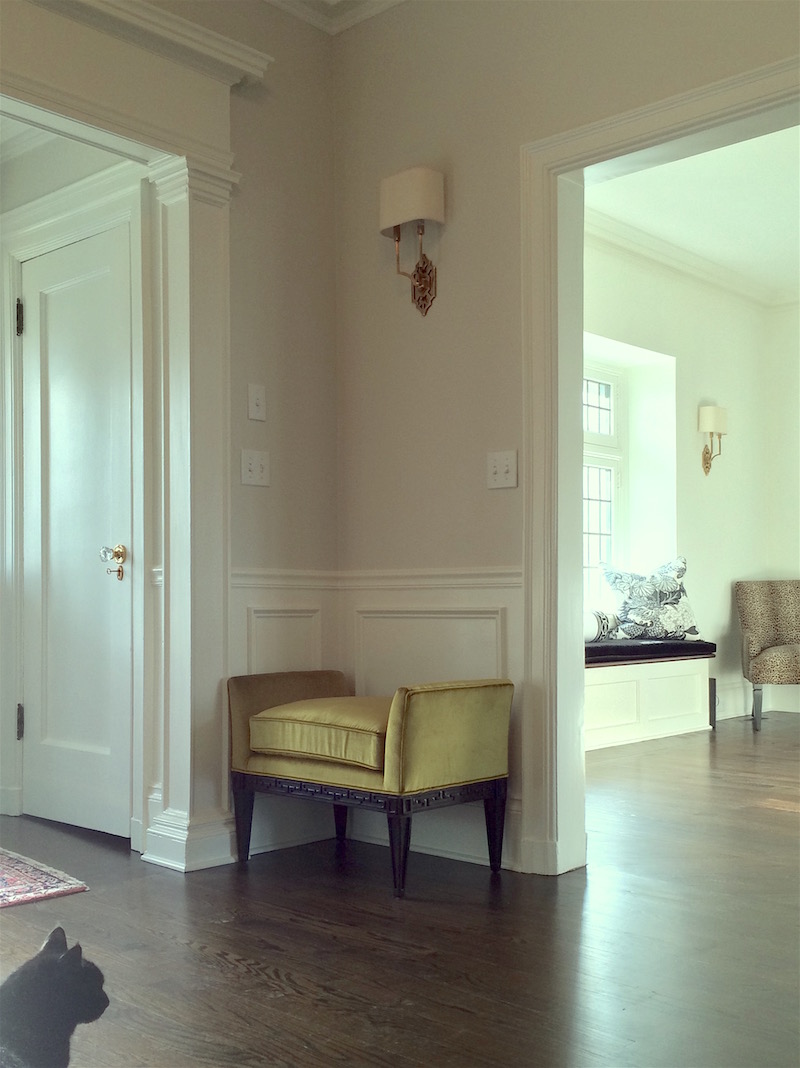 For comparison, In Bronxville, Classic Gray is a beautiful entry we worked on a few years ago.
Now, get ready to have your mind blown.
This is a lovely color palette, right? And made up of a warm group of muted greens, beige, and a soft caramel shade.
What are these colors?
They were taken from six of the photos above and large areas of color from different living room walls.
Yes, they are ALL Classic Gray!
But, here's the thing. And to be clear, I just double-checked the paint cans.
One paint can that says Classic Gray at 50%, while the others don't say that. I do think the kitchen and entry are the 50% for sure. It looks like a dirty white.
My experience with Classic Gray is that it is warm, but if anything goes every so slightly purple, not yellow. And this classic gray never goes purple.
Even on a cloudy day, it looks a little creamy.
The trim is Super White except for the master bedroom trim, which is a Fine Paints of Europe white in an oil base! I couldn't make out the shade of white, but it's quite beautiful.
The bottom line and lesson in this post is that colors on walls are highly changeable. And, you cannot "see" a color by looking down on a paint chip. Nor should you be putting paint samples on the wall, as you can see in this post.
I realize that this makes choosing paint colors all the scarier. However, if you make your samples and use this method, you should be fine.
And, if you don't already have this tool and are still struggling to figure out colors, trims, and palettes, please consider investing in my two-volume Paint and Palette Collection.
There are 144 Benjamin Moore Paint colors, which are then put into 40 color palettes with 12 colors. For the paint collection, please go here.
And, for the companion palette collection, please go here.
I am fascinated by color and how paint colors change. I hope that my years of experience will be helpful for you.
xo,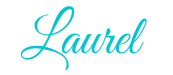 PS: Please check out the newly updated HOT SALES!
PPS: Tomorrow, the 20th, I'm getting my chimney inspected and hopefully cleaned. Very excited about that.