If there's one thing I routinely see people getting wrong, it's their living room lighting.
Therefore, this post is going to cover a list of rules and guidelines for your living room lighting, from the ceiling down to the table lamps.
How does that sound?
Hopefully, these rules will make it easier for you to create a beautifully lit room.
But, before I do that, I want to share that this is actually an excerpt from my new guide which is coming out next week.
Note: Some people do and some don't give a flying crap about my new guide coming out next week. If you're one of the latter please skip to here.*  If you DO give a flying crap and/or you're a Laurel's Rolodex owner, please keep reading this important announcement.

What is the new guide all about?
Well, I mentioned it a few weeks ago, but this is a guide where I'm going to share well over 100 decorating rules and tons of other information. Rules is a bit of a misnomer in many cases. I think approximations is a better word, in most cases when it comes to design.
The Guide is going to be broken down into three categories
Living Rooms
Dining Rooms
Bedrooms
But, because this is a very detailed guide, and I've had some setbacks like being sick for a week, I'm going to release Part I next week on Friday, the 22nd of November. And Parts II and III will automatically be sent out on December 12th. 12.12.
Is there a cost for this guide, Laurel?
***If you have purchased anything from me (Laurel's Rolodex, The Laurel Home Paint and Palette Collection, or Six Figure Income Blogger) in the last year,
OR you purchase anything from now through December 30, 2019, you will automatically receive this Guide for free as a thank you gift.***
But, again, that offer is going to end on December December 30, 2019 at 11:59 PM.
Everyone else who would like to have this new guide will be required to cough up $49.00. And, those who purchase any of my products after December 30th will not be getting this guide for free any longer. At least, not for the foreseeable future.
Laurel, I have another question. Is all of this information already on the blog here somewhere?
Yes, some of it is. But, at least 30% is all new material. For the information that is already on the blog, with nearly 700 blog posts, good luck finding it all. For $49.00, you'll have it all in one convenient place. And, if you purchase anything during the promo period, the entire guide is free. And, you'll get it for free if you purchased anything since the last Rolodex update mid-November 2018.
If you can't remember when you purchased something, please try not to write me. I recommend consulting your email and doing a search for "Sendowl." That is the shopping cart service that sends you your download link.
Also, please remember, for Rolodex owners, that you will automatically get your link on November 22nd.
However, as long as you have downloads still available, any link will work, once I've changed the Rolodex from the 5th edition to the 6th edition. That's because the change to the rolodex is on my end. Your download link never varies.
One last thing.
Gifting is available and this would make a terrific gift for any designer or design enthusiast to help avoid costly mistakes.
*End of information about Laurel's new guide and the rolodex update.
To reiterate, this post about living room lighting rules is only a small excerpt from the total guide.
But, it'll give you an idea of what the rest will be like. There will also be more specific details about the guide next week. I'm so excited about it!
In fact, one of the most offensive sins, in my opinion, is bad living room lighting. Or, actually bad lighting in any room.
However, it might come as a surprise when I tell you that the most common offense when it comes to lighting, is a room that's over-lit. I mean, a living room is meant to be a place to relax, maybe hang out with friends, read or watch TV. That sort of thing. Most people are not performing neurosurgery in their living room. So, why do they need to light it like it's an operating room?
What are some other bad living room lighting situations?
The first cousin to too much light, is glare. That is usually glare from either too-bright down-lights and/or bright bulbs that are exposed. It's best to try and avoid this issue.
Another problem that's more obvious is insufficient lighting. There isn't enough light. And/or, the light is only coming from one source. In a recent blog post about flush and semi-flush mount ceiling lights, we talked about the issue with a single ceiling light in a room larger than a hall, closet or small bathroom.
The light needs to be spread around the entire room.
RULE: living room lighting should come from multiple sources. It's important to spread the light throughout the room and especially to light the corners of the room. For instance, you could have recessed downlights on dim for a soft ambient light. However, you can also achieve this with table lamps. Task lights provide a more concentrated light for reading and work.
RULE: Light sources should be on at least a couple of separate switches, if possible.
This gives better control over the lighting.
Or, if table or floor lamps, be turned on with the lamp. Cord dimmers can be added.
RULE: Dimmers are a must for the best light control.
RULE: If using LED bulbs, the best number of Kelvins is 2700-3500– tops. This will give a warm, soothing light to your room.
Living Room Light Sources Sizing and Rules
Nothing strikes more fear than getting a light fixture that's the wrong size. But, it's wise to relax because these measurements are definitely guidelines. The important words to remember are minimum and maximum.
Let's begin with ceiling lights. There are numerous kinds
Flush mounts and semi-flush mounts are close to the ceiling. Generally, I don't recommend a total flush mount light fixture in a living room.
Hanging Light fixtures. And, these fall into three categories. A chandelier usually has arms and "candles" with bulbs resembling a candle flame.
A pendant light is a single fixture that hangs. It could be in numerous shapes, but the most common are a drum or a sphere. And finally, a lantern. Lanterns are usually either square or rectangular. However, there are lanterns that are also in the shape of a bell.
What size fixture do I need for my living room lighting?
Ceiling Lights – If we are talking about recessed down lights, it is best to work with a skilled lighting designer/electrician. Since I'm not a fan of them, I'm not going to get into it. If you have a piece of art you'd like to illuminate, I prefer picture lights.
And, I don't usually recommend putting in flush mount ceiling fixtures either because they create shadows in a larger room, usually. (to avoid that, only use as ambient light on dim)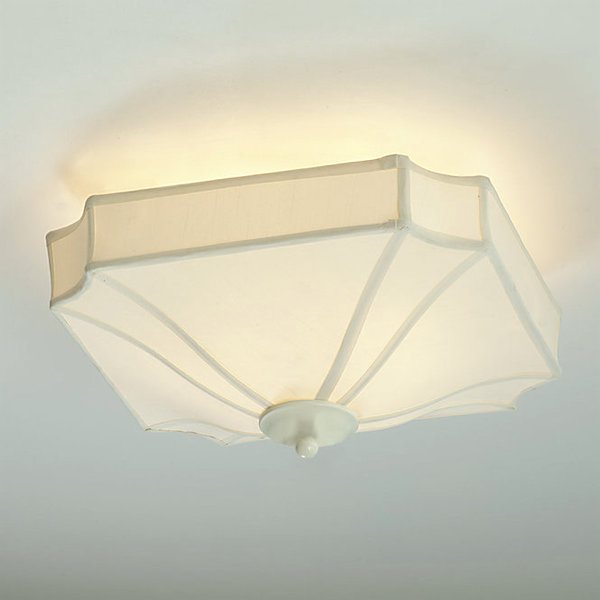 cut corner semi-flush mount ceiling light – shades of light
However, if you already have a fixture because you are not the first owner, the one above by Shades of Light for only $99.00 is one of my favorites. It is square and 16.5″ wide. That's a terrific size if doing one or two on the ceiling in a living room. Since most flush mounts aren't larger than 24″ I wouldn't sweat that too much. The only thing to avoid is one that's too small if it's a single fixture.
RULE: To calculate optimal flush mount ceiling fixture width add together the length and width of your living room, say 24 + 14 = 38 and then divide in half = 19. But, if the fixture is a few inches smaller or larger, that should be fine.
Living Room Lighting and Hanging Light Fixtures
RULE: The MINIMUM head clearance is seven feet for a chandelier.
Sizing a Chandelier
RULE: The MINIMUM ceiling height for a hanging fixture is Nine feet
RULE: – This is a common rule for sizing a chandelier. However, it is one that doesn't always work in a living room and that is to add the width and length of the room together and that is your optimal chandelier width.
The reason for this, has to do with ceiling height. Sure, if you have a 12 foot or higher ceiling height, then a 38″ in diameter fixture would most likely be fine. If your ceiling is only 9 feet high, then 38″ is going to be too big for an average living room which is about 24′ x 14′
ALTERNATIVE RULE: to figure out the diameter of a hanging light fixture in a living room that is under ten feet high.
Take the height of the room, say 9 feet and multiply by 3 = 27."
27″ is a much better size for the chandelier's diameter for a room this size.
But, let's say that your room is 9 feet high; and, a super large room. In this case, there will probably be more than one seating area, so I would do two fixtures but still not more than 27″-30″ in diameter. But, 24″ in diameter would be fine too.
RULE: For every foot higher than nine-feet, I think it's safe to be able to add 3″ in width to the fixture. So, if you had a 16′ foot ceiling, 16 is 7 larger than 9. 7 x 3 = 21″ added to the base diameter of 27″ = a max of 48″ Diameter for a ceiling this high.
How tall should a chandelier light fixture be?
This one is a little more complicated.
For 9 foot ceiling, there isn't a lot of wiggle room as there's only two feet to work with. But, I won't crucify you, if you dip down 4″ to allow for a 6′-8″ head clearance.
RULE: Including the canopy, I feel that the minimum amount of chain should be about 12″. Therefore, the absolute tallest chandelier you can use with a 9 foot ceiling height would be 16″. Optimal would be 12″ high.
RULE: For every foot a ceiling is higher than 9 feet, you should probably hang it about 3″ higher and also add at least 3″ of chain, so the optimal height of the chandelier is from 15″ – 21″ high. However, if your chandelier fixture height is shorter, that is fine. You can always have more chain.
RULE: Since there is so much variety in shapes and styles of chandeliers, and other hanging living room light fixtures, I very much recommend being on site when the electrician installs to eye-ball the proper height of the fixture off the floor.
RULE: For hanging lanterns, the height off the floor and the maximum height of the fixture remains about the same. However, the width of the lantern should be about half the width of a chandelier.
RULE: For a drum pendant, which is almost always going to be wider than it is tall, I think a good proportion is about 10%-20% less in diameter than a chandelier.
If you are still struggling with sizes and proportions for your hanging fixtures and know how to do an elevation drawing, I definitely recommend doing that. If you have no such skills, then there's a terrific program over at Capitol Lighting (formerly 1800lighting).
This tool on their website (see link above) can help you visualize their light fixtures, to scale, in a room setting.
And, since they have such a fabulous collection and good prices, that's a great place to start. If you don't want to get a fixture from them, you could also find something similar to the one you're considering getting and use the tool that way.
Wow! We still have a lot to cover. Do you see why this guide is not going to be like any other? A lot of this information does not exist anywhere else. Or, if it does exist, it's wrong.
Sconces
Wall lights or sconces are one of my favorite ways to light a living room for a lovely ambient light.
Sconces come in one arm or light, two light or sometimes three or more light versions.
RULE: Since there is so much variation in size and formation, it truly is best to do an elevation as you would if you were doing an art wall. However, I do have some rules regarding spacing. That will also help you decide what size fixture you can have.
RULE: One important note is that all wall lights have a projection, so please make sure that there is enough clearance so that people are not crashing into them as they walk by.
How High to install the sconces.
RULE: I think for a room 8 or 9 feet high the minimum is 60″ to about 66″ on center.
And this isn't going to vary as much as a chandelier will. But, it has more to do with the size of other elements in the room such as the fireplace mantel.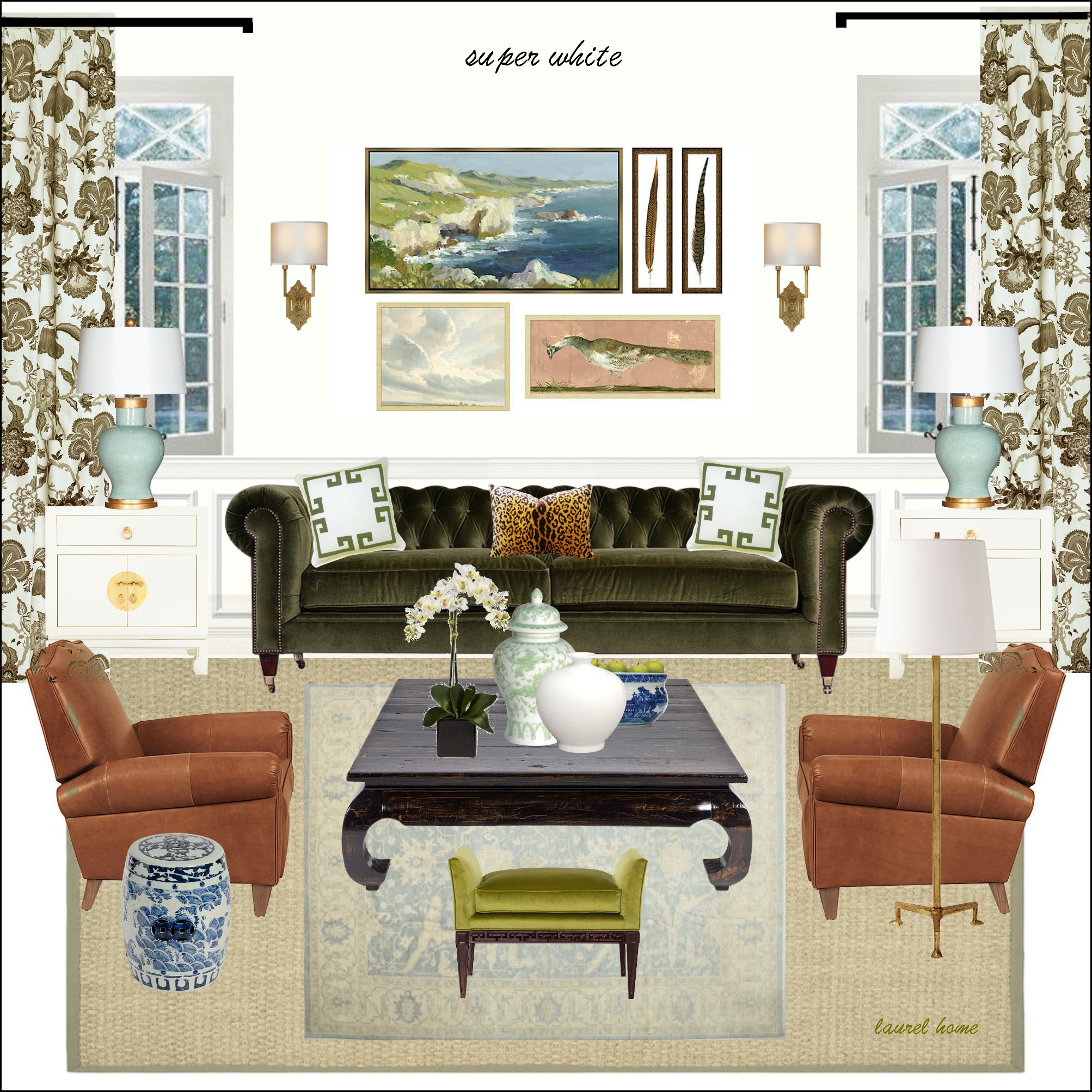 Above one of the bonus boards from the Laurel Home Paint and Palette Collection. But, here we can see the proper placement of a sconce at about 64″ on center and centered between the window treatment and art work. (to see these Visual Comfort sconces in a room I did, click here)
RULE: Super important. If you are creating a composition such as this or something, and there's a window, a word of warning. Please take into consideration the window treatment which will be covering part of the wall even if it's only 2 or 3 inches. You'll need to center your sconce on the area between where the drapery ends and the art, not where the window ends.
RULE: But, generally, a sconce is not going to be a lot higher than 72″ no matter what for most rooms with an 8-10 foot ceiling height.
Again, use the Capitol Lighting app or do an old-fashioned wall elevation to determine the optimal height for your wall sconces.
RULE: Regarding clearance between sconces and a mirror or sconces and art; or, sconces and the edge of the wall. The absolute and I mean absolute MINIMUM amount of breathing room should be 3 inches. However, if your sconce has an unusually deep projection, (more than 6″) then that minimum should be at least 4 inches. The reason is that perspective will make the sconce that sticks out a lot, appear to be wider than it really is.
RULE: What is the maximum clearance between the sconce and other objects?
Well, that depends on the rest of the design.
Floor Lamps
Floor lamps vary in height depending on a few factors. If it is acting as a table lamp, then the over-all height is usually between 60″ and 70″ but the average height is about 68″.
Above and below one of my favorite lighting fixtures is Wisteria's Very Skinny Floor Lamp. Now, I have specked this for a client and these are fabulous. And, while quite skinny, they are not at all flimsy or feel like they're going to fall over. I love these because you can tuck them in ANYWHERE. And, the price is excellent.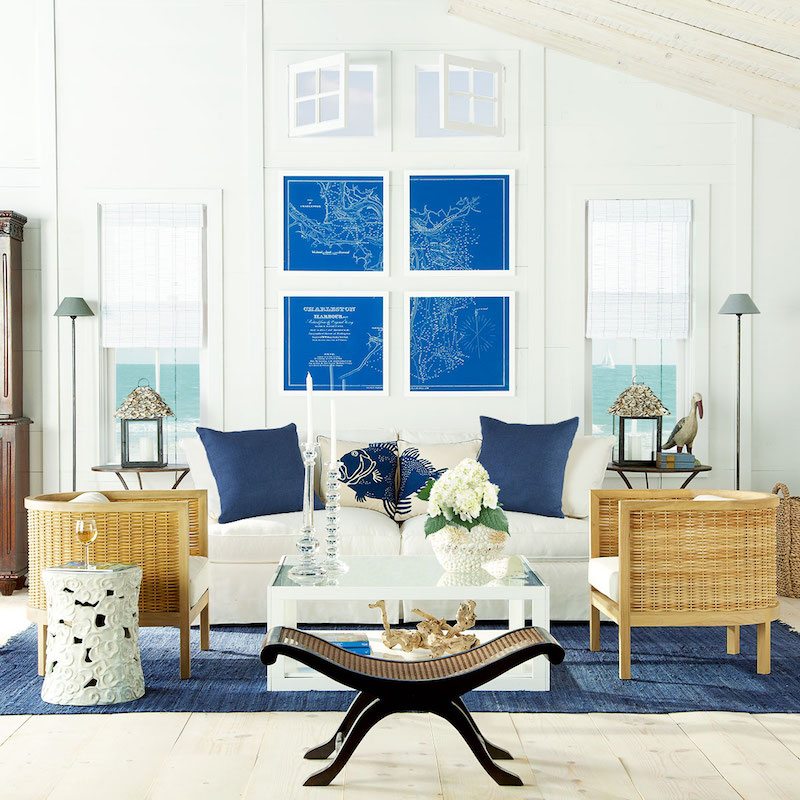 (Note: June 30, 2020. Wisteria, may you rest in peace. We still love you!)
Table Lamps
It is quite possible to light an entire living room using only table lamps. I have four table lamps in my 20′ x 12-6″ living room. And, the night-time light is always warm and glowing. I love it!
What Size Should a Table Lamp Be in a living room?
RULE: If we are talking about a table lamp on an end or side table, my perfect height is usually between 27″-31″. But, usually, closer to the lower number. That number is the total height including a finial, if there is one.
@hawkes.landing on instagram @lampsplus West Highland White Natural Linen Drum Shade Wexler Table lamp
If your table lamp is skinny, you could go with a bit taller lamp.
And, if you have a more chunky table lamp, then you could probably go down to 23″
However, I see end tables that are 28″ on up and table lamps that are 34″ and up and it all starts to look hugely wrong to me. That is… with a normal-sized sofa.
Below, I made a graphic for my favorite heights of a table lamp, side table and sofa measurements, using an English roll arm sofa.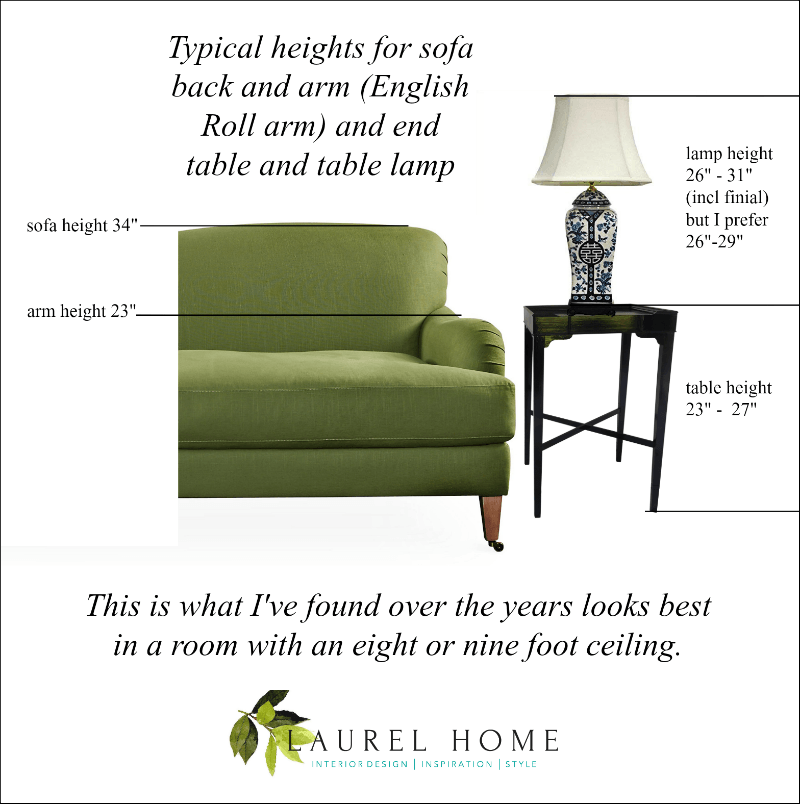 If the lamp is on a console, chest or sofa table, then that will follow the rules set forth in the chapter on dining room lighting.
For a helpful post all about lamp shades click here.
Of course, the final chapter in the guide might be a little different. It won't be shorter. If anything, there will be more information. So, if there's still something I didn't cover or you don't understand, please feel free to ask in the comments. But, please try to limit it to one or two questions, at the most. I very much appreciate that!
And, please remember that this is only a small portion of the entire guide.
xo,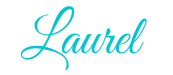 Please check out the newly updated hot sales and holiday shop!