Hi Guys,
This is the third and final blog post regarding Mary's home in northern California.
Part I was an overview of the kitchen and living/family room, especially the buffet area and color scheme.
And Part II focused on the family room's layout and additional furnishings.
I didn't have time to go over the back of the family room (with the sliding glass doors) or the stained wood kitchen.
So, for today, I will do both of those areas, plus some small architectural changes to pull this home together better.
Let's begin with the architectural changes before we get into the stained wood kitchen.
Excuse me! Where the hell do you think you're going? ;;;]
Stay with me, please. Please try to have some self-control! ;;;]
Thank you.
First, let's take a look at Mary's family room, looking into the stained wood kitchen as it is today.
Okay, does anyone see a rather glaring problem, architecturally speaking?
Ummm… Don't all shout out at once.
Anyone?
Yes, in the back row. I think I saw your hand up.
No, Laurel, I was only checking to see if I had put on deodorant today. Sorry. But, I'll be happy to take a guess.
Well… it kind of bugs me that the kitchen wall on the right just sort of ends. Also, it looks like it doesn't come out as far as the wall on the opposite side of the stained wood kitchen.
Bingo! You did great!
Like, did they run out of sheetrock or something?
Okay, so let's look at what I have in mind in plan view for this space. I also tweaked the placement/size of the rug.
Some of you have some great ideas, so I incorporated them if they worked better for the plan. No, I did not change the slipper chairs.
However, I am thinking of starting an exercise program for people struggling to get out of a chair unless there's a crane lift nearby to hoist them up out of their seats.
Of course, you can do whatever chair you fancy, and so can I. Thank you.
Below is the new floor plan.
Yes, I covered up the bookcase because the extended wall wouldn't provide enough space to access the current bookcase. The dotted lines represent a soffit. And, I made a doorway to the hall, making it its own space. That way, if Mary wanted to paint it a different color, she could.
Wait, you covered up the bookcase, Laurel?
Yes, but look a little closer, please. I added two floor-to-ceiling, back-to-back bookcases.
I also added two sleek console tables to the back of the room.
Now, I realize there's already a sofa table behind the sofa.
Kind readers, if you'd like to see what I'm talking about, please refer back to the last two posts.
Post one has the most images of the space.
It's okay to do two more console tables flanking the sliding doors, if they are very plain and minimal pieces. I would do black.
Then, each of them will have a lamp. So, that's the third new source of light. I am pretty sure, that this alone will give an excellent lighting plan. However, for ambient light, putting the recessed lights on very dim will be lovely.
I feel that the two mismatched traditional pieces flanking the sliding doors look out of place in this room. It's not terrible, but, for this exercise, I'm creating what I think would be optimal.
We're just having fun making this space more cohesive without a major renovation or new kitchen.
Yes, the stained wood kitchen cabinets are staying.
However, Crown Point Cabinetry, (the cabinet company who's making my new kitchen cabinets) has shown me that stained wood kitchen cabinetry can be just as handsome as a painted kitchen.
Above is a shot when I went to their lovely showroom and factory early last December.
Above and below is from their beautiful portfolio, filled with dozens of exquisite kitchens. I posted some of my favorites here.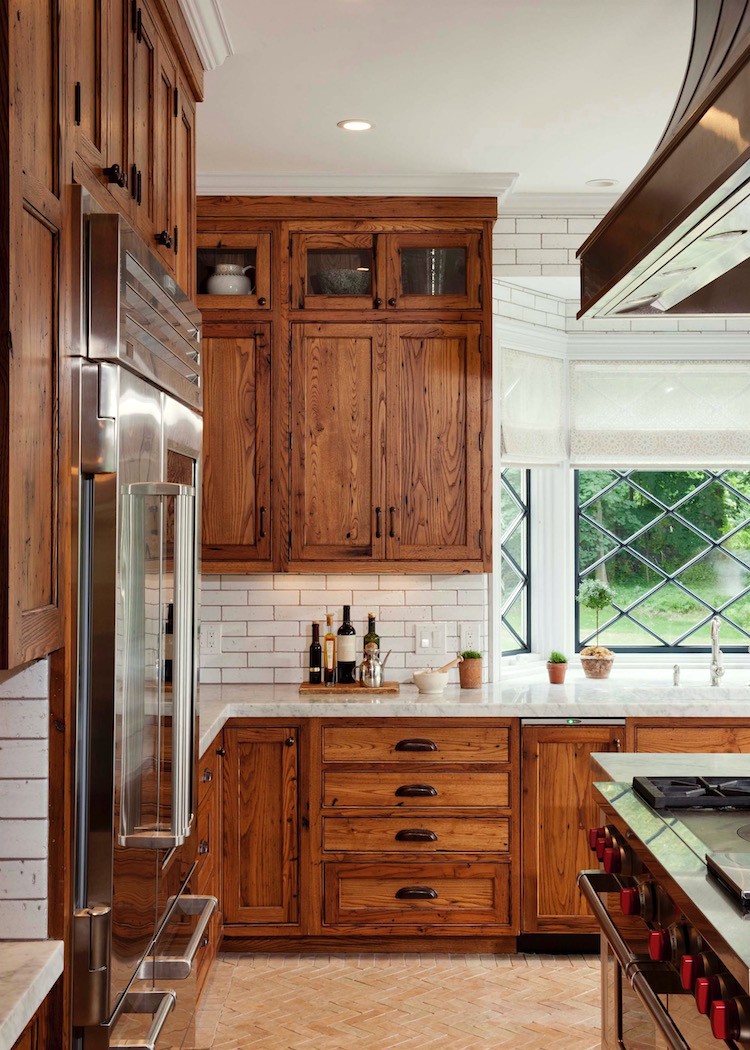 I couldn't be happier with the job they're doing. Please pardon me, I just have to interrupt myself to share with you the final plan for the sink cabinet. That's the one with the rounded end. They spent hours getting the design so that it's perfect. The beauty is that the design work is included in their price.
And, (shhhhh!!! I don't want them to know, so I'm whispering.) Their price to you is 60% LESS than the quote from the fancy Boston showroom, for their top of the line cabinetry. (not Christopher Peacock)
Anyway, below is the design for the sink cabinet, in plan and elevation.

See what I mean? This was one of several versions.
Okay, let's look at what this room looks like in perspective, looking into the stained wood kitchen.
No, not the new kitchen just yet, but very soon.
I did my best to recreate light spots and shadows, but the shadows would actually be darker than they appear here. Of course, this is the room at night. I am hoping for warmer bulbs. They could do halogen bulbs. They last a long time and are warm and dimmable. I would consult with a knowledgeable electrician who also appreciates warmer lighting.
As you can see, I added some new, more colorful pillows. I didn't go hog-wild with the accessories, but enough to give one an idea.
I didn't show it, but I would do simple linen draperies on a black wrought iron rod. The rod should be put up right under the crown moulding. The drapes can be a similar color to the walls, sofa, or trim. The curtains for these doors will need to be three widths of 54″ fabric on each side to close. However, if they are always open, a double panel on each side will be fine; a single panel, no. That would look skimpy.
And finally, the close-up image of the kitchen!
As you can see, I took down the back shelves. And added some lovely trim around the window.
I also added a creamy white subway tile backsplash, new lanterns from Ballard Designs, art, and picture lights or sconces flanking the window and sink. The stools from Williams Sonoma Home. The rug is from Dash and Albert. The fabric is GP&J Baker Nympheus.
Below, are four shopping widgets with most of the items I incorporated, plus some that I didn't.
Mary did purchase the celadon lamps, but I put them in here for reference.  Please click on any image to learn more.




I hope you enjoyed this series of posts for refreshing a family room and a stained wood kitchen!
xo,