In the realm of interior design and decorating, I daresay one word is probably one of the most polarizing decorating terms.
Chintz.
You know—chintz fabrics; the shiny cotton fabrics depicting bouquets of cabbage roses, largely in pink and green?
At least, that's how I felt about chintz back in the 80s when I began my interior design studies at the New York School of Interior Design.
Mario Buatta, AKA "The Prince of Chintz"
I don't know who did this room, but judging from the image, it was at least 30 years ago and probably more.
Mark Hampton
Of course, I knew of interior decorating legends Sister Parish, Nancy Lancaster, Mark Hampton, and Mario Buatta.
In my mind, these were are "social register" decorators who created a certain "look" to fit in with other wealthy socialites.
Of course, that's a sweeping generalization. But, one thing's for sure. One had to be exceedingly well-heeled to hire one of those designers back in the day.
My design idols in those days were Vicente Wolf and John Saladino. Both of them decorated with such a beautiful eclectism and were geniuses with color.
Subtle, monochromatic color, not the sherbet colors of the upper eastside crowd. The two styles couldn't be more different.
So please hear me out regarding my take on chintz back in the late 80s, early 90s.
I was just beginning to come into my own but still had a LOT to learn. The reality is that I was rarely exposed to this English Country style of decorating. That is until I began working in the field in the early 90s.
To be sure, I embraced everything classical, neo-classical, and post-modern, too. I Loved the work of architects Robert AM Stern and Shope, Reno Wharton, for example.
But, chintz?
These fabrics felt so hopelessly old-fashioned, fussy, and largely lacking in originality. Predictable.
It's not that there's anything wrong with this room unless you hate flowers, lol; it just wasn't my thing.
However, let's go back to September 1992. Wow, 29 years ago!
Fondly, I recall my first day of work as a decorator's assistant. I had just dropped off my sobbing-at-the-window-as-he-saw-me-walk-away-toddler at daycare for the first time.
My new boss, Susan, a decorator in Bedford, NY, said in her perky voice. "Laurel, please select three beautiful chintzes to display here. Incidentally, Susan was from Boston. Or, Newton, to be exact.

She pointed to the large-ish round skirted table in the center of her decorating store.
Walking to the cubbies where the fabrics were organized according to color, I was wondering how I was going to do this job.
Three "beautiful chintzes?"
What an oxymoron! I was chuckling to myself, for if Susan knew what I was actually thinking, I'm sure I would've been fired on the spot.
However, it was thrilling to have this part-time job three days a week that I dutifully did as I was told. I presented my three selections, and Susan nodded in approval.
Each chintz fabric had a story that she told me with so much love that I was sure I was missing something.
We did this one for a client…
I have this one in my home.
This one has been in Brunschwig's line forever.
In the coming days, my two-year-old settled into his new routine, and I grew to love my job, especially because it got me out of the house!
The chintz fabrics were still a tough sell for me. But, not all of them.
In fact, the chintz Susan used in the large back window of the store was on a huge pleated Roman Shade with tails. It was also on two custom slipper chairs and two pillows with contrasting cording.
The fabric– Lee Jofa's Hollyhock in the white and coral colorway.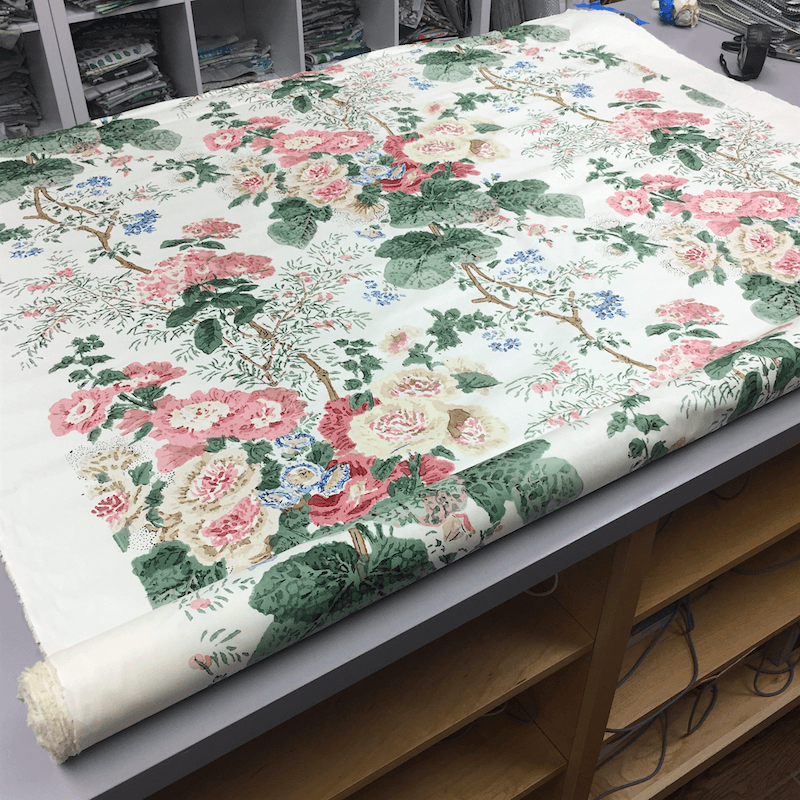 I have to admit that I enjoyed looking at this beautiful pattern which always seemed fresh to me. I noticed that in addition to the pink and green was a beautiful and refreshing blue. In addition, the colors were not as primary as some fabrics. In four years, I never tired of looking at it.
Above is Althea from Lee Jofa, which is a similar pattern, as you can see.
There was a sofa covered in beige chenille fabric.
The walls were painted in an English library green in a ragged finish for texture.
On the floor was wall-to-wall seagrass carpeting.
My desk was actually a small bamboo writing table that was barely big enough and a little too low, but I made do.
My desk chair was a Chippendale-style armchair painted in a glazed faux finish in a similar green to the walls. Then, I first learned what can happen to silk fabric when used for upholstery without a knit backing. (You can see what I'm talking about here with 15 hideous mistakes!)
Oh, Laurel, you had to sit for hours in one of those horribly uncomfortable Chippendale chairs?
Uncomfortable? Are you kidding me? I spent half of my time digging my back into the carved chair back in a sort of a do-it-yourself shiatsu exercise. It was wonderful! lol
In any case, the store where I spent about 18 hours a week felt soothing and elegant to me.
Susan was always fond of saying that this style of design which almost always featured at least one chintz fabric, was always in "good taste." While I didn't disagree, I did wish to expand my horizons.
And, yes, there was a formula.
Of course, a beautiful chintz.
A check, plaid, or stripe
Sometimes a jacquard or damask
Often a chenille or velvet
And, linen fabrics for the drapes, which were often trimmed with the expensive chintz.
I caught on quickly and began to appreciate this decorating style as it totally suited the gorgeous, horsey town of Bedford, NY, in northern Westchester County, NY.
But, after about a year or so into my nearly four-year tenure there, I saw the movie "Mrs. Doubtfire" set in San Francisco, CA.
Remember, the mom, played by Sally Field, was an interior designer. haha
Near the beginning of the movie, Sally is giving a presentation to a client when out of her mouth came this:
Too late. haha
Over time, I grew to love many of these "tired" old fabrics, and here's one reason why.
Most of them were bloody expensive. And, most of our clientele didn't want to shell out some $200.00/yard + (in today's money) for 80 yards of fabric!
So, these chintz fabrics were used far more sparingly than in some of the iconic designer's rooms. I mean, we never just plastered the entire room with chintz upon chintz.
That was my first observation. Used as an accent, the floral fabrics were indeed quite beautiful.
Over the years, many of the classic patterns have endured. However, new patterns have been created by designers such as Michael S. Smith, Mark D Sikes, and others.
Now, I'm going to share some of my favorite rooms incorporating chintz and, in some cases, explain why I think these spaces work so well.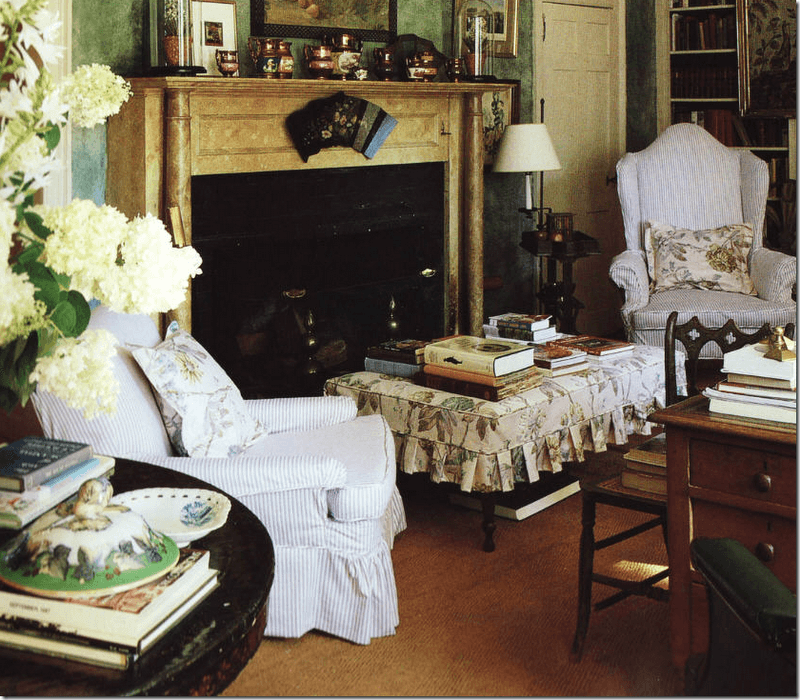 An old image I've long admired by Bunny Williams. Classic English country style. I adore the slipcovered chairs and the box pleated detail on the ottoman.
Mario Buatta.
While this look isn't for everyone, here is where I truly see his genius. His use of color is unrivaled. Also, notice the elements that I've concluded are the ingredients of pretty much all great designs.
Black, Gold, White, and Blue
This is such an old photo of Charlotte Moss's office.  And, while I would never do these draperies for myself, I do love them!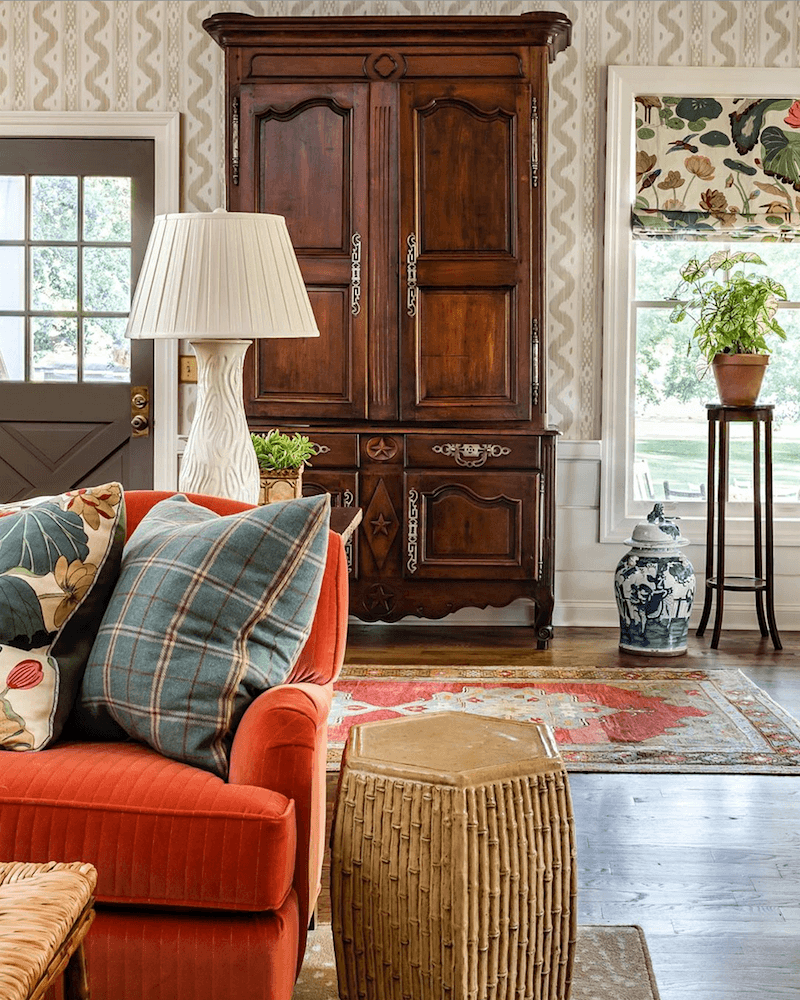 One of my favorite images by James T. Farmer.
The print is GP&J Baker's Nympheus.
You can also find sources on Etsy that make pillows out of this wonderful fabric.
By the way, chintz is traditionally a glazed cotton. But, some of these "chintzes" are unglazed.
And, did you know? If you use a chintz for upholstery, the glaze does wear off over time.
Lady Wakefield home – via House & Garden UK – gorgeous chintz draperies
This is a wonderful example of an updated English Country look. Love this!
One thing I see in these rooms is how refreshing some blue is, even if there is no other blue.
Colefax & Fowler is a venerable company from the UK and also popular in the US. I love this young-trad classical English style. The furnishings are trad but pared down into a look that feels quite breezy to me.
The above chintz is from Quadrille Fabrics. This one is so lovely and French. It's called. Quadrille Jardins Des Plantes. You'll find a pillow in one of the mini widgets below.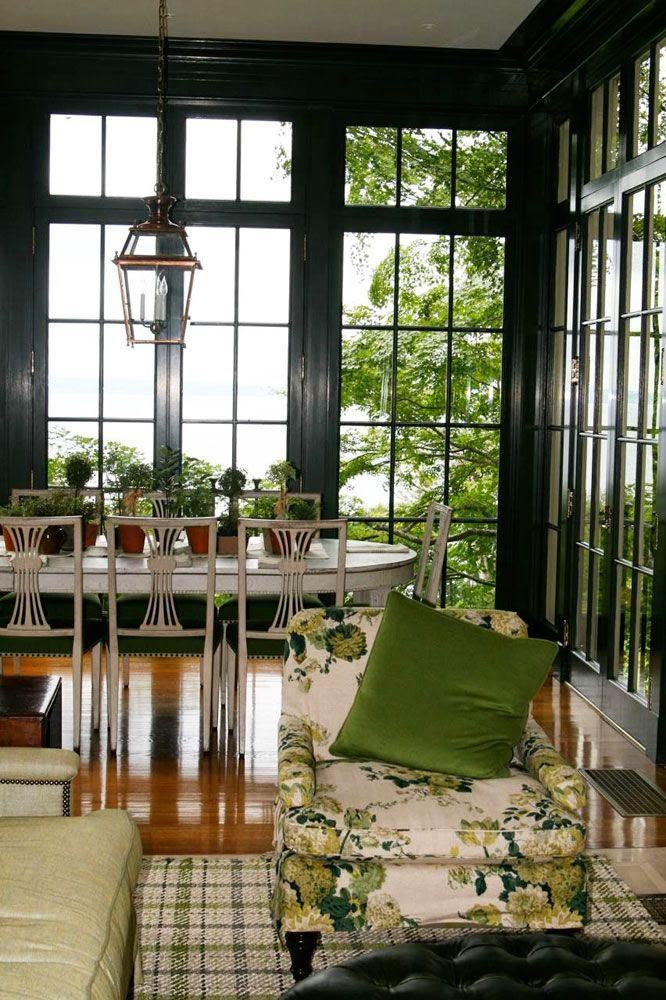 I've long admired this lake house dining/living room by Windsor Smith. And, for years, I tried to find the fabric. Well, yesterday, I finally found it!
I love it when that happens!
Clarence House – Dahlia Hand Block Green
Hanna Seabrook living room via Southern Living – photo – Hector Sanchez
Above is the ubiquitous Althea chintz from Lee Jofa. It is similar in design to Hollyhock. I always get them confused.
Althea Chintz Citron by Lee Jofa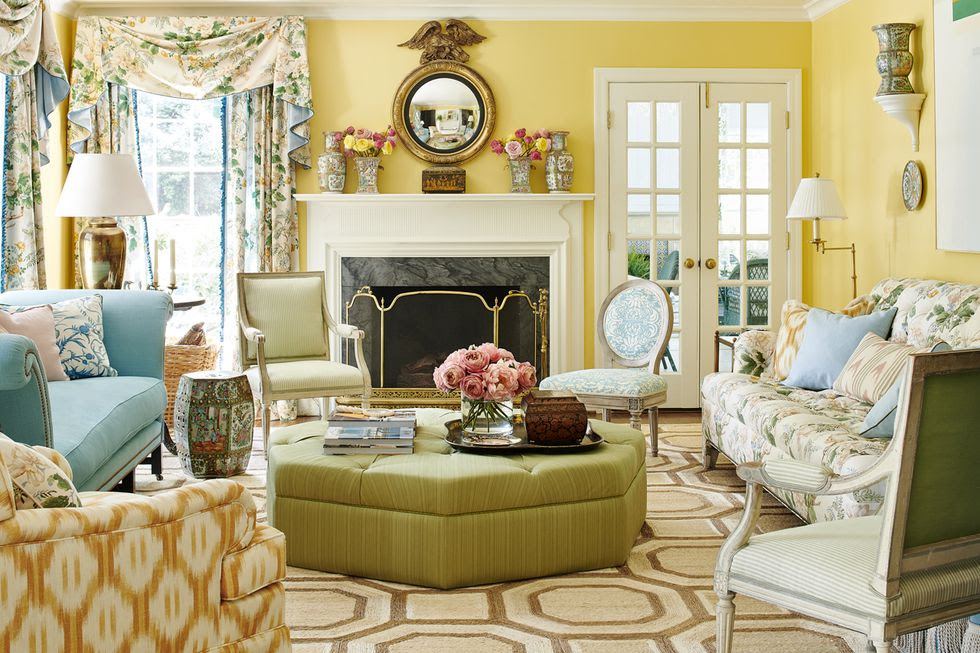 I'm not sure what the chintz is in this wonderful room by Mark D Sikes. But, there's that blue again! Of course, Mark is known for using a lot of blue in his interiors.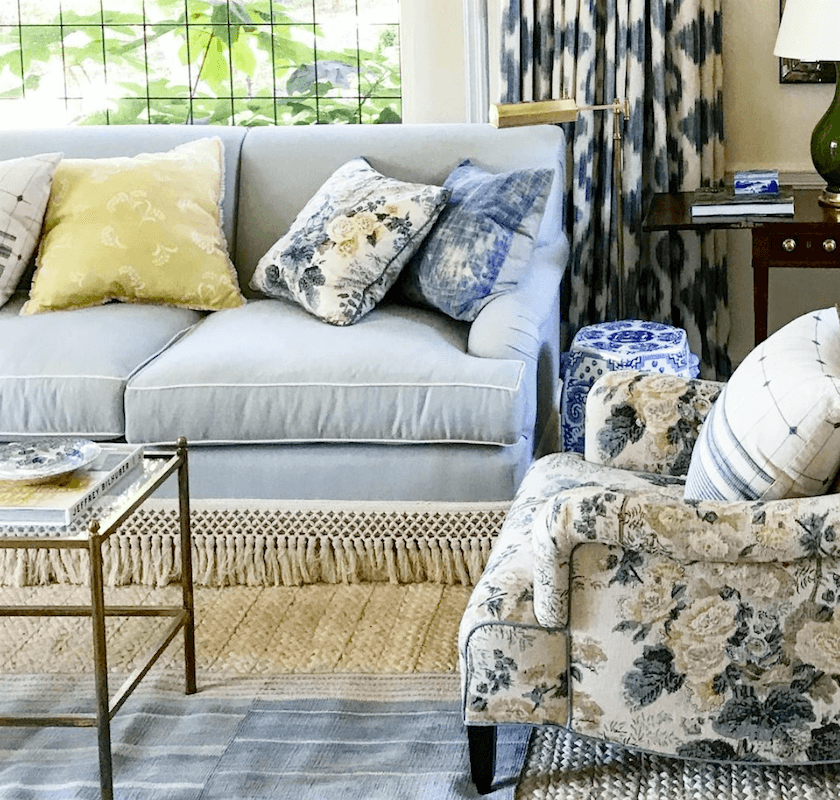 And, I'm finishing off these beautiful rooms that use chintz fabrics with some images of a designer that's new to me, Caroline Gidiere.
And, boy, is she talented!
Another iconic pattern from Colefax and Fowler is the Bowood Chintz pictured above.
In fact, it's become quite popular with Millennials, like the darling blogger Alissa Bovino.
This girl (Caroline Gidiere), knows what she's doing!
This, to me, is the young-traditional style done to perfection. And one more of the same room, below.
The fabric on the couch is Michael S. Smith's Malmaison Chintz.
So fresh!
Malmaison in the Jardin colorway.
You may recall that some of the pillows from last week carry these patterns.
And, below are some new pillows and fabrics using many of the fabrics shown in these rooms.


Here are the key take-aways when decorating with chintz
Less is More. Chintz as an accent is a wonderful addition.
Play around with the colors, and don't be afraid to add a color that isn't there anywhere else.
Add some blue, black, white, and gold.
In addition, there are a lot more fabrics in this post from last year about dozens of iconic designer fabrics.
And, a follow-up post was one that includes some gorgeous budget fabrics
You also might enjoy this post about the best fabrics for pets and slobs.
Okay, I need to get going to get ready for this storm!
At least my hair is done!
xo,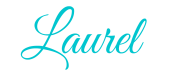 PS: Please check out the newly updated HOT SALES! There are lots of great sales this weekend!