Can you believe that it's going to be Memorial Day weekend? Oh, how I love this time of year. Today, is a beautiful, breezy, mild day with low humidity. Rare.
That means, it's time to talk some about decorating for a summer home.
Now, a summer home could also be your year-round home! OR, a summer home could also be a winter home in the south. Frankly, I think it could also be a winter home in the north.
A summer home is more of a lifestyle. And that can really apply anywhere, I think. But, especially for any home near an ocean, lake or river.
Summer home is synonymous with a relaxed, casual lifestyle.
No, it doesn't. But, most of the time, I think that there should be some blue and LOTS of white, off-white and possibly some other pale shades.
And, of course, a summer home could be in the mountains or woods.  But, I feel that those homes are also winter homes in most cases.
The other thing that a lot of people do is have one look for their winter home and then change up certain parts of it for the summer.
For instance they might:
put slipcovers over the upholstered furniture. Although, I love this look year-round
change the draperies to something lighter
occasionally change pillow covers
and, sometimes accessories, art and even some of the furniture.
Do any of you do any or all of that? That would be fun to see or at least hear about.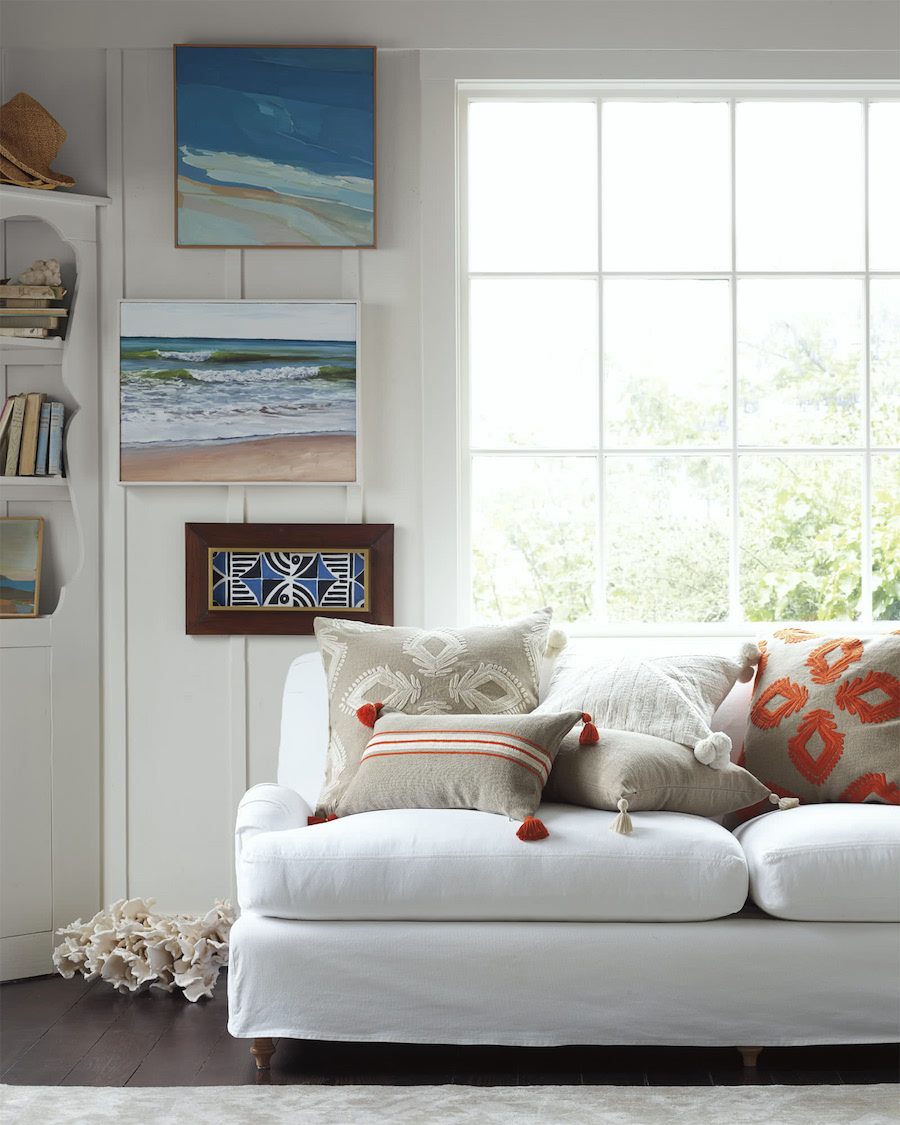 Above is the Miramar sofa from Serena and Lily with a slipcover. Underneath could be a different fabric for winter. They are having a 20% off sale right now on EVERYTHING for Memorial Day weekend. Until midnight eastern time, use code: VIPDAYS – please note that the skirt is intentionally short exposing the legs a little. It's a little like a crop pant.
I think that changing up the furniture is cool for a summer home look.
What I prefer not to see is when folks get too theme-y with their decor.
You know. Fishnets over the lampshades and the lamp bases filled with sea shells. And then, pillows with an anchor motif on the fabric. That sort of thing. However, if this is what uhhh… floats your boat, ;] I'm cool.
Always. :]
One of my favorite summer homes belongs to Steven Gambrel.
I recommend that you jump ship (sorry, can't resist) for a sec and go take a gander.
Below are a couple pics from Steven's beautiful instagram account.
This is from his fairly newly renovated home in Sag Harbor, NY. If you don't know where that is, it's part of the south fork of Long Island, on the north side above the Hamptons. But, the distances are not far. I've been there a couple of times and it is quite lovely.
I adore this room!!! Extraordinary design! But Steven is one of the best.
The colors look a little brighter in his portfolio. He probably took the photos with his cell phone. I say that because the colors look a little blue outside. And that's how they look with the older phones. Not anymore!
This is a vignette I posted once before of Steven's fabulous kitchen.
I found this image on One Kings Lane. I could see this either near the ocean or on a lake. These look to be antique or vintage, but these kind of bistro chairs are quite on trend and they are not expensive. Most of them, these days are indoor/outdoor chairs, as well. I think that they're wonderful for vacation and/or summer homes and always for kitchens!
Below are three images from the One Kings Lane store in South Hampton, New York
First, below is a map  so you can see where Sag Harbor and South Hampton are located.
One Kings Lane Store Southampton via Bright Bazaar Blog
Oh, love those pendants! Alas, they no longer exist as they are from the now defunct Canopy Designs who also made my beloved Sarah Chandelier I featured on here numerous times.
Above is a room by Mark D. Sikes featuring these gorgeous bed hangings. They are sold out, but you can see dozens of products, mostly pillows, here. You can use your OKL20CARD promo code for 20% off!
An image from One Kings Lane Southampton store – Summer Home
Below, I created a widget some of my favorite home furnishings from OKL and other sources for a summer home look. Most of the items are currently on sale!

Please also check out the Hot Sales Pages which will have a big update for Friday or maybe even Thursday, this week. But, there are already some lovely new things to see.
xo,