Hi Everyone,
It's my birthday today! Well, it was my birthday. (February 7th). I'm 67 now. Aside from (trying to) finishing my post, I made my delicious chocolate cake and invited all of my building neighbors over for cake and ice cream this evening. Well, they're all coming! All five of them. Alas, we were having so much fun I couldn't finish the post in time. I'm trying very hard to go to bed before the sun rises. Ha!
For today, the topic is flush mount ceiling lights.
The inspiration came from Alex's comments the other day, on this post:
Alex said:
Do you have a source for the ceiling light on the board with the yellow sofa, and if so, have you seen it in real life? Love your work!
Thanks, Alex. Yes, I do know; however, it has been discontinued, and while it is currently available, I don't know for how much longer. It is the Charles Chandelier, an Alexa Hampton design made out of alabaster and bronze. And, it is sold through Visual Comfort (formerly Circa Lighting).
The diameter is 28″ which is pretty large for a fixture of this type, and with a 23″ drop of the alabaster bowl-type chandeliers I've seen are 16″-20″ in diameter. So, the bare minimum I would go for ceiling height is nine feet, even if it's going over a dining table.
It's a dramatic piece needing a high ceiling and a fairly good-sized room.
There was another version, only 14″ in diameter with a 22″ drop, but that one is sold out.
I have not seen it in person. However, I have ordered from this company dozens of times, and their quality is excellent.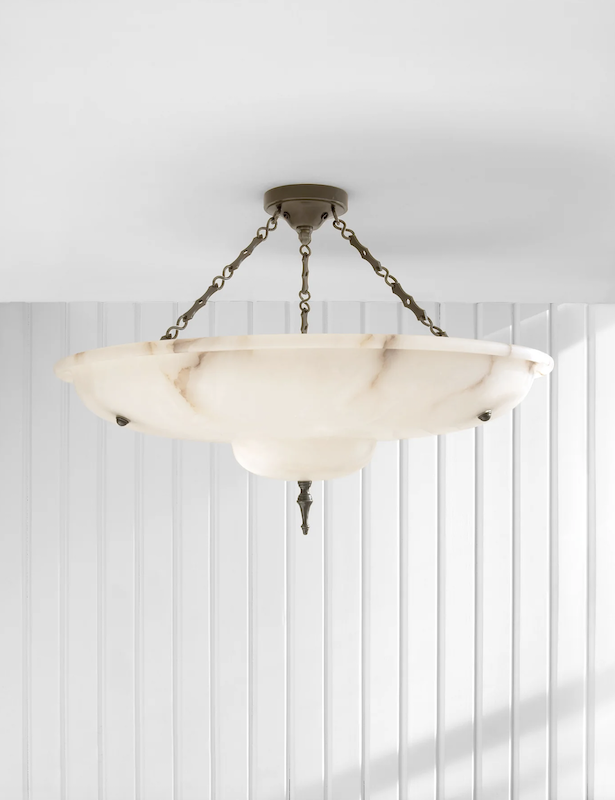 Visual Comfort says that custom heights are available if you need the fixture to come down further than 23″.
Alex replied:
Many thanks. Gorgeous, but too large for my 1931 house with 8′ ceilings, alas, and out of the budget too. I seem to have champagne tastes on a beer budget. My dining room and living room ceiling fixtures are both visible at the same time, and I am finding it hard to find something people can walk under in the living room and a coordinating fixture that can go over a dining table.
Hi Alex,
***I would skip the overhead ceiling light in the living room, because a single overhead light gives off a harsh, shadowy light. For living rooms, table or floor lamps are the way to go. And also, wall sconces. However, if you still need an overhead light, do a flush or semi-flushmount fixture. Shades of Light has hundreds of 'em. Many are not expensive and would be beautiful in your 1931 home.
That got me thinking, as we have been talking a lot about lighting recently. It's not that one cannot ever do a flush mount ceiling light or lights, However, there are some important things to be mindful of.
Since many of us have these kinds of lights, I started looking for the best, reasonably priced overhead flush mount ceiling lights I could find, almost all of which are under $200.00. If they are over $200, they are especially nice.
The Charles Chandelier, to be clear, is not a typical semi-flushmount. It isn't easy to classify. However, with a drop of 23″, it falls lower than almost all of the other semi-flush mounts.
Aside from Shades of Light, and 1800 Lighting, some of my favorite sources for reasonably priced light fixtures are:
Okay, moving on to the meat of this topic about flush mount ceiling lights;
***

let's begin with the first sentence of my last comment.

A harsh shadowy situation often occurs with flush mount ceiling lights. Unless it's a very small space like a closet, powder room, small entry, etc., it is not a good idea to do one flush mount ceiling light in the middle of the room and nothing else.

Maybe there will be a reading or regular table lamp on a nightstand or two. Unfortunately, the lone flush mount ceiling light or even two lone ceiling lights can give some undesirable, if not downright bizarre, shadows. Still, this is a common occurrence, especially in bedrooms.
An excellent example of some unusual shadows created by ceiling lights can be seen below in this motel room.
Perhaps some guests of the motel, while lying on their back and staring up at the ceiling, might find these shadows rather titillating. I understand the image went viral some years past. ;]
However, I'm mighty concerned about them low-hanging pendulous cans suspended from that pitched ceiling. I mean, I hope no one got hurt; those things look dangerous!
You want to know which motel? I'm not sure, but if I had to guess, maybe a Breast Western? ;]
Sorry to spoil your fun, as this post is concerned with lights close to the ceiling, if not downright clinging to it like a barnacle.
The kind of lights totally flush with the ceiling are known as flush mount ceiling lights. Or, sometimes, they're on a very short stem, either thick or thin, making them semi-flush ceiling lights. Most of you already know these terms, but just in case, you don't.
Those lights above remind me of the most common flush mount ceiling in the entire constellation of ceiling lights.
I bet a lot of you know what's coming.
It's the ubiquitous, the cheap, and the phenomenally tacky "boob light."  Sure, call it a bowl with a nipple if you like. Obviously, it was designed by the male of our species. No worries if you have one or more in your home. They do get the job done; they're inexpensive and, most definitely, the most common flush mount ceiling light these days.
In fact, I was treated to a single boob in my bedroom in the first AirBnb I stayed at in Northampton, MA; OMG, it will be three years this coming May!
However, please observe that the light is in the off position. And off it stayed the entire five weeks I was there.
So, before we look at some beautiful and AFFORDABLE flush mount ceiling lights (and semi-flush mount), we need to talk about the more boring (than shadows) but exceedingly critical technical aspects of measurements, clearances, and proportions.
Let's talk sizing and begin with the flush mount ceiling light drop. My preference is that there should be a minimum of seven feet under a flush mount ceiling light, or any light hanging from the ceiling. However, if your ceiling is only seven feet, you could get away with a very flat, maybe an inch to three-inch drop, at the most, for your ceiling fixture. Or, you don't have to have a flush mount ceiling light with such a low ceiling. I wouldn't.
What about an eight-foot ceiling? This is what the majority of folks have to work with. For roughly two-thirds of my life, I lived in homes with an eight-foot ceiling. For the height of your ceiling mount light fixture, you can get away with a 12″ – 13″ drop, unless you play for the NBA. In that case, you probably wouldn't be living in a home with an eight-foot ceiling, anyway.
The other dimension when considering what size to get for a flush mount ceiling light is the diameter, or if square, the size of the sides of the fixture.
Ahhhh… here's where searching the internet might get you into trouble, and one of the primary reasons I wrote the 333 Decorating Rules & Tips You Need to Know. There is so much misleading stuff written, and I wanted to rectify that. People who write this stuff read what other people have written. Sometimes they get it right, but all too often, they are way off. If only they were using their brains instead of relying on what other people have said, they wouldn't write such rubbish.
(Or, maybe they didn't write it. AI wrote their article. Yes, ugh, is right!)
The prevailing thought for any kind of lighting attached to the ceiling, whether dropped or close to the ceiling, is that to find the diameter of the fixture, you should add the length and the width of the room together.
Okay, let's take a look at that.
If your room is 12′ x 15′ = 27″, we get 27″, which is the largest I would go for a room of that size unless it's a super tall ceiling. But, what if your room is 50′ x 100′? What, you should have a ceiling fixture that's 12′-6″(150″) in diameter?
That's what I'm talking about. Clearly, one cannot follow that rule in every situation.
Let's say your living room is 25 feet long by 14 feet wide.
That would make for a diameter of 39″. While that might work in a dining room with a ceiling height of at least ten feet, if doing a chandelier over a table, that is not going to be the case for a flush mount ceiling light in a living room with an eight-foot ceiling.
Furthermore, I don't think one can find a flush mount ceiling light that's 39″ in diameter. That size would be comically overscale. Even in my 26′ x 15.5′ living room with a 13'+ ceiling height, that width is too big. A 30-inch ceiling fixture would be okay. However, one would put a chandelier in my living room. In that case, 39″ in diameter would be fine.
A far more accurate way that works for flush mount ceiling fixtures, except for the super large rooms, is to take the length and the width of the room and DIVIDE THAT BY TWO.
In the case of the 25'x 14′ living room, the flush mount ceiling fixture would be 19″-20″. Yes, it's fine for it to be a couple of inches bigger or smaller in either direction.
However, a 12″ diameter light fixture will look mighty dinky all alone in the center of that size room. In this case, you might need two or three ceiling fixtures in a row.
The closer to the wall the overhead lights are, the better. So, if your room is very oblong, two or three lights are always better than one.
BUT, you will still need to be sure that the corners are well-lit with table, floor lamps, or sconces.
Another important point is the flush mount ceiling lights, like recessed downlights (unless for a kitchen), are there for ambient light. They provide some of the necessary light, but probably not more than 25% of the light you need. The majority of the light should always come from the other sources mentioned above.
I found a super-lovely semi-flush mount ceiling light on Anthropologie, and there are two reviews. One is five-star (please see the image above), and one is only one-star. The one-star reviewer was bemoaning how dim the light is. Yes, that's right. It should be dim for the reasons previously stated. I love this fixture, and it is not mega-expensive. However, it is well over $200, so it was not included in the widget below.
Even in a dining room, it is wonderful to have sconces or table/buffet lamps, in addition to a chandelier(s), pendant(s), or lantern(s) over the dining table.
What if you have a higher ceiling? Can you still do a semi-flush mount light fixture?
It really depends on the fixture. But if you have a ten-foot ceiling or higher, I would most likely do a chandelier. With chandeliers, you can pretty much add the two sides together unless the two sides of the room add up to more than 40. But, it depends on the shape of the room and the configuration. Maybe you will need two 27″ chandeliers. However, once you're over a diameter of 40″, you're getting into a super big piece.
One thing you can always try doing is using the scale guide on 1-800-lighting. 
Collier 16″ 4 light semi flush mount ceiling light by Hinkley Lighting
(the 22″ is linked in the widget below)
1-800lighting.com has a beautiful feature (see screenshot above) for many of their fixtures where you can see the scale in a room. You can adjust the ceiling height and size of the room, as well as a person, a dog, and some furniture.
For a flush mount light fixture, you could also try cutting some poster board into a circle the diameter of your piece.
Then tape it to the ceiling and stand back.
Flush mount ceiling lights always work well in small spaces such as halls.
Beautifully lit hallway with three flush mount ceiling fixtures. (source unknown)
The reason that small spaces are better for flush mount ceiling fixtures is that the light has a chance to bounce off the nearby walls. This will make for a beautiful, warm, evenly lit space.
Semi-flushmount fixtures are especially nice because the light can bounce in more directions, including up toward the ceiling.
An opaque shade where the light only goes down is a task light. These are terrific for kitchens, especially over an island.
Here is a popular drum-type semi-flush mount in a more open hall.
While these light fixtures are more contemporary, I find they work very well with more traditional chandeliers.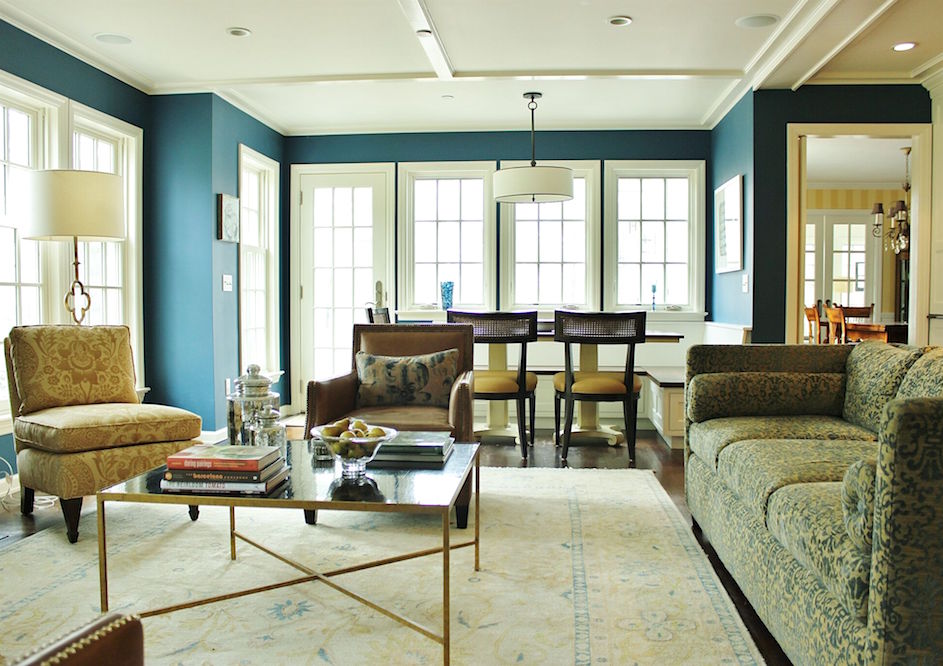 A good example of what I mean from a job I did in 2008. This drum pendant is over the eating area off the kitchen. Behind, is the family's more formal dining area with a traditional chandelier.  Oh dear, there are those durned slipper chairs again. lol, I told you, I did dozens of them. This is also my favorite seating arrangement. Four chairs and a sofa with a big coffee table in the center.
This room and home is a perfect example of one that's about 80% traditional and 20% contemporary. This is another topic we've been talking about a lot. What makes it work is the blend of squared-off shapes juxtaposed against simple circular shapes.
One of my favorite parts of this space, an addition to a Cape-style home in Chappaqua, NY, is the mini-coffered ceiling. Not only did it help divide up the ample space for this eight-foot ceiling, but it also serves to make the ceiling appear taller than it is.
You can see more of the kitchen (and the cool pendants over the island) for this lovely home here in this ancient blog post from May 2015.
I love the lighting in this classic kitchen by Sarah Richardson and found on Lark and Linen. Please notice the combination of lights; all different, but work beautifully together. The charming Alabax (medium) ceiling fixtures are by Schoolhouse Electric.
There are some beautiful-looking LED lightbulbs that appear to be giving off a beautiful light. And, they require no shade, whatsoever! I need to look into these further. They are sold all over now. Maybe some of you have experience with them?

G25 40W Equivalent LED Bulb – Schoolhouse Electric
via @3travelingbirds on Instagram
Schoolhouse semi flush mount ceiling fixture hall
Above are more cool kitchen fixtures from Schoolhouse. They have fitters of a few different sizes and a wide variety of shades. You can see only a tiny percentage of the options above.
One of my favorite light fixtures is the Moravian star fixture.
They come in numerous configurations and even a fully flush-mount version.
This fixture is said to be 20″, but then they show it as only 18″. (You'll find it in the widget coming up.) Here, it looks larger in the image. Maybe it's the angle of the shot? However, there's a smaller version of this fixture that would be the one I'd do in an entry with a low ceiling.
Decorative artist Chris Pearson painted the gorgeous ceiling. I can't tell you how much I love the ceiling with these beautiful semi-flush mount Moravian Star fixtures!
Sadly, it appears that one of my favorite flush mount ceiling fixtures has been discontinued.
It was inexpensive, chic, and blended in beautifully with every decor.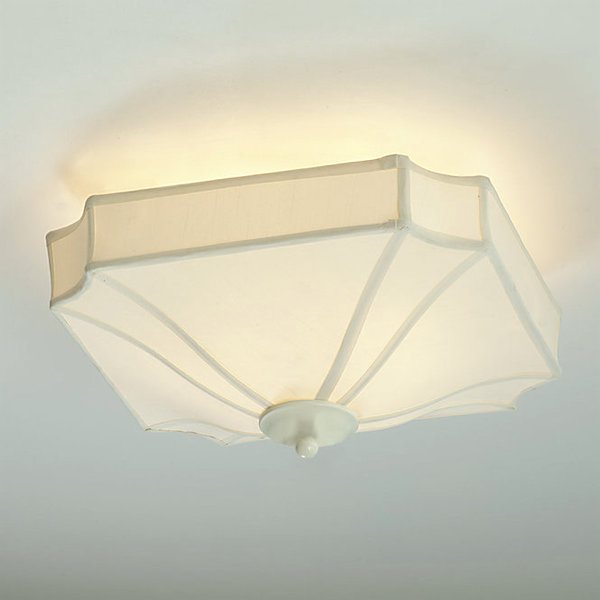 I looked everywhere for another one like it. If anyone knows where one might find this fixture, please let us know in the comments.
Below is a widget filled with some classic and also some more unusual flush mount ceiling light fixtures and semi-flush mount. You'll also find more helpful information in the captions.  Please click on any image for more details.

Please pin to Pinterest for reference
I hope you enjoyed this post about flush mount and semi-flush mount ceiling lights.
You may also enjoy these older posts about lighting.
How To Coordinate Lighting That's Smashing, Not Boring.
A Favorite Lighting Source for Affordable Lighting.
My Kitchen Light Fixtures Are Driving Me Bonkers
How To Get Your Kitchen Lighting Right
xo,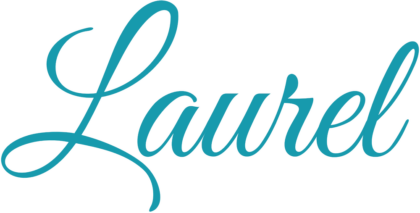 P.S. – Please check out the newly updated Hot Sales