Hi Everyone,
First of all, before we get into our kitchen refresh; thank you so much for all of the beautiful birthday wishes! My son is here and we are having a wonderful visit.
Cale with Rascal Thanksgiving 2019.
And, I'm glad so many of you enjoyed Tuesday's post regarding Kathy's bedroom decorating ideas you might not have considered.
Today, I'm continuing with Kathy's kitchen. I thought it would be great to do a post about a thrifty kitchen refresh.
Okay.
There's just one problem.
Originally, I only saw this image.
For some reason, I figured that she hadn't done the kitchen.
I should've known better because, clearly, the gorgeous ceiling and shiplap are the tell that she had already redone it; or, at least someone did fairly recently.
I figured that on the other end of the kitchen, I was going to be met with something that didn't quite go with the dining area.
Indeed, I was wrong.
Kathy definitely redid the kitchen!
And, I must say that she did a very nice job. It's not a super-high-end kitchen. But, I checked out some real estate listings in her area. And for a small town in central Texas, this is a spectacular kitchen.
A lot of us are in a similar situation, when it comes to renovating our homes.
In fact, I daresay that most of us are. We don't have huge sums to put into a full kitchen remodel.
In fact, over the years, I enjoyed helping my clients do what I called a kitchen "botox."
That usually meant new counters, backsplash and appliances. The cabinets get painted and with new hardware. Those were some of my favorite projects.
On the blog, I've gone over some ways to take and old kitchen and give it new life.
And, this one talks about painting the kitchen cabinets.
Alas, I don't get to do that here. However, there are a few tweaks I would make to take this room up a notch.
However, Kathy has some things to say about her kitchen refresh. And, most of it parallels my thinking:
Hi Laurel,
Here are some answers to your questions and some more information about the kitchen.
Yes, we gutted the old kitchen almost immediately upon moving in.  I guess you'd call it a "half galley" kitchen. It was one 13-foot wall of cabinets with the range on the left wall and the refrigerator on the right wall. Both of those appliances were freestanding. 
Where the table is now was a huge wood burning stove that heated the whole house we were told. But, of course, that left no room for a table.
And, what could have been the small dining room in the front of the house was used as a music room.  I'm still scratching my head as to how this elderly woman hosted large family gatherings. All she had was a table against the wall where the hutch is now.
[Maybe they ate standing up? haha]

I designed the whole kitchen and banquette myself. A local cabinet shop fabricated everything.
When the cabinetry was installed, I ordered the countertops and white granite sink. Originally there was supposed to be a beautiful Kohler white cast iron sink. However, it was deemed too heavy for the counter to support properly. Then they ordered the wrong one. Yikes! However, they let us keep this one for free.  It was a no-brainer at the time, but I'll never get a granite sink again. It stains and has to be cleaned daily with Bar Keeper's Friend.
Oh, I'd love a bank of windows over the sink area to let in some more light or to knock down the wall between the kitchen and office to get morning light in there. However, that would mean moving two load-bearing walls.
So, any additional renovations will have to wait.
Thanks so much Kathy.
First off, I think that she did a terrific job! I have not seen the before. But, from her description which I edited, it sounded pretty dreadful.
And, I love the shiplap and the detail on the ceiling as it suits this small home in a charming way. These aren't expensive fixes, but they add a lot to the over-all feel of the room.
The one major issue I'm having with this kitchen refresh is the kitchen floor. And, I'm glad that Kathy would like to change it.
I mean there's nothing terrible about it, but it's not up to the level of the rest of the room. And, therefore is dragging the rest of it down. (no pun intended)
But, a couple of things. Changing out the ceramic tile is a horrible, toxic, messy job. It will fill the entire home with dust. Yuck. That is, unless the workers are super careful. Well, they usually aren't.
Plus, an upgrade to the floor will be expensive.
However, you can definitely paint ceramic tile.
So, at the very least, a plain white floor to coordinate with the cabinetry would be an improvement.
I'm thinking like William McLure is always painting his floors white.
But, I'm thinking of something with more pizzazz for this cozy retro-inspired kitchen.
And, here's the reason.
It's the dark hutch. Almost everything else is white or stainless steel.
While the hutch is very nice, it's creating an imbalance.
Well, that is, unless you're selling your house.
So, for the floor, what I'm thinking is a white floor with a soft black stencil design to mimic an encaustic cement floor.
Could we just paint the hutch? Yes, but I actually do like some wood tones in a white kitchen. That's one way to keep a white kitchen from being "cold."
But, getting back to the encaustic tile floor look-alike.
Wit and Delight – via Domino Mag – Encaustic Cement kitchen floor
Above is just one example of such a floor. But, this one is the real thing; not stenciled over ceramic tile.
You can see some beautiful encaustic cement floors in this post. And, also in this post about my kitchen and kitchen floor.
And, then there's one of my favorite posts about some great ideas for kitchen floors that aren't tacky.
Wait, Laurel? You can paint on top of ceramic tile?
Yes, actually, with the proper prep and paint, you can paint pretty much anything! Don't believe me? Take a looky below at what one clever woman did to some very similar tile in her bathroom.
via Rosario Tile Stencil – Designed by Hannah Coram
In fact, that pattern could work very well for Kathy's Kitchen.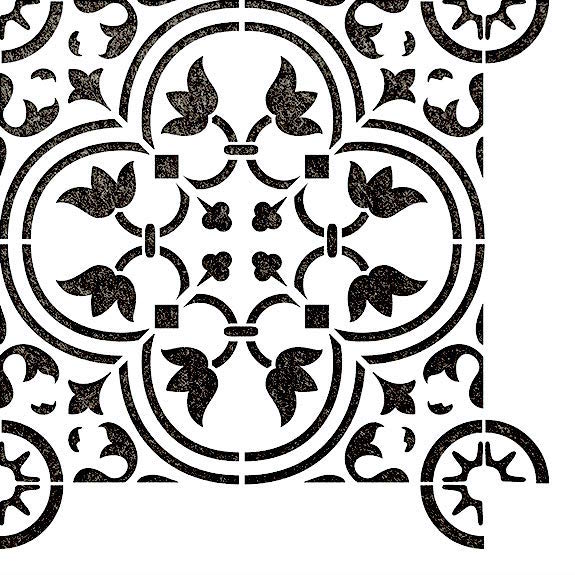 Here it is from Rosario Tile Stencil
These are reusable stencils. And, they provide clear instruction.
This is the reverse of the Rosario Tile Stencil, but looks to be a smaller scale.
Design via Creating Rustic Charm
I love this pattern, as well, and think it would also look terrific in Kathy's kitchen.
The same stenciled pattern used on a backsplash. It makes a terrific accent faux tile.
However, I would not do it on both the floor and the backsplash.
Cutting Edge Stencils on Etsy – Barcelona Tile Stencil
This pattern would also look fabulous on a kitchen floor.
Augusta Tile Stencil – 3 colors + white background – Cutting Edge Stencils
For a look with more dimension, you could also do two or three colors, like this faux encaustic cement tile backsplash.
Here's a fabulous tutorial from the Remington Avenue blog about how to do a stenciled floor to look like encaustic cement tile.
If your tile is 12″ x 12″, I believe that you'll need the large size stencil. But, please double check this.
In addition, I very much recommend doing a sample board first. I would use a good size piece of sheetrock; maybe two-feet square. Or, you could also use some extra heavy poster board.
That one change with the kitchen floor, I think, is going to transform this space.
After that, and this is only my opinion. I'd like to further balance out the space by painting the chairs black. It's not absolutely necessary. One can also make a case for the white chairs. However, I think that black would be super wonderful. And, especially so, as you see the dining set from the living room.
Since we haven't seen the living room yet, you'll have to wait so that you can see my point.
In the meantime, the point is to consider what's going on in adjacent rooms when deciding on colors and finishes.
Tucker Chairs from Serena & Lily are a similar style in black
By the way, S&L is currently having sale– up to 30% off on all of their gorgeous light fixtures.
To complete the dining area, I would love to see a gallery art wall where the clock is. I would put the clock or maybe one a little smaller over the doorway to the office.
This is only one idea. It's actually called kitchen-art-gallery-in-a-box. And, it's from Pottery Barn! Did you know that they have a ton of decorative art?
Another great source if you wish to purchase a ready made gallery wall is Artfully Walls.
And, yes, I know. You can go to flea markets and estate sales. We go through this EVERY time I mention art. :] By all means, support your local artists. But, in case you don't want to go that route, there is much in the marketplace to choose from.
This is one of my favorite posts featuring ready-made gallery art wall templates I created. Apparently, I did two such art wall template posts.
Let's talk about storage for this kitchen refresh.
Kathy says that she would like a pantry.
For some really cool pantries click here.
The next thing I want to address is the island.
There's nothing inherently wrong with it. But, it's not utilizing the space adequately. And, I would rather see a different material than stainless.
This is also a great opportunity to bring a little color to the kitchen side of the room.
It looks like she only has three feet to work with. That isn't a lot. And, it's difficult to find a nice looking piece in that size. If she can squeeze out six more inches, this island I found on Wayfair is nice. And, it's not expensive. But, I'd probably paint it.
However, I found this cool small kitchen island, below, that's just the right size at Pottery Barn. And, it's currently on sale!
This would be great if you're a wine drinker.
The only problem for Kathy is that it's a shade of white that most likely is not going to go with the white cabinets. And, like I said, I long to see a little color over here. I am always, always, always thinking balance when I design a room.
And, again, it's paint that comes to the rescue.
I would chalk paint it maybe something like this soft sage green. And, then lightly antique it. The piece doesn't come in this color. I did a little manipulation to get it to look like that. This I think, would be very much in keeping with the slight retro feel of this kitchen. I know it might feel weird to paint a new piece of furniture. But, if it doesn't come in the color and/or finish you want, why not?
For over the sink, I think I would prefer a fixture more in keeping with the retro look of this kitchen refresh. The Sudbury semi-flushmount is not expensive and fits the bill, I think.
Please also check out My Kitchen Light Fixtures Are Driving Me Bonkers!
I would also probably repeat the same blinds over the sink window that are on the banquette wall window.
One last thing concerning kitchen storage. (that is a really good post in the link.)

I'm not 100% sure this is possible. And, the light switch would need to be moved, as well as what's currently on that wall. But, there's plenty of room for some shallow storage with doors opening out perpendicular to the front of the fridge.
Oh, I almost forgot something important.
I really do prefer, unless a fan is a bonafide vintage fan. Or, the ceiling is dark, to have a white fan with a white ceiling. And, especially with an 8-foot ceiling such as this one. Please humor me by trying to avoid the fans with the three search lights, as well. However, a single light at the bottom, is okay. A plain white fan is what Furlow Gatewood has in his Georgia homes.
You might also enjoy 20 Timeless Kitchens You'll Love Forever.
Another of my favorite posts is this incredible kitchen botox a reader did not too long ago. I was flabbergasted when she sent in the photos.
So, what is the key to an inexpensive kitchen refresh?
Well, it's paint. Paint. And, if you have the patience to do the work yourself, it won't cost much either. I am really loving the idea of painting a floor instead of going to all of the trouble and pain of ripping it out.
We have one more space to look at in Kathy's home. At that time, I'll also address some simple architectural changes.
xo,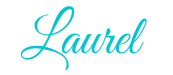 PS: Please check out the newly updated Hot Sales!