Hey Everyone,
Happy Easter and Passover!
As many of you stated emphatically that you wished for me to move into the interior of last Wednesday's post, here it is!
First, more words from Leah.
Some commentary by me is interspersed and there is more at the end. If it's interspersed, it will be in this color and italics so it will be clear that it's me talking.
*********
Dear Laurel,
Thank you in advance for any insights you can provide for our dated southwestern farmhouse.
As you probably already realize, we don't want it to scream out the typical "southwestern." In other words, no Navajo blankets, cowhides or horns. And, definitely no Georgia O'Keeffe prints. In other words, none of the trite southwestern decor one frequently sees.
I would like to do things as nicely as possible without going crazy on the money.
Our total budget for everything is about $100,000. We are thinking about 25k for furnishings and hoping that the rest won't be more than 75k, but maybe that's just wishful thinking?
And, please note that we want to try to pick furnishings and fabrics as kid proof as possible.
Please forgive the interruption, but EVERYONE wants their homes to be as practical as possible. I realize that this isn't your business and you don't know what other people are telling me. But just know that is the one thing everyone mentions as being a necessity. Sorry. As you were.
We do want the decor to be fun and as well as comfy in rooms that look lived-in, if you know what I mean.
We pretty much have to redo the entire house, but over time. It won't be in one fell swoop.  There will be a laundry/bathroom, three girls' rooms, one boy's room, our room, kitchen/dining, living room, and a computer room/library that goes out to the backyard.
I am not against DIY, we are both pretty handy.
That is the front door and what will be the living room.
This is reminding me of the post where there is no actual entry into the house. There are some excellent ideas they could incorporate.
We have had to use it as our bedroom since we only have two bedrooms and the four kids are in them. Obviously, this isn't ideal, but for now, it's the best we can do.
We'll be discussing the peeling finish on the floors later on.

People have been coming through our side door. I had also tested painting the fireplace white, but now we are thinking of just pulling out and building a nice one that doesn't overwhelm the room.
Yes, I would definitely pull those suckers out.
But, here's a post about painting brick.
That looks like a wood burning stove instead of a traditional fireplace? Is that what you prefer? Is it heating the house?
You can get some very cool mantels on Etsy for only a few hundred dollars.
There's a link to one of them on the hot sales page. (see link below or in the main menu) And then you'll see the rest.
And, before I forget. One Kings Lane is having a massive DOUBLE DIPPING sale. Most of their site is on sale and most of it is then subject to a further discount with the promo code on the HOT SALES page, as well.  It's only for a few days, however.
Then, next to the living room is my son's room and the hallway with a small bathroom.
In addition to the pretty mantel, I would, cover up the brick on the banquette and then put a slate top on it and on the firebox surround.
Which then leads into a weird room that was used as a TV room by my husband's grandma.
Most of all the furniture you see was given to us or from Ikea until we figure out what we were doing with the house. I am thinking of using this room as a computer/library room. Who knows?  I want to build floor to ceiling bookshelves along the wall where the couch is.
Hmmm… a little funky configuration here. Did they remove a wall? This seems like it should be the dining room. (before the door area) Or rather a keeping room. For those that don't know. A keeping room is more of an all-purpose room that can be a dining room, but is also a sitting room. There is an excellent example of a keeping room in this post.
We haven't touched anything in the house since we moved in.
A door opens to the backyard but it was never finished. The orange chair is sentimental to my husband (I think we will have it reupholstered)
I would think about putting the wall back or adding one with a doorway on the right. That looks like it should be a small office or computer area.
From the doorway by the couch you go into the kitchen.
Above is the pantry/laundry area.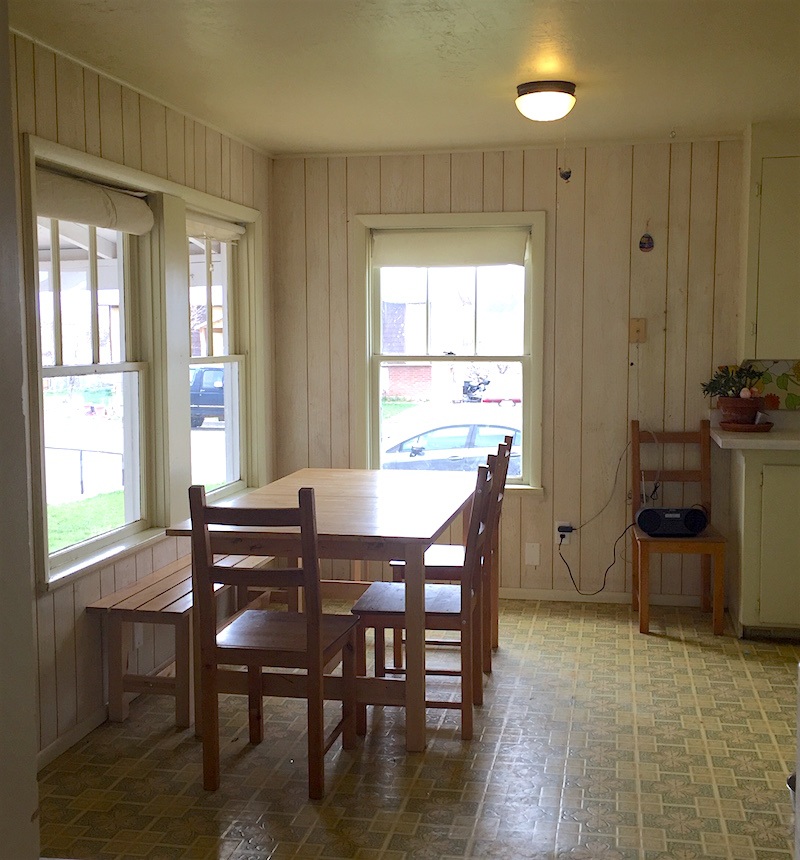 Here's the kitchen eating area.
And — the ugh – kitchen.
I hear you honey.
This also where the basement door is, which we use as a playroom. To the right is the door to where our three girls sleep. Once we build new bedrooms, this will become our master bedroom.
And that is all of the interior.
Thanks so much,
Leah
Phew! This is quite a lot to tackle for one post. I have decided not to discuss much in the way of furnishings, but instead focus on the house itself.
I'm going to begin with some generalities concerning budget and time-frame.
First of all, I'm concerned about the "over time" issue.
And, here's why.
This is a small home and there are six people (most under the age of eight) living in it, plus, from the looks of things a creature that eats from a bowl sitting on the floor.
Let's face facts.
No matter what, this house is on the funky side and is not ever going to be anything but a little bit quirky. However, that is part of its charm. Therefore, I would spend the money fixing what's there, not totally tearing everything out. And especially, not over time. The stress will not be worth it.
Of course, I don't know what your financial situation is and that kind of stress can be really bad, as well.
The other thing that's super important is also not to upgrade too far for the area, as we discussed last Wednesday.
In other words, we'll have to save the Lacanche for the next house. ;]
Another idea. And, this is just me thinking out loud. Does each child need a separate bedroom? I realize it would be easier to make that decision if it was two boys and two girls. How is it working right now with three girls sharing a bedroom? I'm not saying not to add-on three more bedrooms. It's just something to think about if maybe two will be adequate and then put that money into other things.
So, let's jump in with the cosmetic changes that I think would be appropriate for this dated southwestern farmhouse.
For now, we'll skip the kitchen but get back to it later.
Let's begin with the hardwood floors.
They are obviously not in great shape. There are places where things have been patched and a lot of rough spots. But, the thing that's disturbing me the most is that the finish is peeling off.
Remember this post where we talked all about hardwood floors and various finishes. Plus, the one cleaning product that will ruin them?
Yes, that one.
I am thinking that it's possible that there was at one time a waxed finish or else a cleaner with oil in it and then the floors were refinished. And yeah. The poly didn't stick. Therefore, you will need to consult with an expert floor guy to see what your possibilities are.
Of course, you'll need to find out if you don't already know if the paint has lead in it and if there's asbestos anywhere.
One area where people sometimes get hung up is the trim. (mouldings)
Here's one of my favorite posts about mouldings.
Sometimes it is better to just rip out what's there and start over rather than get involved with a lot of intense sanding and noxious paint stripping.
I would keep the casings and baseboards very simple.
The ceilings
We were just discussing ceilings.
I am seeing a lot of cake frosting. I would get rid of it, either through sanding/skim coating or with the application of 1/4 inch sheet rock. That's something to discuss with the builder.
We already discussed the windows in the previous post. I do feel that some changes in the placement/size will help to make the front facade and rooms more cohesive.
In the early stages of planning, an over-all feel for the house as well as a color scheme should be discovered. I love going through Pinterest for ideas and inspiration.
Okay, let's talk about this kitchen!
If the kitchen is gutted and replaced 100%, it's going to be at least $40,000 including appliances. So, I don't see that happening.
I could see keeping its retro feel but updating it and making it more sophisticated. Therefore, let's talk about ways to achieve that.
Let's begin with the kitchen floor.

One option would be to keep it just as it is, but paint the cabinets a fresher white. And, of course, change the hardware. There are some beautiful pulls and knobs at Rejuvenation. I would do a combo of both pulls (drawers) and knobs (doors).
The floor could also be painted with a special epoxy floor paint.  Remember when William McLure painted his kitchen floor?
Or, it could be a checkerboard floor.
I do recommend doing a linoleum or vinyl that's speckled. Trust me on this. I had a vinyl black and white floor for 16 years and it is not easy to maintain.
They could also put in a hardwood floor to coordinate with the other floors.
Or, it could be some other patterned tile. There are many on the market.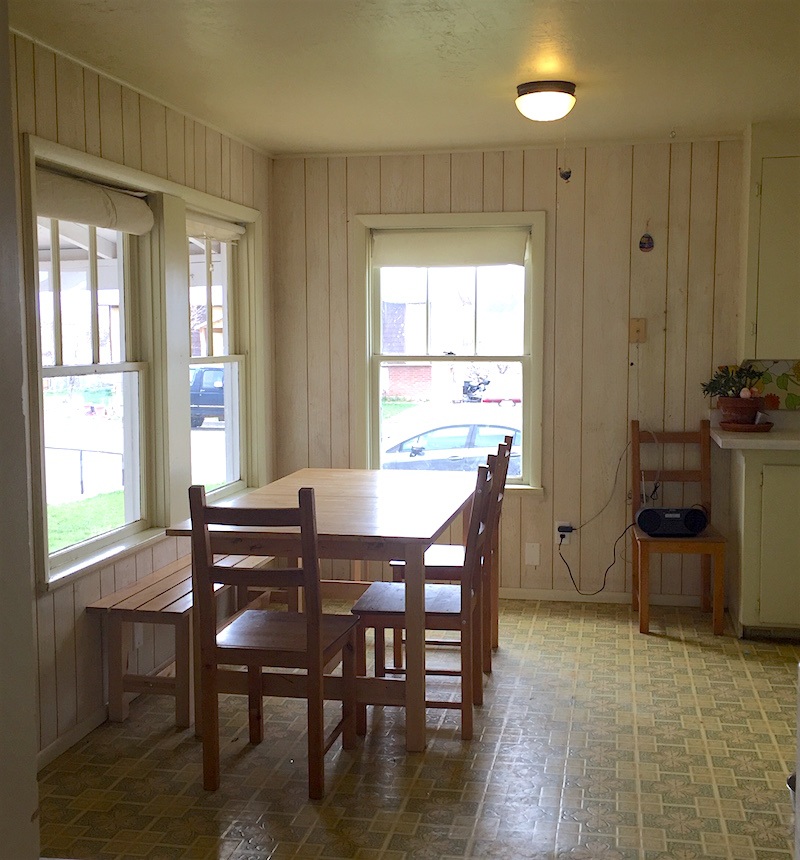 For the eating area, I would paint the paneling to match the cabinets.
I think that the ceiling would look great with anaglypta wallpaper, painted a glossy white, like I had in my old kitchen. You can see it in the ceiling post.
Other possible changes.

I think that tiling the entire back wall with white subway tile would be cool. I believe that's a doorway that was covered up.
Somertile white glossy subway tile. This is an economical version.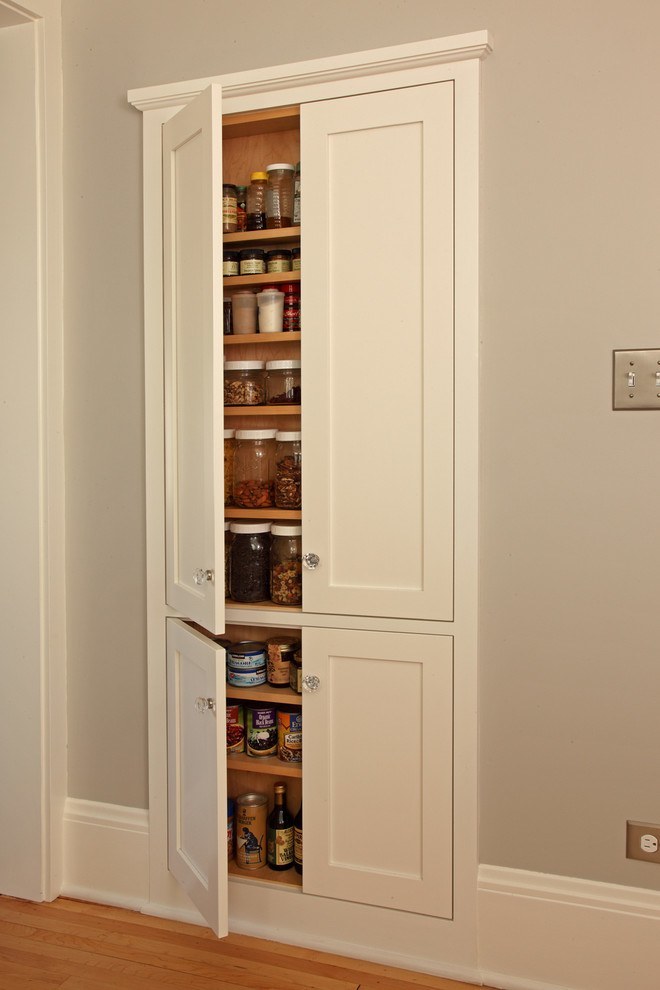 Or, instead of the tile, how about some between the studs storage!
For more clever kitchen storage ideas, click here.
Of course, the lighting needs to be redone.
Here's a good post about kitchen lighting.
And, another kitchen lighting post with some good ideas.
I would definitely replace that thing in the middle with a couple of semi-flushmount schoolhouse fixtures.
This is a classic one from Birch Lane
There are many others to choose from, as well.
Rejuvenation has some lovelies
(they're also having a 20% off your order with code: EVERYTHING)
I would change the sink and faucet, as well. And, probably the appliances. I would definitely do a counter-depth refrigerator.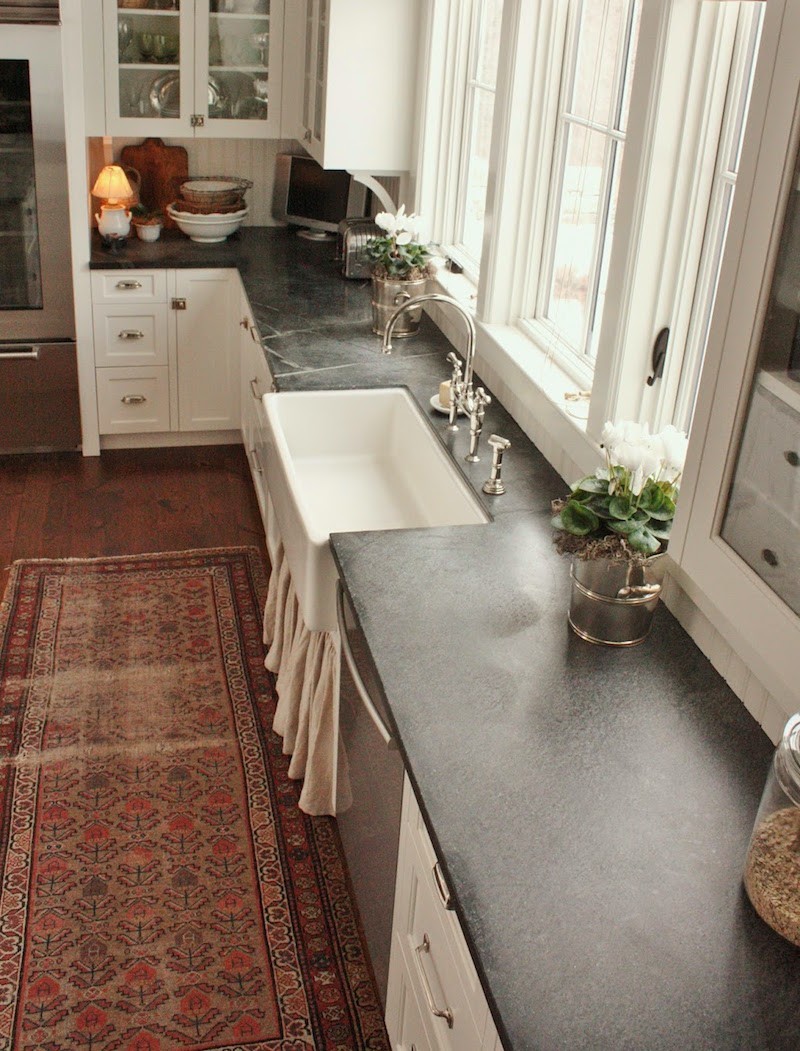 And I would change the counters, too. I'm thinking that soapstone would be a great look for this kitchen.
Okay, I think I've done run out of steam. haha So, I'm going to throw it out to you guys. I know that some of you have some great ideas and I'd love to hear them.
xo,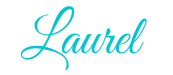 Please check out the glorious HOT SALES. Special weekend!