Dear Laurel,
I love your blog and have gotten your Rolodex and your paint collection and paint palettes. It's all so incredibly helpful as we make plans to fix up our modest 60's ranch home Aka – Boxy, Low Ceilings, plain, boring… I want a Georgian or Federal style colonial, but that ain't gonna happen.
Our windows are far wider than they are tall.
The ceilings are only 8-feet. And there's nothing else and no crown or other applied mouldings. I mean, Laurel, you rarely see low ceilings in any interiors in magazines and even in the examples on your blog. I'm not saying it's your fault, but just that I feel it's more of a challenge for your low-ceilinged readers. For example, your recent mirror post. I'm not trying to sound catty, but what about the rest of us with far less interesting spaces, along with low ceilings.

I guess I'm afraid that since the home wasn't intended to have those things I love so much, it'll look odd to add them? I don't know.
But I'm figuring other people are in the same situation.
Thanks,
Alice
Alice's problem is very common. Far earlier in my career, I worked on a couple of antique homes in northern Westchester County.
It's always a challenge to make a ranch home look more charming. The two I worked on were inherently charming because they were old. However, I also worked on some 60s ranches and split levels that were NOT inherently charming.
However, we worked hard to make improvements.
Another point is that while eight feet is a lowish ceiling, it is not a super-LOW CEILING.
Seven feet is a low ceiling, and I once worked on an antique home with seven-foot ceilings, and the husband was 6′-1″.
That job took place in 2000-2001!
In fact, that was the client I was on the phone with on September 11, 2001, when both of our husbands were working in Manhattan, and there was so much confusion.
Through no effort on my part, this home built in 1800 was in the December issue 2004 of Better Homes and Gardens. So, it's also fitting as we are now officially entering the Holiday Season.
Here is the home in the sleepy hamlet of Waccabuc, NY.
Oh, you've never heard of Waccabuc?
Right. And that's just the way they like it! :]
Waccabuc is one of the most beautiful places on earth.
As I have a copy of the magazine, I'll take you inside this historical home with low ceilings– only seven feet!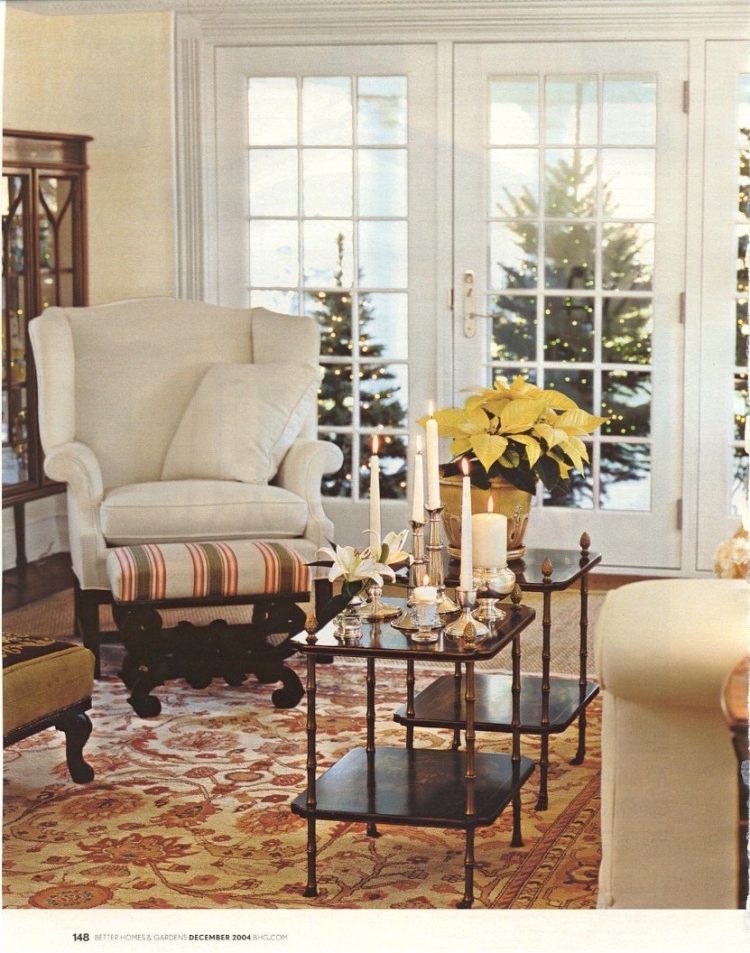 In the living room where we intentionally layered an oriental over seagrass. See? I was doing this back then!
The wing chair had belonged to the client's mother.
Being it had sentimental value, we had it reupholstered in cream linen. The only thing that came with the project was the stools. Everything else, we did. I say "we" because I include everyone who worked on this project. I love those Chinoiserie tea tables from Brunschwig and Fils, and they no longer exist. However, very often, you can find vintage pieces like this on Chairish or 1st Dibs.

A shot from the living room looking into the dining room. And, please note. Those are NOT my pillows! I had given my fantastic client two beautiful Aubusson pillows as a gift at the end of the project. They removed them and put in this cheap crap. But, it's a case in point that what you see in a magazine isn't always the designer's work!
However, those are the original mouldings.
The clients removed the paint from the fireplace before I became involved. This one would not have been painted in 1800.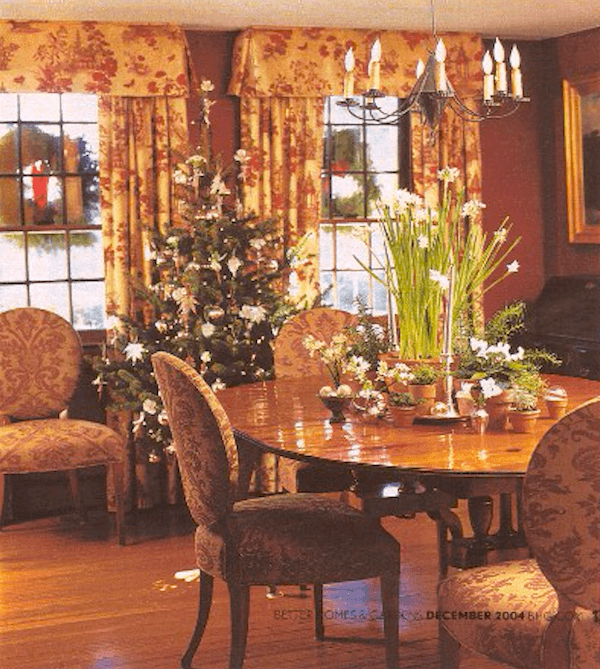 The dining room is my favorite. The trim is wood here, and there's a lot of it which you can't see here.
The only staircase in the home is behind this shot.
Again, please let me remind you that this is a low ceiling at only 7-feet.
We took the valance straight up to the ceiling, as you can see. I also made it proportionate to the seven-foot wall. Usually, a valance like this would be about 16," but I believe these are approximately 13″. The beautiful toile is from Cowtan and Tout but was discontinued soon after we did this room.
The table and chairs are from Baker Furniture. This was the most amazing table, which is 54″ round, but it looks like they have the leaf in it. It's discontinued. However, I recently linked to one that was on Chairish, and it sold shortly after that. It's a great table. So, if I find another one, I'll let y'all know.
The chairs are my favorite dining chair–ever.
They were part of the Charleston Collection and also no longer exist. Too bad. The scale and proportion are something I have never found again. And they are incredibly comfortable, as well.
The fabric, another favorite from Pierre Frey,  I did in other colorways for other clients.
Ahhh… those were the days! But alas, nothing stays the same.
I do love how the stylist decorated the dining table.
The walls are a cinnabar color that was troweled on by decorative artist and designer Robert Hoven, and he also did the checkerboard floor below.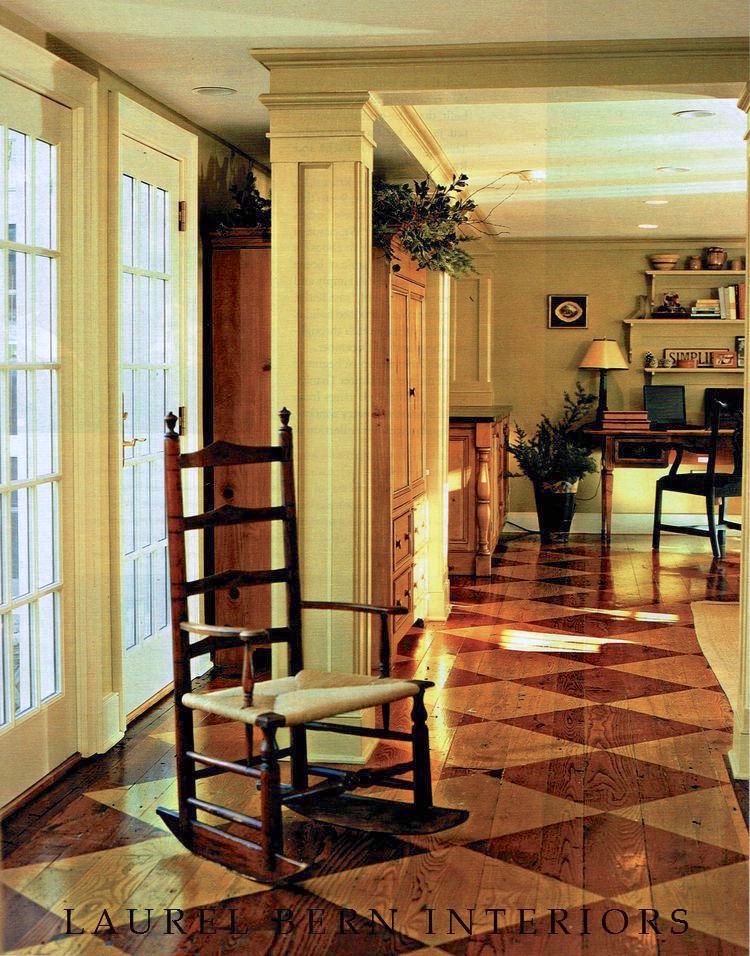 Beyond the dining room is the kitchen/family room.
Here, you can see how wonderful the mouldings and architectural details look. This area was completely gutted. I did not have anything to do with the architecture or kitchen, but I think that they did a great job.
I haven't quite made the point yet, but perhaps it's evident that just because a home is small or was built 60 years ago doesn't mean that it can't become a charming home filled with remarkable architectural detailing.
Okay, now, I want to address Alices's statement regarding low ceilings:
Laurel, you rarely see low ceilings in any interiors in magazines and even in the examples on your blog.
Okay. I don't expect Alice or anyone to wade through nearly 800 blog posts. Gosh, I wrote them, and I forget what I've done. lol
However, that's why I've been trying to do these "catalog" type posts like this one so that at least you'll have one place to find many posts in one area that cover one broad topic. The links to the other posts are interspersed throughout.
This post is primarily about low ceilings, spilling over into all architectural enhancements for boxy, boring rooms.
But, here's the other thing. There are many rooms on this blog that are only 8-feet tall–tops! And, some might be slightly taller, but I don't think they're 9-feet. But, even if they are, a 9-foot room can easily translate into an 8-foot room.
So, I'm going to link to other posts that feature low ceilings. Plus, provide some inspiration pics, some you've seen and some you haven't.

Gil Schafer is another one who understands low ceilings. I believe this is another beautiful collab with Miles Redd. I see the signature ruffle on the drapes that is totally Miles. This is definitely an 8-foot ceiling.  I know that because the door is most likely 80″.
This space alone could act as a textbook for how to design a room under a low ceiling.
Gil is the king of proportion and scale.
However, I still can't believe he got married. I don't recall giving him permission to do that. Oh well… ;]
Sorry. Where were we?
Oh right. Gil's and Miles Redd's brilliant decorating. The furniture is not dinky. It doesn't need to go on a diet either, however. lol
The crown moulding is actually relatively small, which is absolutely perfect. There is a flat piece underneath, and the curtain rod is hung on it as high as possible.
But, notice that the art is BIG, the plant is BIG, and the lamps are BIG.
These elements give this room the drama that it doesn't get from the lower ceiling height.

Remember the Mac's living room. It, too, has an 8-foot ceiling height.
Let's look at some more inspiration rooms with low ceilings.
The first one is a Victoria Hagan classic. I am pretty sure this is an 8-foot ceiling height. One trick to raise the ceiling if you're doing an extensive renovation is to make the doorways a little higher than normal. Of course, this means custom doors.
But, please check out Best Proportions for Interior Trim and Why You're Confused.
So, if that's not in the budget, you could also give the doorway more presence with a larger moulding over the door.
Above is a style of door casing that lifts the eye.
That's really the name of the game, and that is bringing the eye up as much as possible. Although, in my living room, if the eyes were lifted any higher, they would fly out of one's head.
Please check out this post about door casings.
Also, Mouldings and Doors, Too Many Options, She's Stumped.
Steven Gambrel is another favorite designer who knows how to work with a low ceiling, so you don't even notice it.
I can't find it now, sorry, but I have seen crown moulding like this, and it's actually a plaster moulding. I promise to do another post about crown moulding.
But, please check out Ranch House Decor Mistakes You Might be Making.
And, Can A Raised Ranch Become a Traditional Home?
And, another boxy boring ranch house with ideas to fix it.
Elle Decor – photo: James Merrell
Another beauty by Steven Gambrel. This time he took the ceiling moulding and crown and painted all of the woodwork a mid-tone blue. But then he kept the walls pale. It's a great look and gives the illusion of a higher ceiling.
Another favorite post is this one about wainscoting.
And I love this post about Problem Ceilings and How to Fix Them.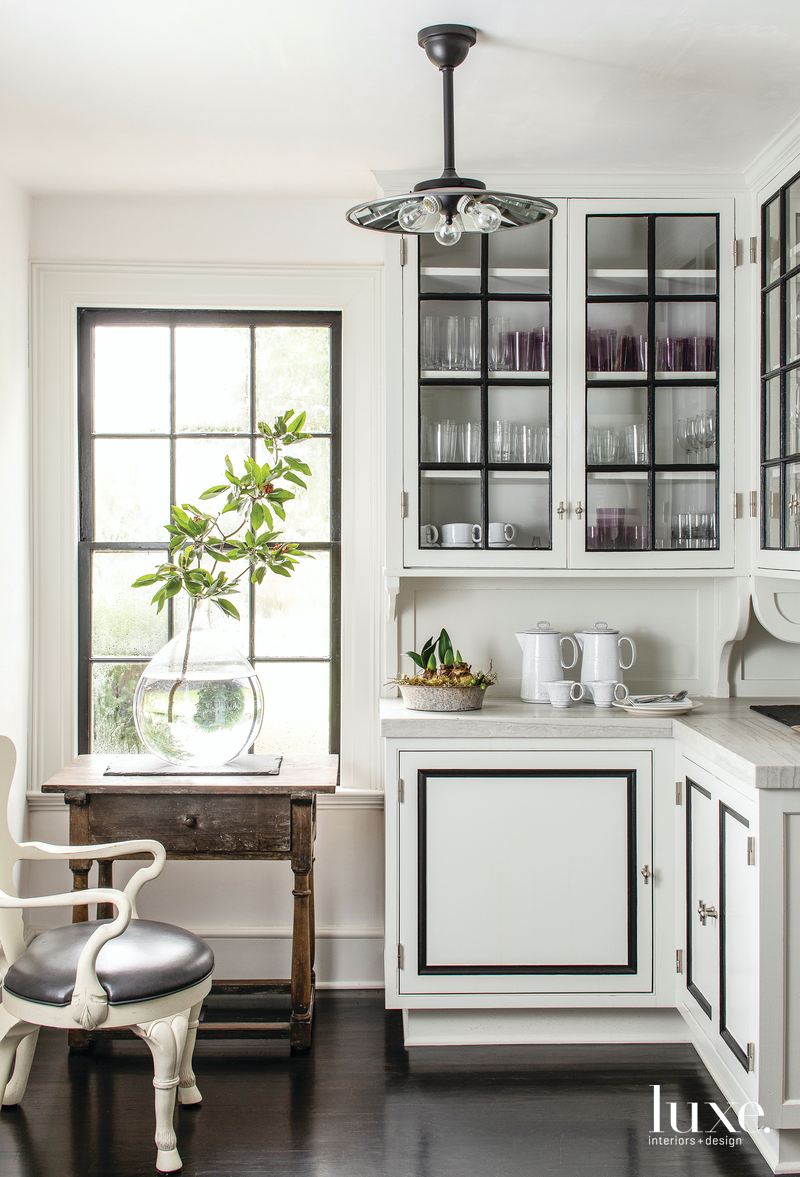 via Luxe Home (please click the link for more of this spectacular home.)
What a smart kitchen this is by Steven Gambrel. Yes, this is an 8-foot ceiling. However, the cabinets go all the way up and are finished with a small crown. The dark floors create an illusion of the floor receding. This makes the ceiling look higher by making the floor seem lower.
Please visit one of my favorite posts on this blog which shows in more detail these and other ways to create visual interest in a boxy room. And make the ceiling appear higher.
Another excellent post is an oldie, but it also has some good ideas for boxy, boring rooms.
Above is another Victoria Hagan beauty. Despite the low ceiling, the furnishings and fireplace mantel have a presence. However, she doesn't crowd the space with lots of furniture and knickknacks.
I'm still thinking of posts, and this is another favorite is the Best Builder Upgrades You Might Not Have Considered.
Easy and Affordable Ways to Fix a Boring Room – There are some lovely examples here.
Boxy Boring Bedroom and How To Fix It
Okay, that's all I can think of for how to improve a room with low ceilings.
This is a big week coming up. But, for now, if you're reading this and you own Laurel's Rolodex, you should've received your link to the new edition.
The Etsy Guide has also been updated, and there are well over 200 sources in it now. We did remove a few shops that are gone, or their product line was virtually nil. There are one or two shops that we left in, hoping that they'll return.
Below is more information about the Laurel Home Guides

(Clicking on the links will send you to the pages to learn more about each guide)
Laurel's Rolodex is a unique shopping guide that shares hundreds of my favorite sources and, especially for decorators and designers, tells you the best sources that sell directly to the design trade, especially for decorators and designers.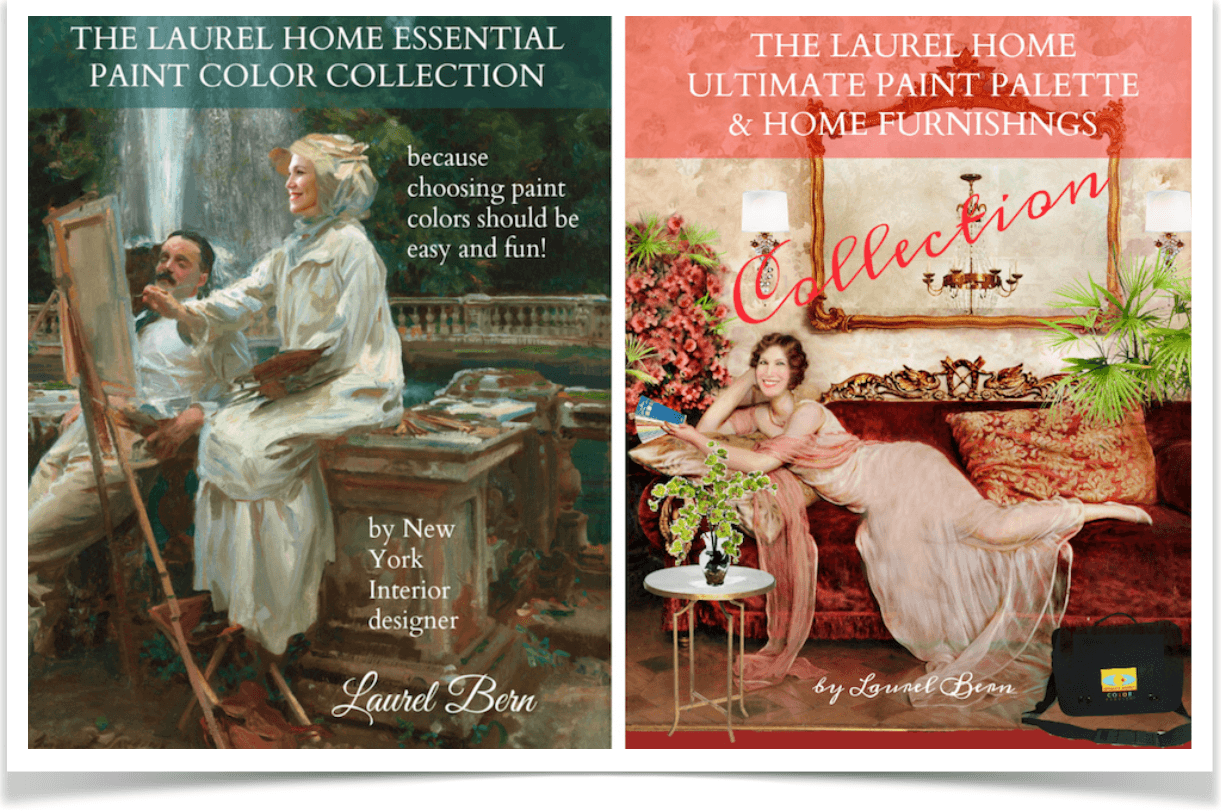 The Essential Paint Color and Palette Collection (two volumes)
This is a must-have guide for anyone struggling with paint colors. If you don't believe me, there are dozens of testimonials on the Palette Collection page.
Six-Figure Income Blogger. (This should be required reading for everyone who has a website and wishes to get the most out of it for their business) You do not need to be a heavy-duty blogger. But, once or twice a month consistently will do wonders for your business. But, it would be best if you learned some other things, as well. Believe me, when I say in the early years, I made every mistake and then some.
333 Decorating Rules & Tips You Need to Know – You'll get a free Etsy guide with this guide, as well. There is so much information and much I've never seen anywhere else. The window treatment glossary alone is several pages.

Or, order the Etsy guide on its own. It's 150 seriously cool vendors.
Etsy is known for exceedingly helpful, personable vendors and great pricing.
Please note: Some prices will be going up on January 1, and all free offers will end on December 31, 2021.
xo,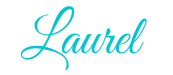 PS: Please also check out the newly updated HOT SALES and HOLIDAY SHOP!
And, it's super good! 25% off EVERYTHING*, including items currently on sale!
*Gift certificates and art are excluded.
Please use the following promo codes: 11.22-11.23 is an unpublished VIP early access!
from 11.22 – 11.23 Use code:  HAPPYDAY