Hi Everyone,
I recently received an incredible email from a kind reader who needs help with her somewhat boring bedroom.
[my comments are like this]
Dear Laurel,
I love your blog and really enjoyed the posts about painted vs. stained brown furniture.
I'm wondering about, and I don't think you touched upon this, whether or not to paint brown wood furniture in my boxy, somewhat boring bedroom.


However, Laurel, there's a bitter irony here because in my "boring bedroom," there was an incident that was the most dramatic and traumatic of my life.
My 41-year-old husband and I were recently lying in bed, watching television, when suddenly, I noticed that he wasn't breathing! He was unresponsive. 

I grabbed my phone and called 911.
Then, I had to pull him onto the floor; not an easy feat because he's a big guy. And I did CPR on him until the paramedics showed up. Quickly, they shocked his heart back into rhythm. 

He was still unconscious, and they rushed him to the hospital, where he was on a ventilator and sedated for several days. 



Thankfully, he eventually woke up without any cognitive impairments. That's a miracle, to say the least! Then, he had triple bypass surgery. And, now, he is recovering very well at home.
I, on the other hand, am still traumatized.
[Of course, you're traumatized! I can't even imagine, except the same thing happened to my brother who was alone, and he died at age 38.]
For a while, I couldn't even go into our bedroom. I'm finally getting better. But, I still have flashbacks from when he became unresponsive, especially when I look at the rug where he was lying lifeless.
So, I am using this trauma as a reason to re-decorate our boring bedroom.
I've wanted to do it for years anyway. And since I saved my husband's life, he's not arguing. Well, at least not yet.
[smart]
So, here's the deal.
When we bought our first house, my husband and I made what I now realize was a huge mistake. Please don't be cross with me.
[I won't be cross with you no matter what you did. Believe me. I've made more mistakes than I care to admit.]
Okay, we purchased a huge, matching bedroom set with way more pieces than we would ever need, even though we lived in a tiny house at the time. I don't know what we were thinking! We now live in a bigger house, and it's still too many pieces.
We have since downsized the set a little and moved some pieces to other parts of the house. However, we still have the bed, two night tables, and a dresser in our room. They are all dark brown wood which feels a little outdated. Or, maybe too traditional/formal to me. I guess my taste has changed.
However, as my husband repeatedly points out, "there's nothing wrong with them."
I hate to say it, but he's right. All the pieces are of good quality and are still in pretty decent shape except for some minor scuff marks that would be expected after so many years.
Anyway,  to freshen up the boring bedroom, I've been toying whether to paint the bed, the night tables, the dresser.
Or some combination of these pieces, either white or gray, something lighter.
Of course, I know I shouldn't paint all the pieces because then they'd all be matching again! haha

Another idea might be to strip the wood and refinish it. But, that seems risky and probably more trouble than it's worth.
[I agree wholeheartedly with that]
I have even looked at slipcovers for headboards, but ours is slightly curved, and I'm afraid of spending a few hundred dollars on something that won't look quite right.
Also, I'm planning to paint the walls.
But, feel I need to get this furniture thing figured out first, so I don't end up having to paint the walls twice.
I'm definitely getting a new rug, hopefully from Serena and Lily, if they ever go on sale.
[They will. lol – When, I don't know.]
So, I want to figure out a way to give the rest of the bedroom that airy, relaxed vibe, hopefully without purchasing new furniture.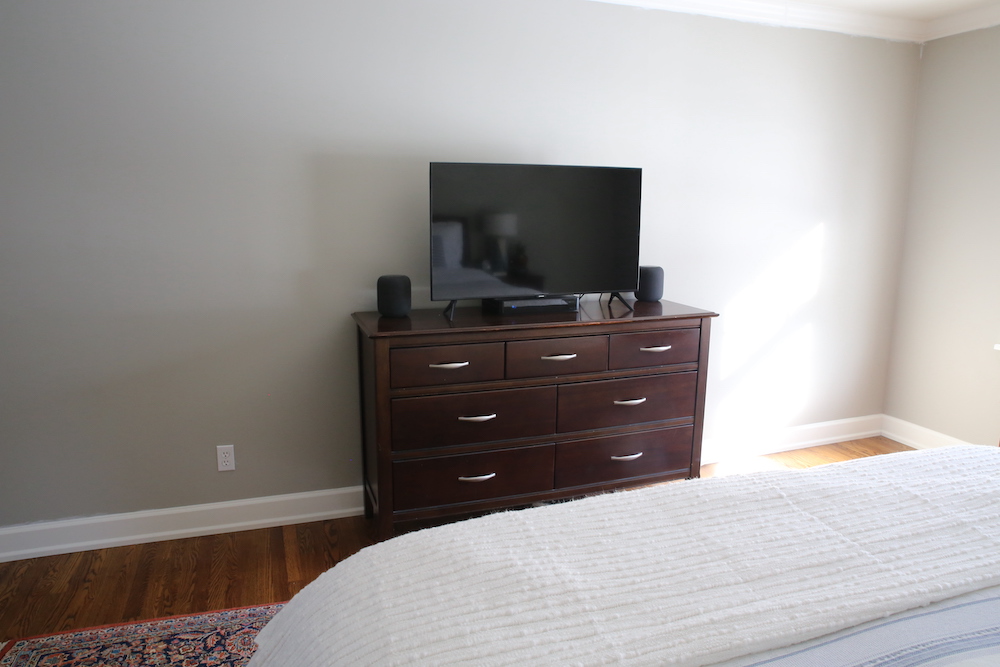 I don't know if this would be a good topic for a blog post. But if so, what are your thoughts about painting the bed or other bedroom furniture?
I don't see that done very often, so I'm wondering if that's a big no-no. Or are we better off buying something new? If that's the case, wish me luck convincing my husband!
I know you are super busy, and you may not respond to this or write a blog about it, and that's okay. I understand. I'm just wondering if there are other fools out there like me who bought the whole matching set and are now stuck with a whole bunch of brown in the bedroom!
[Well, they keep making 'em, so folks are buyin' 'em] ;]
Thanks so much for your wonderful wisdom,
Rachel
*********
Okay, let's all take a deep breath. Wow, just wow.
Of course, Rachel's story touched me deeply. Since it's so personal, I asked if I may share it on the blog, and she gave me the go-ahead.
She also sent me some more information about the "boring bedroom."
She knows it's spare and bare and not working.
The rug was gifted but not her style.
And, she doesn't like the recliner chair. Rachel said: "The big recliner chair is an abomination to look at, but ridiculously comfortable and came in very handy when my husband first came home from the hospital because he had to sleep propped up in it for several weeks."
Okay, here's my take. I'm trying to organize my thoughts. But, it's like a puzzle.
First of all (and Rachel also pointed this out), but the room is on the dark side. (please check out north-facing rooms) Plus, the wall color is drab and not helping at all.
I would probably not paint this furniture. It's a tremendous amount of work. I could see some painted nightstands, but you can get some nice nightstands for not much money.
I love the linens. The little pillows are temporary. And, since you hardly see the bed, I certainly wouldn't bother putting any money or time into it. Plus, it would be disruptive.
The thing that's bugging me the most after the wall color is the chest with the TV all by its lonesome across from the bed.
The next thing is that if they keep the furniture, I think the rug looks very good with it. That's because the pattern and colors create a nice balance with the dark furniture. But, then I think the walls should be a far deeper color. Maybe one of these deep, rich blues.
Rachel is looking at the Serena & Lily Seaview rug.
It's nice, but I don't think it's going to work well with the furniture. I think one of the patterned rugs would be better.
I love the Gresham wool rug from Serena & Lily.
Please note that these rugs usually have a light side and a dark side. I'm not sure if this one is hand-knotted or not. But, I think it has enough heft to balance the dark furniture.
So, if we do this richly textured rug, I would keep the bed and nightstands as is.
Then, this is my preference, but I think some lamps with just a tad more tradition and larger would be great. Below are a few ideas.

If keeping the current rug, some blue and white Chinoiserie lamps would be fantastic. There are some cool Chinoiserie lamps in this recent post.
And, this is another good post with lots of inexpensive lamps.
As for the wall color.
If doing the blue rug, I would do a beautiful white. Maybe Simply White or Cotton Balls. Both of these are in the Laurel Home Paint and Palette Collection.
Or, as I said earlier, there could be a dark, moody blue paint.
Grant K Gibson
However, so that this doesn't get too confusing, let's keep with the blue rug idea.
I would change two pieces of furniture in this room:
The chest of drawers and the recliner.
The Addison Recliner from Williams-Sonoma Home is my ultimate favorite recliner. You'd never it was a recliner, right? And the lines and proportions are perfect. It comes in many fabrics, and there's a leather version, as well.
If the walls are painted a fairly dark blue. Then, the TV and the chest will disappear.
Otherwise, I would do a cabinet to house the TV and provide clothing storage, as well.
I love the Louis XVI armoire from Ballard Designs. Something would need to be done about clothing storage. Maybe some attractive bins from the container store.
On either side of this new piece of furniture will need to be something to balance the wall. One thing would be some sconces, perhaps.
There's some good inspiration in this post about long unbroken walls.
However, speaking of walls, this is where we tie into Sunday's post that focused on wainscoting.
Please note that the post also links to dozens of other posts that feature applied wall mouldings.
Still, here's where the real fireworks come in.
And, one of the best examples I've ever seen is from my friend and colleague Alisa Bovino, who many of you know from her blog A Glass of Bovino and her fabulous Instagram account, as well.
Below, I created a before and after showing one wall of her master bedroom, which she created a couple of years ago.
please pin to Pinterest
Well, I found out today that Alisa is redoing her bedroom again! I can't wait to see what she does.
But, can you believe the transformation?
As for Rachel and what she might do with her walls, that would take me some time to design. However, I do have some examples of ideas from other rooms below.
This is Alisa's gorgeous living room that we saw earlier in this post. I adore everything here and what she did with the walls. It's perfect!
Another gorgeous room with beautiful mouldings is by Canadian interior designer, Vanessa Francis who I was delighted to meet a few years ago at KBIS.
I did this art wall idea in an earlier post with free templates. So, something like this around the bed could work. In addition, there are lots of ideas for art walls here.
Here is another post about bedroom decorating ideas from last year.
Luxe Magazine – Farrow and Ball – Stiffkey Blue
Above is a beautiful blue wall idea.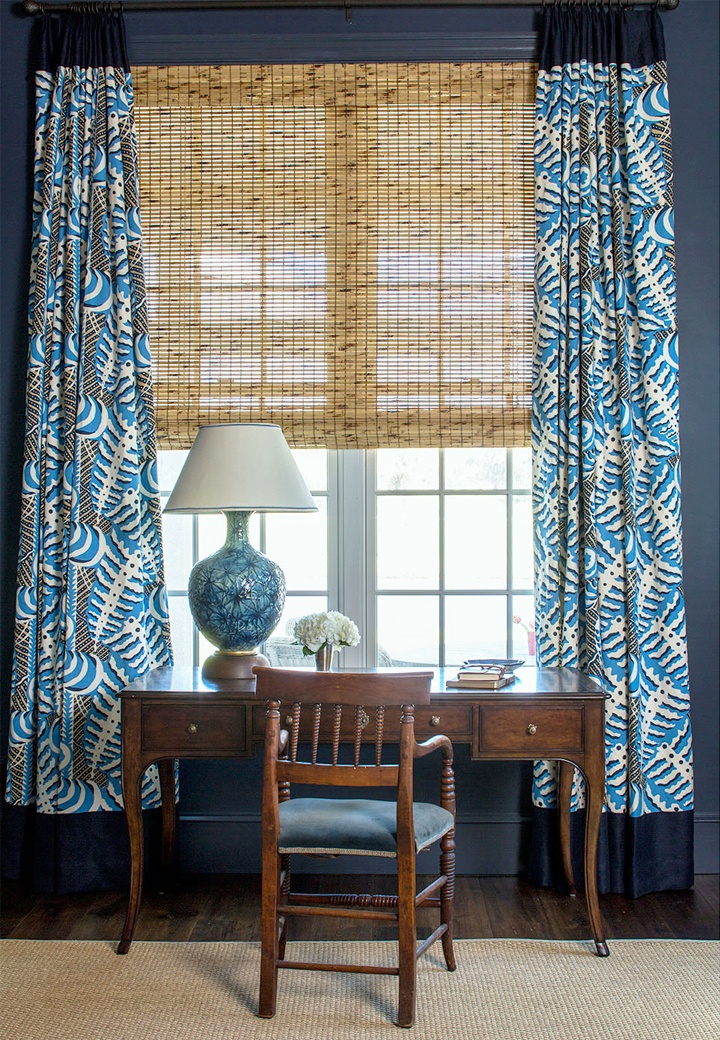 I think some curtains would be terrific on the windows. Maybe white linen, with or without a trim.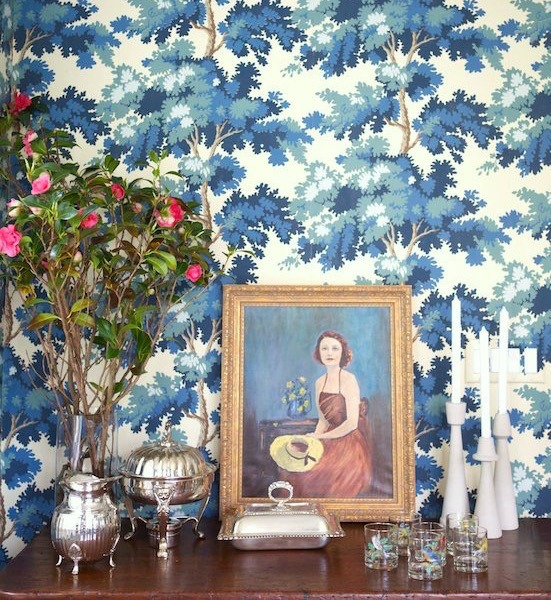 I don't know if this would work in the alcove. But, that is a great place to add something different. It could also be done with paint. I would also consider painting the doors either dark blue or black.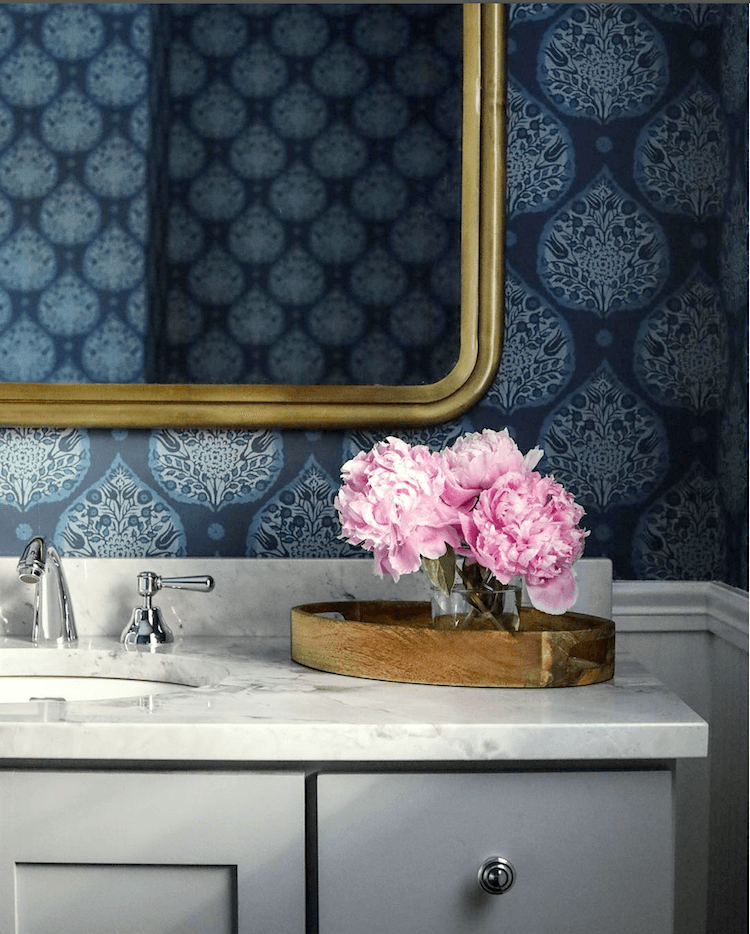 I adore both of these bathrooms and maybe a paper could be used as an accent somewhere.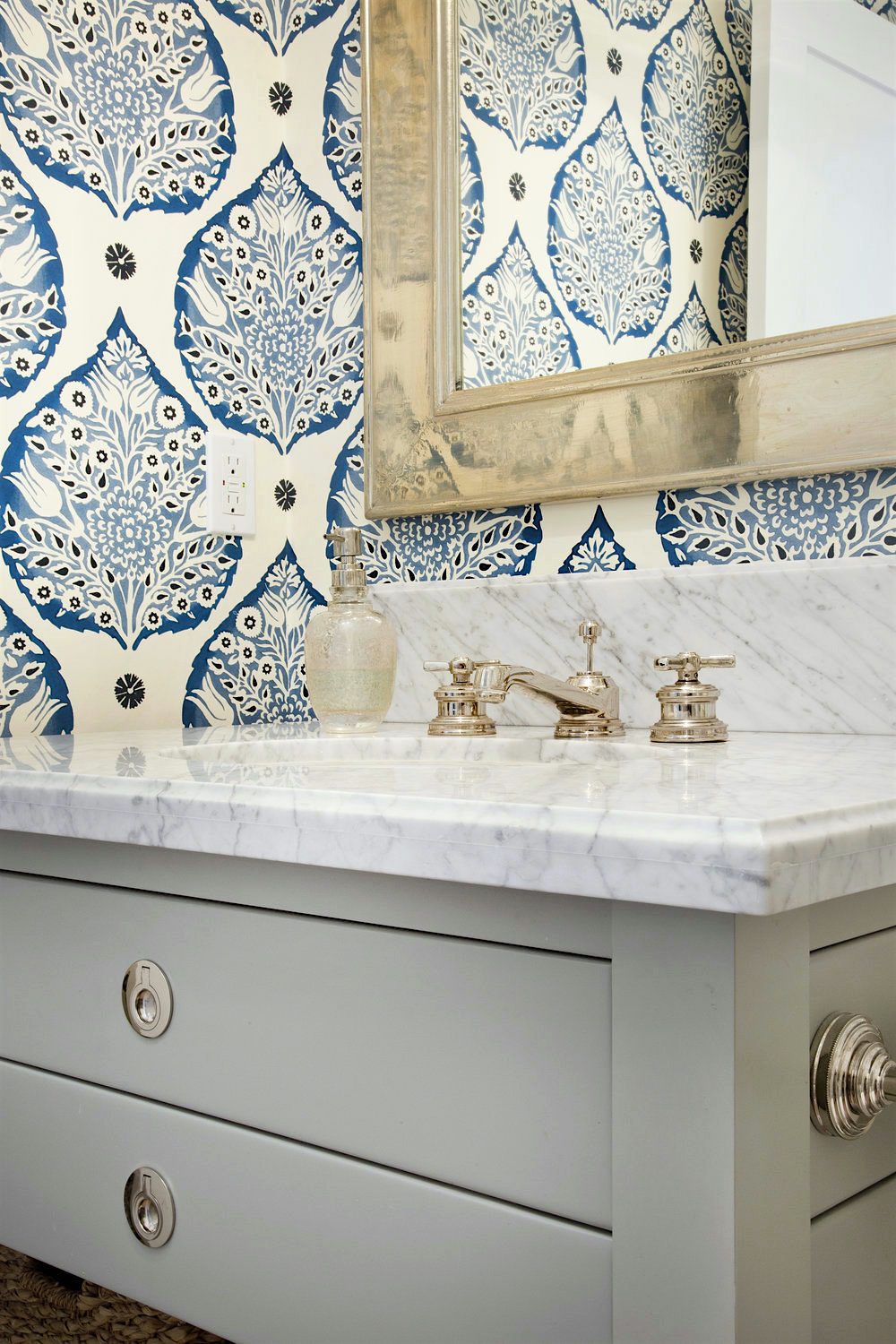 I hope y'all got some good inspiration to fix a boxy, boring bedroom.
In this example, Rachel put her focus on the furniture and whether it should be painted or not. Yes, that's important, but when a room is boxy and the ceilings aren't high, the most helpful thing, I think, is to work on the bones of the room.
In any case, best wishes to Rachel and her husband for continued healing from their ordeal.
xo,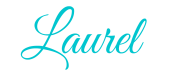 PS: Please check out the newly updated HOT SALES!