Dear Laurel,
I love your website and the inspiration and wisdom you have so generously imparted.
Question: I was hoping if you could share your creative thoughts on decorating with two sofas. I want to deviate from the norm by using two different sofas; mismatched sofas.
Should the fabrics match, or is it okay to choose fabrics that coordinate and complement each other? I am trying to avoid a furniture store look. Yuck! I'd love to hear your thoughts, and I'm sure others would too.
Your new home is positively gorgeous! Boston is one of my favorite cities- lucky you!
Warmly,
Julie
Below is my response regarding mismatched sofas
Hi Julie,
The advisability of doing mismatched sofas is an excellent topic for a blog post. But, I'll tell you right now, it's a slippery slope and a hard look to pull off.
Not impossible, however. Can you give me the reason you'd like to do mismatched sofas aside from avoiding a "furniture store look?"
BTW, it depends on the furniture store! But, yes, most of them suck in terms of how they put their vignettes together.
Best,
Laurel
Below is the response from Julie
In response to your question and reflection, this is my underlying thought process regarding doing mismatched sofas.
I've recently downsized, and the main living room is smaller than my old one.  I like the simplicity of 2 sofas across from each other.  It seems elegant yet conversational and cozy.
Since I have two very nice sofas (one larger than the other- not a love seat),  I thought I could reupholster them, but I wondered if It would look too eclectic if the upholstery is in two complementary fabrics.  Are there any design rules for this?  I've looked around on the internet, and I'm not finding many examples. And maybe that's because it seems mismatched or thrown together.
I'm beginning to wonder if perhaps I should scrap them both and start over with identical sofas.
I received an upholstery quote- buying new sofas probably wouldn't cost much more.
At any rate, I thought I would reach out to get your perspective. I adore your style!!
Have a lovely evening!
Julie
Okay. There's a very good reason that Julie is struggling to find many images with mismatched sofas in one seating area, as I said in my note to her. Mismatched sofas are difficult to pull off.
Story Time
Many years ago, in 1992, to be exact, I was a new hire by a decorator who had a small shop in Bedford Village, NY. I worked for her for nearly four years before going out on my own in 1996.
Anyway, she was fond of taking me along to client visits which was always a treat for me. This visit was only about a quarter-mile from the shop on Bedford Green in the small historic district. However, since there were no sidewalks, we drove.
Hang on a sec. Let me see if I can find the house. I'll be right back. ;]
There ya go, an 1841 Greek Revival architectural gem, if ever there was one.
I don't recall the exact reason for the visit, but I think it had something to do with the library's window treatments.
Now, I did find an old listing from 2011, the last time it was sold. You can see those details here.
As an aside,(I think this interesting, but if you don't, please skip ahead to here*)
This is for those of you who warned me about "high taxes" in "Taxachusetts," please note that the annual taxes on this baby in 2019 were $170,600.00! (please note that a kind reader informed me that this is the assessed tax rate. The taxes would actually be about $43,000.00 a year. Still, a big number compared to what most of the country pays)
Why so expensive?
relatively little commercial activity
sparsely populated area – all of northern Westchester County
this is where God lives. That's just how gorgeous it is!
a relatively large proportion of whiney and entitled parents willing and able to spend a fortune educating their kids in seedy, greedy school districts.
I realize that's a harsh thing to say. Remember about ten years ago when they were giving the ax to teachers left and right? That's when I got involved, and I learned a lot.
It is not only the Bedford Public School district. Believe me; we can add others to the mix who have phenomenally outrageous budgets for public schools.
Oh, you don't believe me?
Fine, make me work. I'm just teasing. Actually, I'm curious, too. So, I took the liberty of tracking down the most current budget proposal for our old school district, The Katonah-Lewisboro Union Free School District. BTW, "union-free" is a misnomer. It is not free of any unions whatsoever. However, it does butt up against the Bedford School District.
Here you can see in this graphic I made recently comparing our old school district in size to the city of Boston. Below that, you can see the equally humongous Bedford Free School District.
None of them are free of anything, except for, never mind.
But, are you guys ready to see the annual budget?
The annual school budget for the Katonah-Lewisboro school district for 2020-2021 – is: $141,863,980.00 – And, how many students are there?
$2,975.
Yes, that's right. That's $47,685.00 a year to educate ONE CHILD. Yes, again. This is a PUBLIC SCHOOL. Do they NEED that much money?
Of course not.
*********
*

Okay, I will stop now and return to our regularly scheduled program: "As the Mismatched Sofas Turns My Stomach."

Sometimes.

You see, when I went into this house, fresh out of design school and with a toddler in daycare, we were ushered into the library of this historic beauty.
Yep. This is it. Only this wasn't the furniture in the room. However, it gives you an idea of the size of the room. I would estimate that it is about 12′ x 14′, not including the bookcases. So, not a large room.
My boss was super proud of the work she had done, and this is where I was incredibly grateful for all of the acting lessons I had taken 10 years earlier.
I mean, you know what's coming.
For indeed, in this small library were two mismatched sofas, each the standard seven feet. And, neither sat inside the alcove as seen above. I believe there was a desk in that area.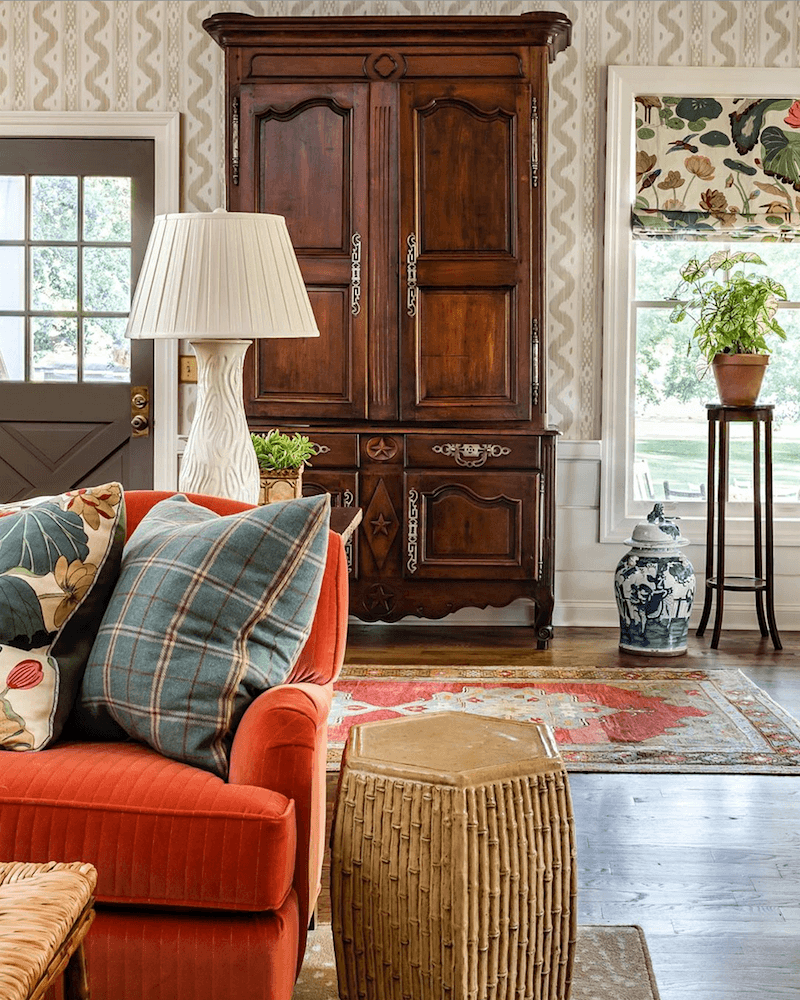 One had an English Roll arm like you see above in this exquisite room by James T Farmer.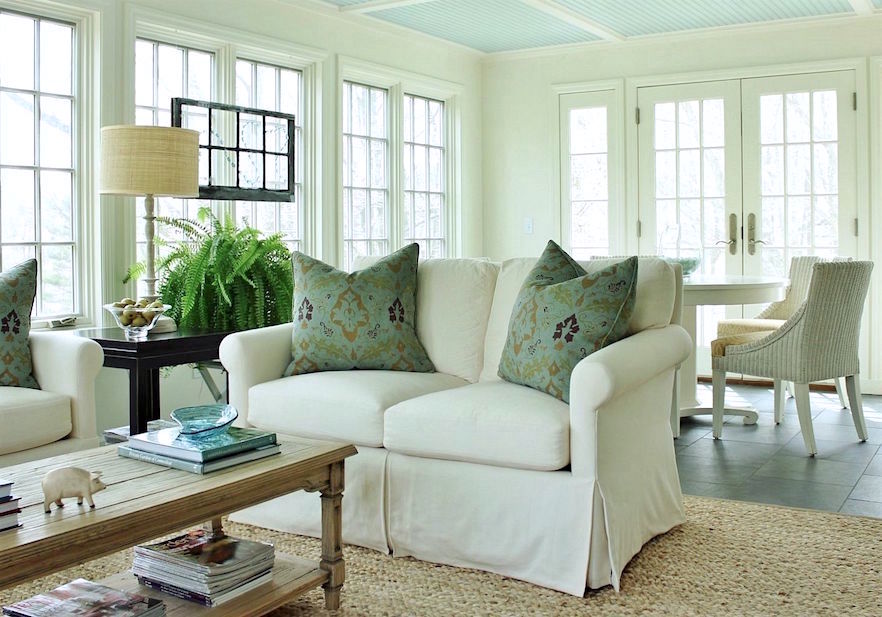 The other sofa had a Lawson Arm similar or a little larger than the one you see above. (here is an entire page of Lawson arms)
Also, the fabrics were different. One was a chintz with a ruffled skirt. The other was a beige chenille with exposed legs. The two sofas were perpendicular to each other.  There were also mismatched throw pillows.
Guys, it didn't look eclectic and cool. No. It looked like a big bloody, very expensive MISTAKE as these were both custom high-end sofas. However, I needed the job, so I just kept my trap shut and kept smiling sweetly.
What would I have done instead in this library?
Good question. For starters, I would've done only one sofa and a smaller apartment size sofa, no more than 75″ long.
Below are some schematics I created to show four possible layouts for a small library.
Are there any situations where mismatched sofas look good?
Yes, but within certain parameters.
One way is with more than one seating area.
Above is a living room I did a few years ago. There's a sofa in the main seating area and a settee in front of the bay window.
You can also see one living room layout with numerous seating arrangements here.
Another way that mismatched sofas look good is with a style that Studio McGee has perfected in their large, airy great rooms.
Let's take a look at some of them.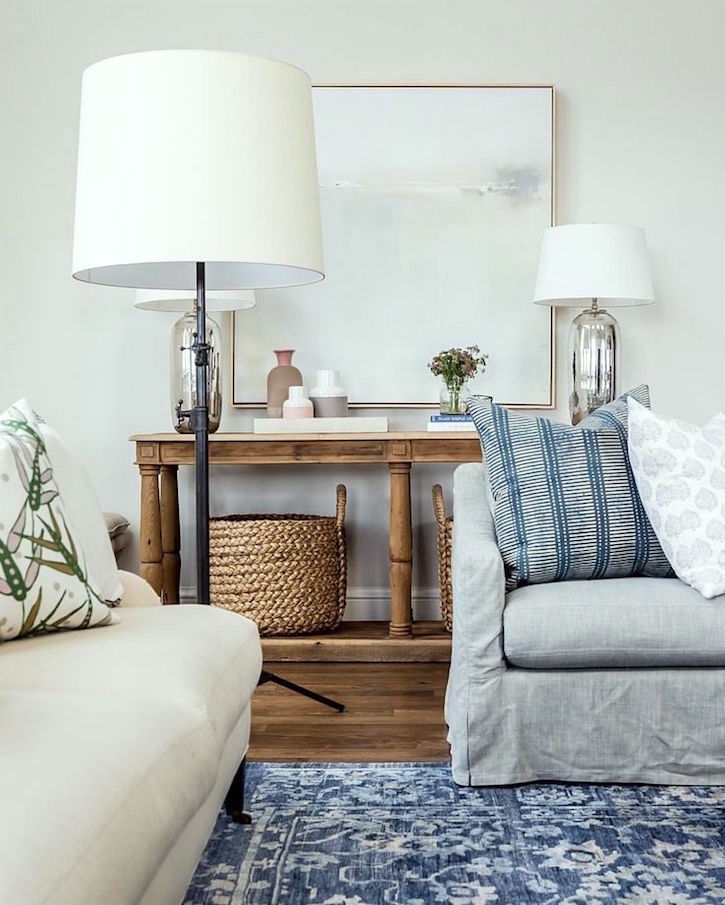 Above is the McGee look, but it is a room by House of Jade with mismatched sofas – Photo: Becky Kimball.
Above and below from Chris Loves Julia
I love these Mismatched Sofas – I think it gives the room a less formal feel.
And, these are complementary sofas with similar lines. I think they look great together.
Would it have worked if the sofas matched? Yes, of course. However, I think the dark blue velvet sofa makes a good counterpoint to the heavy dark-framed window.
Carminabaygual. interior on Instagram
Another situation where mismatched sofas make a lot of sense is when one sofa doesn't have arms. Or, at least typical arms.
The chaise or daybed works because it is almost a bench, actually.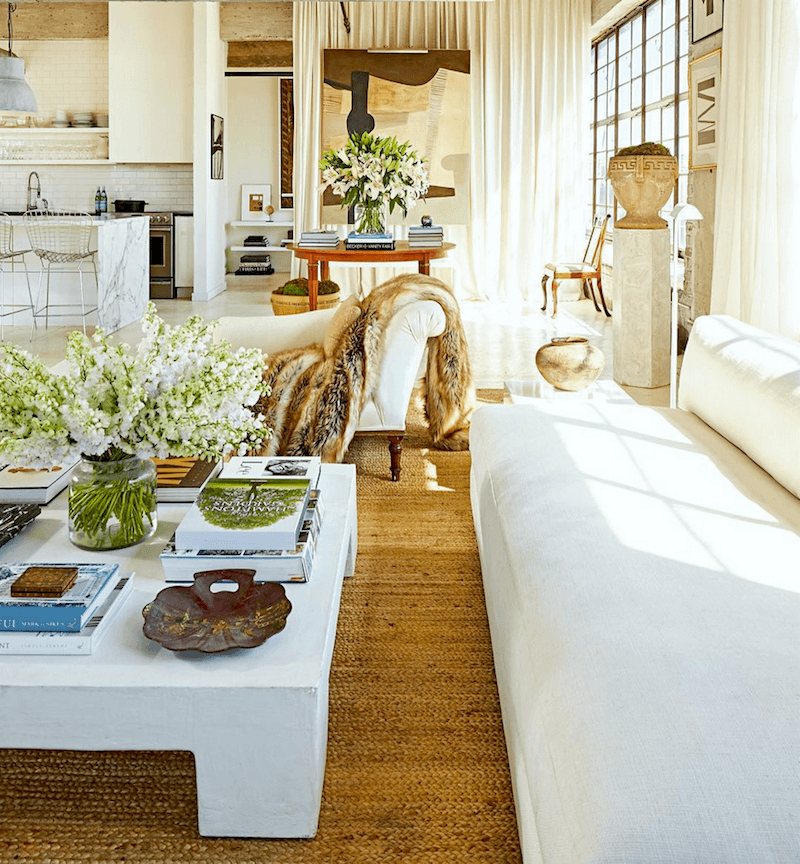 This one is another variation of the same idea by William McLure.
This room has a cozy feel with mismatched sofas. So, another idea is that the seating group looks best with three sides. Well, usually. (source unknown. If anyone knows it, please tell me, and I'll make the change)
Another way that mismatched sofas look good with the boho style.
Boho, if you don't know, is short for Bohemian. This is an offshoot; I think of Granny Chic or Grand Millennial style.
Below are three iterations of the same room, but some of the elements have changed.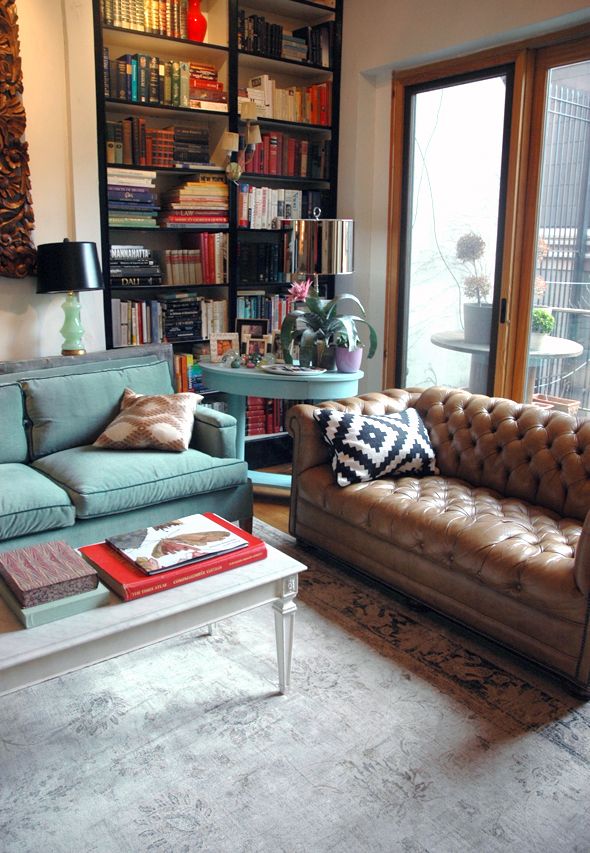 I believe the source is Little Green Notebook. (now Juniper Home)
One thing about this style is that it can quickly look like one picked up some stuff at the Salvation Army. Not that there's anything wrong with that. But, it would be if one has spent tens of thousands creating the look with new furniture.
amorybrown.co.uk – mismatched sofas
Above is one of my favorite rooms by Windsor Smith. It is a sophisticated, new trad Boho style. And yes, a mismatched sofa, but it just works in this case as the room is large and there is a lot of other furniture.
What about mismatched sofas that face each other?
While I do Love the Chris Loves Julia mismatched sofas facing each other, I think this is generally the toughest look to pull off successfully.
Again, this is the Boho look. And, I think probably a little funky for most people; certainly most Americans over the age of 40. I almost expect to see white Christmas lights strung around the perimeter of the room. haha (source unknown)
An elegant living room with two matching sofas and one mismatched sofa in front of the window. That works!
In the end, Julie, it appears, did answer some of her own questions.
I think it's a more polished look to have two matching sofas, as you see above. And YES! Reupholstery is quite expensive. It is not much less costly than a new piece of furniture. So, unless it's an heirloom or an expensive, well-made piece, to begin with, it makes sense to start over the majority of the time.
Although in the 20 years I took on clients, I had reupholstered dozens of pieces of furniture. It was always very gratifying to see the furniture afterward.
Below, are rare before and after photos, I took a few years ago.
This chair makeover is just the best!
By the way, this is another Lawson arm (sofa) and English roll arm pairing.
The difference is that it's a chair and sofa, not two sofas.
The bottom line is that I think it's possible to do mismatched sofas in certain situations. However, for the majority of us, it's safer to have matching frames and fabrics.
See 15 Favorite and Classic Sofas
What about you? Do you have mismatched sofas? Or, do you think it's a bad idea?
xo,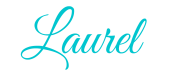 PS: Please check out the newly updated HOT SALES!