Hi Everyone,
I think most years around this time; I do a post about current decor and decorating trends. So, at the end of this five-Sunday month, I thought I would riff on a post I found regarding Interior design Trends 2021.
I found the article on Insider. (you may have a look and follow along by clicking on that link)
The purpose is to take a closer look at some prevailing ideas regarding design trends. I find that a lot of this information is repeated over and over in numerous articles. And, unfortunately, I feel that a lot of it is misleading. I am basing it on all of my training and years of experience.
Many of you may recall that I did a similar post last year to look at 50 decorating trends proclaimed by Elle Decor.
We sure had fun with that one!
And then there was this gem about top decorating trends should they stay or go?
However, this year, for interior design trends 2021, there are only 15 trends we need to look at.
No, wait. That's what the headline says. I counted at least 19 trends.
Let's begin.
They're saying that shiplap is dying.
Okay.
Poor shiplap. I wrote about it a few years ago in this post about hot kitchen trends.
People love to complain about it. That is if it's even really shiplap.
There are numerous types of horizontal paneling that resemble shiplap. The one they show as an example could very well be clapboard as the room looks to be an enclosed porch.
I can think of three clients who turned porches into sunrooms.
You can see one of the sunrooms in Larchmont, NY, here.
And, here's another one with one of my favorite settees from TCS.
Above is from the third client who turned their porch into a sunroom. If you look closely, next to the French doors on the right is the original siding of the home's exterior. There is also some brick. We unified everything by painting it all one color.
The ceiling is Benjamin Moore Palladian Blue.
While linen white is in the Laurel Home paint collection, Palladian Blue is not. It's not because it's not a good color; it's only because I wanted to include another color that is too similar.
2. Instead, they are saying to do wallpaper instead.
However, wallpaper is not a trend. It's been around for centuries. Although, I have to say that in recent decades the wallpapers keep getting better and better.
3.  Gray kitchens may become less popular
You know, it depends on the gray and what else is going on. But, there are some gorgeous gray kitchens out there. It's not on the way out, IMO.
Jenna Borst photography-Jean Stoffer Design Benjamin Moore Gibraltar Cliffs
For more gorgeous Jean Stoffer kitchens, please check out her website.
Jean Stoffer – Benjamin Moore Cement Gray.
I adore Jean's kitchens. Please check out this post if you do too.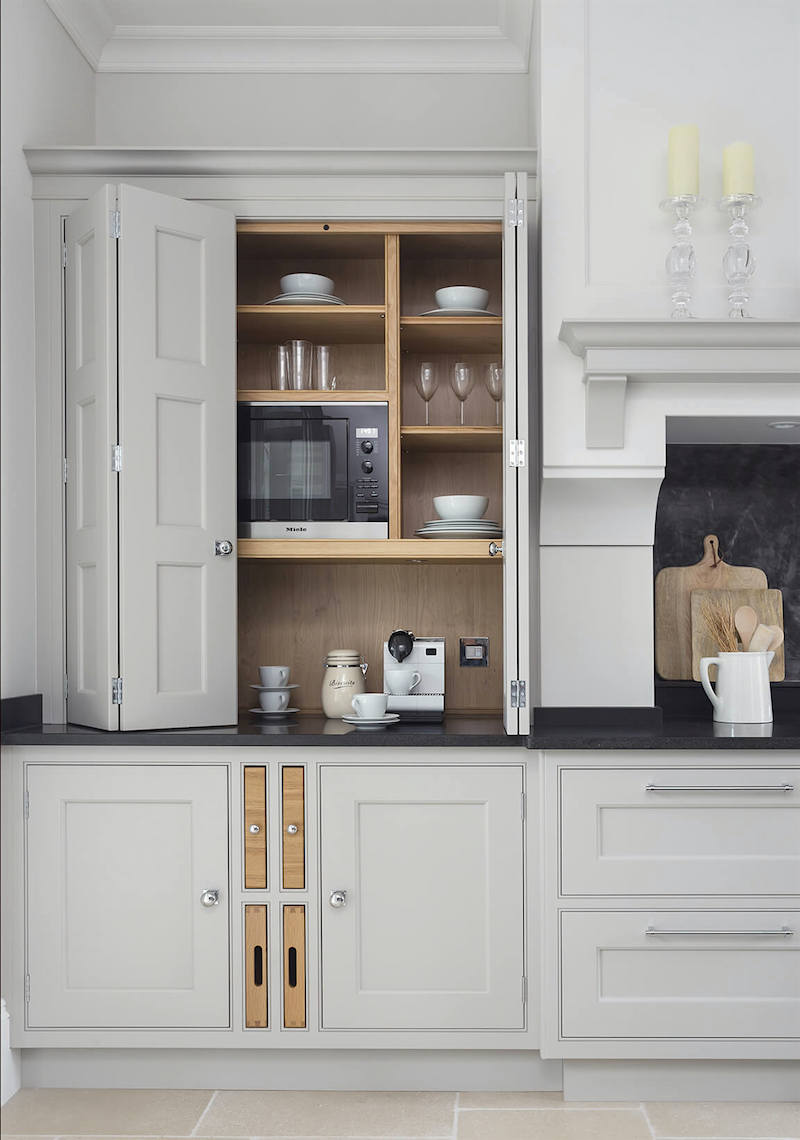 Lewis Alderson kitchen cabinets – Farrow and Ball Dimpse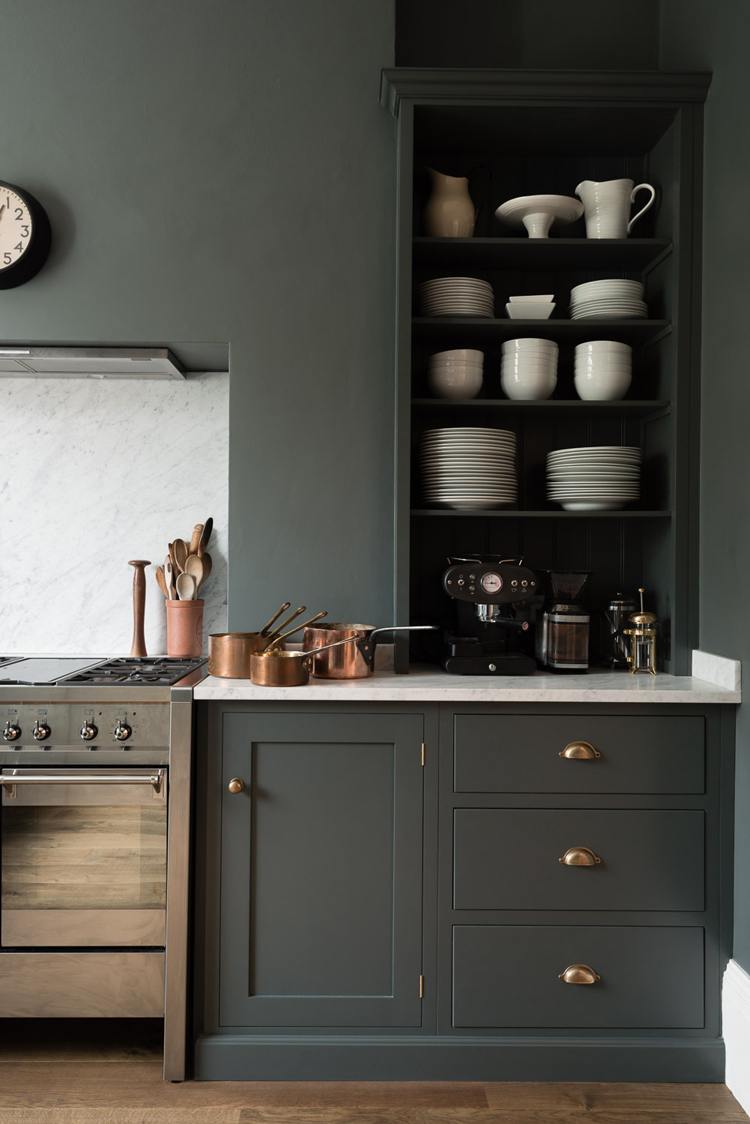 And, of course, this amazing charcoal gray with a hint of green by DeVOL kitchens.
4. Saturated colors like indigo blue seem to be more on-trend
Okay. I'd bet a dollar that she means cerulean blue. People often confuse the two.
Let's take a closer look at three different shades of blue that might prove my point.
They call this shade of blue – indigo. It's not. It's not even blue-blue.
There is actually a fair amount of green in this blue. This is a deep cerulean blue.
Really, Laurel?
Don't believe me, eh?
This is BLUE, a very saturated pure blue. Do you see the green in the top color now?
Okay, get ready for Indigo.
Indigo is a blue that's moving towards purple. No, it's not purple.
This is purple
Above is navy blue
And, of course, black.
I hope that was fun for you!
5. All-white interiors may start to date themselves
Oh, please just shutup!
Sorry.
Not sorry.
I'm incredibly tired of people who don't understand white saying all smugly that all-white interiors are going to look dated. Yes, the shades of white are varied. And there's green, brown, pink flowers, a pale beige sofa. However, the room is predominantly white. For more of this exquisite home by Steve Cordony, please go here.
And, please follow Steve if you aren't already on Instagram.
However, Steve isn't the only decorator who has embraced white.
Here is a list off the top of my head:
And, then there's this incredible English white on white charmer of Charlotte-Anne Fidler.
I've said this more times than I can count. White is timeless and classic. Past, present, future. It is NOT a trend.
Let's continue with some more interior design trends 2021
6.People will return to creating visual interest with color.
They never left using color for visual interest. Just look at Miles Redd.
7. The mid-century furniture trend seems to be winding down.
Well, it depends. Mid-century includes the 40s-60s. There is a ton of way cool furniture from that time period.
8. Barn doors may be replaced.
Indeed! Like years ago. I cautioned about that trend back in 2015!
However, in some homes with a rustic nature, they do make sense. Most of us don't have homes like that. There are always exceptions.
9. They will be replaced with pocket doors or classic French doors.
Ummm. Again, pocket doors and classic French doors have been here for ages. They never went away. However, it is not easy to retrofit a regular wall with a pocket door. Usually, you will need to have a little deeper wall to accommodate the mechanism for the pocket door. Then, if it's a load-bearing wall, it's a whole megillah (big deal) to change it.
However, I love the idea of doing narrow French doors, as I showed in this recent post. Or, a high-end bi-fold door is a possibility, too.
10. Accent walls are no longer a trend.
Oh, dear.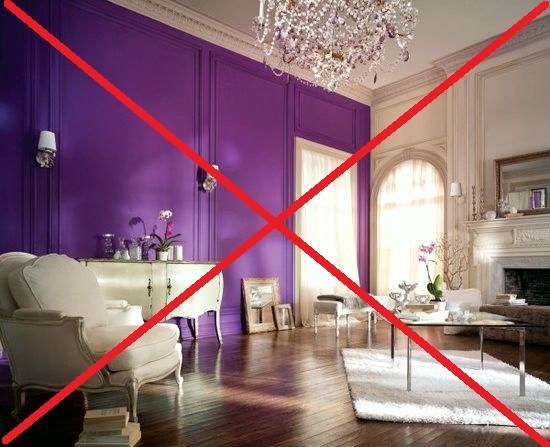 I was railing against the accent wall trend back in 2014!
It's funny, though, the accent wall in the Insider article is also purple. I'm sure it's only a coincidence. ;]
HOWEVER – some situations warrant the use of an accent wall.
One example is when you would like to hide the TV in plain sight.
More so-called interior design trends 2021 that Insider says are going to bite the dust. (and some that aren't)
11. Matching Furniture sets may start to look dated.
No shite! Again, no matching furniture sets are not new or news. We've been talking about this and not just me, but EVERY designer out there, for decades!
I'm trying not to shout.
12. Grand Millennial or Granny Chic style may rise in popularity.
They are not necessarily the same style. I would say that Granny Chic is GM but not all GM is Granny Chic. Oh, and mid-century furniture is definitely a part of the grand millennial style. So, the previous statement that MCM furniture is on the way out doesn't make sense.
Oh, and below, here's my darling son's version of grand millennial.
A grand millennial with a little Edward Hopper thrown in. haha These are from Cale's temporary home in Brooklyn, NY, and doctored by his mama.
We did examine a different type of "granny" decor mistakes, here. It is not a function of age.
13. Peel and stick wallpaper is an interior design trend 2021.
Okay. Yes, it's been gaining in popularity in the last several years. Anyone out there used it? There are some stunning peel and stick wallpapers in this post.
14. Rustic ceramics will be edging out smooth tiling in kitchens.
15. Green cabinets are in.
Yes, they have been for several years. However, they have become more mainstream in recent years.
16. Industrial styling may be the next big thing in decorating.
What?
Again, I am not blaming this woman, who I'm sure did her best on this article. Either someone is messing with her head, she misunderstood or spoke to someone from the planet Vulcan.
Industrial styling has been big since the 1970s.
17. Plaster walls may make a comeback
That one is very doubtful. People may stop covering up their plaster walls with sheetrock. (gypsum board). That's possible. However, I don't see any widespread use of lathe and plaster going up in new construction or as a replacement for sheetrock in a renovation.
18. Wicker and rattan furniture will be trending.
Yes, they have been for at least the last 30 years.
19. Natural fabrics will gain popularity over synthetics.
Again, I'm afraid I have to disagree quite strongly with this one.
Natural fabrics are and have been very popular. However, synthetics are incredibly practical for upholstery and situations where silk can get rot. Please see one of my favorite posts about all of the hideous mistakes I had to learn the hard way with fabrics. The fabrics that have gained traction and I believe will continue to do so are performance fabrics. Some performance fabrics can go outside, and some are not meant for that. This is another blog post. I'll be happy to cover that if there's interest.
My bottom line on this post is that some of the dated interior design trends in 2021 were gone long ago.
And, some of the "new" interior design trends aren't new.
In fact, many of them are enduring classics.
What do y'all think?
Please feel to disagree, but please do so with kindness.
please pin to Pinterest for reference
xo,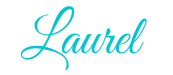 PS: And, please check out the newly updated HOT SALES!