The other day, after I wrote this post about interior design trends 2021,  there were numerous requests for a post about "brown furniture" and how to keep it looking classic and fresh.
To be clear, it's not just furniture that's stained brown, but "traditional" pieces like breakfronts, china cabinets, buffets, curios, bookcases, tables of all kinds, and chairs.
This is not an easy question to answer because numerous situations can influence my response:
Are these brown furniture pieces fine antiques?
If not, are they fine antique reproductions?
Or, are they 20th century "traditional" pieces, usually coming in a matched set?
Did you inherit this furniture?
If so, does it have sentimental value?
If it doesn't have sentimental value, can you sell it or give it to someone else if there's too much of it or it's not working.
What does your home look like?
Is it?
A center hall colonial?
Is it old or new?
Is it a contemporary space?
And, where is the home located? Urban, suburban, country, mountains, lake, ocean?
However, before we get into all of this regarding brown furniture, I strongly encourage you to have a look at the following posts:
Inherited Furniture That Must Stay
The Granny Decor Mistakes You  Might Be Making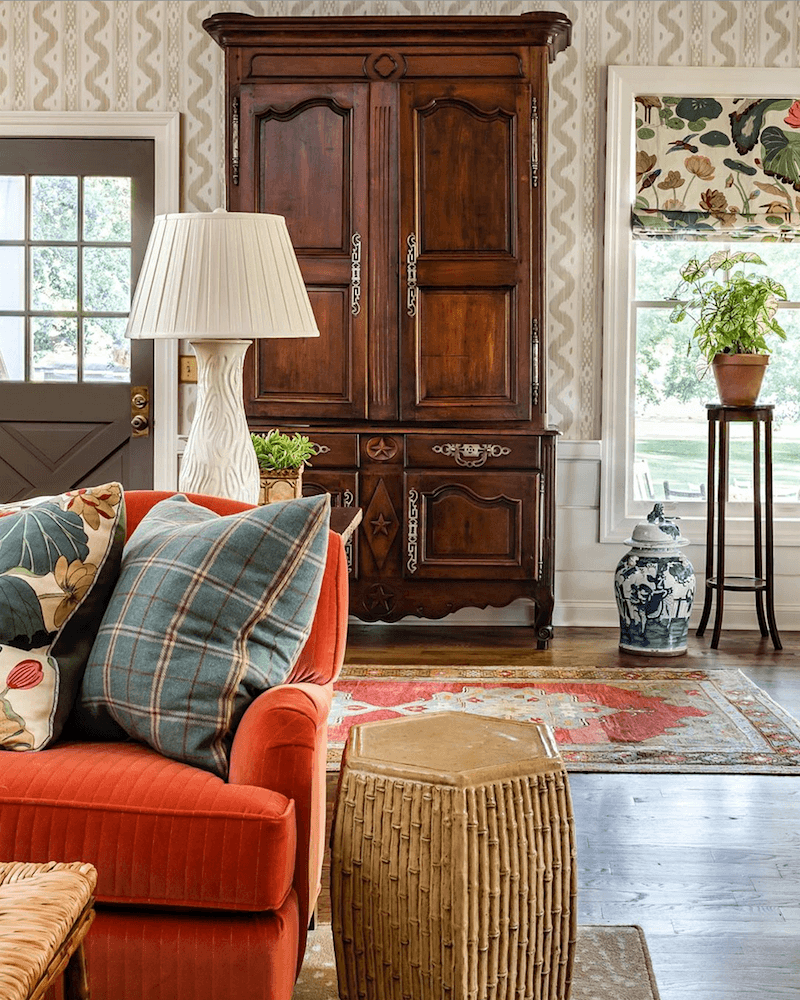 Every post about James T Farmer. His rooms are sublime
I Just inherited My Grandmother's Furniture.
Inherited Furniture that Must Stay
So, let's go over some general rules for brown furniture.
1. To paint or not to paint traditional brown furniture?
Okay, nothing strikes more controversy than this question.
Here's my take on the subject.
If you possess an 18th or maybe even a 19th century fine antique with a gorgeous patina brown wood stained patina, I will not paint it.
Of course, if the piece is an antique from that period and was originally meant to be painted, that is a different matter.
However, if the piece is from the 20th century, unless it is a fine reproduction (e.g., Baker Furniture, Wood & Hogan, etc.) I think it's fine to paint it.
But, here's the thing. And, we've gone over this more times than I can count. But I don't mind repeating it over and over…
Some brown furniture that's lower-end from the 20th and 21st century is a bastardization of authentic 18th and 19th-century designs.
How do you know if it's a bastardization or, my favorite word, an "ersatz" (not real or genuine) design?
One clue is what the brown-stained furniture is called.
For example, remember that "French Provincial" furniture you might've had in your bedroom? That's painted, but it's not.
Vintage "French Provincial" dresser.
Remember the phony French kitchen post? It's definitely one of my favorites, which was inspired by an internet troll.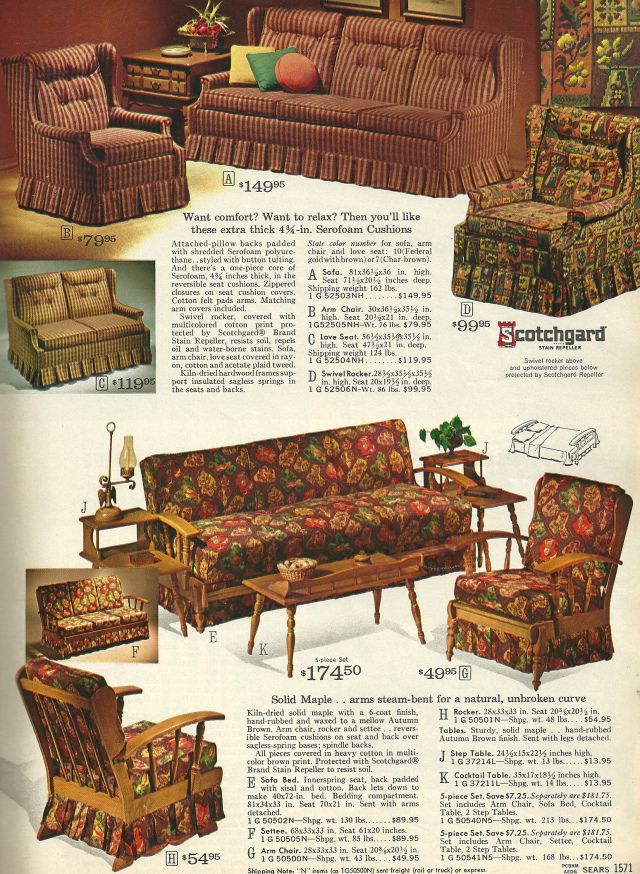 Another example is "Early American" furniture.
There is no such animal as what you see above from the Sears catalog circa 1960 something, I reckon. Early American is another made-up term. It should be called "Colonial." Typically, the "early American" furniture was made from maple. While some Colonial furniture may have been made from maple, most was made from Oak or pine.
If you would enjoy seeing what real early American rooms looked like, please visit the Metropolitan Museum of Art, or you can look at the period rooms here.
Even the term "traditional" is a made-up word. Although, I do use it to differentiate it from modern.

Above is an example of a "traditional" dining room set. Those chairs are wrong in every way.
Above are a faithful reproduction of 18th c. Thomas Chippendale dining chairs from Baker. These are vintage chairs and for sale at Stenella Antiques! They are a fraction of the original price.
Thomas Chippendale did not call his furniture "traditional."
And, even a century later and to this day, it is called Georgian. Georgian is the name for 18th-century classical furniture designs that originated in England.
Other names are Regency (early 19th century), Directoire, (French) Neo-Classical, etc.
Baker furniture makes a collection called the Historic Charleston Collection. That is based on authentic 18th-century designs.
The reason I'm going through this is that if you have a lot of brown furniture, one way to break it up is to paint some of it or even one piece.
Years ago, I had this painted breakfront custom-made for a client.
Quite frequently, the piece I like to see painted is the breakfront or china cabinet.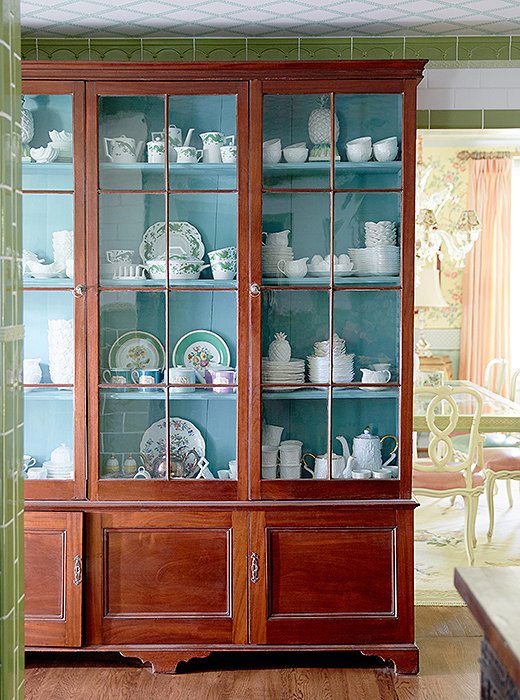 Or even the back of the cabinet.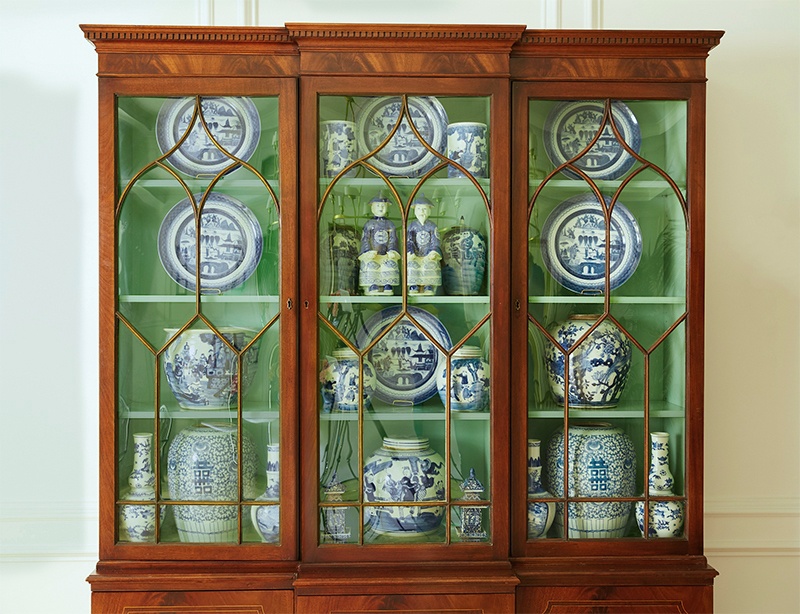 Above and below are from the Bronxville dining room I did several years ago now. The wallpaper is from Thibaut.
The dining room table is a faithful reproduction Georgian pot board style. The cabinet with the painted back is out of yew wood, as is the banding on the table made out of cherry.
Above is a vintage buffet we also did. All of the furniture is from Englishman's. They sell mostly new furniture but also had an inventory of vintage pieces. The chairs were from Aidan gray in an antique white. Sorry, they are discontinued.
But, here's another thing regarding brown furniture.
Most people have inherited it.
And, there might be a lot of it.
If it does not have sentimental value, you don't necessarily have to keep it or keep all of it.
But, let's say that you've inherited a roomful of expensive antiques?
Well, if you don't want the pieces, perhaps contact a place like Sotheby's.
The other issue might be that your home style inherently isn't going to look good with a roomful of brown furniture.
Let's say you have a 1950s ranch or split-level home.
The furniture might be on the wrong scale.
What if it's a modern home or loft?
I definitely think it's fine to mix modern pieces and antiques. Mixing Modern and Traditional Furnishings
One designer who does this to perfection, in my opinion, is William McLure.
However, generally speaking, when working in a modern setting, less is more. I usually think of the 80/20 rule. 20% can be more formal brown furniture and the rest not.
It's also important to remember that brown furniture is a color.
It is brown. lol
So, it needs to be balanced.
One way to balance it is with lots and lots of white, black accents and some gold finishes.
Another way to balance brown wood is with deep, rich colors.
About a year ago, this post is full of ideas where I show how I balance out brown wood tones with saturated color.
A post, also from last year, shows how terrific warm red looks with brown wood stains.
One of my favorite posts from 2019 explains how to achieve furniture and color balance in a room.
And, finally, this post showcases a beautiful antique farmhouse and gives more ideas for how I knock back the formality of brown furniture.
Etsy is a terrific source for vintage furniture. Places like the Resplendent Crow or Julie Simple Redesign will lacquer it for you.
For dozens more fantastic sources, please look into getting my new Etsy Guide of about 150 home furnishings vendors.
Below is a mini widget you can scroll through for some of their pieces. They either started out as brown wood or a blah color. You can keep them as is, with the brown wood stain. Or, they will also do a custom lacquer for you in a color of your choice.

Below are several dining rooms that show a beautiful color balance with brown wood furniture.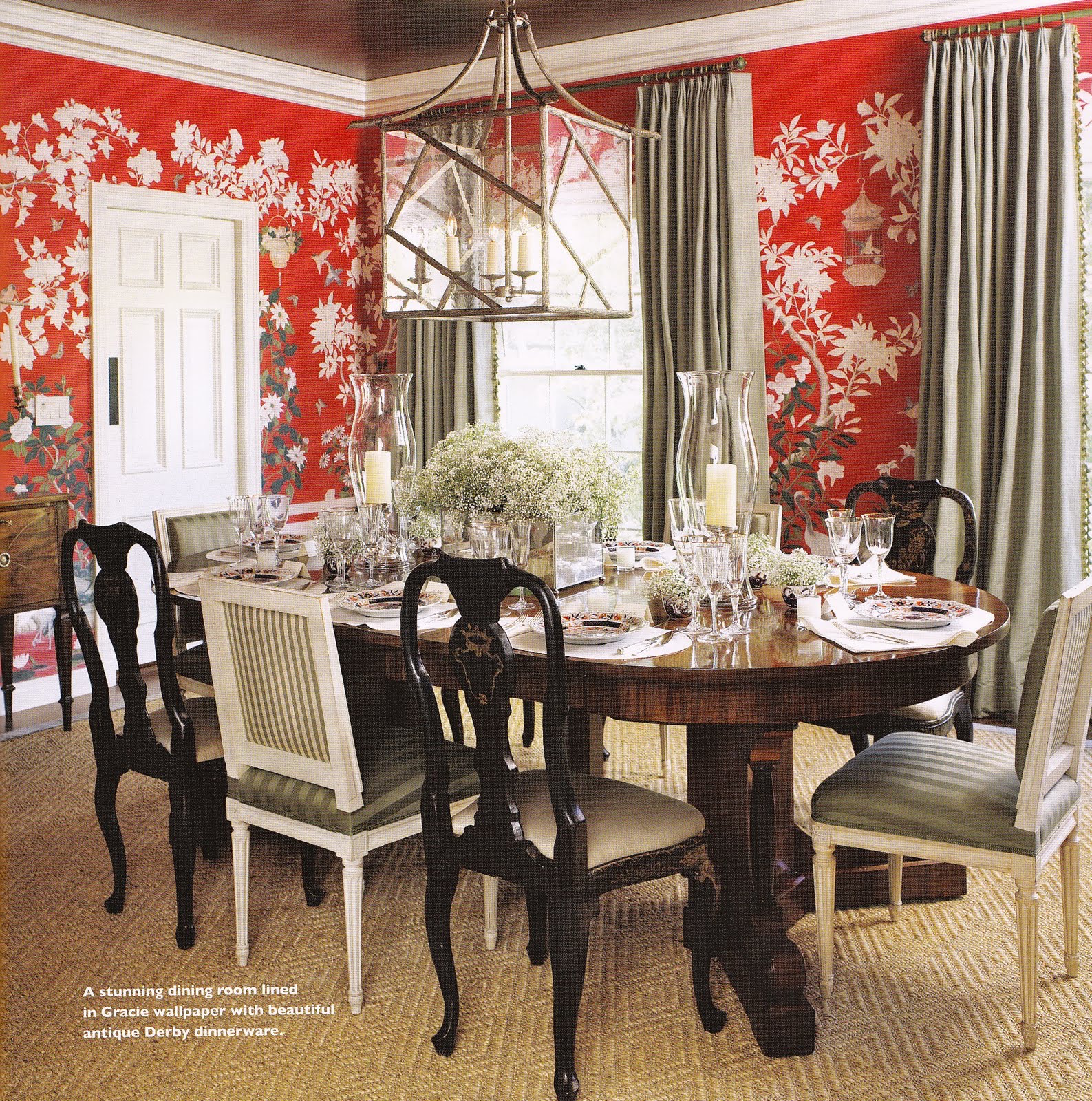 Bill Nye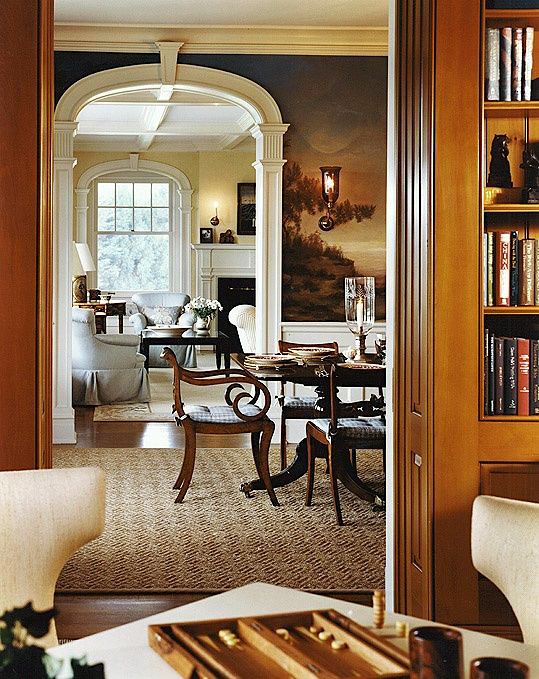 Ben Pentreath and Charlie McCormick's stunning Dorset dining room in St. Giles Blue makes for a beautiful backdrop for their dark mahogany furniture. The pop of the red Chinese Chippendale side chair makes the space, I think. The other thing are the gorgeous black and white prints with black frames.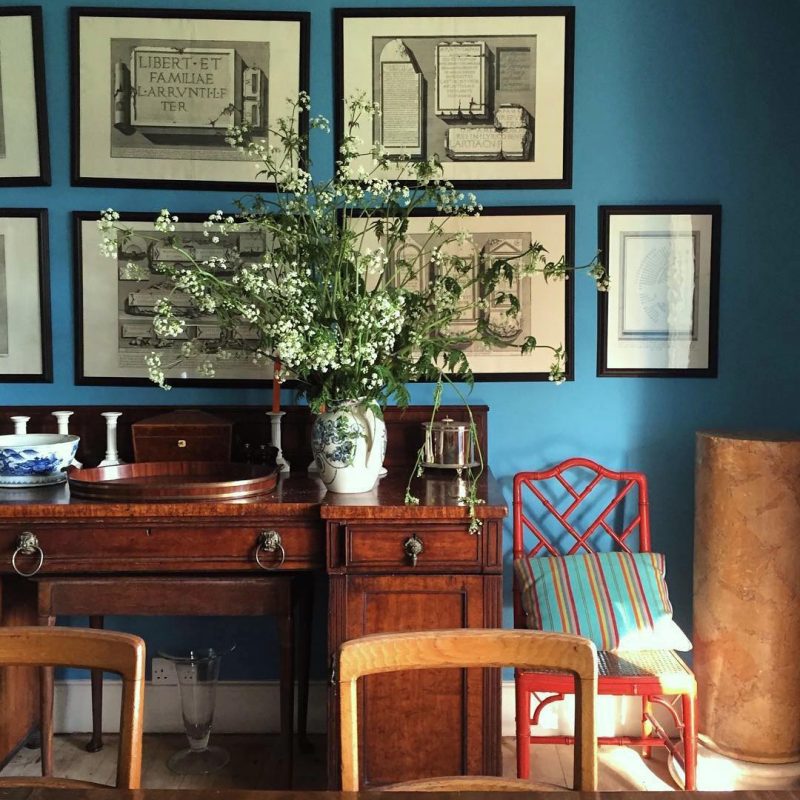 The other side of Ben's and Charlie's dining room.
Above is my pic from my trip to England back in the fall of 2017. Those of you who were reading back then, it's so difficult to believe that was almost 3.5 years ago!
Laurel, you forgot to address open floor plans.
You're right. I did. ;] Okay, obviously, if there are not enough walls for your furniture, it's okay to add some back in.
By the power I've bestowed upon myself, I hereby grant you permission to addeth back the walls.
There, how difficult was that?
I hope this post gave those of you interested in some ideas and direction for some of the best ways to work with brown furniture.
xo,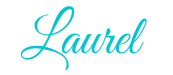 PS: Please check out the newly updated HOT SALES!