Hi Everyone,
Thank you so much to those of you who sent me good wishes last Sunday for my birthday. I had a lovely day!
As I tried to take the day off, I answered some of the comments on Monday on the post about "brown furniture."
A few of the comments I am answering in this post about painted wood furniture.
Based on previous posts, where the topic came up, I knew I would get some resistance regarding the advisability of painting vintage pieces, no matter what. They're not authentic reproductions of 17th and 18th-century antiques from Europe, Asia, and the US.
Therefore, today, I want to explore painted wood furniture further. Is it cringe-worthy, dated, or something else?
Let's first begin with four comments from Sunday's post about
Sue said:
"I agree! I am so over shabby-painted furniture and cringe whenever I enter an "antiques" store only to find it's all been chalk-painted. However, I do love the lacquered finish and the idea of painting the back of a breakfront, etc."
Of Goats and Greens said about painted wood furniture:
Currently, I live rurally in a log home, so yes, I love my "brown" furniture. But I lived in suburbia in a late 60s ranch home, and I also loved the "brown" furniture. No, it wasn't painted that way, and I gave away the dining set because the chairs were not comfortable, and the table didn't actually fit in the dining space back at the old home anyway.
But, I will categorically state I HATE the dated feel of PAINTING right furniture.
I am happy to have inherited many of my parents' pieces. My brother has the others. Made with quality, to last the test of time. Call it natural wood furniture – it transcends brown! Oh, and I bought oak chairs a decade or two back for my current dining set! Comfortable and attractive, and sturdy, even if I did get them from Sears.
Tracy S. said about painted wood furniture: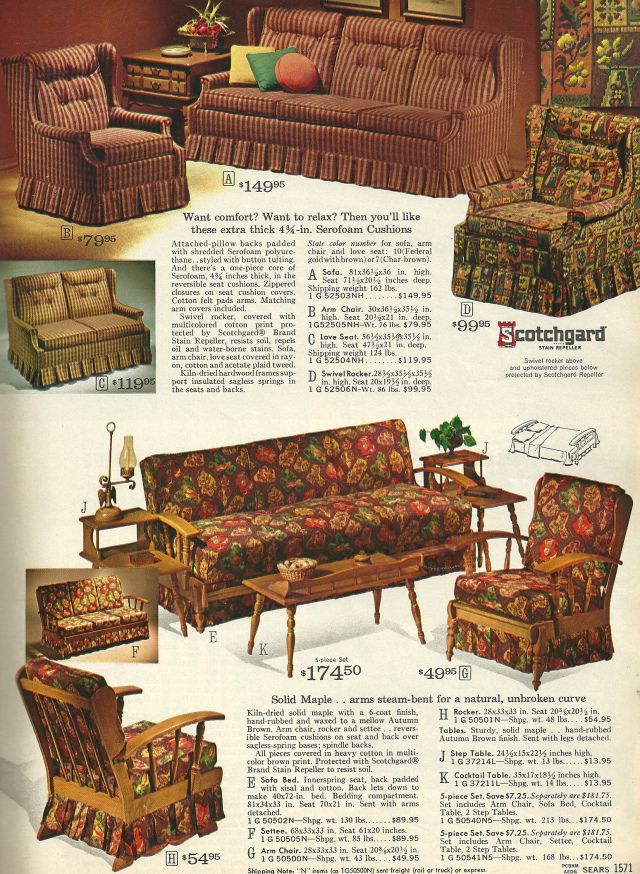 I have to tell you, Laurel, that my husband looked at that 1960 Sears ad for hideous sofas and said, "SOLD!"
He truly loves that stuff. (But we live in a 2-bedroom condo, so he cannot scratch that itch. Thank God.)
Per brown furniture, I love antiques. It makes me sad when someone paints over some beautiful 19th c. patina for "shabby chic." (That's over, right? Please tell me it's over.)
Thanks for another fun, informative post.
Amanda said about painted wood furniture:
"A fun and informative post as always! Generally, I agree with Goats and Greens and Tracy S – it makes me so mad to see a lovely antique painted over! But, I did fall in love with one such piece, an 1850-ish dresser that had been done over in a very dark navy paint.
I respected the decision because, seeing the 'before' photos, some of the wood was terribly wrong with stains and gouges. It was beyond patina and just looked bad. I guess the restorer could have gone all-in with sanding and restaining. But for this piece, the dark paint (and lovely period pulls she put on it) really work, and I love the dresser very much in its new state. Generally, though – I say don't cover that lovely antique (or even good quality vintage or reproduction) wood!"
Oh, this topic of painted wood furniture is such a juicy one!
Okay, please allow me to dive in. First of all, everyone has a right to their own opinion. And, thank you, everyone, for doing so respectfully.
Second, there is no right or wrong answer. However, there are some things to go over that some, it appears are misunderstanding or don't realize.
Painted wood furniture is a fad. But, it's also a fad that's been around for centuries.
Actually, painted wood furniture has been around for THOUSANDS of years. It is not going away. Ever. That's because its appeal is widespread even if some of you don't care for paint on top of wood.
Hmmmm… These painted wood pieces are from King Tut's tomb in the Cairo Museum. Thus, they are several thousand years old. And, doesn't that look like shabby chic milk paint? Too funny. It's actually gesso.
Gesso is a medium used primarily as a primer for oil paintings on canvas. However, the ancient Egyptians also used gesso to protect their wood pieces.
Painted furniture featured heavily in Scandinavian (Gustavian) and French furnishings (Louis XVI) and English Sheraton and Hepplewhite styles. These styles originated during the classical era of the late 19th century.
However, milk paint was quite popular in 18th-century American furniture.
Below are two books about Painted Wood Furniture made in America.
Some of you are probably wondering what the difference is between milk paint and chalk paint. There are different ingredients, and milk paint is thinner generally. But, the different types of paint and techniques are another subject.
As for being mad about a lovely antique painted over, it really depends.
If it's a piece that's meant to be a deep rich dark stain with crotch mahogany, satinwood, marquetry, etc. I totally agree that it should not be painted. And to be clear, I've never said otherwise.
Where it becomes difficult is if there's a small room filled with dark-stained pieces. The idea from the comments that inspired the post was for the room to look fresh.
Imagine Gerald Bland's magnificent Georgian bookcase, painted. Yes, that would be wrong. However, notice how the deep rich stain is balanced by the deep rich wall color and the pop of lemon yellow on the chairs.
Did I just say, "pop?" Please forgive me.
However, much of the 17th, 18th, and 19th-century furniture in Europe and the US was meant to be painted from the beginning.
Still, there is currently much furniture manufactured with hideous faux finishes, be they chalk paint or a horrid faux crackle finish. Another horrid situation is an overdone rub-through with uniform patterns of fake damage. To make it believable would take hours and hours of beating the piece up. Some companies like Sarreid do a pretty good job of recreating painted wood antique pieces.
Another company I love and talk about fairly often is Chelsea Textiles.
Below, I created a widget of antique (17th-19th centuries) wood painted furniture of numerous styles, and coming from all over the world. Some of it is primitive, and some pieces are rather formal. There are a few that have new finishes on an old piece. And some have not been altered.

Of course, these pieces are wildly expensive and beyond the means of 99.999% of us reading this.
However, I see nothing wrong with a good reproductions of antique pieces.
Above is lovely Gustavian-style painted cabinet from Wisteria
It matters not whether the wood furniture in your room is painted or stained.
What matters is how much of it there is and how it all fits into the decorating scheme as a whole.
xo,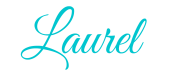 PS: Please check out the newly updated HOT SALES! Some cool new sales have started since the weekend.