Hi Everyone,
Thank you again for all of the terrific comments for Cher's and Dan's home. They're gung-ho for a big change and are embracing their new classic trad style.
Recently, I received another Dear Laurel letter. This home is also a fairly typical, contemporary American home, but California style. The plan is open and quite spacious. An interesting coincidence is that there is another corner fireplace. However, unlike Cher's home, this room is more oblong than square-ish.
What's super interesting, that I did not realize right away, is that we have looked at this home before. But, not this room.
It was September 2017 and during my trip to England. To give myself a break while away, I let y'all give Mary some advice about her lovely dining room off of a charming sitting room.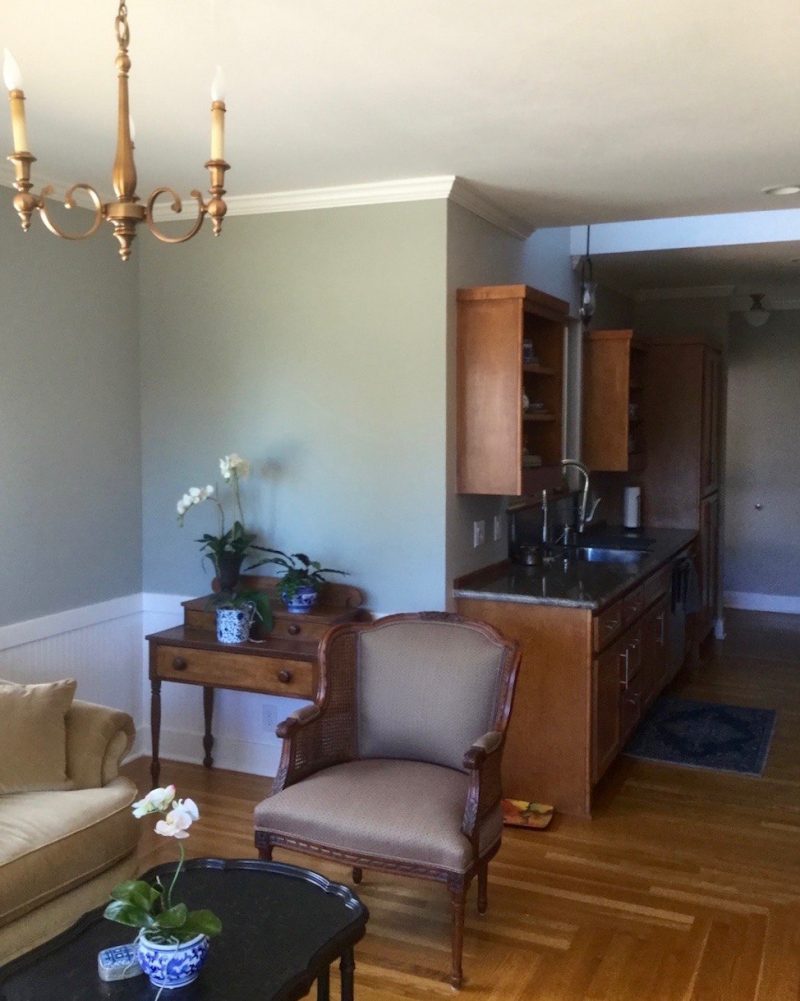 The dining room is to the right of the sitting room in the image above. Here, you can see Mary's preference for more trad style furnishings.
Since they rarely use the dining room, but do use their family room, a lot, that became the focus for their redecorating efforts.
The family room is perpendicular to the sink wall, on the other side of the stained wood kitchen.
While many people don't entertain much, Mary and her husband, both retired, entertain their friends from their local rotary at least once a month. Plus, they have a large family scattered throughout the state of California.
As you can see from the post from 2017, Mary's tastes veer towards the traditional.
However, Mary's husband prefers a more contemporary style. Therefore, the family room, a more casual space is a blend of contemporary and more traditional style furnishings.
The reason Mary contacted me this time was because she was searching on the blog for rules about how high and what size buffet lamps should be.
Below is Mary's note to me:
***
Dear Laurel,
I have been following you for about six yearow and always learn something from your articles. I so enjoy your most recent one helping Cher in Washington with her challenging , and am intrigued by the buffet lamps on the mantel. That sent me on a search of your blog for an article on choosing the appropriate size.
I just bought an Eagan mirror from Pottery Barn for our built-in buffet that is eight feet wide by 44″ high.
Our ceiling is 9' and the top of the mirror is 15" below the ceiling. I have two table lamps flanking the mirror. But they seem too short so I am considering buffet lamps instead to get extra height.
Do you think your readers would be interested in this subject of lamp height/ratio?
Should the lamps reach about 2/3 of the mirror height? So much is individual of course, but maybe there is enough that is general that would be a good discussion. I always look forward to your blog.
Thanks so much!
Mary.
***
Thank you, Mary!
I had to check, and there is  information in the 333 Decorating Rules & Tips guide about whether to use one or two lamps on a buffet table, but no information about the size. There is lots of information in this post devoted to end table and lamp pairings, and this post about lamp and lampshade pairings.
Typically, buffet lamps run from 30″-36″ high.
They are tall slender lamps with smaller lamp shades. So, the height is not usually an issue for most dining rooms.
Although, these buffet lamps from a dining room I did in 2013, were about 39″ tall, if I remember correctly. They are from Currey & Co. and have been discontinued. (the wallpaper too.)
However, one doesn't have to do a buffet lamp on a buffet table.
A regular table lamp can also be used on a buffet table.
Big 31″ tall lamps with presence on this console table from Serena & Lily.
Mary's lamps are only 25″ high. I think 30″-32″ if a regular lamp is a better size for Mary's family room. In addition, the blue glass feels a little light. I would also like to see some black lamp shades and more gold tones. But, I also want to see some color here.
She also sent some additional images of her beautiful furniture.
However, as with Cher's home, I found some of the rooms elements could be tweaked for the better.
So, thank you, Mary for willingly submit your lovely home for scrutiny. If y'all saw my home right now, I'm sure many of you would have plenty to say. ;]
But… please know. I found the original real estate listing.
Well, I can't believe it's the same home. Mary and her husband did a terrific job of making this home look a lot better.
As you can see, these images were all taken at night, so of course, it's only artificial lighting.
Okay, what is bothering you, Laurel? This is a lovely room!

It is! But, despite the over-all warm palette, I'm finding the space a tad cold. I think it could use a touch of spice, and a few other things.
For today, I'm going to focus on the basics, and then for Sunday, zoom in on specifics.*
The first is the lighting.
Mary turned the lights all the way up for the photos, but it is still too harsh and white, in my opinion, even if turned down. This is a big part of what is making the room feel cold despite all of the warm wooden tones.
The paint color, Requisite Gray from Sherwin Williams feels too cool and looks a little reddish compared to everything else.
However, the built-in pieces are a warm off-white. Mary told me that she is bemoaning that she didn't select a lighter color.
Mary is right. The paint color is not working with the furniture or the wood kitchen cabinets.
Anchoring the room is a rich and dark oriental rug that they love and have had for a long time. That's great.
Over the rug is a black leather ottoman.
I love ottomans if the room is primarily used for TV viewing. However, because they often have large gatherings of friends, too,  this seating area is not ideal. If people are sitting on the sectional, some of the guests will need to put their drink on the floor if they need to free up their hands to share pics of the new grandbaby.
That is when Laurel gets up and knocks the drink over because if there's a drink on the floor, it's a sure thing I will knock it over.
Even if I'm 20 feet away, I'll find a way to come in contact with the glass filled half-way with red wine.
In addition, drinks on an ottoman, unless there's a thick, sturdy tray covering the entire ottoman, will also be unstable. I suppose they could give their guests sippy cups to drink their wine out of. That would work.
Therefore, at the very least, I would love to see a much larger coffee table. If we're doing end tables, they might as well have lamps on them. In that case, Mary might possibly be able to do sconces over the buffet.
And, finally, for a large conversational grouping, it is best to have furniture on at least three sides, if not all four sides.
Otherwise, if you're on the end, you can only talk to the person next to you.
Mary did an amazing job of rendering a beautiful floor plan! I'm impressed!
If we push the sectional back towards the kitchen, and over towards the glass doors, I believe there might be room to put two lovely slipper chairs that won't interfere with TV viewing or the fireplace view.
Looking towards the kitchen.
So, for today, I am going to focus on only two things. The wall color and the coffee table.
*(That is not true, however, because I was having too much fun!)
But, before we do anything else, since we are not starting from scratch, let's look at our "givens." Givens if you don't know, are the things that are not changing.
Let's begin with the kitchen.
The stained wood stays. It is not for any of us to question why. It's a lovely kitchen, however, I have some ideas for improvement.
The floor is a medium wood brown stain, and coordinates nicely with the cabinets.
There is a stone fireplace with various shades of fieldstone. One thing I wish they had added is a hearth. Even though it's a gas fireplace, a hearth looks so nice. It can also be a place to put a beautiful basket filled with decorative firewood and maybe some other accents.
I love the over-mantel detailing. However, I'm longing to see a smashing piece of art with some of the accent colors.
This is what's missing in this room.
I feel the room needs more accent colors, and except for the rug, there aren't any except for the blue lamps. That's another reason why they're not working. The blue seems to come out of nowhere ,and feels alone in the world. There needs to be additional blue shades, and some green is always welcome to help round out this neutral color scheme.
Next up are the lovely built-ins in a warm off-white.
Truth to tell, because everything was taken with the lights full on, the colors might be skewed. However, lighting tends to mush colors together. So the fact that with the lights on, the colors look off means they are definitely off.
Of course, the sectional is staying. It is a light, warm neutral linen that looks perfect with the built-ins.
Okay, I'm going to throw the rest of the images up.
I do like the stained wood doors.
Yes, I would love some drapes for the sliding doors.
The entry is my favorite part of the house.
Here's a view that includes the buffet, rug, ottoman, the sectional, and some pillows.
My first tweak is the wall color.
No, I don't think it should be lighter; but, definitely warmer and greener.
Remember Heckfield Place?  That exquisite hotel in England?
A color like this, I think would be lovely in Mary's eclectic new trad style family room.

Above is a deeper shade of the same tone.
Another Heckfield Place post is here.
I love this place. And, I think it's the perfect solution for an Anglophile married to someone who prefers contemporary design. Heckfield is a traditional design done in a contemporary way. Brilliant!
So, Laurel, what paint color are you thinking of?
Heckfield, if I know.
Sorry. It's late.
There are numerous colors that could work.
I don't know what the lighting is like. If it's a dark room, Benjamin Moore Richmond Gray hc-96 is lovely. And so is Revere Pewter hc-172, and Sag Harbor Gray hc-95.
Another wonderful color is Farrow & Ball Light Gray.
You can get samples of all of these colors with the Samplize paint samples. They are terrific, and made with the actual paint. You can move them around and don't have to deal with messy paint.
Okay, I'm bringing down the image again.
First, I changed the wall color and added some accessories to the buffet, along with some lovely table lamps.
Sorry, please excuse the exposed harps, and the perspective on the lamps is wonky, but I love the celadon color juxtaposed against the warmer, greener wall color. It's adding a new color which I think is waking up that area in an attractive way. The black shades should have a gold lining for extra warmth.
By the way, you can go up to four inches in diameter greater than the depth of the buffet for the bottom of the lampshade.
Mary's buffet is 14″ deep, so she can do this type of shade known as a "coolie lamp shade" that is 18″ in diameter at the bottom.
As you can see, the walls are warmer and a touch greener.
You'll see in a sec that I added prints flanking the mirror and more greenery.
It's a no-go for the sconces. No matter. We can work that out.
Okay, for the final image, I added a BIG beautiful coffee table I found, like the one I did ten years ago in Bronxville. For my image, I had to try six different tables before I found one that was in a good enough perspective.
With this 60″ long coffee table, everyone can comfortably reach a spot to set down their drink or plate of food.
Yes, peeking out on the bottom left is one of the new chairs. I'm 95% sure this will work out, but I haven't actually done the plan. Please remember to do your floor plans! Guessing is a great way to get in trouble.
I love these colors together. The room is still overall neutral but with some colorful accents to wake things up a bit.
Wait, Laurel! How did you hide the black ottoman?
Oh, haha! Very good observation. ;]
I found a rug similar to Mary's and used it to go under the new coffee table.
One more exercise I did was to put together the original color palette and the new color palette.
Before
and
After
Okay, I'm going to end here.
Please let us know your thoughts in the comments.
What do you think about adding some cool hardware to the buffet? I realize they are the type of doors that open without knobs. However, I think the piece looks a little plain without something; maybe a beautiful drop pull? Perhaps something like this?
For Sunday, I'll see if we can make the chairs work, and I'll work on the kitchen. I am up for the challenge!
xo,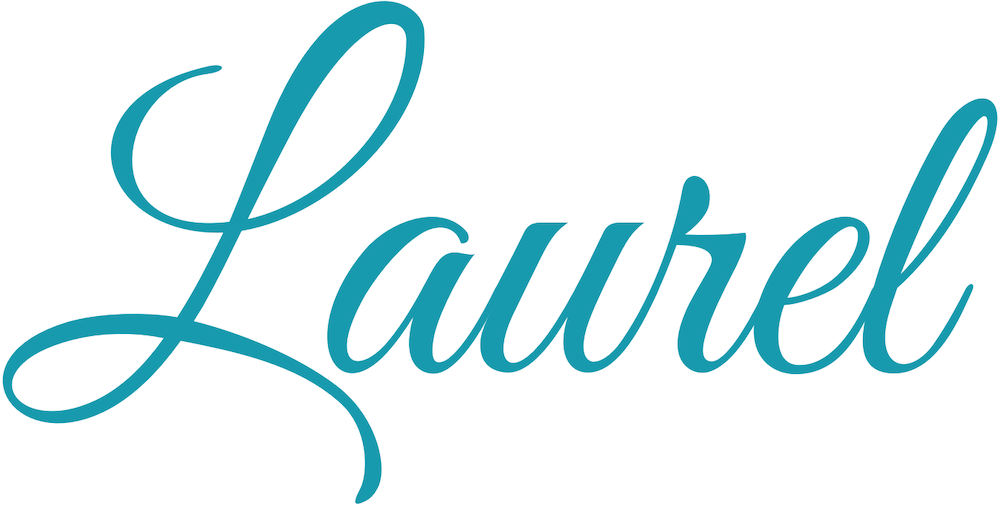 PS: Please check out the newly updated HOT SALES! There's a fabulous sale going on at Serena & Lily, but ending soon.