Hi Everyone,
Well, the sun is out in New York as we're almost at the end of April. I'm so glad that many of you enjoyed the Heckfield Place interior paint colors post. If you missed the post or would like to review it, please check out the beautiful paint colors here.
As promised, this is part II about Heckfield Place. It's how to get the furnishings. Or at least, the look, for a lot less.
In my research, I found sources for some of the furnishings at Heckfield Place.
Soane – Furniture and lighting made from rattan
Pinch, That is where they got that way cool jesmonite coffee table in the Heath room.
Benchmark, I don't recognize it, but I'll take their word for it.
George Smith – All (or almost all) of the upholstered furniture is from George Smith. That link links to a blog post on their website, which shows most of the pieces they used.
GS is an ultra-high-end furniture company. A sofa is going to set you back at least 10k and probably more.
Of course, we recognize our favorite English roll arm sofa. Hurray! That one's easy. It's the number one sofa.
The incredible jute-look area rugs. I looked them up. And, as I thought, they are rush, which is sometimes called "apple matting." It's a much more complicated process to produce them. And, of course, these rugs are going to be expensive. A jute rug is going to be a fraction of the price. And the look is very similar.
Above is a detail shot of a jute rug from One Kings Lane. It is usually in the hot sales page. It is part of "laurel's private sale." That's my name for it. You'll find a promo code for a good many items sold on OKL. It's on the Hot Sales page.
Chelsea Textiles – Ahhh, Chelsea Textiles. They are one of my favorite companies and regularly show at New York Now. I've ordered from them several times. But, only their lovely Gustavian-style furniture. You can see the gorgeous pieces by Chelsea Textiles in the posts linked to here.
The company has undergone some changes in the last few years.
It all looks fabulous. While I don't see any of the Chelsea Textiles furniture, I do see some of their wonderful embroidered pillows.
You can see one of the Chelsea Textiles embroidery pillows in the ochre room.
CT is a to-the-trade source. And, of course, it's in Laurel's Rolodex. I believe they have a sale every fall where the public can purchase. But, I might be making that up.
Let's begin with the upholstery.
Most of it is from Serena & Lily. I would classify it as lower high-end. And, especially now that the entire line is on sale. It appears that while we're on "lockdown," this sale is here to stay. But, of course, it's not going to be permanent.
Some of you asked about the textured fabric on some of the pieces. S&L has some beautifully textured fabric options. And, most of them are performance fabric. I love that!
The case pieces – including cabinetry at Heckfield Place
The pieces are an exciting mix of classical 18th-century styles and contemporary pieces.
You might ask, "Well, how do you know what's going to look good together?" IMO, that's almost like asking John Singer Sargent. "Well, how do you know which colors to put together?" It's the talent of the designer.
However, here is one of my favorite posts about mixing modern and traditional furniture.
I am not repeating all of the photos from Sunday's post, but I'll repeat a few of them.
Often, I place a widget of furnishings at the end of the post, but this time, it's going here. That way, I can discuss what's in it. And, also, what's not in it. :]

What I notice in these rooms is that the color schemes are not overly contrived. What I mean by that is they aren't commonplace colors in many of the rooms.
I'm thinking mostly of the Heath room, (above) with it's enigmatic, inky blue walls.
The sofa, interestingly, is not blue, but gray. And, then there are many shades of grays and blues. The Edwardian chair in the burgundy velvet is a surprising note. I prefer warmer reds. But, the entire space is so arrestingly beautiful, it doesn't bother me. I also prefer gold to silver. But, again, I'm open to new experiences. haha
The most challenging thing to find a substitute for is the coffee table.
You can see it above in the link for Pinch, the name of the company that makes it.
I did find this cement piece from CB2. for $899. I bet it weighs a ton. I suppose that one could faux paint it to resemble the jesmonite table. But, the reality is, I'm not in love with it. That lip detail on the Pinch table gives it something needed.
But, a good point, I think, is when trying to "get the look," it's okay to deviate from it with something that's in the spirit of the piece.
And, that's what I did in the widget with the chic, low, round, modern table also from CB2, for $999. I far prefer it to the cement table, above.
The other coffee table was difficult to find, as well. The one I found is indeed lovely. But, it's not inexpensive. In days of yore, I had wrought iron coffee tables made.
Someone mentioned in the comments that they thought some of the spaces were a bit too plain. I think it's intentional. But, I think a cool art wall on that back wall would be wonderful. And, I hate making any disparaging remarks, but is that a lamp by the painting? It sort of reminds me of one of those old-style hairdryers at a hair salon. Haha. So bad, I know.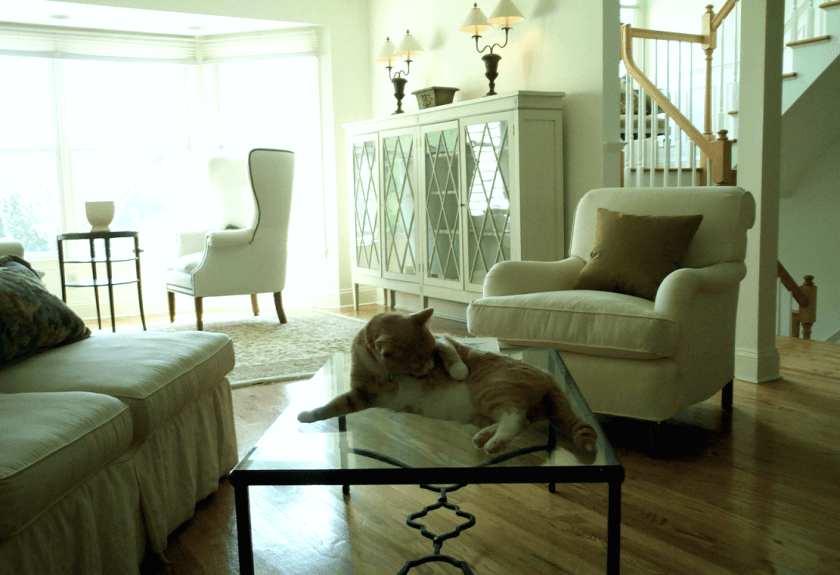 Here is one from my old house with Peaches giving himself the once over. This photo was from about 2003. So, that might be something to explore. My ironsmith is in the back of Laurel's Rolodex as one of the sources I can't live without. They do ship all over the country. You could have a wood top made instead of the glass.
I did find this table on Chairish.  I'm not wild about the faux distressing; but, the table's only $385, and maybe that could be fixed. You could also paint this table black.
The most fun for me to find was the Chinoiserie panels.
Some of you might recall one of my favorite posts about inexpensive sources to get the Gracie Chinoiserie panel look.
And, I was very excited to find the three-piece wallpaper mural. They aren't framed, so that would be a project, for sure. If that doesn't suit you, the Chinoiserie panels from Frontgate, in the widget, are lovely.
Here is another view of the Lake room. Love that charming occasional chair.

The window treatments are a fairly heavy linen with linen sheers. I love the way they're peaking out of the curtains here.
This is one of the smaller rooms. And, yes, it's a color I didn't include in Sunday's post.
I think that the rest is pretty self-explanatory.
Oh, one more thing.
In the beautiful monochromatic gray bedroom, there is a painted armoire. That might not be easy to find. At least not easy to find at an affordable price.
So, what I did was take a vintage wood armoire, and I virtually chalk painted it. Since I'm not about to do anything like that for real, this will have to do.
Okay, another marathon! I hope you enjoyed this more in-depth look into the fabulous hotel in Hampshire, England – Heckfield Place, designed by the super-talented, Ben Thompson.
I hope you're all doing okay!
xo,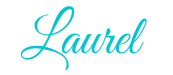 PS: Please check out the newly updated HOT SALES. And, also the Mother's Day shop! There are new things to see on both pages.