Dear Laurel,
Did I miss your post on shades and blinds? Because I need to know if wood blinds ( or faux wood) must match the hardwood floor stain color.
We are slowly (budget 🙁 ) restoring our 1926 Tudor cottage, but need to stop flashing the neighbors!
Old school venetians are a little too authentic for my husband, he likes matchstick style. They just look wrong to me because they are lighter than the walnut floors.
What are the rules about this? Mother says never to have more than 2 wood tones in a room (painted wood doesn't count).
You may not know it, but you've been guiding us every step of the way! I practically hold my breath until your Sunday posts.
We are so very grateful for you, and wish we could bring you down to Philadelphia.
Babbette
Hi everyone!
This is a real comment from a real reader, so today, I'm going to focus on…
WOVEN WOOD BLINDS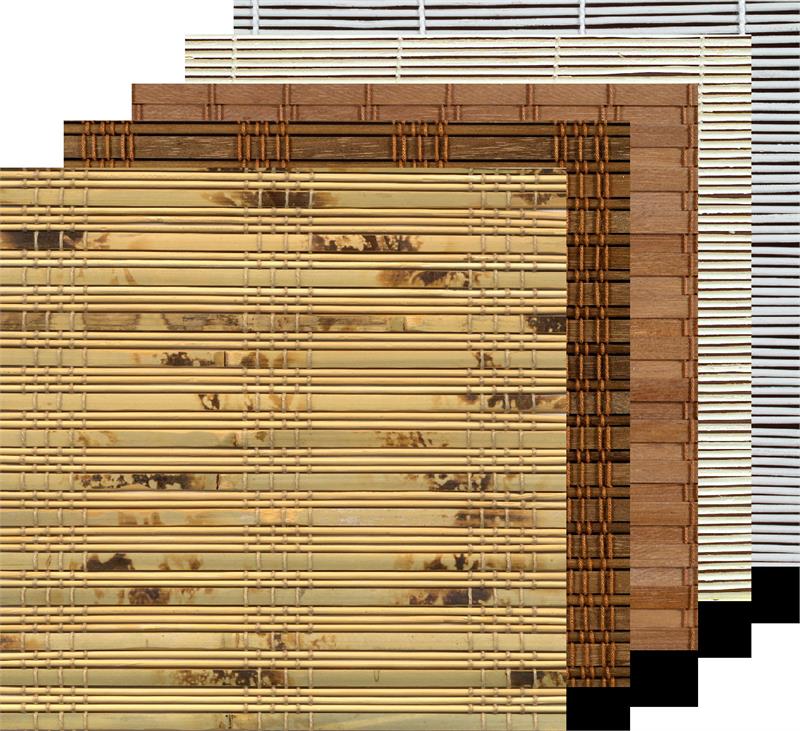 First of all is there a difference between a shade and a blind?
Well… strictly speaking yes. A blind has slats of some sort and a shade is a single piece of fabric. But sometimes I've heard people say roller blinds. And sometimes the distinction is blurry. So… I give you permission to use the terms interchangeably.
So, What Are Woven Wood Blinds or Shades?
It's a classification of window blind/shade made of materials such as bamboo, straw, natural grasses, jute and other natural materials.
They come in various price-points from insanely cheap to pretty expensive but not nearly as bad as some window treatments.
Often folks call them matchstick, but the real match sticks are like the two in the above image in the back.
They are beautiful, classic and usually very affordable– Sometimes– actually dirty cheap.
Today, I'm going to give you some helpful tips, tricks so that you get the most beautiful look.
My favorite of the woven wood shades are the ones made from bamboo slats often referred to as tortoise-shell because of the natural mottling that occurs. (see above) The slats are usually about a half-inch. They come in different shades. Many have a greenish or khaki cast which looks great with all colors.
An important note with most woven wood shades is that if you desire privacy, they absolutely must have a liner.
I found that out the hard way with a client some 11 years ago. Fortunately, the company Smith and Noble was able to retro-fit the liner and it wasn't a total redo but did set me back a few dimes.

Below are some examples of the tortoise-shell bamboo woven wood blinds used in different applications
(if no attribution is given, it is because I could not find the original source. If you know what it is, please let me know and I will add it.)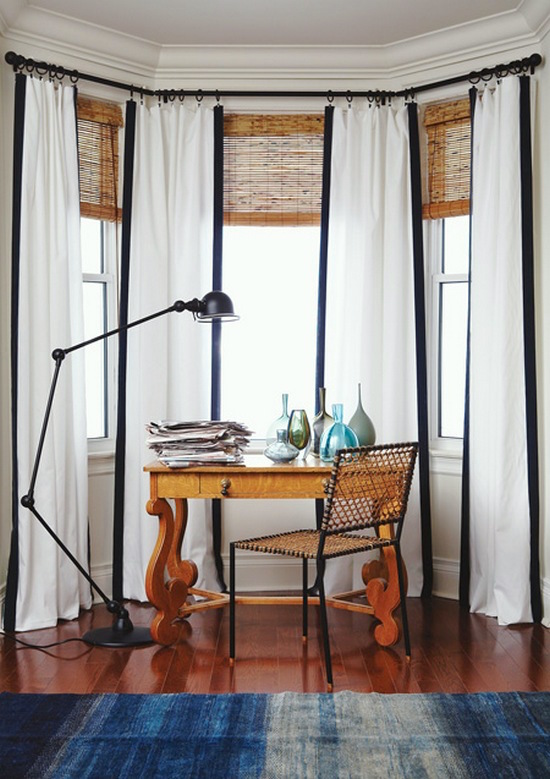 A beautifully balanced composition of white linen draperies trimmed with black over the tortoise-shell blinds.
Babette asked a very good question.

Do the blinds have to match the floor?

No, they do not. They certainly need to coordinate in terms of tone, but the blinds like all window treatments are usually most closely aligned to the color of the wall. Not always, but usually.
And that could mean coordinating in a tone-on-tone way, a complementary color or high contrast. We'll be looking at all three.
It depends totally on what else is going on in the room.

Remember that all of elements of a room are part of a composition
Beautiful neo-traditional design incorporating bamboo blinds. They work beautifully in both spaces; one with a complementary color scheme and below in a more monochromatic scheme.
He also chose a honey stain for the floor which I think is perfect in both rooms.
As an aside. If you have a hardwood floor, please make it the same stain throughout the home, unless you are doing a painted floor in one room.
Jill Danyelle of Verdoier via Lonny
Here, the blinds do align with the floor, but I think this was the right decision in this case, because a dark shade would've been too heavy and not in balance. The only way I could see a dark woven wood shade working is if the drapes were in a brown or white silk.
And what about Mom's rule that there can only be two different colors of wood in a room?
We've already been through this many times on laurel home.
And this is one of my most steadfast rules:
Never, Ever listen to your Mother.
(well, almost never) ;]
I feel that you can have one shade of wood or 5! What's most important is that they coordinate with each other. In other words, you wouldn't put an ashy stain along with golden oak, red mahogany and walnut. But you could have the last three together.
It also depends on the concentration of other wood tones. You could certainly have accents in different shades. But again, they should coordinate with each other.

Story Time
Many years ago, I was helping a lovely family in New Rochelle with a massive renovation. The clients found a burl-wood walnut chest for their master bedroom, but the floor was a reddish mahogany. The bed was a dark stained teak and then there was a dark cherry TV cabinet. The burl chest would've been too much and when I explained it, they understood.
So, if the matchstick blinds seem to be too light, they might be if the dark floors are the only dark thing in the room. But there could be other reasons as well. OR, they might be perfect. Again, it's best not to look at elements in isolation.
Yes, there are (cropped mostly out) dead animals on the wall. I very much like the photo otherwise. :]
One thing I love about woven wood blinds, just like I do with sea grass rugs is that they knock back the formality of a formal room and yet they happily co-exist with formal and informal rooms.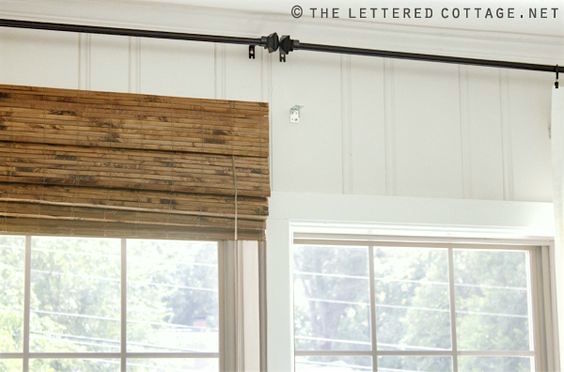 Clever solution to allowing as much light in as possible. The shades are mounted outside the window frame, but higher up to allow as much light in as possible.
I do love it much of the time when using woven wood blinds in a contrasting color to do an outside mount and mount them right under the drapery rod. It makes for a cleaner look, IMO. But it's not a hard and fast rule.
I love the way the color of the woven wood shade warms up the cool blues of this pretty living room.
Oriental Furniture
Above is a very cheap matchstick woven wood blind made from bamboo. They do not come in custom sizes and I imagine they don't hold up very long, but they are only about $22.00 for a 36″ wide blind, so for a cheap stylish solution, they could work. Especially behind drapes.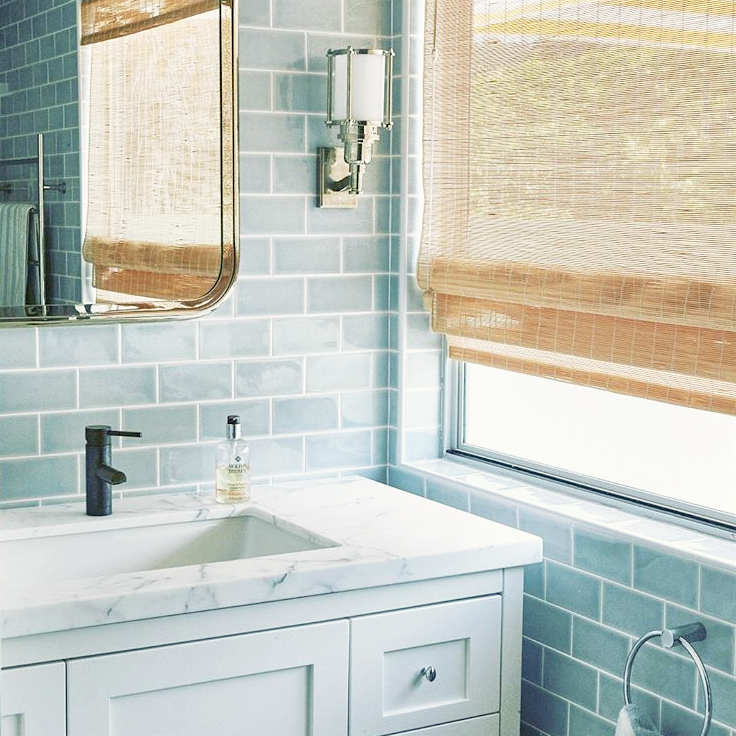 I'm not quite sure of the material of this blind, but do love the entire bathroom.
This woman is white-washing her matchstick blinds. Love that.
Love these woven white blinds and how they harmonize with the white wall.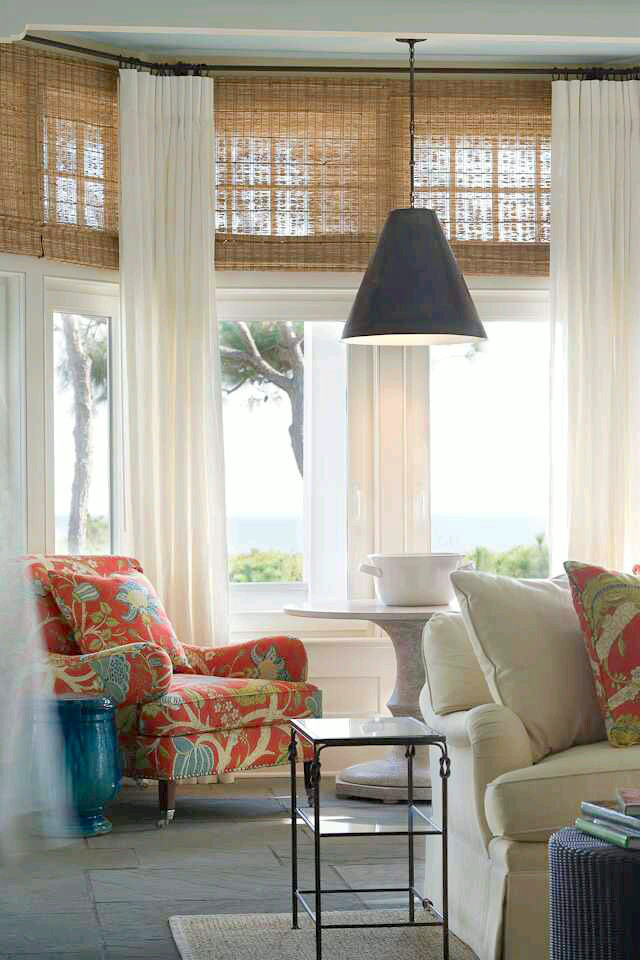 Light comes from above so these light filtering matchstick blinds are a perfect solution for the transoms. Love the combo with the white linen drapes.
There are a zillion resources for woven wood blinds.
I don't do them a lot and usually get them from Smith and Noble. Their quality has been fine and the prices are good. They also provide a measuring service if you need that. I'm pretty sure that it's free, but not positive.
There are a couple other resources for woven wood blinds (and other types of shades) in Laurel's Rolodex, but my recommendation if you aren't in the trade is to get online and do a search.
And if anyone has a source they'd like to share, that would be terrific!
As always, I do recommend a professional installation. And of course, safety first. If you have young ones please make sure the cords are well wrapped up and out of harm's way.
***
Gosh, it's almost July 4th weekend.
xo,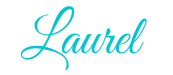 PS: for more info about other window treatments click here and here.