Hi Everyone,
Anyone who's read this blog for a few years has probably surmised that I prefer painted brick to plain old red brick.
In fact, I wrote a post about the best paint Pcolors to go with red brick.
Also, this post that I barely remember, lol How to change red brick back if you don't like it painted.
And, this post that I remember quite well about a husband who loves the ugly brick fireplace.
That was probably the same hub who loves the ugly, bloated sectional.
By the way, as an aside, I hope you dear husbands, or wannabe husbands don't feel like I'm always picking on you.
Even though, I clearly am. ;]
Of course, it's only fiction. However, in all of my years in business, it is more common that husbands are not so into design.
But, getting back to the red brick.
I'm sure that more than one of you has not failed to notice that I've ended up in a city where there are billions of red bricks. And, that's just on Beacon Hill, alone, I daresay.
Beacon Hill, for those that don't know is one of the oldest neighborhoods in Boston with a rich history. It is also home  Massachusetts State House.
As it happens, I find myself frequently walking through Beacon Hill. All of my new doctors are at the far north end at Mass General Hospital. And, I frequently go there for coffee, lunch, or dinner with new friends.
So, with phone in hand, whenever I feel the urge to take some pics, I do.
Beacon Hill is known for its quaint, charming architecture, mostly from the 19th century, but some dating earlier.
But, most of all, Beacon Hill is known for its gorgeous Georgian-influenced, classic New England front doors.
Beacon Hill, I featured in one of my first Boston posts, right after Christmas for some night-time shots of the classic, homes decorated for the holidays.
However, this post is all about the front doors in winter, spring, and summer.
The best doors are painted in a high-gloss finish. And, the majority of the doors are either red or black—however, not all of the doors.
In addition, many of the front door areas in the spring and especially summer feature exquisite window boxes and planters. Because this is New England with a strong English influence, gardens are a big deal here.
Ummmm… Not mine. Just yet. But, all in good time. And, there are some lovely things growing back there.
Anyway… Enough of the chitchat.
Presenting some of the most exquisite front doors of Beacon Hill.
What I'm doing is mostly dividing the doors into seasons, beginning with winter, then spring, and summer. In a few cases, you might see the same front door in a different season. Then, when fall comes, I'll add those images, and I'll keep adding others that I've missed.
We'll begin with these two classics which I published last winter.
Above is the beautiful Hague Blue from Farrow & Ball front door.
This red door and most of them appear to be Benjamin Moore Heritage Red. It looks deeper on the chip, but out in the light, it looks like the perfect red paint color.
See 20 favorite exterior paint colors.
And, here is the same classic red door taken last May.
This is a sister door a couple of houses down.
This is the house between the two.
Believe me. I don't know where every house is in terms of the exact location on Beacon Hill.
Yet. haha
However, I do remember that these three beauties are on Brimmer between Chestnut and Lime. This is the south-western portion of Beacon Hill that is known as "The Flat of the Hill."
You may recall that we touched on some of the history of Boston and how it's grown considerably in square miles, particularly in the 19th century.
I'm pretty sure this home with an interesting front door is also on the flat of the hill. But, it's the plants that make it! Right? Just gorgeous!
Okay, I was supposed to be starting with springtime.
Remember this post where I featured the hundreds of glorious flowering trees last April? I heard from numerous sources that this spring was especially spectacular.
Awww, one exceptionally lovely reader used to live here at 95 Beacon Street. She moved out shortly before I moved in. Thank you Pat, for all of your kind wishes, and help.

Most of the flowers that people put in their boxes and planters are real. However, not all of them are. These might be artificial, but aren't these colors gorgeous?
This front door is more of a raspberry color.
It could very well be Benjamin Moore Strawberry red; one of the 144 colors in the Laurel Home Paint & Palette Collection.

This incredible home is near Louisburg Square, I think on Mount Vernon Street. I'm not 100% sure about that. Clearly, this was taken at the height of spring.
Another view of the same home featuring one of the classic doors of Beacon Hill.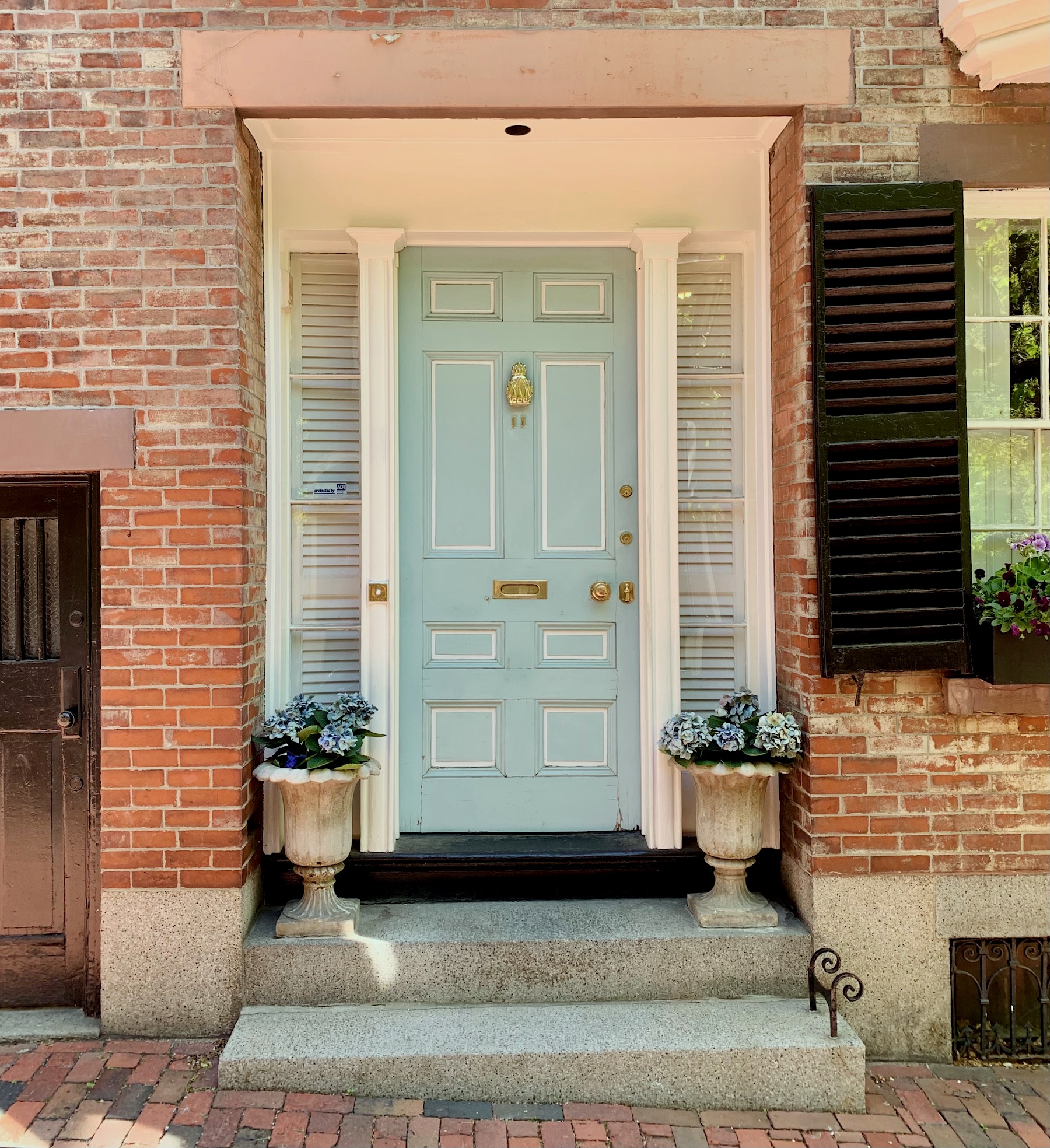 This stunning door was snapped by me on Cedar Street. Cedar is not on the flat, but the hill is manageable. It is one of the longest streets running northwest.
I took this pic of the same door on a cloudy day very recently.
I prefer taking photos on cloudy days, usually. Or, at least when there aren't a lot of shadows.
However, sometimes bright sun yields some striking images.
For example; this gorgeous home on Mount Vernon Street. You can see a winter night-time view of this home in this post.
A detail shot showing that the house could stand to be repainted.
This is the gorgeous front door of the Francis Parkman House, now a museum, at 50 Chestnut Street.
A little closer view
I adore everything about this classic Georgian-style front door!
This house I shot last April kind of stopped me in my tracks.
But, then, so did the one below.
I took a lot of photos on May 11th and this home caught my eye. It is behind a gate, so this is the only angle I could capture. As you can see, not all of the brick is red.

Another cool painted brick home with a refreshing jade green door.

It's in shadow, so could be Farrow & Ball Arsenic. Or, maybe it is a little deeper.
Actually, Benjamin Moore Geddy Verdigris cw-550, one of the Williamsburg colors, looks like an even better match.  Please remember, if you don't already know that paint colors outside tend to look brighter and more washed out than on interior walls.
Below is the last springtime front door, for now
Now, we're getting into the front doors of Beacon Hill taken in summer.
The other evening, I went out to pick up something at Nordy's Rack. Yes, it's totally fine to hate me. lol  It's just around the corner. I mean, is there a better reason to move to Boston Back Bay?
Yes, Tatte! But, it's late, so let's not go there, right now.
After my trip to Nordy's, I decided to go for a walk. I didn't have any place in mind. But, since I was already on Boylston, I headed past the garden and through Boston Common. And then, like a homing pigeon, straight back to Beacon Hill!
It was a lovely evening and the sun was low in the sky since it was after 7:00. Alas, because of how far east Boston is, our sun is now setting just after 8:00 PM.
I got another shot of this classic jaw-dropping entrance on Cedar Street, I believe. Dripping with charm, it is. How can anything be THAT perfect?
But, there's more.
Two versions of this stunner.
I love the composition of the one above. But, the image below zooms in.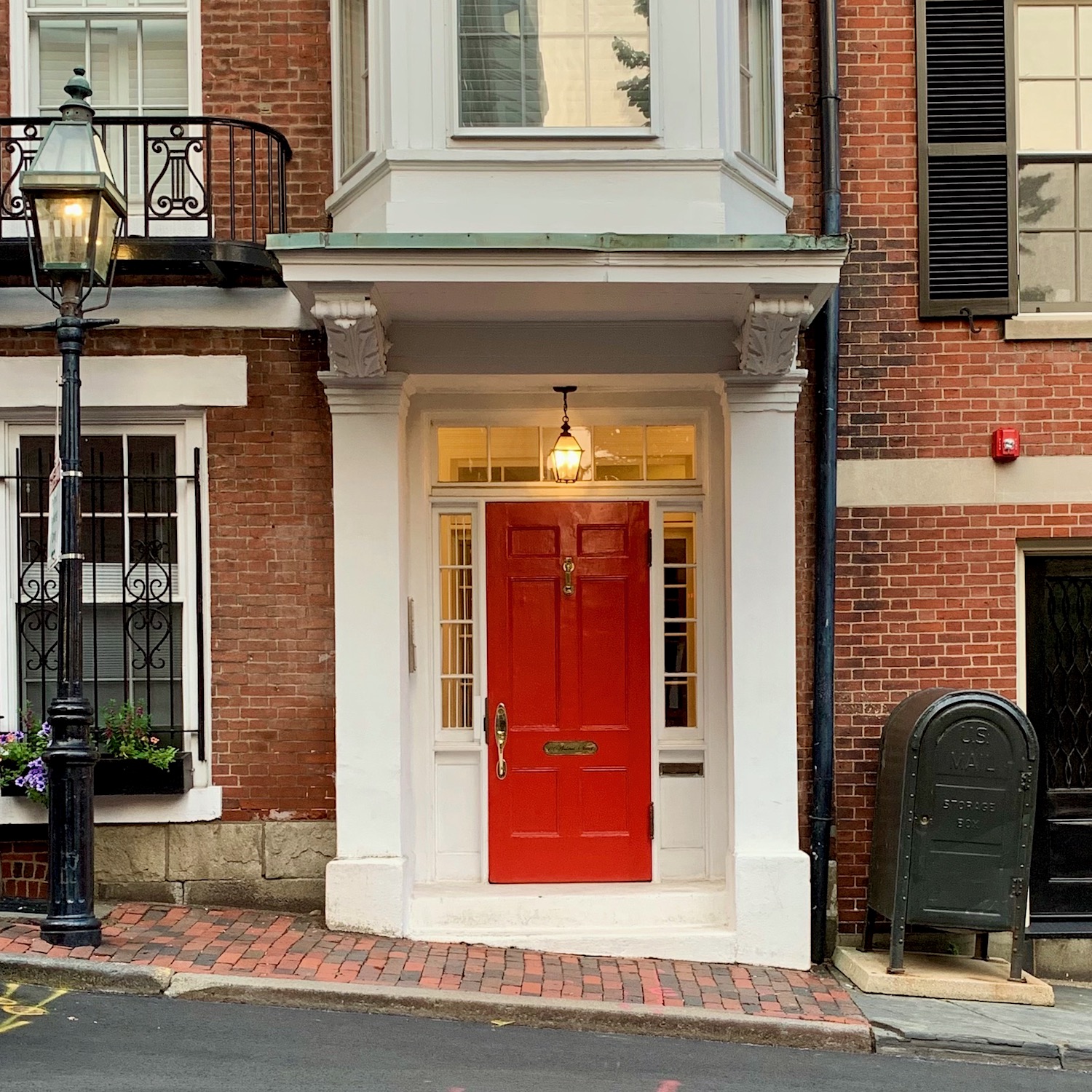 And I saved my favorite of the front doors of Beacon Hill for last.
It's just everything together. The door and surround, windows (that need washing, lol and so do mine!), the plantings; even the fire hydrant.
Well, I hope you enjoyed these wonderful front doors of Beacon Hill.
Please feel free to pin to Pinterest for reference
Also, please feel free to post any image to Pinterest or Instagram. However, if you post to Instagram, please credit me, @laurelberninteriors in your description. And, if you like, you can hashtag any images #laurelhomeblog.
And, I'd love for you to follow me on Instagram!
You might also enjoy this post about the best front door paint colors.
xo,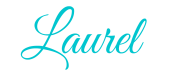 PS: Please check out the newly updated HOT SALES.
And, also the Nordstrom Anniversary sale is open to EVERYONE! Happy shopping!
They've added 100 new brands. Plus, if an item that you wanted was taken, please keep checking back. Often people get two sizes because they don't know which one will work better and then they return the pieces that don't fit.