***Please note at the end of this post is an important deadline***
Yesterday was a beautiful day here in Boston. It was about 40 degrees or so with no wind, so cool for sure, but warm enough to go without gloves for extended periods of time, if outside.
The skies were not overcast, but not terribly clear, either. And so, I ventured out of my apartment to take y'all on a little late afternoon into evening Christmas tour. It begins in my Back Bay neighborhood but focuses on historic Beacon Hill and some of its famous attractions.
All, except three of these photos are mine; however, as I love to do, I am also featuring three of my favorite Instagram accounts that have taken some extraordinary photos I think you'll enjoy.
One reason for this is that the snow is all gone. Well… ummm… 99% of the snow. But, it is not the fluffy magical stuff we all adore looking at. Nosiree.
Newer readers may not know the term "snirt."
Snirt is what happens to the snow that gets piled up along the side of the streets and sometimes on sidewalks. I mean, they have to clear the roads and sidewalks, and they have to put the snow somewhere. To learn more about snirt, please go to one of my favorite holiday posts that will explain in crystal clear detail everything you've ever wanted to know about snirt.
In fact, I'll point out a snirt alert later on.
Why?
Why am I posting photos of dirty snow?
I'm posting dirty snow because life is usually beautiful, but sometimes it isn't easy.
The snirt is a metaphor for life, the good and the bad.
And, this year has certainly given all of us a healthy dose of "snirt."
Remember last year at this time?
People were saying things like: "Ohhhhh, so looking forward to 2020. A new decade. A round number. A fresh start. So much to look forward to."
Little did any of us know that we were on a winding, slippery mountain road without a guard rail, about to hit head-on with a 16-wheeler whose driver had fallen asleep.
If we had known, I daresay we would've gotten back in bed and pulled the covers over our head until 2021.
But, we didn't know, and we still don't. So, when people say, "I can't wait until 2021," I get a little worried. I mean, next year could be worse. We don't know.
Yes, these are scary times. I wish that some people had been more scared early on, but I think many were in denial.
My message for this, my final blog post for 2020, is to be grateful for each day and be kind to one another.
Oh, I could go on, but I'm not going to. Haha. Self-editing is not easy either.
Back to the topic of magical Christmas Lights.
I was going to title this post:
Woman Gets Arrested for window peeping in Beacon Hill.
But, then, I was afraid you would think it was me, and of course, you'd be right.  haha
Actually, I did check on this. It is perfectly legal to take a photo of someone's residence as long as you are not on their property when you take the image, nor are you using it for any nefarious purpose. Believe me. I keep my distance. That's what the zoom feature on the camera is for!
In addition, I was not the only one out snapping pics yesterday. People who live inside a storybook fantasy expect tourists to take photos of their homes.
So please come join me for my late afternoon/early evening stroll through part of Boston's Back Bay and Beacon Hill to see the beautiful homes, done up for the holidays. Decorations around here are as elegant as the homes they are adorning.
I've been thinking of doing a little history post. But for now, I'll leave it that all of Back Bay and the "flat of Beacon Hill" were both built on reclaimed land, thus narrowing the "back bay" into the Charles River.
Below is a map of the area.
Okay, my house is just below the C where it says Commonwealth Ave. Mall. The locals say Comm Ave. This will give you an idea of where I was. I went up as far as Cambridge Street via Charles Street and then back down in the area of Pinckney and Mount Vernon Streets.
But, raise your hand if the late afternoon, sunset time, twilight, also known as l'heur bleu (blue hour), is your favorite time of day!
Well, it is mine.
Let's head out.
I started my walk, heading by going east on Marlborough Street. Below are some of my favorite houses and their Christmas lights and decorations.

Four years ago, I featured this exquisite home in Boston's Back Bay in this Christmas holiday post.
I never could've imagined at that time that I'd be living a stone's throw away. I guess they call that foreshadowing. lol
So many beautifully decorated homes in Boston.
For some reason, I turned around and saw the sun as it was getting ready to drop below the horizon.
If I had continued going straight on Marlborough, I would've hit the public garden, but when I came to an end, I turned left onto Arlington and then headed east again on Beacon Street.

Snirt Alert on the corner of Beacon and Arlington

Here are some of the elegant townhouses that line Beacon Street.
Beacon street along the public garden and Boston common make up the southern border of Beacon Hill.
I didn't know until recently that the show Cheers was based on a real bar in Boston. But, here it is, on Beacon Street.
I head up the popular and charming shopping area, Charles Street in Beacon Hill. Everything to the west of Charles Street is known as the "flat of the hill." That's because it's flat at that point.
Earlier yesterday, my real estate lawyer called me up and told me to check out the sailboat, and deer all lit up in the river. So, that's what I did. I walked to the end of Charles. I turned to go west and went across a footbridge adjacent to the Longfellow Bridge that connects Boston with Cambridge.
Only, I was walking towards the esplanade, which is a little park and footpath along the Charles River.
Alas, I was about 30 minutes too early to get a good image of the lights, but I did get a gorgeous view of the back bay skyscrapers that live behind my house.
The tallest building with the distinctive blue glass is the John Hancock tower.  I literally live in its shadow.
This image was taken today from my den. But, you have to be on top of the window to see the tower.
Below is what my lawyer wanted me to see.

While it's difficult to make out the lights, I was treated to two swans mooning me. I waited until they had finished. :]
After that, I turned around to walk back into the heart of Beacon Hill.
Louisburg Square. I was interested in an apartment for rent in the building on the left. However, my realtor told me to stay away from that one. So, I did.
Still, Louisburg Square is one of the poshest addresses in all of Boston. In fact, Senator John Kerry and his wife Theresa live on Louisburg Square. I believe their home is in the far northeast corner of the square, not a square but a long rectangle.
Here's the map again. Louisburg Square is between Mount Vernon and Pinckney Streets. And, believe me, all of them are glorious. The following shots were all on those streets.
A classic Georgian-style townhouse on Louisburg Square in Beacon Hill.
Another Beacon Hill beauty at sunset in December. Gaslights abound in the historic neighborhoods in Boston.
They wouldn't dream of putting up a monstrosity like this that met my forehead in the summer of 2018.
Yes, it's a hill.
This is my favorite house on Louisburg Square. I think it's only because of that gorgeous transom window. It's the little things, sometimes.
I wish that mirror through the window came out better. It is stunning!!!
Oh, stop looking at me like that. I am not lurking in the bushes.
Haha, I was standing close to the street. I mean, they have no window coverings. And, I know good and well that everyone reading this blog LOVES to be able to see inside these magnificent homes and also would take a peep. I mean PEEK. ;]
Man, check out the Greek Key detail on that ceiling. Hey, they are just doing their part to make America more beautiful and sharing it with the rest of us.
Okay, I needed my GPS for our next stop, but on my way caught sight of this twilight beauty with glowing lights.
And, now I'm going to take you to the most photographed street in Boston.
It's so tiny that at first, in the dark, I walked right past it.
Acorn Street.
And yes, that is real cobblestone. And, no. I have no idea how a moving van gets in there. I don't think the people who live here move-in OR out. Lol, Obviously, they're born here. And, then their kids who are also born here, take over and never leave, either. That must be it.
Via @town_builders Acorn Street Beacon Hill during the early December 2020 snowfall.
Please note that there were still some leaves on the trees at that time about three weeks ago. But no wonder it's the most photographed street. It absolutely reaks of Disneylandesque charm.
@ @Glitterinclexi, who posted these iconic red doors with an exquisite transom. This door reminds me of a similar door in Beacon Hill I took last fall.
Coincidentally, I snapped this door yesterday as well, before I happened on the image. And, I only just realized that it's the same door.

I'm not showing more of the door because I was across the street and there was a car in the way.

Above was taken in the snow from last January by one of my fave instagrammers who I've featured before. @brianmcw. You can see another image or two of his in this Christmas post from four years ago.
Please check out and follow the above Instagram accounts. Oh, and please follow me too.
And, one more shot of the Commonwealth Avenue mall holiday lights. I understand that they stay up all winter.
Okay, that concludes our holiday evening lights tour.
***But, here's the important business I mentioned at the top of this post.***
Tomorrow at 11:59 PM is the deadline to get your FREE 150 Best Home Furnishings Sources on Etsy, AND a FREE 333 Rules and Tips You Need to Know Guide is ending at the end of December 30, 2020, If you purchase any of the other guides. (below) Following is a snippet about each one and a link that will give you more information, if needed.
(Clicking on the links will send you to the pages to learn more about each guide)
Laurel's Rolodex – A unique shopping guide that shares hundreds of my favorite sources and especially for decorators and designers tells you the best sources that sell directly to the design trade.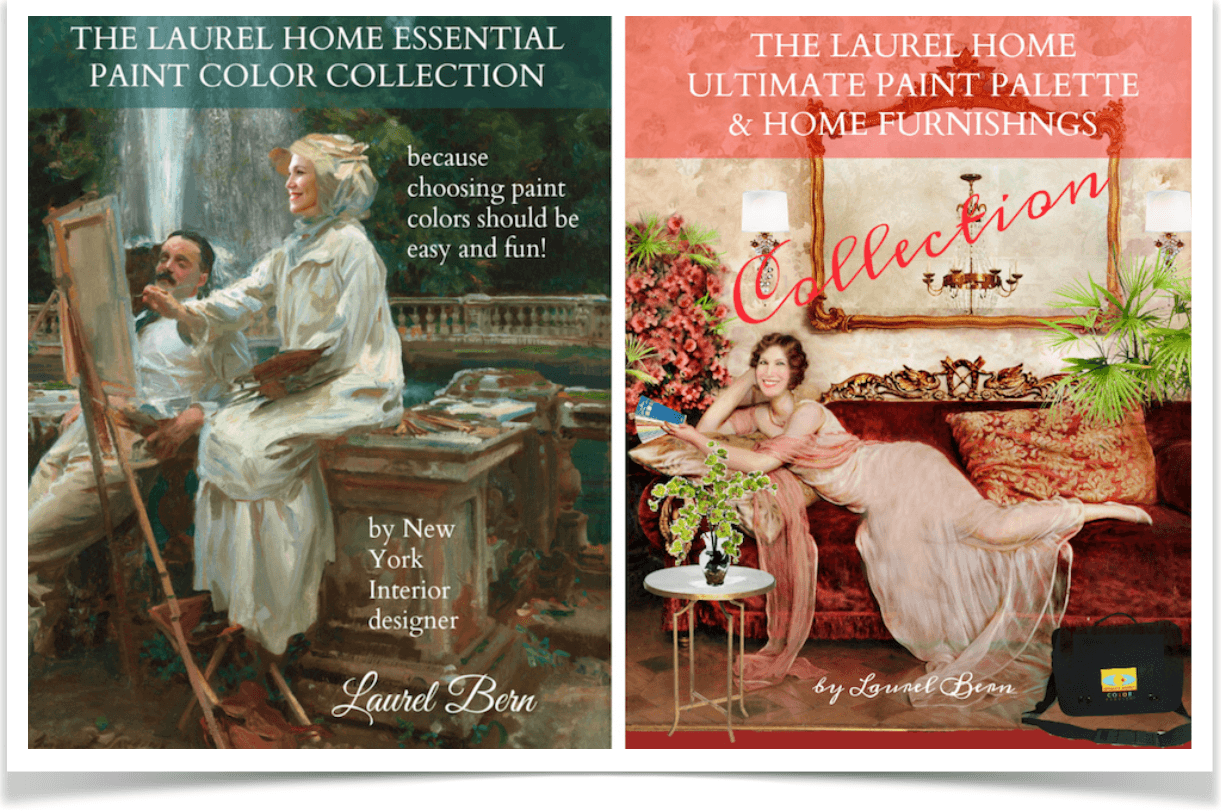 The Essential Paint Color and Palette Collection (two volumes)
This is a must-have guide for anyone struggling with paint colors. If you don't believe me, there are dozens of testimonials on the Palette Collection page.
Six-Figure Income Blogger. (This should be required reading for everyone who has a website and wishes to get the most out of it for their business) You do not need to be a heavy-duty blogger. But, once or twice a month consistently will do wonders for your business. But, it would be best if you learned some other things, as well. Believe me, when I say in the early years, I made every mistake and then some.
333 Decorating Rules & Tips You Need to Know – You'll get a free Etsy guide with this guide, as well. There is so much information, and much I've never seen anywhere else. The window treatment glossary alone is several pages.

Or, order the Etsy guide on its own. It's 150 seriously cool vendors.
Etsy is known for exceedingly helpful, personable vendors and great pricing.
Note: Some prices will be going up on January 1st, and all free offers will end on December 30, 2020.
Also, please check out the newly updated HOT SALES pages. Some wonderful end-of-the-year sales are going on right now.
Well, guys, that's a wrap for 2020.
Here's wishing all of us a safe, HEALTHY, and prosperous year in 2021 full of love from family and friends. And, I pray by this time next year in 2021, we'll have gotten a handle on this virus.
xo,