What is GRISAILLE, you ask? And, no, it's not a cut of beef or a type of bear.
First of all, it is pronounced
The Merriam Webster Dictionary definition is:
decoration in tones of a single color and especially gray designed to produce a three-dimensional effect.
An example of classical Grisaille wallpaper from Zuber
Grisaille originated from the French word "gris" which means "gray". The first known use was in 1848.
However, grisaille, in the world of art is also known as a monochrome painting in varying shades of gray, greige, taupe and sepia.
There are also more specific terms for monochrome works of art that are more brown – brunaille and green – which is known as verdaille.
Today, we are going to look at grisaille and while many examples will be on wallpaper, some of them will be either painted onto a wall or a piece of art hanging on the wall.
Grisaille  originated in fine art some centuries ago to create the illusion of sculpture on a flat surface and it is often seen in trompe l'oeil. (fool the eye)

Andrea del Sarto grisaille    frescoes in the Chiostro dello Scalzo, Florence (1511-26)
Trompe L'oeil Grisalle ceiling by fine artist, architect, and latter-day Michelangelo, Kurt Wenner
Watercolor by Grzegorz Wróbel – trompe l'oeil – en grisaille
When I first saw a small version of this image, I was sure that it was a photo of a building.
So glad it's not!
Something I just recently learned is that most fine art of the renaissance began with an "under-painting" in grisaille – shades of gray.
At the time, pigments were rare, but an additional benefit was that the under-painting added greatly to the depth and luminosity of the art. After the grisaille under-painting was complete, thin layers of pigment were layered over that.
Below is a rare example of what I'm talking about.
Jean Auguste Dominique Ingres – Odalisque en grisaille
The above painting by Ingres c. 1824-34 hangs in the Metropolitan Museum of Art. What is very interesting about this rare work is that Ingres went to all of this trouble only to abandon this work and began afresh.
But, here we have an example of the grisaille under-painting
via Wikipedia
Above we see in Ingre's Le Grande Odalisque the second piece, complete. The differences are not dramatic in the form. However, the finished odalisque appears to be more elongated than in the original grisaille piece. This painting, too had a grisaille under-painting, however, as you can see, it is layered with colored pigments.
However, grisaille is more commonly known as an independent finished work.
And now, for many fine examples of grisaille art, murals and screens, from old to new; from super expensive, to very reasonably priced.
And these are not in a particular order. I love them all! But let's start with something antique.
Above and below an antique Zuber screen from First Dibs. Probably no longer available
Martha Stewart's former home in CT, Turkey Hill
A Zuber panel in a dining room.
Love the De Gournay grisaille paper in this charming powder room by Frank Ponterio
I love this painterly style of grisaille in the dining room above.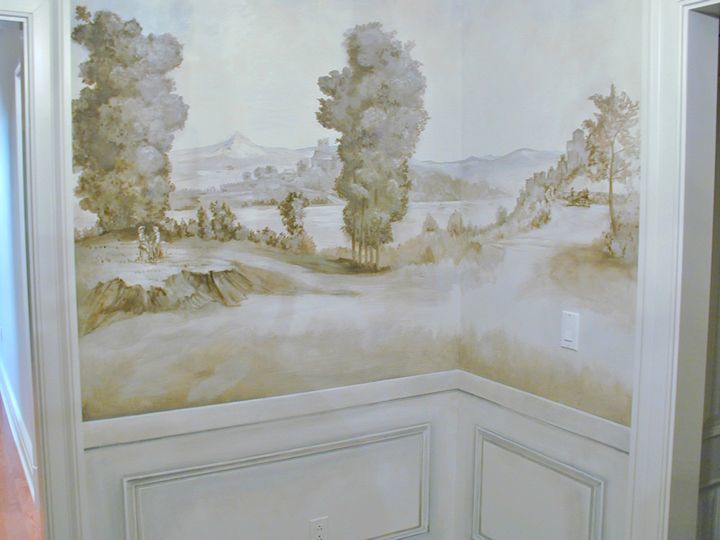 Another wonderful painterly mural by Nicholas Crowell
It is reminding me of the incredible hand-painted murals by Susan Harter.
Susan has an extraordinary website. In addition to her hand-painted designs, she has a printed collection which of course, if far more affordable.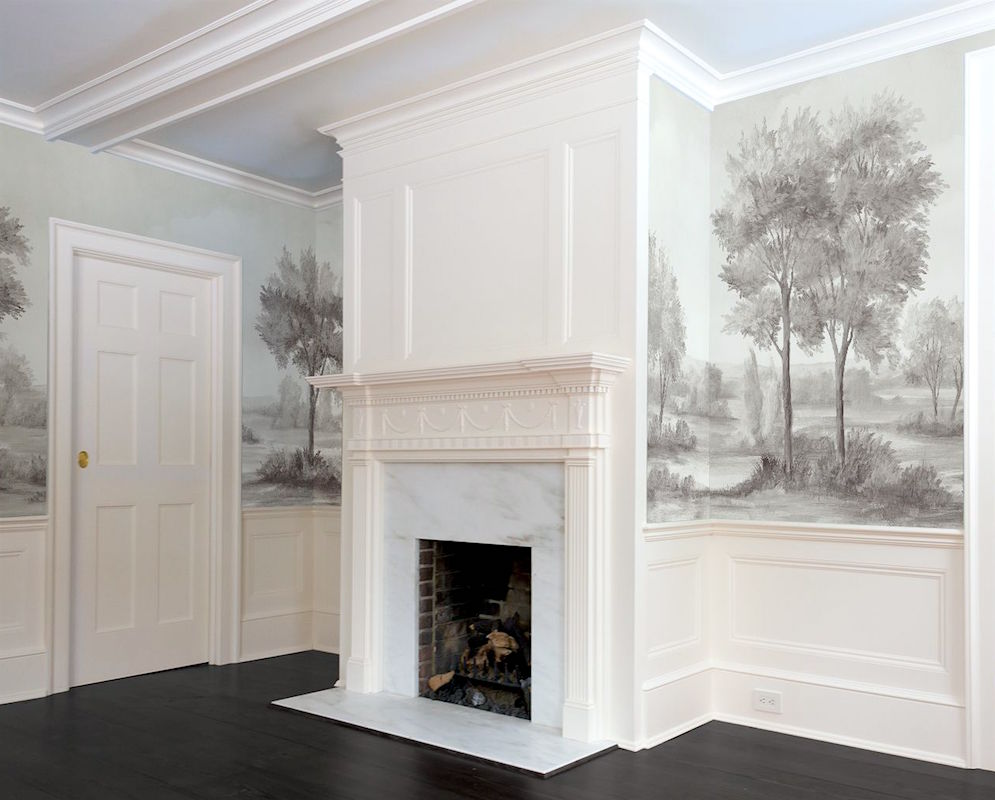 Another exquisite Susan Harter design in this dining room. For more of Susan's work (aside from her website) please click here. Also, a lot of other great ideas in this post.
Above, one of the most beautiful living rooms every featuring two coordinating grisaille screens. Interior design by Frank Babb Randolph
DeGournay mural photographed by Ian Nolan. Love the infusion of color into this mixed color and grisaille mural.
Above and below, two images of the same giga-gorgeous room featuring a hand-painted grisaille mural by Suzanne Rheinstein
Degournay
This mural has a little more color, but since leaves aren't typically steel blue, I'm calling it grisaille-like.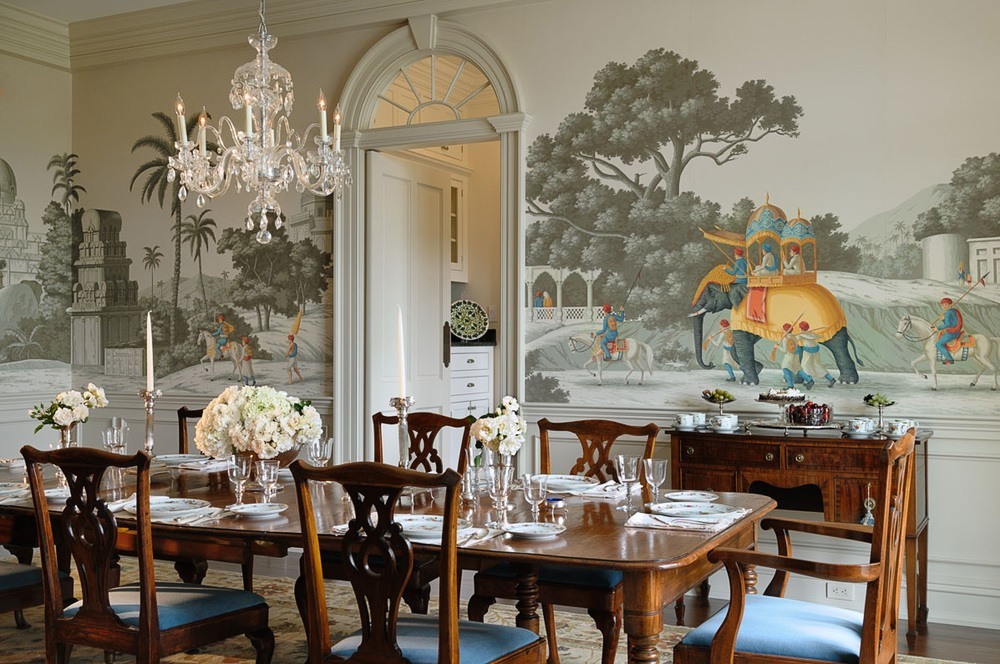 Exquisite dining room by Crisp Architects   featuring a Zuber mural – A Passage To India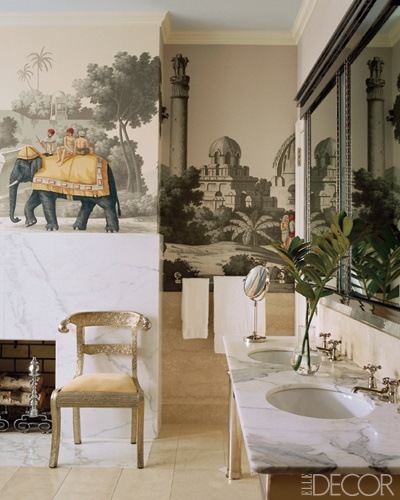 The same Grisaille Zuber mural in a bathroom – why not? by Miles Redd
I believe that this is also a Zuber mural. I adore the colors. While it is quite colorful, there are some areas in grisaille.
When I first started writing about Grisaille several years ago, for the most part the only option were the very high-end hand-painted companies, Ananbo, Zuber, DeGournay and Gracie.
This extraordinary site of hand-painted artwork and murals.
Crisp Architects Zuber Wall Mural – Grisaille
Extraordinary living room Designer- Jared Hughes. Photographer- Heidi Harris via Gracie Studio – Gorgeous grisaille hand-painted mural. Actually, I believe this one is more green making it verdais.
Wonderful handpainted Grisaille wall mural by  Paul Montgomery
Well, these days, one can get the grisaille look for a LOT less money.
Paul Montgomery created Mural Sources which I've featured numerous times on this blog. Absolutely fabulous source for Chinoiserie wall murals and Panoramic Design wall murals.
(please click on both of those links for many more wonderful examples of gorgeous wall murals featuring grisaille and colorful examples, as well)
And many designs that are en grisaille. Definitely click those links for numerous far less expensive sources for both.
In fact, many will recall that the exquisite wallpaper in my bedroom came from Mural Sources.
And, also, you can see my Mural Sources wallpaper on the wall, in this post.
Since I wrote the posts linked to above, I've discovered some new sources featuring some beautiful inexpensive (or relatively inexpensive) Grisaille prints.
BelleImpressionFinds on Etsy Grisaille mural
Interesting mural. I can't tell for sure the quality from this image, however.
Chinoiserie Wall Deco Panoramic Grisaille mural
Some of these murals such as this one look identical to those from the high-end sources.
This one is hand-painted, however, less money than the original, probably from Zuber. Is the quality the same? I don't know. However, you can get samples before ordering. Also, read the reviews very carefully.
One thing to look out for, when getting an inexpensive Grisaille or other wall mural is that the print is done correctly.
This one took a print on canvas and blew it way up so that the canvas, is far larger than it would be in real life. It's just something to be aware of.
photo by me
Above is a Grisaille wallpaper Versailles by Cole & Son – from a bathroom I did a few years ago in Bronxville, NY
And, from this post about decorating to sell your home. For more of this beautiful home near me, click the link. This wallpaper is also by Cole & Son and called Nuvolette. You can actually get it at Anthropologie.
Below are a few more grisaille items. Please click on the individual items to go directly to the source.

Hope that you enjoyed learning about the beautiful art of Grisaille. I always learn new things with these posts too!
xo,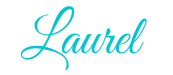 PS: Please click here for the newly updated hot sales and deals in home furnishings.