Hi Everyone,
First of all, my sincerest condolences to everyone, but especially our friends across the pond, for the loss of our worldwide treasure, Prince Phillip, Duke of Edinburgh. May his memory always be a blessing.
It made me think of another treasure in the United States. Furlow Gatewood.
Mr. Gatewood is now 100, or about to be. I figured this out because I read an article written in 2015, and he was 94 then. Pretty smart, huh? ;] You can see Furlow on SmugMug. Rod Collins, who took all of the gorgeous images on my tribute post, frequently visits Furlow. The most recent was last month. If you go here, you can see a glimpse of Furlow's mirrored backsplash. :]
Otherwise, I have an intense case of spring fever. I mean, it was 75 degrees in Boston today and felt more like June 10th than April 10th. But, we'll take it!
I went for a walk, of course. Well, Newbury Street was teeming with people and cars, too!
Lots of young people listening to music on every corner.
All of the outdoor cafes were filled, and much traffic on Newbury Street.
I have to admit, after the last couple of kitchen posts (you can see them here and here), I'm pretty pooped. But, thank you guys so much for all of your great ideas.
I did call a couple of contractors who've come highly recommended.
But, all I did was leave a message. I realize that I'm going to have to put on my big girl pants and be persistent.  And, also call a couple more this week.
OH!!!
For those of you who read my HOT SALES love note last night, you already know this, but for everyone else,
My Bronxville, NY apartment closed yesterday— FINALLY.
I'm sure the buyer is also relieved. It is bittersweet. If you missed the pics of my old apartment, please check them out here.
So, today, I want to turn the focus on some bathroom design inspiration.
And, we're going to revisit one of my favorite projects from 2014.
But, do you know what is driving me the craziest these days?
The floor finish or finishes. I mean the stains.
You see, I love both super light floors and super dark.
I know. I know.  For those of you who skim, I'm going to make this very bold.
Dark floors show every spec of dust.
But, I have Roberto now. (Robbie).
He's my Roborock Robot vacuum, and I'm madly in love with him. You can read all about him here. As a matter of fact, he's hard at work as I'm writing this. My floors are always gleaming and free from dust.  Therefore, the dark stain is a non-issue from a dust standpoint.
However, I think I've figured out why this is such a problematic decision for me.
During the day, I see the floors being light and, at night, definitely dark. The floor does look significantly deeper and richer at night. I know you'll say, well, just keep them the way they are. Well, I could. We'll see.
Below are some spaces with dark floors I adore.
The JK Place Capri
But then there's also this amazing Greek Revival masterpiece in Kinderhook, NY, we saw here.
Conversely, there are the gorgeous pale floors I love too!
Gerald Bland. Please follow on Instagram.
The timeless interior is done quite a while back by Albert Hadley.
Okay, we'll let that one go for now. If you're interested in seeing more and didn't see it or forgot, please visit this post about dark floor finishes.
And then here's another post featuring light and white painted wood finishes.
And, this post about painted hardwood floors.
But, back to more bathroom design inspiration.
The JK Place Firenza.
Above is my dream bathroom that I've posted many times.
All of the JK Place hotels, and there are several now, have been designed by Michele Bonan. My dream is to stay at the JK Place Capri. I tell this to all of my potential boyfriends. The one who doesn't look at me like I just grew three heads might be allowed to stick around. lol
Actually, I'd be delighted to LIVE at the JK Place Capri. I mean, who wouldn't?
However, at a minimum of about $1,000 a day (at the off-season) for a "modest" room there, maybe I need to rethink that.
For all of the posts about the JK Place hotels, please go here. There are some gorgeous images.
Okay, I promised to share some old pics of the best bathroom I've ever done.
Actually, it's one of the few I've ever done. Haha. In fact, I'm lucky to have any photos at all. Never mind.
If you'd like to see the original post, please go here. These photos have been cleaned up a little.
Everything was custom-designed by me. However, I didn't create the design of this vanity out of thin air. I'll show you in a sec.

The original post explains how I came up with the design for these cabinets.
Actually, I had forgotten about the x windows. Maybe it was in my subconscious.
The chair is new. The pillow is hers. And the wardrobe which I love is from Chelsea Textiles.
Oh, there's another post that shows how I copied the design on the floor. Maybe I can find the image.
Yes, I did!
Here you can clearly see the canted corners of the marble vanity top and a sliver of the shower. The client did not want a tub in this bathroom. We intentionally mounted the Roman Shades below the X detail so we could see it!
The radiator covers are exactly what I wanted. That came out of my head. I also love the smaller furniture base.  That's what I want for my new kitchen; not for every cabinet, but the sink, end built-in, fridge, and entry closet.
Well, I hoped you enjoyed visiting bathroom design inspiration. But, there's a lot more inspiration in the two earlier posts, linked to below.
This one's about dark bathrooms.
And, this one's about affordable fixes with a big impact.
I see there are two more posts. I guess I was on a bathroom roll last September.
Seven Bathroom trends to avoid or embrace.
Oh, and the transformation of my scary (old) vanity.
Oh, speaking of vanities, I almost forgot. I'll bring that pic down, so you don't have to scroll all the way up.

I actually found a piece I loved and had the cabinet maker, JEM Woodworking, copy it.
And, while I don't have that image, I found one very close to it.
And, here's a close-up showing the canted corners. Like I said, this one's similar but not the same as the one they copied.
Here's one last bathroom post. This is one of my favorites. There will be more in the related posts, if interested.
Oh, I just have to end with one more image.
One of you lovelies sent me this gorgeous butler's pantry on Instagram.
@boxwoodinteriors on Instagram
How pretty is that? And, please, please, please take a look at her gorgeous account! The owner has a gorgeous shop in Houston, and her vignettes are to die for. In fact, if you want to know how to accessorize your spaces. Or, at least one way, just copy what they've done.
Oh, Laurel, what IS the paint color and that divine wallpaper?
Well, I don't always know,
However, it does say that the paint color is Farrow and Ball Stone Blue. Please remember that you can now purchase Farrow & Ball samples and paint colors ONLINE!
The wallpaper is:
Paul Poiret for Schumacher Hydrangea Drape Wallpaper
Wait. The colors are so different, Laurel?
Yes, that's the genius of this designer. There are lots of shades of blue in that pantry.
As Barbara Barry said many years ago: "It's the complexity that makes rooms rich."
I agree with her completely!
xo,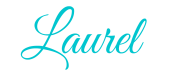 PS: Please check out the newly updated HOT SALES!