Hi Everyone,
Today, I'm going to talk about my two bathrooms and some bathroom fixes I'm thinking of.
But, before I do. I just want to say that both of these bathrooms are already the two nicest bathrooms I've ever had. In addition, I hope the current owner isn't reading my blog. Or, if she is, I hope she isn't offended. Or, if she is offended, maybe she'll feel better if she sees my little bathroom that is nothing to write home about.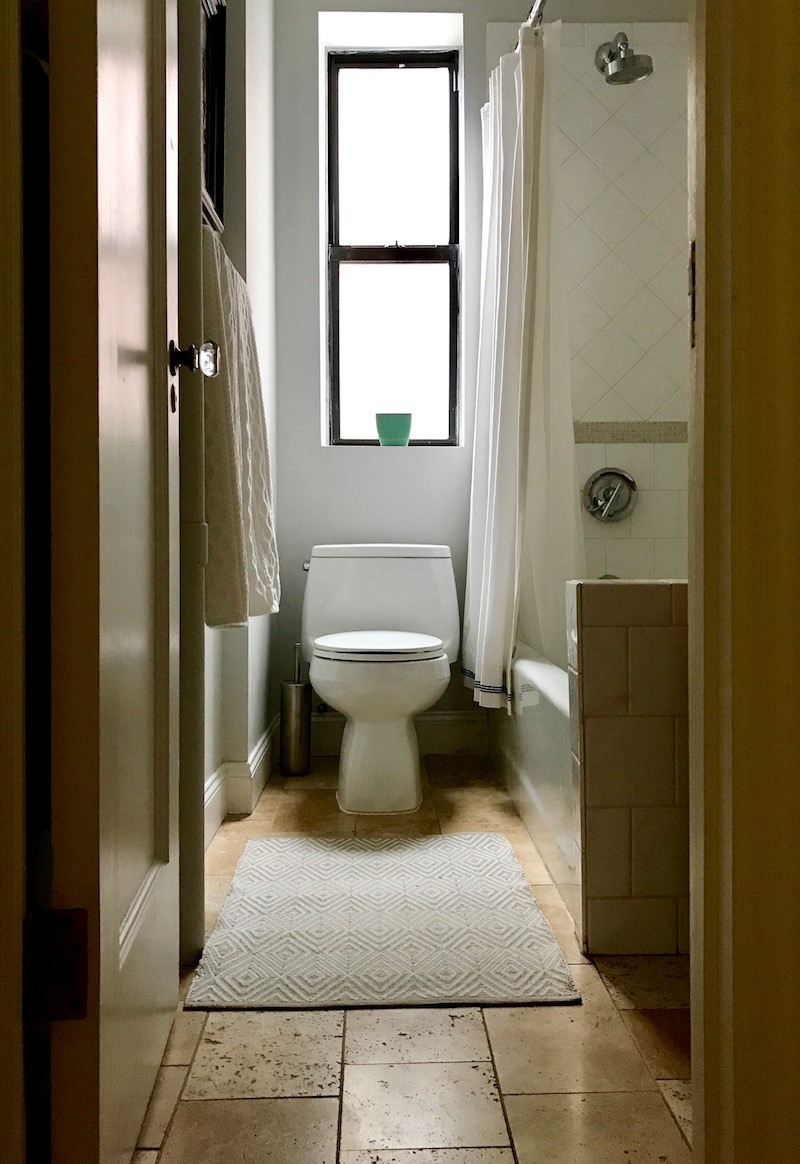 None of this was my doing, except for the wall color, shower curtain and towels.
Oh, and the little outdoor rug from Dash and Albert.
However, before we get into the bathroom fixes that won't break the bank, I would like just to go back and talk a little about the stairs situation.
It's about the elevator that many of you want me to have.
I know that you guys mean well, but I very much am hoping that we can end all discussion about the elevator that is absolutely, definitely, positively NOT going to happen. I'm not trying to be difficult but, it's not possible.
1. One, you can't just drop an elevator into a duplex apartment in a 140-year-old brownstone. There is no basement, for one thing.
2. The ONLY place I would even consider the idea is where I would close up the closets. However, I don't own the space below that. There is a common hallway below that area.
3. The only elevator I would want would be elegant and cost far more than I can ever afford.
4. I'd have to get permission to do such a thing.
5. Plus, I'd have to spend money getting it inspected and maintained every year.
6. Would you like me to keep going?
I could, but I'm not going to bore you any further.
Thank you. Oh, and there's easy access from the outside to the lower level through the back entrance. How cool is that!
However, if you'd like to help me, help me pack and unpack. lol
At this moment in time, I'm healthy and strong. Thank God!
It's going to be okay. And besides, I'm a big girl now. I'm even potty trained!
Speaking of which, yes, the bathroom fixes. LOL
You've seen the galley kitchen. However, I haven't shown you the bathrooms.
While I will focus on the downstairs bathroom fixes, here is a peek at the lovely upstairs bathroom.
There is a clawfoot bathtub on the other side.
Let's look at the floorplan again.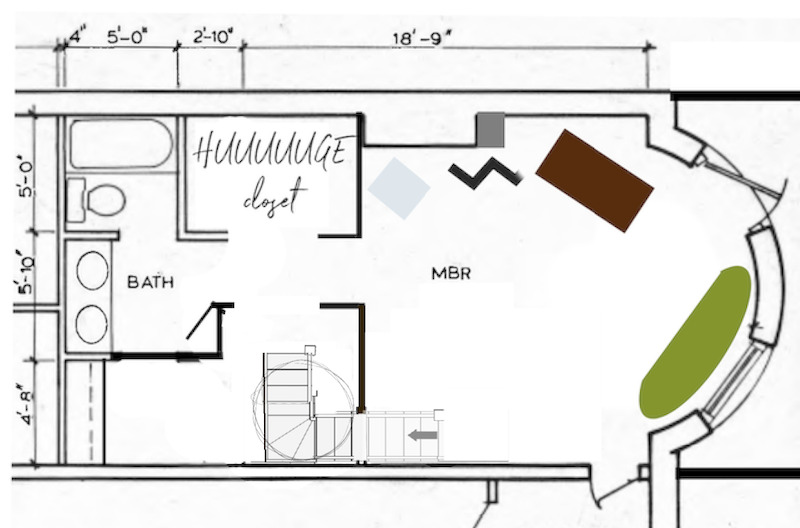 I suspect this isn't accurate. I did change the doorway across from the closet.
One of my fears is that the bathroom is getting in the way of being able to fit in a comfortable staircase.
If I were starting from scratch, I would most likely have taken back about 18″ of the bathroom and given it to the office. The only thing is that there is a fuse box on that little wall just before you exit the stairs. And I think that's what is not drawn here. Of course, when I go back in, I'll be able to measure and revise this.
Okay, let's take a look at the master bathroom.
This bathroom is what I would say is "on-trend."
I googled the image to see if it came up, and it doesn't. However, here, you can see many other bathrooms that look a lot like this one.
The rest of the images are ones I took during my second visit on September 28th.
First, let's look at the positives.
1.The bathroom is relatively spacious. Hey, no more burning my arse on that hot pipe in my tiny bathroom!
2. There is a lovely walk-in shower with a gorgeous marble subway tile. The tile is gorgeous in person. Me like!
3. There is radiant heat floor.
There is nothing nicer in the winter than a radiant heat floor in the bathroom. Nothing at all!
What don't I like?
Well, there's nothing I hate in here except for the lighting. (please check out one of my favorite bathroom posts.)
And, I know that some of you are going to disagree, and that's fine. That's what makes the world go 'round. However, anyone who's read this blog for a while knows that I pretty much despise bright white LED lights. I mean, they make me feel like sticking a fork in someone's head.
Okay, that was a little dramatic. But, you get the point. I don't like bright white LED lights in residential settings.

Bright white LED lights are fabulous for operating rooms and airport runways. I'm an old-fashioned girl. I want romance and candlelight.
Sigh…
One day.
Soon.
I'm ready now.
I keep going back to Steve Cordony's gorgeous bathroom for inspiration.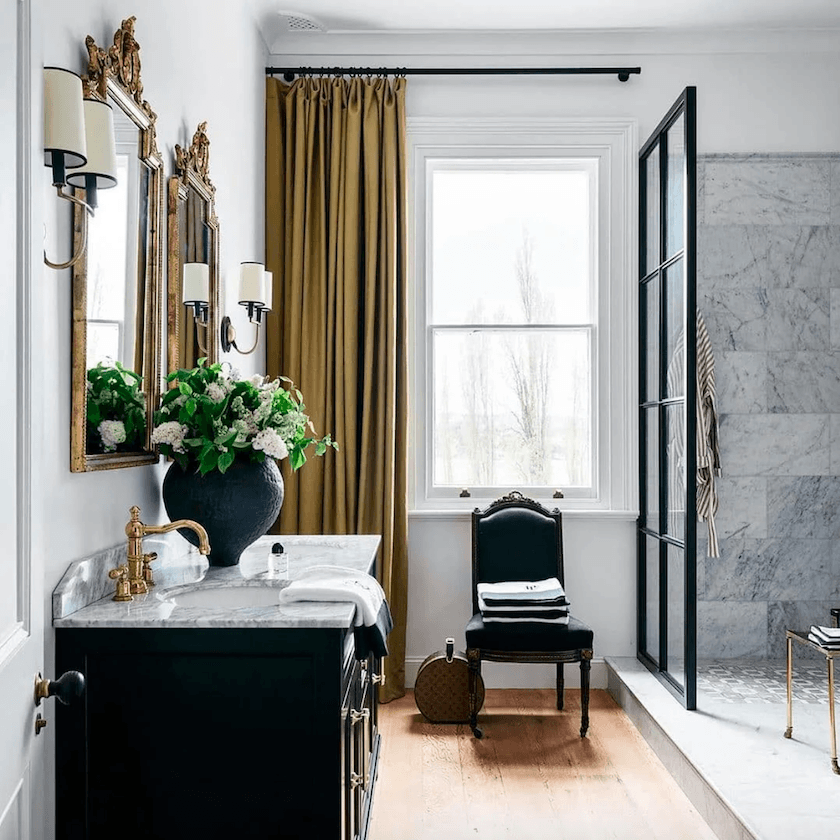 I love the sophistication of this bathroom. And, it feels appropriate for a Victorian-era home.
I found nearly the identical mirror at Bradburn Home!!!
I also adore this bathroom by Mark D Sikes. And, I desperately would love to have that mirror from Made Goods. It comes in two sizes. This is the smaller one.
But, what about the floor?
Well, this is funny.
It's hilarious!
During my research for bathrooms and bathroom fixes, which went on for hours today, I came across this image of Darryl Carter's fabulous bathroom. It was in this post from 2.5 years ago about bathroom vanities.
I adore this one, too!
photo Frank Tribble via One King's Lane black and white bathroom
So, what's so funny?
Look at the floor.
Now, please scroll back up and look at my bathroom floor.
They're almost identical.
Fine. We'll keep the floor.
But, I really love that handsome black vanity!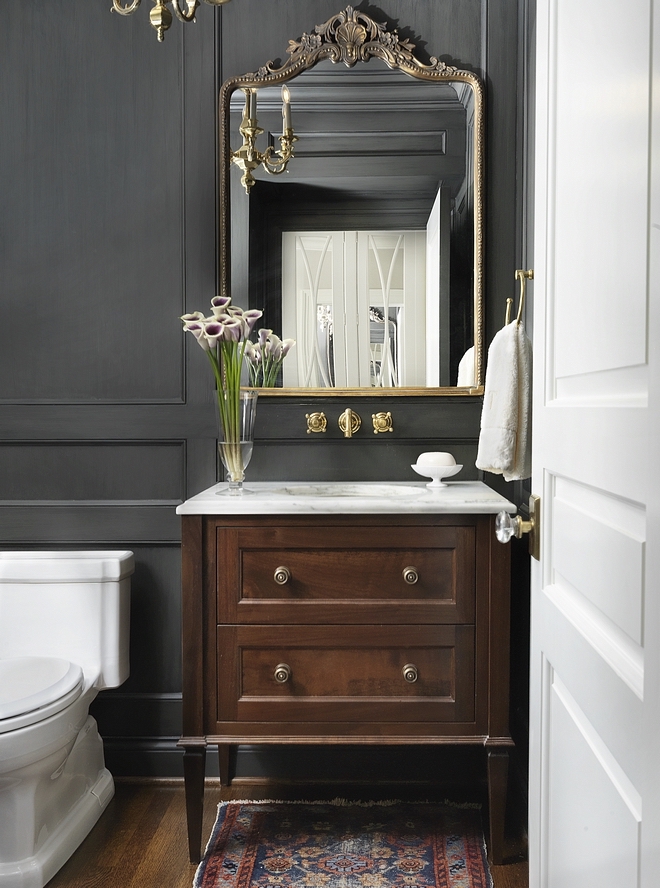 Amy Studebaker design – handsome powder room bathroom
I feel like I'd love the bathroom to have dark walls. Or, maybe the one upstairs. Or both.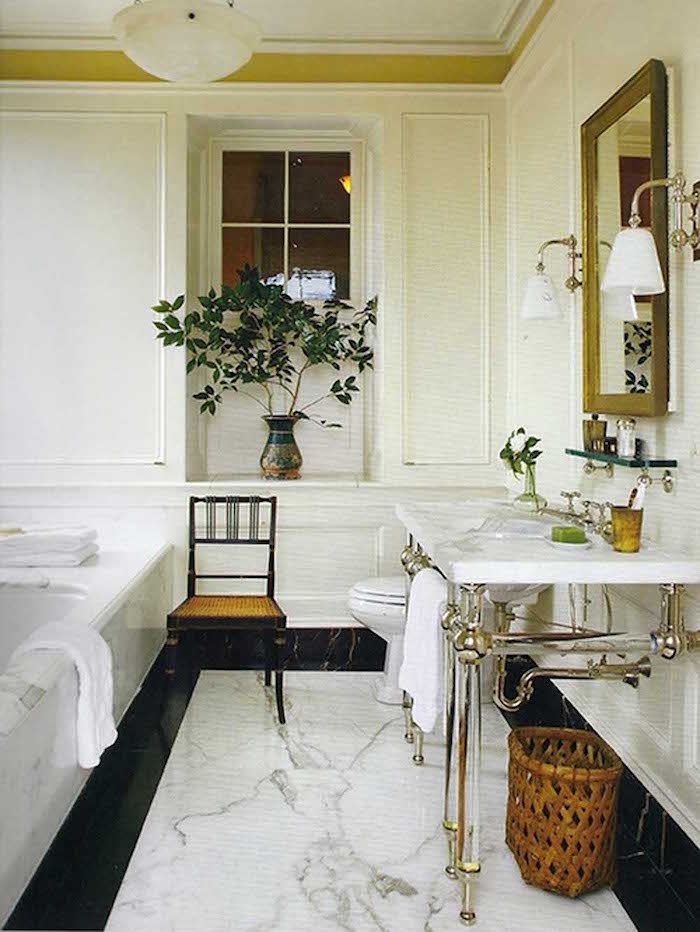 Another favorite bathroom by Gil Schafer
From a real estate listing near me last year.
Okay, it's late now. But, I had a lot of fun messing around.
I found a black chest to use as a vanity, and here's what I came up with.
And, here is one idea I have. I love the colors and the richness of the furnishings. The idea is to introduce some black, a deep, rich blue. That is Farrow & Ball Hague Blue, if interested. And, gold.
I included a template for the (Kelly Wearstler design) trim on the drapes, here.
Oh, yes. "mistress" bathroom.
I can't call it the "master." There IS no master. Yet. But, I'm sure he'll be on his way shortly! :]
Below is a mini widget with some of the items on the board. And also some others that I was looking at, today. Please click on any image if you'd like more info.

Of course, I need more than two sconces in the bathroom. But, I'm not fond of the recessed lights.
In my opinion, lighting is the most important element in a room. I mean, you could have the gorgeous design, but if the lighting is bad, it's like a gorgeous woman who hasn't washed her hair in a month.
I hope you enjoyed looking at some of my ideas for bathroom fixes. There's a lot that can be done with paint, different lighting, some art. (here are some sources for free or cheap art)
It will be coming out before Thanksgiving. If you are a Laurel's Rolodex owner, you will automatically get an update. Please note, however, that you can use any download link you've ever received from me. Your download link never changes.
Although, I do send it out. I will announce when it's going out. If you don't receive it or this message makes you remember that you have no idea where your Rolodex is, please search in your email for "Sendowl" or "Rolodex."
However, included in the 7th edition of Laurel's Rolodex will be a HUGE Etsy guide. I've found dozens of amazing resources. You can see some of them in this post. But, the guide will be up-to-date and also have at least 100 sources.  There is no additional charge for it. And, if you order a Rolodex now, you will also get the update.
Thanks so much, Guys!
xo,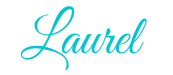 PS: Please check out the newly updated HOT SALES. There are some awesome sales going on right now!