Dear Laurel,
I'd love it if you could do a post about bathrooms; well, specifically some of the bathroom trends I'm seeing. We're going to be redoing two bathrooms in our home. One is the master bath, and the other is a smaller guest bathroom downstairs.
However, I'm confused about many of the bathroom trends I see today.
Here's a list, if that's helpful for you.
Do we need to have a bathtub in the master bathroom? And, if so, free-standing or built-in?
Bathroom Tile – There is sooooooo much out there. Subway tile? Travertine? Marble?
Bathroom Floors – Same thing. But, should it be ceramic, stone, vinyl, encaustic cement. Or, I've even seen some cool bathrooms with wood floors. Or, at least it looks like wood.
Showers – Ugh. Should it be a separate stall? Ack. I hate that word. What about a shower without an enclosure? Is that a good idea? Doesn't the water go all over the room? I'll never forget the post with the opposite. The glass coffin shower. lol
Then, the big question in bathroom trends is to brass or not to brass?
I remember your bathroom brass post, too. The upshot when you wrote that post in October 2017 was that unlacquered brass is classic. Do you still feel that way three years later?
What about exposed pipes? I have to say that I love that look. But, is it a trend that's going to hold up? Are the exposed pipes of 2020 going to be the pink/gray/shiny brass of 1984?
Oh, and how do you feel about a separate bidet? Or will I end up using it to wash out my underwear and pantyhose? I have to say I have a friend who got one of those bidet seats and was making a fortune selling their un-needed toilet paper in their front yard last March. lol
I'm kidding; well, about the TP sales in their front yard.

But, not about how happy they were last March when the paper products aisles were EMPTY.
And, finally, my last question is about the shower, if it's part of either a free-standing tub or separate. Do you prefer a longer shower curtain? And, if so, how long? Where should the curtain be hung, and how? Or, should there be a door? Is the frameless glass still relevant? What about the black iron doors? I love that look, too. I just don't know if that's the right look for our home in suburban Philadelphia.
Thank you so much,
Bathea Curtain
***
This is not a real Dear Laurel letter. But, Bathea is a real name although pretty rare.
Anyway. This is quite a lot for one blog post. But, when did that stop me? I mean, any one of these, could be its own blog post. And, of course, there are many more elements such as bathroom lighting, mirrors, hardware, window treatments, toilets, sinks, vanities…
Oh, and bathroom paint colors!
So, this is going to be an overview of these seven current bathroom trends.
One general rule to help weed out some of the choices is this:
I feel that the bathroom should be an extension of the rest of the home.
In other words, if you have a house in the suburbs filled with minivans, 2.3 children, and 1.2 dogs, then you are probably not going to veer far off the beam from what is expected.
That is, unless you're planning on being in the home for the next 50 years and want to have what you want to have.
I'm not saying that everything has to be totally predictable. But, it's important to figure this out.
I guess all of that is logical. However, when faced with a huge amount of choices, it can be overwhelming to whittle things down.
Whenever renovating, one thing I recommend is collecting inspiration photos and putting them on a Pinterest board. This is a great way to discover your style and what floats your bathtub.
So, let's jump in here and tackle each of these bathroom design trends.
I'm going to begin with bathtubs and showers and combine them since they are connected.
Should you have a bathtub in the master bathroom?
Ideally, yes. But, if you don't want a tub and I had a client who didn't. There should be one in another bathroom.
If you only have one bathroom in your home, (like me!), then I would strongly encourage you to put in a tub.
What kind of tub?
What kind of shower?
Well, that depends on a few factors, including budget.
Naturally, a big consideration is the size of the bathroom. If you have a tiny bathroom, like mine is, then they absolutely have to be together. That's obvious.
If you have the space, should you have a free-standing tub?
Frankly, this is only my personal preference, but the only free-standing tubs I like are the old-fashioned clawfoot tubs.
However, I still prefer them to be close to the wall. And, with a tall shower curtain.
We'll get to shower curtains in sec.
However, if I were putting together a medium-sized bathroom, I would still most likely put them together. But, that's just me.
Oh man, isn't this bathroom beautiful?
It's also pure fantasy.
Don't get me wrong. I adore this lovely vignette from Serena and Lily. But, who lives like this? There would be water all over the place and there's no mirror. And, no storage for their stuff, either.
This bathroom is just for show.
Speaking of stuff. Did you see my bathroom vanity organization post?
Remember my pipe was busted? Well, miraculously, my super did fix it a few days later. However, I have an update which you can read about on that post.
Laurel, why not a free-standing tub?
Good question.
They are a tripping hazard.
The modern ones look like boats to me.
They use a tremendous amount of water.
And, there's no place to put your stuff, so you have to have a caddy. That's just one more thing to trip over, hanging out in the middle of the room.
I think that the contemporary free-standing bathtubs are going to look dated before too long.
Remember this post that talked about free-standing tubs, boat tubs and coffin tubs? Yeah… No coffin tubs, please! Seriously, who designs a tub in the shape of a coffin? Of course, you are free to put a coffin in your home, if that pleases you. I'm not judging. (too much)
What about exposed bathroom pipes?
Yes, they are one of the hottest bathroom trends.
Here, we can see some exposed brass pipes in the bath/shower in this rustic urban bathroom of John Derian.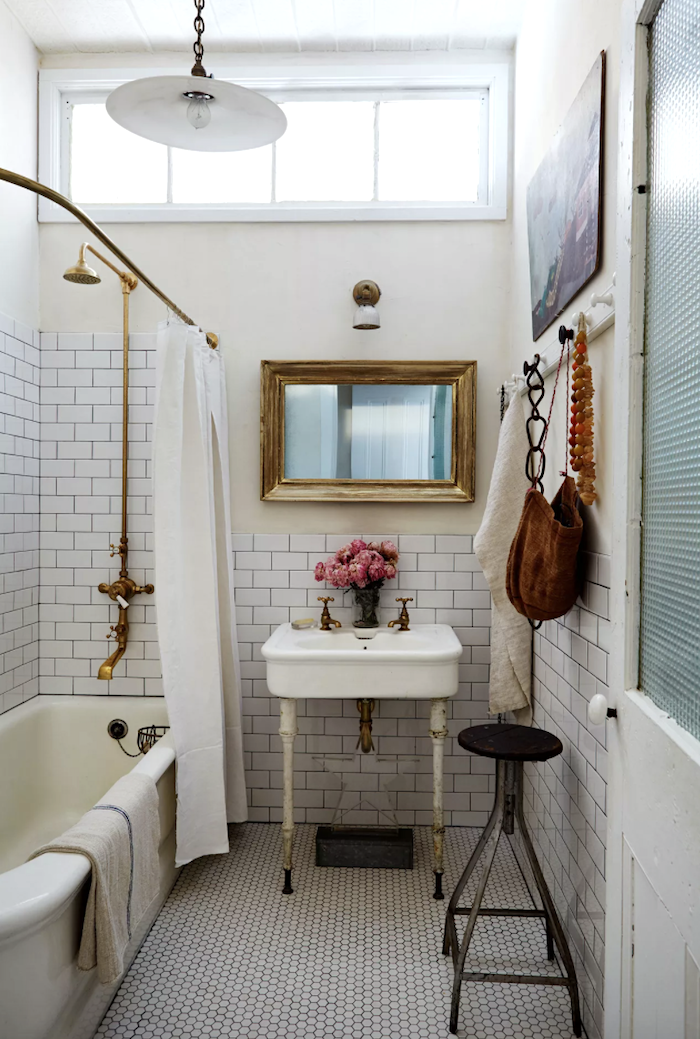 See? I just found this alternative image. I knew there is supposed to be a mirror over the sink!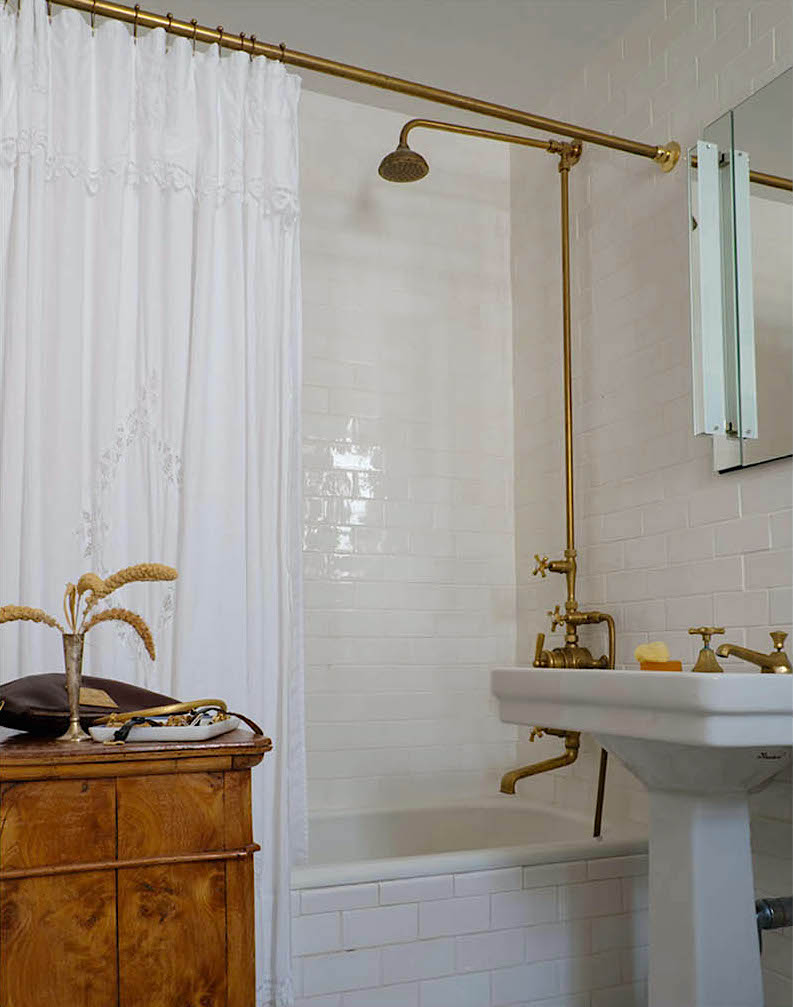 Here are more exposed pipes in an elegant bathtub/shower. Please check out this beautiful portfolio in the link above, as well. There are so many talented young designers!
The upshot is; if you have an antique, vintage, urban home, or a funky farmhouse that's in the country on a farm; then yes, I think a little exposed pipe is pretty cool and appropriate.
Will exposed pipes look dated?
Welllllll… Some of it is a little much unless you're in Europe and in a very old funky home. Think Mimi Thorisson.
However, here's a whole page of exterior plumbing ideas on Pinterest.
This type of plumbing will look dated if the home is clearly not old, and it's in a more vanilla-type community. Sorry to use that word which has become somewhat of a perjorative. I wish it wasn't. And, I happen to love vanilla! To me, vanilla means something mainstream. And, there's nothing wrong with that.
However, resale is super important for most of us who are property owners. And, if you think you might want to sell in about ten years or less and your community is on the conservative side, I would probably not do exposed pipes.
What about brass fixtures?
That's pretty much the same situation as the exposed pipes. However, please review this post about brass in today's bathrooms.
We're making a lot of progress with our bathroom trends!
Showers, shower curtains, and shower enclosures are next on the list.
Okay. Showers with no enclosure and no step up or down are contemporary. I think they look cool in photos. But, again, they need a good amount of space and the right kind of home.
Kaemingk Design Coast House Shower
You know, I had used this image before, but didn't know where it was from. Well, I accidentally found it today. This is a very cool design firm. Their aesthetic is classic contemporary with a little old-world and vintage styling. I quite love it. So, please check them out.
Should you have a glass or glass and iron enclosure or a shower curtain?
You can always do a shower curtain. And, of course, it's the least expensive way. I've seen totally open showers and I do understand the aesthetic. I just don't know if they're always comfortable or practical. Does anyone have one?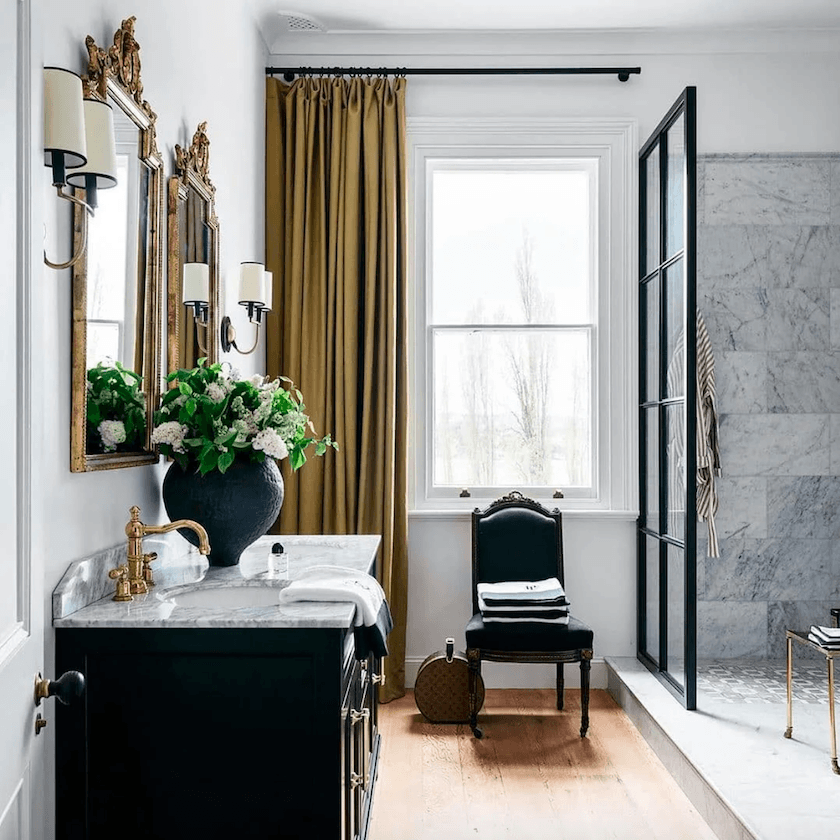 Steve Cordony's exquisite bathroom is a wonderful example of some of these bathroom trends done perfectly and in the right home and setting.
If you missed this post hi-lighting his incredible Rosedale Farm, please check it out, now.
As far as shower enclosures go, the plain, frameless glass partitions are very expensive. They are thousands of dollars to have made and installed. Contractors are always bitching how difficult they are, to install. But, they do look wonderful.
I do not like shower enclosures that go up the ceiling. Of course, there's a fan, but the idea creeps me out, in any case. Plus, it just seems like it would be a huge petrie dish and a breeding ground for bacteria and mold.
86 Pondfield Rd west, Bronxville – stunning marble pale gray and black bathroom, close to me!
The iron and glass doors are definitely a trend. I think they look great in more contemporary homes, urban bathrooms, European style bathrooms. Or, even a rustic bathroom.
If you could do a glass and iron partition in your entry, kitchen, or living room, then you can have one in your bathroom, as well.
However, your windows need to coordinate.
Shower curtains
This is also from Kaemingk design, but again, it wasn't easy to find the source. This is a very cool looking shower with zellige tile.
Remember my client who used it in her kitchen?
And, we also saw zellige tiles in this post.
From an artistic standpoint, the overly long shower curtain makes for a beautiful composition. However, real life needs to intervene. Over time, that damp curtain hanging on the floor is going to get mighty grody.
Shower curtains should always be off the floor at least an inch or two.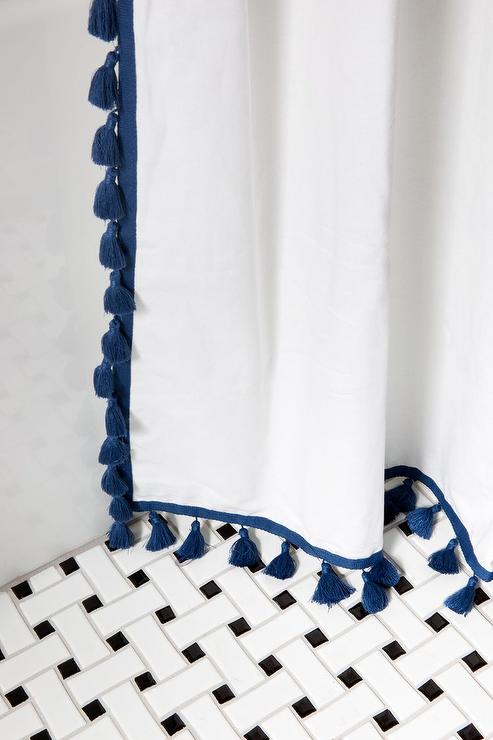 Same sitch here with the fringe.
It's funny, but Sunday's post inspired this post. That's because there was a comment about extra-long shower curtains which bring the eye upward in a smaller bathroom or one with a lower ceiling. Or, even a bathroom with a higher ceiling. However, I didn't just want to do shower curtains.
But, here's the problem.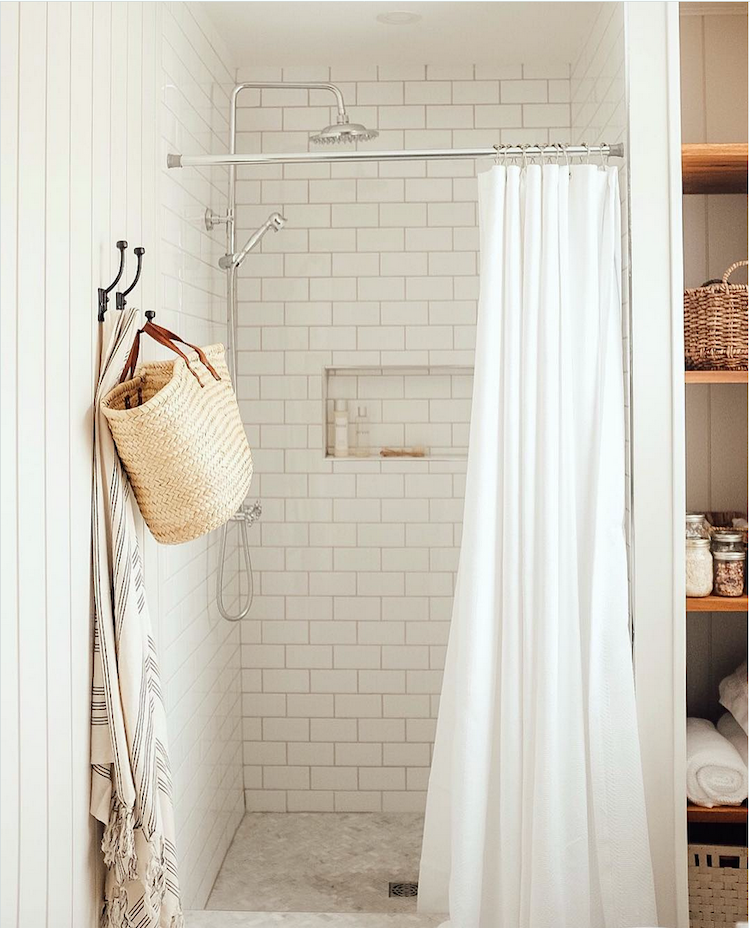 The standard shower curtain is 72″ x 72″.  The curtain above looks great, but with the high ceiling, I think a taller curtain would be better. It used to be if you wanted a longer shower curtain, you'd have to have it custom-made or make it yourself.
However, many sources are now manufacturing longer lengths, or custom widths and lengths. Still, consider that a shower curtain IS a curtain. For instance, if you have a shower stall, like above, you could just use a ready-made curtain and install a small curtain rod.
@honeyandfitz on instagram – lovely new-trad bathroom with a shower curtain hung from ceiling.
Photography by Jeremy Bittermann – via Architectural Digest – Design Jessica Helgerson
At first glance, we might think there isn't a shower curtain. However, there's a rod, so it appears that it's out of the shot. I do adore this bathroom!
Below are two terrific sources for custom shower curtains.
BBB – Bed Bath & Beyond. Huge selection.
Superior Custom Linens – A new and super terrific source! They have gorgeous shower curtains, regular curtains, bed linens of all kinds, table cloths and more.
Next is the bathroom floor.
We did talk about bathroom floors quite a bit in this post.
However, when looking at bathroom floors, it's important to consider the tile and countertop material.
Here's the thing. When it comes to surface materials in the bathroom, I'm all for sticking with the classic materials.
I will always love classic white subway tile for the walls. It could be porcelain or marble. I love white.
Kaemingk Design Emerson House Shower
You can't go wrong with small hexagonal tiles for a bathroom floor.
But, marble is also lovely.
One of my favorite bathrooms – ever by architect, Gil Schafer.
And in some situations, I love the encaustic cement floors. Or else a floor that looks like encaustic cement.  How gorgeous is that bathroom above in an English inn!
Some say that encaustic cement is slippery. But, at least one manufacturer says it's not. I would research that one carefully. And, also talk with the manufacturer. Perhaps they have a special non-slip coating on their tile. It seems like that would be a good idea, if possible.
What about wood for a bathroom floor?
Sure. I had a client who had an 18th-century home in Waccabuc, and she put a wood floor in her master bath, and it was wonderful.
The Elm Street Inn in Northampton, MA. Photo by me
In addition, this AirBnb has wood floors in all of their bathrooms.
I didn't take a pic of the bathrooms, but the antique heart pine is what's in there.
Of course, I would use a super strong poly. Again, that is something to research carefully.
As for a separate bidet, in the bathroom.
I dunno. Certainly, if you have the space and the money, there is nothing wrong with them and some people can't live without one in each bathroom.
However, have you seen the new bidet toilet seats? These are seats that do the job of a bidet, but you don't need a separate piece.
I've heard some wonderful things about these bidet toilet seats.
Here's a whole mess of bidet seats or washlets, they are sometimes called.
Did I really just say "mess of bidet seats?" lol
There are many models to choose from at a wide variety of prices.
However, I think it's important to get one with a remote and one that heats up the water quickly. How do they work? I don't know.
Obviously, (or maybe not obviously) you are not using the same water you just did your business in to clean up with.
However, I KNOW that at least one of you has one of these seats. So, if you do, please speak up and let us know how you like yours. And, also if there are some things to consider that only someone with experience can share.
Phew! That was a lot, but, let's recap.
For most of you, when you redo a bathroom, the current bathroom trends may or may not work for you based on your home, style and where the home is located.
This is where careful planning comes in.
If in doubt, I would consult with an interior designer in your area. You could also consult with a realtor if your thinking of moving soon and are planning any kind of renovations.
Here's what can happen when you don't plan and don't have a clue what you're doing.
The elements in your bathrooms should make sense with what is going on in the rest of your home.
But, here's the most disturbing trend I very much hope disappears.
Please also check out curtain and drapery hardware, what you need to know.
please pin to your Pinterest boards for reference
I hope that something I said here, helped to make the design process a little easier when trying to figure out if the current bathroom trends are for you, or not.
xo,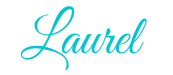 PS: Please check out the newly updated HOT SALES!