Hope y'all had a wonderful Thanksgiving if that's something you celebrate.
I have a very special treat to kick off the holiday season. It's the work of a rising interior design star– Rivers Spencer.
Before I go on. This is not a sponsored post!
During the recent High Point Market, I had the pleasure to meet Rivers. She was introducing a new collection of furniture at one of my favorite vendors, Tritter-Feefer.
We chatted for a while at market and then again on the phone recently. I was so impressed with her new collection and other accomplishments, that I needed to learn more.
An Astonishing Story
In only four and a half years, Rivers has opened not one, but two home furnishings/interior design shops. She has created three lines of furnishings which are sold on her exquisite website. She has been featured in countless magazines, including House Beautiful where she was a recent recipient of the "Next Wave Designer" designation. And she is one of the most sought after designers in New Orleans.
Rivers in her office with her handsome black lab, Zeus.
Yes, this is where she works!
But there's more. Rivers has accomplished all of that without any formal interior design training and she's never worked for another designer.
I know… I know! Believe me, I'm blown away by all of that too!
Here's what happened.
Rivers, a native of Jackson Mississippi graduated college and then went to work for a while in Washington DC. After a couple of years, she decided to go to law school. While studying for the LSATs, and naturally all stressed-out, she began helping her grandma, spending hours in her garage refinishing old furniture. In so doing, she discovered her bliss. It was then that she decided to drop everything, forget about law school and immerse herself in everything to do with design and decorating.
I can see the mental calculations. Graduated college… worked for two years…been in business for 4.5 years.
Right, she just turned 30.
Rivers voraciously continued to study and teach herself everything about the business. Then with help from her folks, within the year, she opened up her first shop on Magazine Street in New Orleans.
Here it is.
Does this look like the work of a novice?
Hardly.
Ironically, if a young wannabe designer came to me five years ago and asked what I thought about opening up a shop and going into this biz without any training whatsoever, I'd say are you barking mad? strongly caution her against doing that and instead seek out a mentor or internship–something, to start with.
I have a feeling though, that even if Rivers and I had that chat she wouldn't have listened.
Thank God!
Obviously, she was born with a genius that can't be taught. It's rare, but obviously, it can happen.
Think Mozart.
During our chat the other day, she told me that in the beginning, she feared that no one would come in and buy anything.
I would feel the same way, but just look. Of course they came in–and they bought!
I want it all–It's all absolutely scrumptious!
After a couple of years, she outgrew the first store and that's when she moved her shop down the street to the current location.
Below, the tired old classic "double shotgun" two years ago before the massive transformation, above.
Below, during the interior renovations.
Here, I'm feeling like old Rose looking at the Titanic sitting 4 miles down on the Atlantic Ocean floor… reminiscing about how it once was…
Oh wait. This is the after shot! It's a constantly evolving display of gorgeous offerings. New is mixed with old. Nothing stays put for very long because each one is a hot ticket item and goes quickly!
Drop dead stunning! Can I please have those Ralph Lauren lamps? (I'd take it all but don't want to be too greedy) :]
A pair of amazing Fortuny pillows were snatched up very quickly.
An antique bombe chest sits harmoniously next to a Rivers Spencer designed sofa and coffee table. Elegant curves are a common theme in her designs.
Design chops for days! – photo by Sara Essex Bradley for House Beautiful
Both the physical shop and online home furnishings boutique carries her three lines of furniture: an upholstery collection, an ironworks collection, made locally for her and the aforementioned collection for Tritter Feefer, out of Atlanta.
A photo I took last month at the Highpoint Market at the Tritter Feefer installation featuring Rivers new collection.
All of her collections are bench-made in the USA and employ environmentally friendly practices. Her eclectic furnshings are influenced by everything from Louis XV, XVI, art deco, neo-classical to mid-century and modern designs. And then, there's always a little something that's uniquely hers. It's all stylish, with a feminine bent and just so gosh darned pretty! But there's always enough Yang to balance out the Ying.
River's exquisite iron and upholstered klismos stool, called The Ivey which comes in bar and counter heights. It's available in several different finishes. Rivers offers a selection of upholstery options or you can provide your own.
The Lloyd coffee table with hand-applied gold leaf finish. Photo courtesy of La Dolce Vita.
This French art-deco-inspired console table is part of the new Tritter Feefer Collection introduced last month at High Point.
Love these vintage occasional chairs, Rivers had reupholstered in a rich, pale velvet. BTW, these images are from many sources. Many of them I got while raiding River's instagram. It was getting ridiculous. I scrolled down to the end–hundreds of gorgeous images. I can't get enough and it was very tough deciding which ones to use! Please check it out.
I adore everything about this bedroom, one of her newest jobs.
What isn't made from her, is rounded out by other vendors and artisans. She's the local exclusive dealer for Hickory Chair and other fine lines. In addition to new furnishings, she carries in her online and physical shops, gorgeous antiques, original art, prints and accessories, all the way down to the fine china! It's a one-stop shopping mecca!
A set of wonderful art Arrington Magny prints floating between two pieces of glass and original paintings adorn the walls of her shop. And then, the mirrors. Oh, my the mirrors!
The following images are from finished work for Rivers' lucky clients.
Elegant Audubon Street Project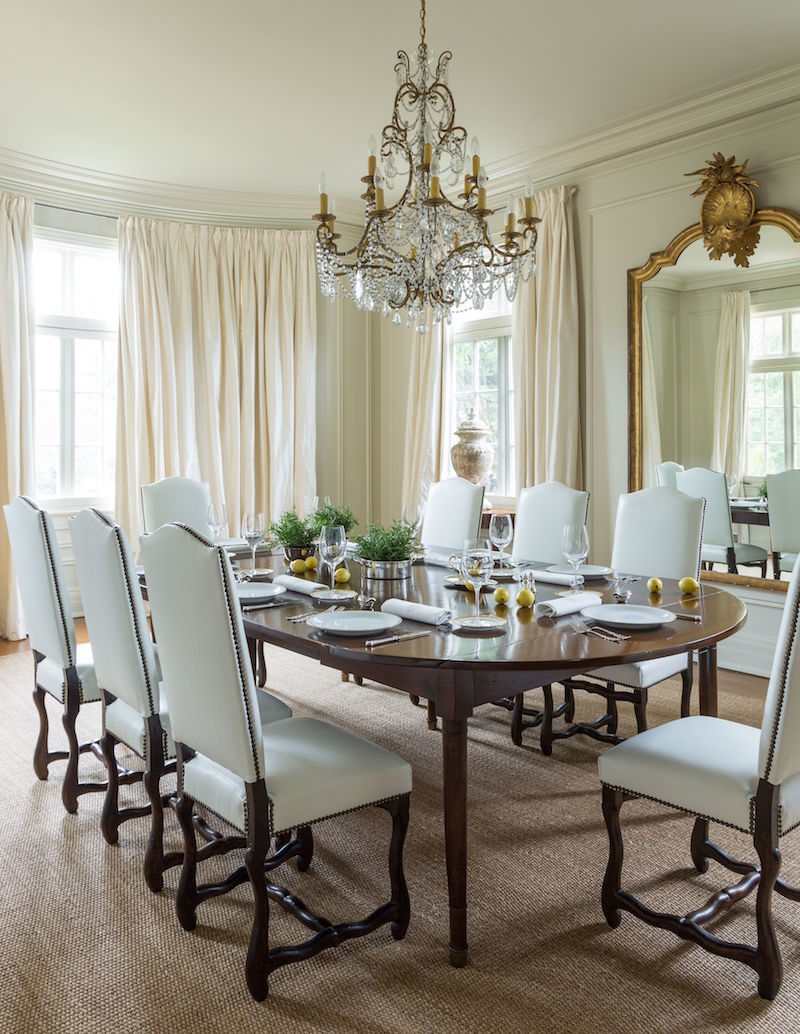 Sumptuous traditional dining room with Rivers signature pale cream silk draperies.
Love this vignette featuring fabulous X-benches from Currey and Company
Another view of Rivers' Audubon Street project.
There are several icons who've inspired Rivers but none more than Grace Kelly.
There's that fabulous Venetian Mirror!
Many photos courtesy of Tim Black Photo
If this is what Rivers Spencer has accomplished in less than five years, I can't wait to see what follows in the years to come! I daresay that there will be many who will be inspired to channel her!
xo,