A sexy fireplace mantel Laurel?
Well, sure. Fireplaces are romantic by nature, right?
And what is the sexiest color?
Why, black, of course!
This final post in the series is going to feature a lot of painted wooden fireplace mantels, black, gray and other colors and a few special wood stains. And then we can put this baby to bed. If you missed parts I and II you can find them here and here.
OH!!! By the way, if you haven't seen this already, I started my first group board over on pinterest about fireplace mantels that will make you plotz. If you'd like to be a pinner on that board and you're on pinterest, please send me a note on pinterest and I can add you.
Let's begin with some black fireplace mantels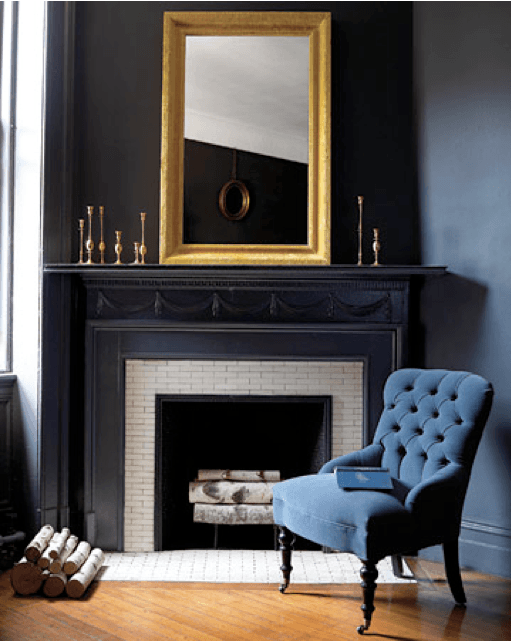 I love the enigmatic feel of this vignette.
Not sure if this is actually wood or stone, but it's wonderful in any case.
JK Place Capri designed by Michele Bonan
Yes, this one is  stone unless it's faux stone, but it's black so I put it in here.
John Dransfield & Geoffrey Ross via: Lonny
This one must be stone too, otherwise, most unsafe!
Notice how the TV disappears?
Love Meredith's library with the deep lacquer blue cases and fireplace mantel. Cute doggie too!
Greet Lefevre via Velvet and Linen
Another classy library/office painted in a khaki shade.
Alright, that's it for the painted mantels–for now. I have some wonderful stained wood ones to show you.
Warm and traditional with a touch of modernity.
Artist: Sir Alfred James Munnings "Portrait of Mrs. Margaretta Park Frew Riding" via: The Paper Mulberry
I came across this in my travels and just had to put it in here because I adore the colors!
For more of this spectacular makeover, please check out this blog post over at This is Glamorous. [and then come right on back!] It's such a beautiful home that was phenomenally ordinary before Christine got her talented hands all over it! This pale shell pink is so outstanding. And can you believe that she added every single bit of moulding? It looks like it was there for a 100 years!
Phoebe Howard
 Giannetti Home
Love this charming small fireplace which I could see in a summer home or small cottage. Love how they painted everything all one pale shade of gray. Lovely.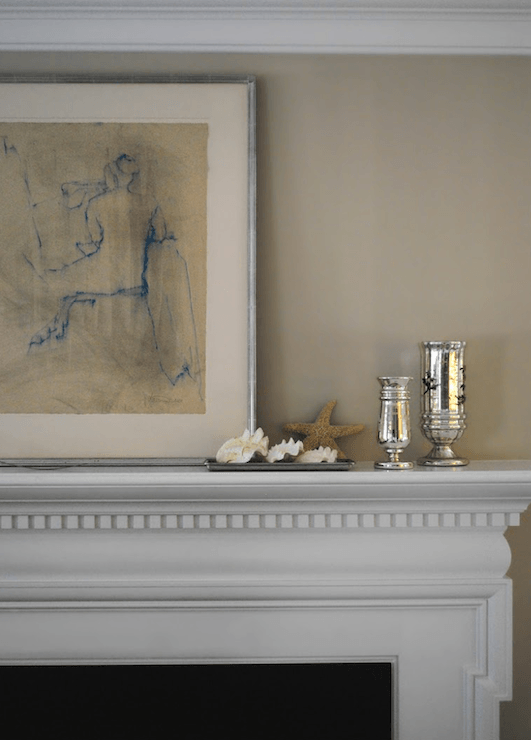 Above and below by Loi Thai of Tone on Tone. I frequently post his work. I just love it. And OH! He is putting his home on the market! For more of that please look here.
 Love how Loi styled this pretty mantel.
Mantels are wonderful because they can become an ever-changing canvas for our cherished items.
Please have a wonderful, warm weekend!
xo,