Although the topic of this post is sisal rugs, it didn't actually begin that way.
It began quite innocently because a local reader, Lotte Meister, invited me over for coffee and to see her 19th century Victorian Home in Rye, NY.
Now, Lotte isn't just a reader, but she's also an interior designer/decorator and has a passion for helping people stage and style their homes when they are putting them up for sale. And not only that, in a world full of synchronicity, Lotte is 100% Danish, but has lived all of her life on the east coast.
Of course, I said "yes!"
The day I showed up was quite pluvial.
Oh, I learned pretentious words (that make me sound smarter than I really am) from my wasband. If you don't already know, pluvial means that it was raining all damned day and humid as hell, but as we were getting the remnants of Hurricane Michael, it was surprisingly warm for the second week in October.
When I arrived, I was struck mostly by the exquisite lushness of the property. But, make no mistake, the lovely old pale yellow Victorian lady sitting on about an acre, was mighty sweet too.
Lotte was standing on her pretty stoop to greet me with the warmest smile I've ever seen.
We did the grand tour of this incredibly lovely home and that is when I saw HIM.
No, not exactly my prince charming.

It was that snake dude, Pueblo Sisal Rugs.
What on earth is HE doing here, I thought?
And then I saw that he had cloned himself a few times. I saw at least three Pueblo Sisal Rugs!
Okay. Anyone who's been reading this blog for a while knows that I strongly recommend that you avoid sisal rugs!
Here are some posts which discuss this.
And since they appear in practically every editorial in House Beautiful and Elle Decor, I've quipped how the stylist must have a few in their van which they put down for the photos and then whisk away at the end of the photo shoot.
But, this was not a photo shoot. This is a real-life family home  that also comes with friends, (they love to entertain) relatives, pets and SNIRT! After all, this is Westchester County. Oh, you don't know what snirt is? Please click the link and you will find out.
I mean, they even have a Pueblo Sisal rug in the DINING ROOM! That's definitely the Russian Roulette of area rugs.
Laurel, Uhhh… who/what is PUEBLO SISAL?
Oh, forgive me. Pueblo Sisal is a beautiful sisal weave manufactured by Prestige Mills. This company is owned by Steven Stark, CEO of the high-end carpet and rug brand, (to the trade only) Stark Carpets. Many of Prestige's products are also sold through the trade showroom Stark Carpets. Pueblo Sisal is one of those.
In a very small, scared voice I asked Lotte about the sisal rugs.
"Oh, they're great!" She said.
"They are? Don't they stain?" I asked in an even smaller voice.
"Nope," Lotte said quite confidently.
I was in the living room staring at a sea of pristine sisal rugs and Lotte pointed to an area where a pet had, had an accident.
There was nothing to see, except the beautiful weave of Prestige Mills gorgeous Pueblo Sisal.
"It cleaned right up," she said with her warm smile, now beaming with pride.
Well, I'll be. Talk about your epiphanies! But I swear, there was an entire feed on facebook where dozens of interior designers chimed in to say that their experience with sisal rugs is to "stay away." Not one, said anything to the contrary. But here is concrete evidence staring me in the face. You can't refute that!
It's making me think that I need to write a note of apology to Pueblo Sisal Rugs.
Dear Pueblo,
I hope that you'll forgive me. Although, we've only met in passing and I never specified you to clients, it is for this reason only. Dozens of other interior designers warned me about using sisal rugs, including my former boss from the early 1990s.
Obviously, they didn't mean you, darling Pueblo. Somehow you're different and I must apologize for my ignorance. I'm sure that they must be referring to that poor cousin of yours, Bouclé Sisal. I must admit that she's rather coarse and common. I should've realized that she had neither the class nor style woven into the very fiber of your being that makes you so special. Please, again, accept my profound apologies.
I'm a fan. Actually, I always was in terms of your beauty. And now that I know that you're not just a pretty face and a frivolous waster of money, I will sing your praises.
Love,
Laurel
Very cute, Laurel. Are we going to get to see the house?
Of course you are! And that's because Lotte kindly agreed that I should come back and photograph it, so that I could show y'all.
Okay. There is supposed to be a photo of the front of the house. I saw it the other day after I took it. But there's a gremlin or something in my phone because it's not there any longer.
However, I do have a great photo of the back of the house and this one below which shows the newest addition to this lovely old lady.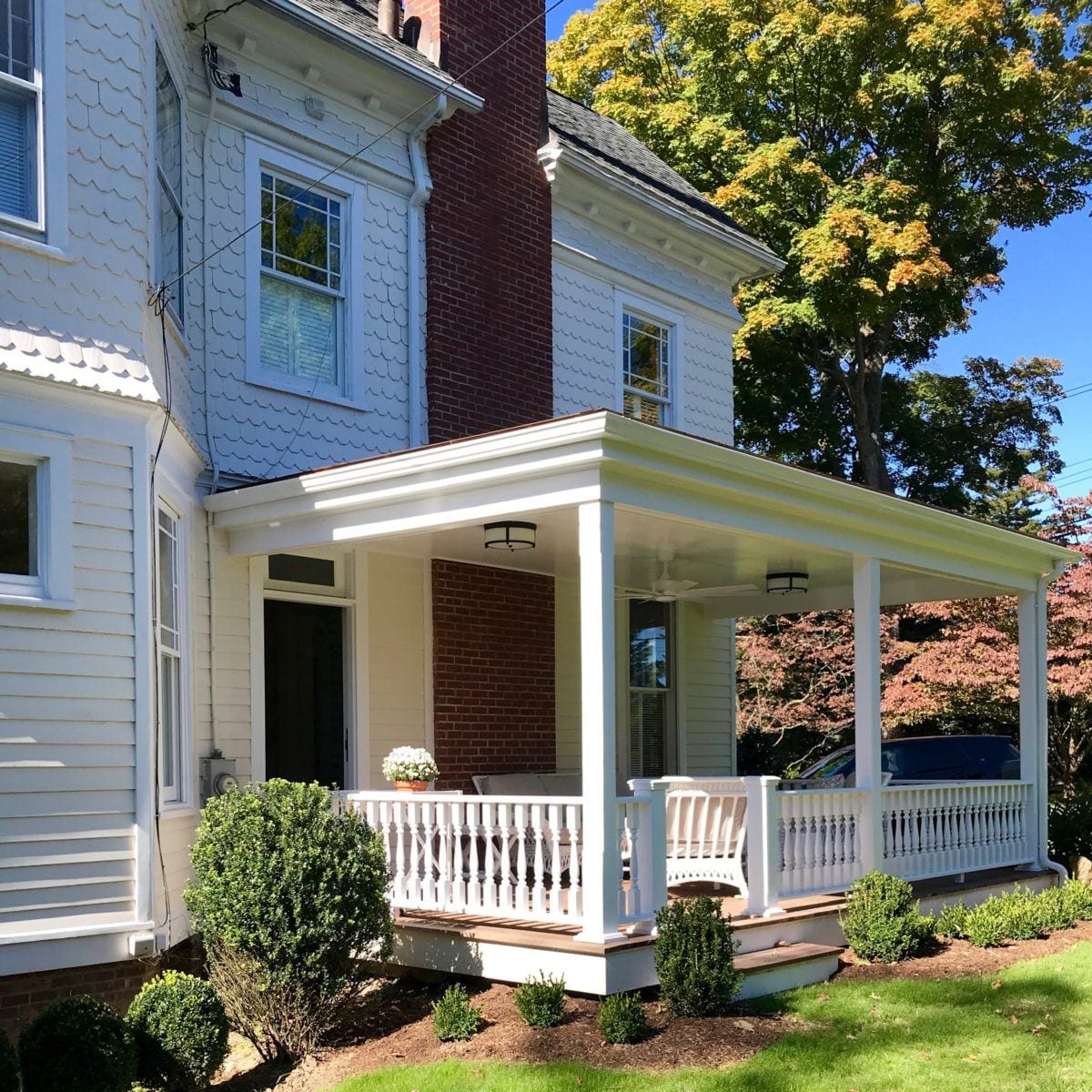 They've lived in this home about the same amount of time I've lived in my apartment– six years. But not too long ago, Lotte found an old photo and at one time, there had been a charming porch, but it was long gone for some reason. So, they put it back, as you can see.
By the way, Lotte has the kindest words to say about the architect they worked with, Paul Benowitz of Benowitz Shah Architects
Alas, they do not have a website. The link above, goes to their houzz account. And FYI, that's a no follow link because it's going to houzz, not because of the architects. (please click on the FYI link, if you want to know more about nofollow vs. follow links.)
But, let's walk around and go inside the front door that you can't see. ;]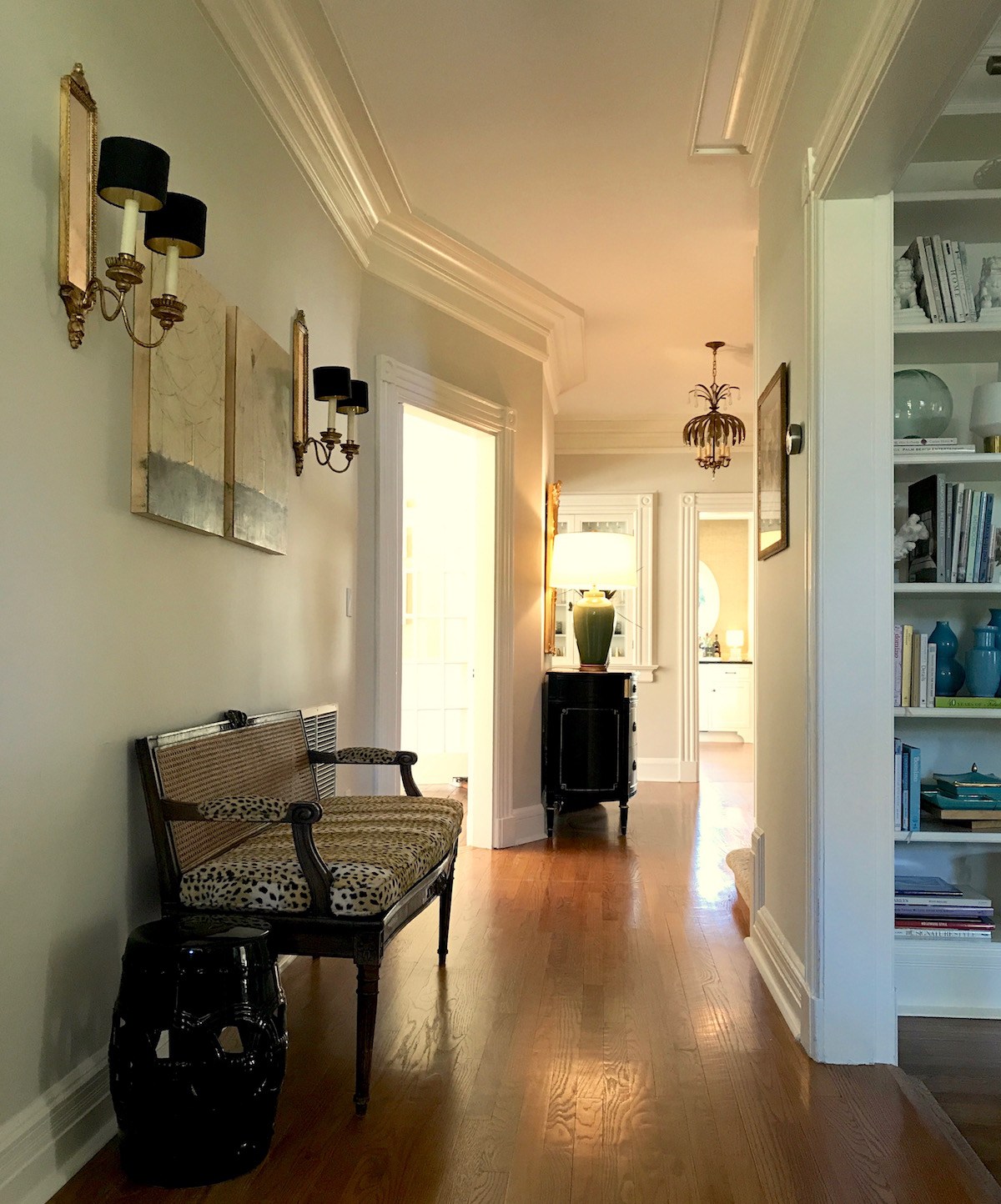 I made Lotte turn off all of the lights, which do look wonderful; but only for the photos because usually the rooms look better with them off. However, I turned some on, just in case. And, I rather like this shot looking down the interesting and winding center hall. The photo doesn't begin to do this justice. The ceilings are super high.
The wall color is Benjamin Moore Ashwood OC-47 and the trim throughout is Benjamin Moore White Dove.
Doubling back towards the front door, we'll turn right as if we are just walking in to one of the prettiest living rooms ever.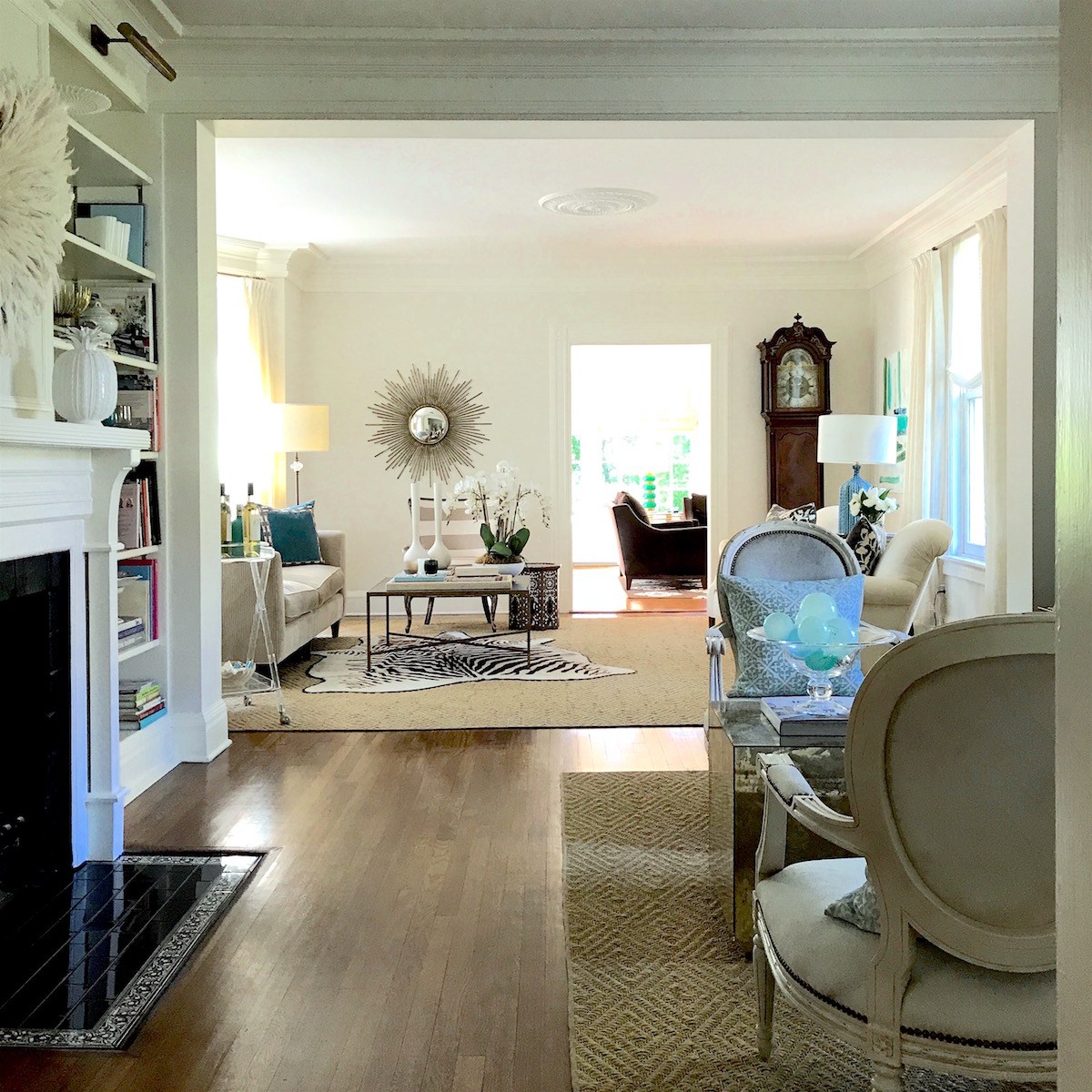 And here we are, in the airy two seating area living room. And there they are… The Pueblo Sisal rugs! They've been there for at least five years, too! See any stains? Not a one. The wall color in the living room is Benjamin Moore White Down OC-131.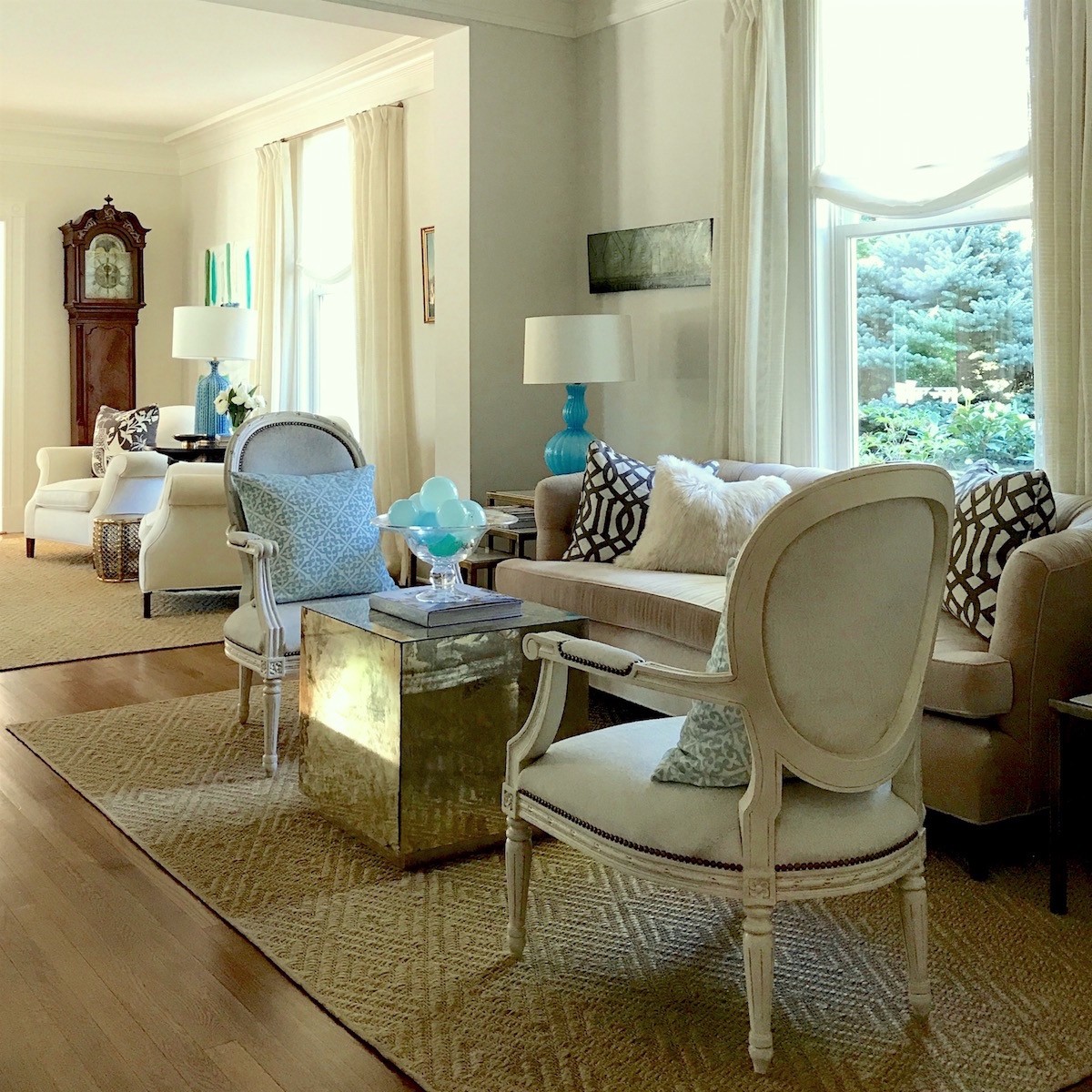 Have to say that those lamps are absolutely stunning when turned on, but alas, they're off.

Across from the first seating area is a fabulous fireplace surrounded by two giga-gorgeous and beautifully styled bookcases.
This is what Lotte realized several years ago that she has a passion for.  Styling and staging.
Soon, her friends started raving over her beautiful vignettes and then they wanted her to help them. And thus, out of her love, a business was born.
Oh Lotte, you can style my bookcases any day! That is just about as perfect as can be!
And specifically, Lotte told me that she loves helping folks get their homes ready to go on the market. But then, when the people moved, which doesn't usually take long because their homes sell fast, at least half of them want her to help them decorate their new home.
I don't blame them. I would too. Not only is Lotte fun to hang with, she's very talented!
Here is a vignette from the second seating area. And, another sisal rug layered with a zebra striped rug. And too funny, but I've done that Oly table at least two times. You can see it in my portfolio and I also did it in this living room refresh from three years ago.
Lotte told me that she loves quiet neutral fabrics and colors.
And that is throughout her home. To this neutral scheme of beiges and grays she's added splashes of various shades of green, from a soft olive to this beautiful teal you can see in the pillow above.
Window treatments are kept to a minimum if at all.
She said that she wanted to preserve as much light as possible and also be able to enjoy the beautiful property which is abundantly green, even in the winter because of the many evergreen trees.
Beyond the living room is a den with office space for Lotte. Some of you might recognize these chairs from Serena and Lily.
The Roman Shades are from the Shade Store. Lotte loves working with them, she says. I'm glad to hear that about another Laurel's Rolodex source.
The dining room is incredibly fresh and oh do I love those Chinese Chippendale chairs. In fact, there are some this week in the hot sales widget.
The wall color is a Laurel Home Collection color, Richmond Gray HC- 96. You can also see it in this post.
The beautiful crystal chandelier came with the house. And, both Lotte and I agreed that it is perfect in the dining room. Much of her lighting is more contemporary and comes from Circa Lighting another favorite source in Laurel's Rolodex.
(Don't forget that a big update is coming on November 7th for Laurel's Rolodex— The Fifth Edition. Please get yours before the price goes up on November 20th. Everyone who already owns the rolodex always gets lifetime updates. )
One of Lotte's many talents is the ability to put together different hanging light fixtures and lamps and they all look great near each other.
And on the other side is a cabinet from Oly and inside is oh my, can you believe it? A gorgeous set of ROYAL COPENHAGEN! It's just a total sync world sometimes!
Lotte's husband's office also has a sitting area that's as fresh as can be. The two chairs are vintage but newly upholstered. The stunning wallpaper is Meg Braff's Ferns.
Meg Braff is one of my favorite interior designers.
Laurel. Does she have a kitchen?
Oh silly! Of course she does! And, we're coming to it right now.
First is a seating area with four of the most comfy contemporary wing chairs ever. LOVE the slipcovers! Lotte says that this area is an addition and it's actually her favorite part of the house. Everyone has a gorgeous view. And it's a great place to hang out, watch TV
And…
read The Laurel Home Essential Paint and Palette Collection.
And FYI it is not available in print, but several people who've purchased my downloadable digital products, do have them printed out. Lotte's husband did this for her at his office. You definitely need a heavy-duty commercial machine.
The fabulous coffee table is from one of my favorite vendors as well, Red Egg that is one of my featured vendors in Laurel's Rolodex.
Lotte designed the wonderful new TV cabinet.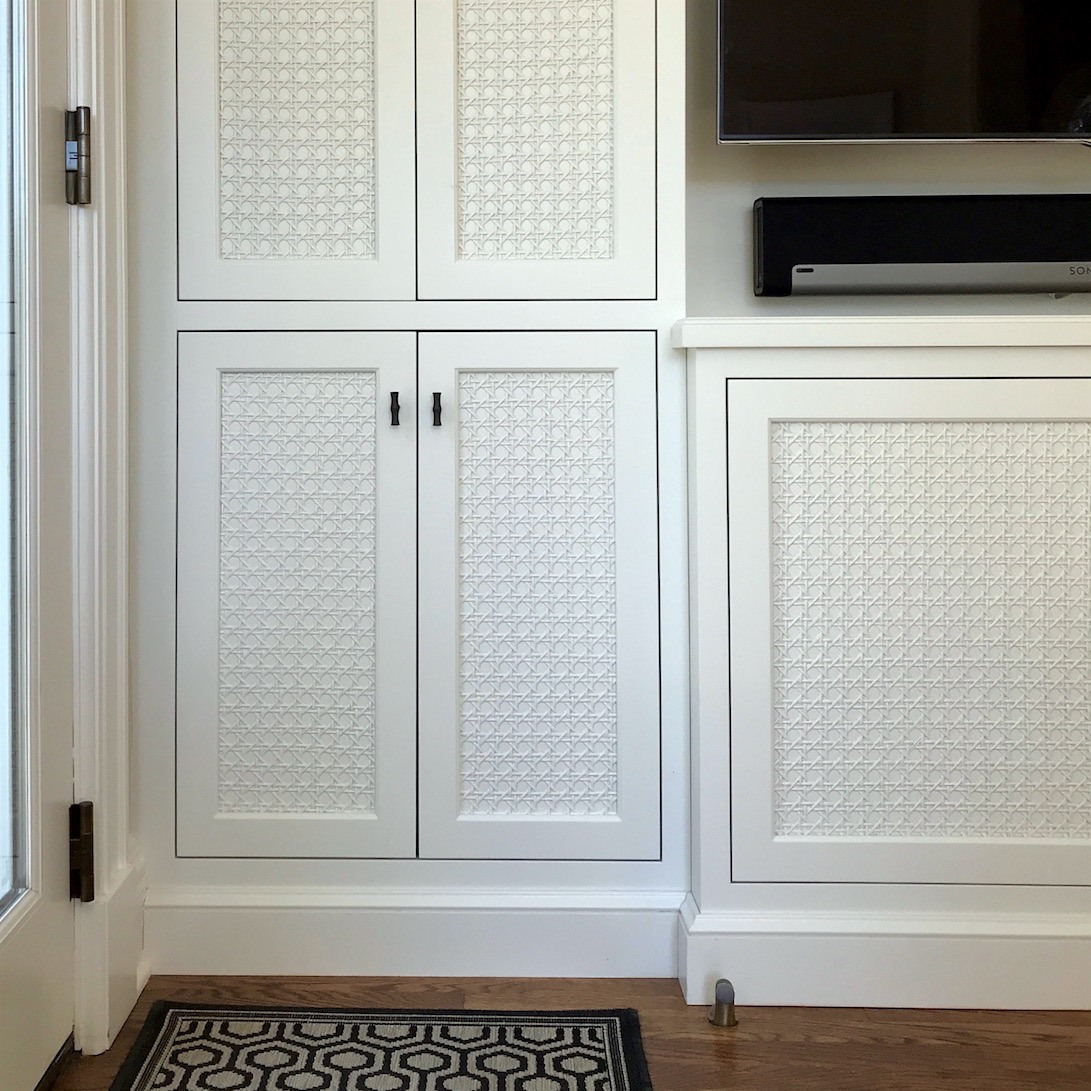 And check out the caning detail on the doors. Brilliant!
Lotte's style veers to the Hollywood Regency which totally suits this home.
Okay, time to turn around to see…
the gorgeous kitchen!
Kitchens by Deane helped Lotte out and she recommends them highly if you're in the Westchester County area. I have also heard good things about them from other people.
Yes, it's a La Cornue! Stunning, ain't it?
Remember this wonderful black and white kitchen from a few months ago?
I love this shot and the composition. And look! There's a Dunes and Duchess candelabra from my friend and colleague Stacy Kunstel. You can see their fabulous booth at the High Point market a couple of years ago. And this was the first time I met Stacy.
I inquired about the gorgeous counters that are nearly black and have a subtle white veining
Here's what Lotte had to say:
The kitchen counters are soapstone and they are amazing.  They do not chip, etch or cause me any trouble whatsoever.  They are a type of soapstone called Pinheiros Altos that is super hard and perfect for hard-working kitchens.  They read kind of black but have a little bit of a green tint  in them depending on the light.  I got them from Garden State Soapstone in New Jersey and highly recommend.  They saved the kitchen from being that clinical  sea of white you often see and in a weird way bring in some coziness.  I am all about the "hygge."
Out the back door we come to a beautiful deck. Me like!
Here's Lotte. So sweet. I was cold, so she ran in to get my jacket and I couldn't resist getting a quick shot of her.
And now, I have a bonus treat for you. The house comes with a barn!
And apparently, it was a total wreck when they bought the house and so they renovated it and it's now more glorious than ever. They are using it as both a garage and a wonderful space for entertaining.
Let's take a look inside.
Fabulous! I feel like I'm in a Nantucket beach house! (even though I've never been to Nantucket. haha) There's a bar and the coolest fridge on the planet. There's a nuker (microwave), however, they decided that they didn't want to do any heavy cooking here, so no range. It's like a little vacation cottage only 50 feet away. That works!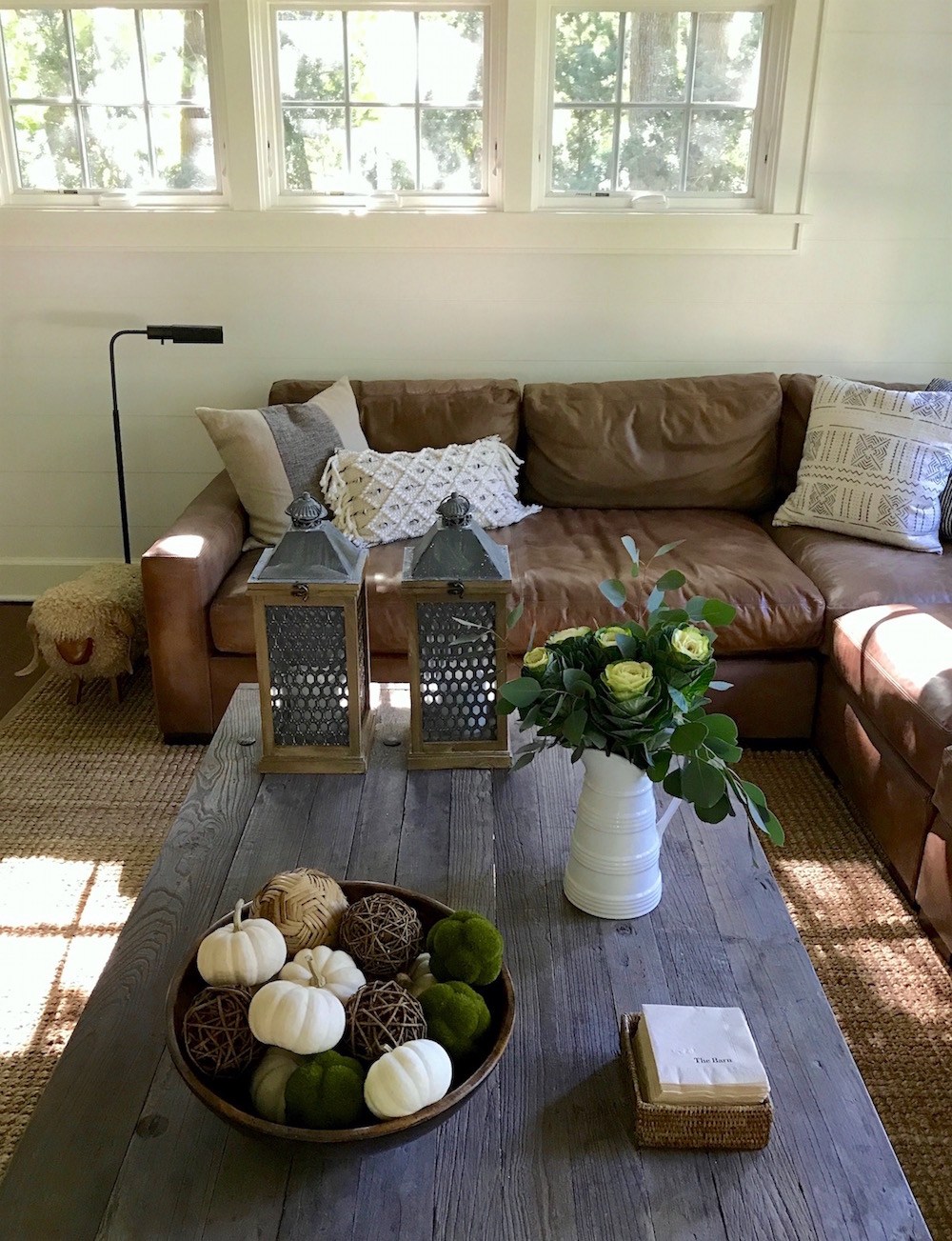 There's a comfy, cozy leather sectional. And yes, a monster TV, but I don't need to photograph that. ;]
Up the stairs, a birds-eye view. The runner on the stairs LOOKS like sisal, but it's actually an indoor/outdoor polypropylene that Lotte says wears like iron! I do not know the brand name. Sorry.
And, there's a bedroom for me if I decide to stay over. ;] Just kidding. And a Moravian Star chandelier too! Please check out this wonderful Moravian Star Pendant on sale!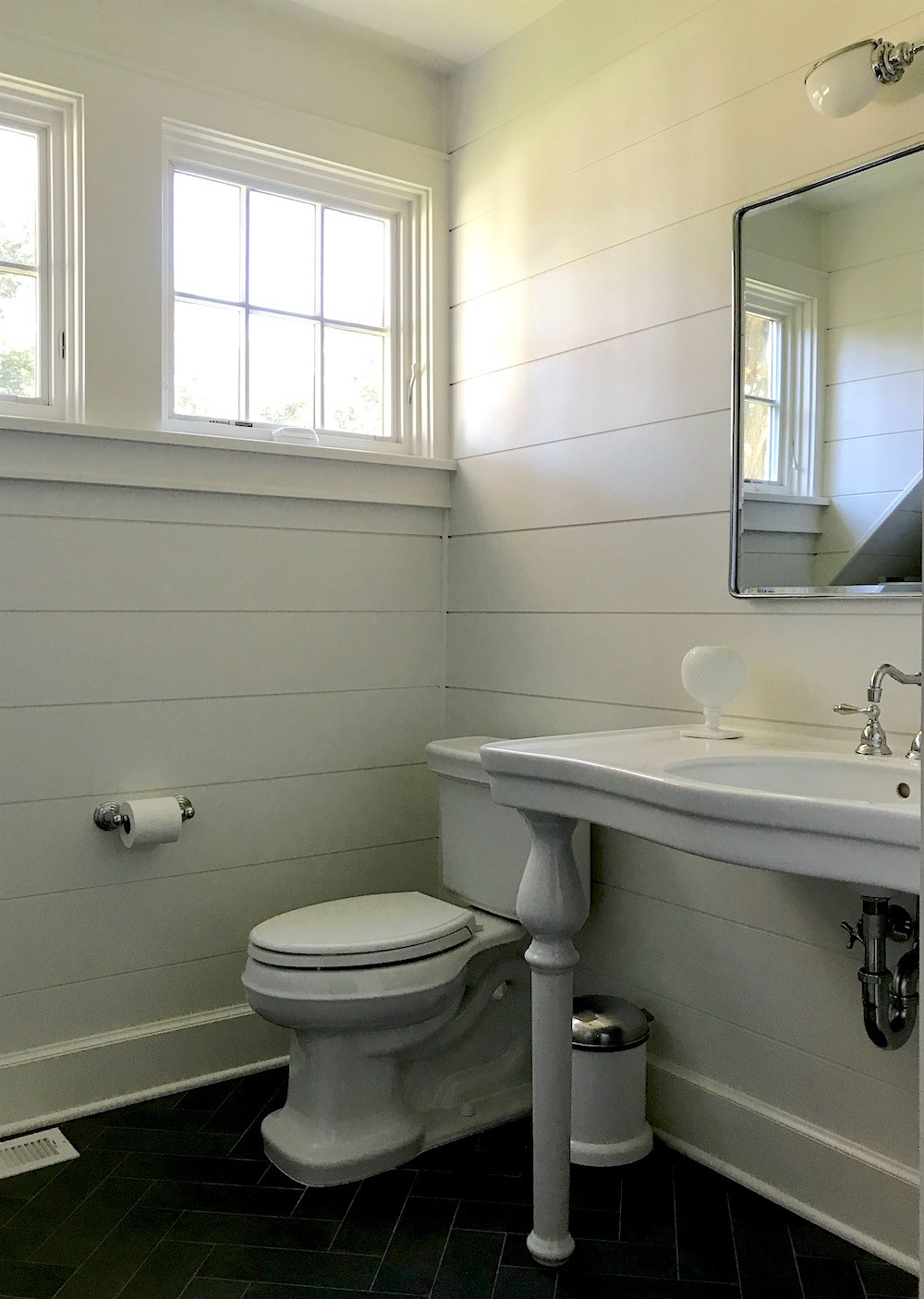 And I love this simple bathroom with an awesome porcelain console sink. The herringbone pattern tile is a wonderful accent. Actually, all of the bathrooms in the house are gorgeous and each one different from the others, but coordinated.

Another view of the back of the house.
Well, I hope that you enjoyed that.
I'm sharing with you what Lotte wrote me in an email about her work and what she does best:
I would describe my niche as smaller interior decorating jobs and occupied real estate staging (as opposed to vacant real estate staging).  I am a whiz at using what people have and adding and subtracting to make their spaces more current and attractive.  Whenever I stage, people tell me they wish they had done that before they were selling.  I love styling as well.  Bring me your bookcases, coffee tables, consoles etc.  I like to wake up tired spaces – whether people are staying or selling.
That is so good! I highly recommend styling your home before selling. It makes such a difference!
Please check out more of Lotte's home and work on her beautiful instagram account.  And of course, follow her.
There's actually more to the story, because Lotte is also an antique dealer, and wait until you see the place she took me to, but that will be coming up later.
In the meantime, thank you so much Lotte for sharing your exquisite home. I can't wait to pin all of these gorgeous images. So many great ideas!
xo,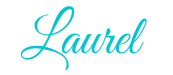 PS: Don't forget to check out this week's hot sales. Some really great ones and some are ending very soon.