Hi Everyone,
I hope you're all doing well now that the holidays are behind us and we are taking our first steps into the new year.
So far this year, our weather, like the entire eastern half of the United States, is unseasonably mild. We are enjoying a rainy day in Boston. It is more like early November. While it can rain here in January, typically, the precipitation is in the form of snow. Remember the big blizzard last year when a bunch of us when out for dinner in Beacon Hill?
Today, I have for you a special treat.
We are going to examine the exquisite Gerald Bland style. However, before I do, thank you so much to the 1,142 readers who took the time to fill out the short survey I shared on Sunday. Apologies to those who had a problem seeing the survey. Very late in the day, I finally figured out a way to share the survey so that everyone can see it. So, if you were one who was having a problem, it should be okay for you now.
Okay, let's dive into our Gerald Bland style post.
Who is Gerald Bland?
Gerald, like our dear, recently departed Furlow Gatewood is an antiquarian, a collector and dealer of fine antiques. Both of them have exquisite taste. And both have a love for furnishings in 18th-century neo-classical pieces (and other time periods). Both love white slip-covered furniture. (Me too!) And, both tastemakers love classical architecture.
However, that is where I'm going to end the comparison.
What sets them apart is that Gerald also loves the avant-garde, a genuinely modern side. One sees this occasionally in his home, but it's found more abundantly in his exquisite shop in New York City. All of this is featured on his beautiful Instagram account. Please follow Gerald Bland if you're not already.
Some of you may recall this pair of incredible paintings I shared in this post about over-scale art for my living room. (One day!)
It looks like they were sold! They are attributed to the Circle of Jan Van Os, an 18th-century Dutch master. I don't know how much they cost. However, based on other pieces, I imagine the pair went for well into the six figures.
I've been putting together loads of images and beautiful furnishings.
The reality is that I could divide Gerald Bland's style into at least a dozen categories.
It could be an entire college course. Therefore, I'll do my best.
However, the point of all this is how it translates for you if you'd love to imitate Gerald Bland's style.
So, let's first discuss the basic envelope and how you can achieve the look.
Then, we'll explore Gerald Blands furnishings style.
We'll begin from the bottom of the room.
Floors
Gerald has hardwood floors in all of his homes (country and city) and in his New York City antique and contempory home furnishings store. The shop has the lightest floors. It looks like it might be Rubio Monocoat in one of the lighter finishes. We looked at his floors in this post about painted floors.
In his country home, in the picture above, they had the floors stripped, and it looks like a clear polyurethane was put over that. However, this might be some sort of a waxed finish. I don't know. But, there's no dark stain, and it's not at all shiny.
The city apartment, at the moment, has floors with what looks like a natural stain. But, they are mostly covered, so I'm not sure. From what I can see above, they look neither light nor dark.
Gerald Bland's floors are either left bare, or there's a natural floor covering in the form of area rugs. On close inspection, he seems to prefer seagrass. Great choice– especially with his cute doggies. Seagrass is rugged and not expensive. Although in the city apartment, that looks like jute.
Most of Gerald's walls are painted white.
Please don't ask me which one. ;] However, if you were holding a gun to my head, I'd probably say White Dove.
There's one area of his shop, however, where instead of white, he chose a moody charcoal gray.
Above, you can see it juxtaposed against a fine Chippendale-style breakfront. In front of that are Louis XVI oval-back chairs. He is selling them on 1st Dibs! Yes, he is. You can have them for $38,000 plus shipping and tax.
Below are some of my favorite pieces he's selling on 1st Dibs.
It's only a tiny fraction of what's in his shop. (please click on any image to learn more.)

No, I don't know the wall color, either.

Above is Benjamin Moore Gray 2121-10.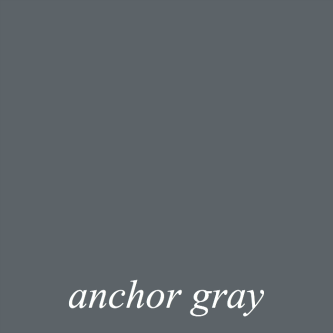 Benjamin Moore Anchor Gray is a little cooler and looks beautiful with wood tones. However, most blacks and grays look good with wood tones.


Kendall Charcoal is another good one.
You can get the fantastic Samplize paint samples here. They have all the Benjamin Moore colors, Farrow & Ball, and others. They use actual paint for the samples, and you can move the samplize samples around on the wall. Plus, there's no mess and no paint to dispose of. Brilliant idea.
Next up is the architectural detailing.
Gerald Bland's exquisite country home was built during the Greek Revival period, around 1820-1840. The distinctive door casings are typical of the period. The ceilings are mostly high. I am estimating 10′-11′ in the main living dining room. However, in the adjacent parlor with the gold ceiling, (below) it looks to be no higher than 8 feet.
Painting the ceiling gold is both unexpected and brilliant. It adds instant warmth and a touch of drama. But, because the color is deeper, it lifts the ceiling height, making the room appear taller than it is. Also, please notice the tall height of the doorways and windows. These elements also make the room appear taller.
No, you don't have to change your doors and windows.
But, if you only have 8 feet to work with for ceiling height, you could add a picture frame moulding between the door and the small crown moulding.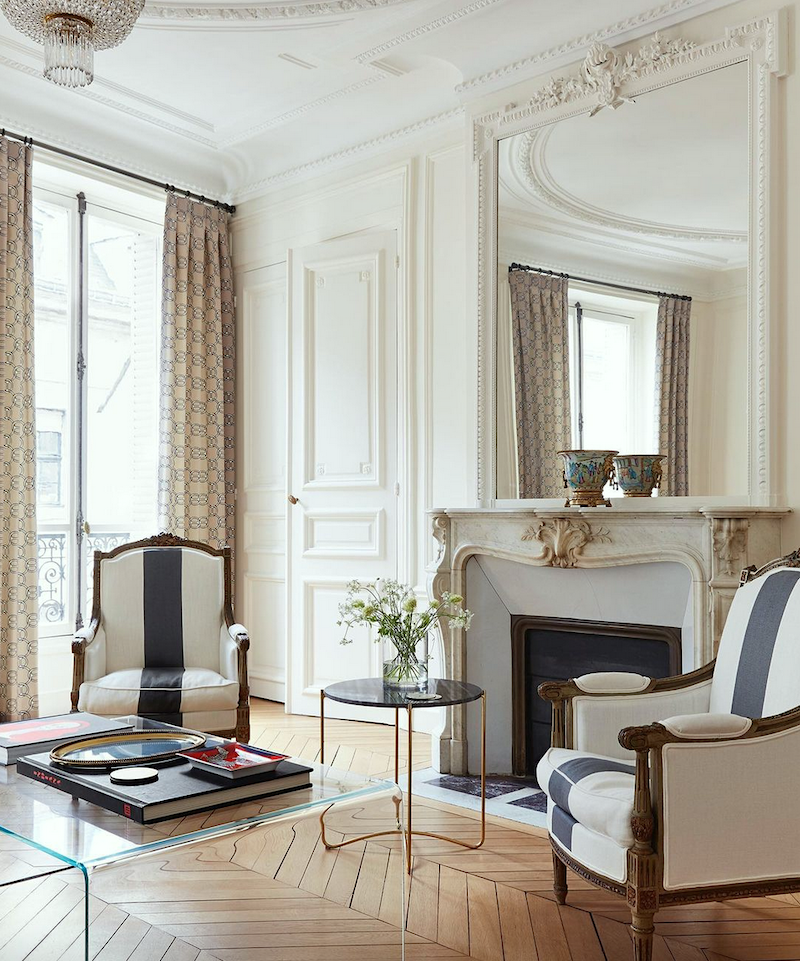 This is what AB Kasha does in their delicious Parisian apartments like the one above. If you look at their Instagram, you'll notice they sometimes feature before pics. You'll think your eyes are deceiving you because the before photos show a dark, nothing-special room. In the after images, the rooms are light and bright, and the ceilings appear to soar.
For an eight-foot ceiling, I would do a small crown, maybe only 2 inches.
It can be a bit larger, but to really make the ceiling look taller, I think that a small crown on the wall is best. The trick is to put it so that it expands over the ceiling more. The baseboard can be six inches high, and if there's a chair rail and wainscoting, that looks nice at about 35″ tall. To learn more about wainscoting, please check out one of my favorite posts.
Here are more tips to make your ceilings look higher.
Please also notice that there is no contrast between the trim and the walls in Gerald's home. This allows the furnishings and art to take center stage.
This is key to the Gerald Bland style. It's simplicity is what makes it incredibly refined and elegant.
Next up are the furnishings.
Gerald Bland's style is the very definition of eclectic. It is a mix. However, remember me talking about the 80/20 rule? Gerald instinctively never veers beyond 80% trad, 20% contemporary, or vice versa.
Most of Gerald's case pieces are 18th century, either the real thing or at a later date.
However, you will never find any ersatz proportions or weirdness in his furniture.
As I said before, his furniture is largely slip-covered.
Look at this sofa, he's selling in his store.
It looks perfect, very much in the manner of Billy Baldwin, who did upholstery and decorating for the mid-century New York socialite Babe Paley.
But, let's lift that slipcover to see what's underneath.
Oh my. How gorgeous! This gives this piece two different looks. And, here, we can see a close-up of Gerald Bland's shop floors with their matte-bleached look. Rubio Monocoat enthusiasts, do you think that is what they used? I have to say I rather love it!
Gerald also does a lot of furnishings in the Regency, Adam, and Georgian styles. These are all neo-classical styles of the late 18th-century styles into the early 19th-century.
There is virtually no pattern except maybe a touch of damask on a stool or a tapestry accent.
Ahhh… this is where Gerald has my heart. Dang, but he's taken. His lovely wife, Mita Bland, is an accomplished artist, too. She does amazingly beautiful interior renderings!
It is apparent that the Bland's favorite color is the same as mine.
Chartreuse. And, other shades of green.
Where Gerald Bland's style deviates from others in the most interesting way is his modern side.
It's this other side of him that he needs to express, and I have an immense amount of respect for that. The reason is that whatever he puts together, even if individually, isn't anything I would choose, looks amazing together. That is his genius.
The above vignette is mostly classic contemporary. However, the Rococo consoles live happily alongside that wild contemporary mirror.
Modern art grounds the entire vignette.
I know. It's not Ethan Allen.
And, like other acquired tastes, like caviar, for example, this might not be appreciated by everyone. But, for those it speaks to, it's perfect. Gerald has been studying and collecting his entire life, I believe.
However, interjecting a modern element into a traditional vignette gives it the necessary tension to make the design soar to another level. Otherwise, a room can begin to feel a little stale.
The photo above is from his shop from a few years ago. I adore that dining table! And, way in the distance are *my* Jan Van Os paintings. I fantasize that one of you saw them on the blog and called them up and purchased them. That would make my day if that was the case.
Above, an exquisite Sheraton sofa with a beautiful chartreuse fabric.
All of the doors in Gerald's country home in upstate New York are painted black. No, I don't know which shade of black. lol

Gerald frequently moves furnishings between homes and his shop. See the sofa above?
I don't know if it's the same one as here, but if not, it's close. No matter, it's mine! Haha. Not really; it's not in the budget. However, I have long admired Chippendale sofas that are slipcovered. They tend to look somewhat formal, and the slipcover makes them more casual and accessible.
This one has to be my favorite vignette. There's the seagrass rug, but what's going on with the ottoman? It looks like the cute doggies had it for lunch. No matter. It's that English Country Lord style. AKA: Old money.
I don't know where this is; maybe another room in his upstate home. They also made the striped cotton into slipcovers for the Regency dining chairs. Just wonderful!
Okay, I have put together a big widget full of home furnishings in the Gerald Bland style.
The majority of the furniture is reasonably priced. Of the more expensive items, there isn't a less expensive alternative unless you're fortunate to find something somewhere else.

Please make a note of these wonderful chairs for sale at Gerald Bland, Inc.
And now for the selection of home furnishings– in the manner of the Gerald Bland style.

I want you to know that I could keep on with this until Friday. It's so much fun. Alas, it's late. I hope you enjoyed taking a closer look at Gerald Bland's style. Please be sure to follow him on Instagram if you aren't already.
xo,