Dear Laurel,
I'm wondering if you could do a post and share any cost-saving home decor tricks you've used over the years. And, conversely, the times when it makes sense to splurge. I'm so afraid of spending money where it doesn't make sense.

Thank you,
Anon Amos
*********
Thank you Anon. That's a terrific topic.
But, of course, there are levels of cost-saving home decor tricks.
After all, some of you, have done the most amazing things with NO MONEY. And, I have enormous respect for those who have the time, talent and resources to accomplish that.
I mean, it is possible to get most of your furniture for free off the streets of most large cities. And then, make your own drapes out of cheap sheets. And, slipcovers too. Hell, if you can sew and saw and hit a nail, you can practically build your own house.
But, let's say that you're a busy working professional, or a mom with four children under the age of seven. Or, just a mom. ;]
Therefore, let's just get this bugaboo out-of-the-way. Yes, you can also get some fantastic deals at estate sales, auctions, thrift shops and the like. And, that's wonderful.
However, this post is mostly for those who have neither the desire/time nor the skill for heavy-duty DIY projects or hunting and haggling. Some enjoy all of that and some don't.
Although, there is this post about how to get gorgeous furniture that's free or almost free.
So, for those that prefer mostly new items. Or items with a guarantee of some sort, I have numerous ways that I have saved money for clients.
For this exercise, let's say that you have $50,000+/-. But, it's to furnish an entire home from scratch. For now, we'll exclude kitchen and bathrooms.
Included is a living room, family room, dining room, kitchen furniture, four bedrooms and a home office. And that includes linens, window treatments and accessories.
Well, for anyone who's furnished their home in one big gulp, they know that the numbers quickly begin to add up.
So, let's dive in with some of my favorite cost-saving home decor tricks, throughout the entire home.
And of course, this means not sacrificing quality or making our place appear cheap.
First of all, anything custom is automatically going to cost more money than some that's WYSIWYG (What You See Is What You Get).
The other thing to remember, is that labor costs, while varying are going to remain fairly constant, as long as the job takes the same length of time. So one great way to save money is on materials.
Usually, but not always.
Let's take paint, to use as an example.
Paint A is $60.00/gallon and paint B is $30.00/gallon. At first, it might appear that paint B is the more cost-efficient choice, however, if paint A only takes two coats to cover and paint B takes three coats, then it is possible that it could end up costing MORE to use paint B because of the additional labor and material costs. There's no sense in saving $300.00 to spend an additional $1,500.00 in labor costs.
Therefore, it's important to factor in any additional costs that might be involved in using a cheaper product.
However, sometimes it's not clear up front if the scenario above will be the case. IMO, paint is not the best place to save money, in any case. In the scheme of things, we are talking a few hundred dollars difference, for a product where we know the color and how it will perform. That is why I'm not a fan of color matching between brands.
In other words, trying to match a color with a computer or app. That's different from finding an already existing color that is similar as I did with the Farrow and Ball and Benjamin Moore look-alikes.
Aside, from the cost of a kitchen (not included in this budget), the living room or family room is apt to be the most expensive room to furnish. So, that will be our continued focus.
Let's begin at the bottom with your area rugs.
Of course, the cheapest solution is to go without one. And sometimes, particularly with dining rooms, this is not a bad idea.
Spike Lee's townhouse with Oriental rugs and white furniture
But, sometimes, a gorgeous hand-knotted wool Oriental rug is something that will make the room.
So, depending on budget and the look you're going for, you might consider doing one Oriental rug.
However, there are ways to save here, as well.
I've found some great deals on Overstock, Wayfair and One Kings Lane. The latter is with the catalog promo code I've nicknamed Laurel's private sale -lol, or with a sale they might be already having. You can find that info on the Hot Sales page if interested.
Some of my favorite Oriental rugs can be found on the Hot Sales Rug page. Most of the rugs there are hand-knotted and a few aren't. I'm not as fond of machine-made Oriental rugs. Usually, the abrash is rather fake looking.
In addition, some confuse a "hand-tufted" rug with a "hand-knotted" rug.
While both rugs are made by hand, there is a big difference in the way they are constructed, and therefore, price, too. The Spruce Blog has an excellent explanation of the difference between the two types of rug construction. The hand-knotted rug is always the more desirable of the two.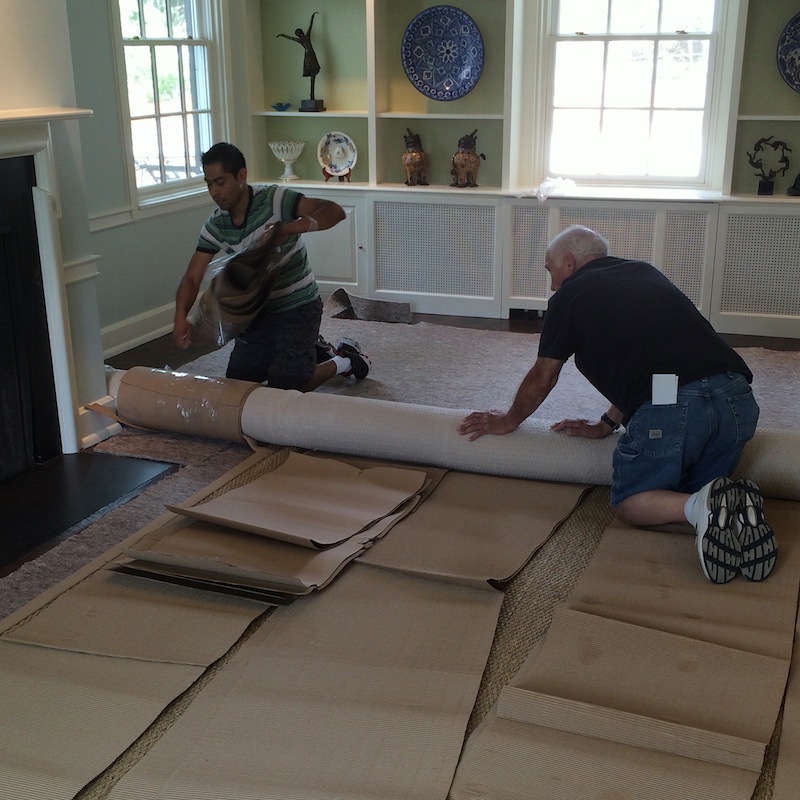 A job from a few years ago and the guys laying down a custom seagrass rug with a fireplace cut-out.
But, whenever I really needed to save a client money, we usually did seagrass rugs. Not only are they great looking, they are rugged and inherently soil resistant. But, some of the other natural fiber rugs are terrific too, like jute.
And after this post came out, we found out that this pattern of sisal is actually quite practical. This rug, however, is more expensive than the seagrass rugs. But it's still much less expensive than the hand-knotted Oriental rugs. One King's Lane sells it here. (use code OKL20CARD for 20% off!)
One of the most expensive pieces of furniture is the sofa, plus other upholstered seating.
Most of the time, I do advocate buying high-quality upholstery. But companies like Wayfair and Joss and Main carry lines of very inexpensive upholstery.
And, most of the reviews are terrific. For some examples of some of my favorite inexpensive upholstered pieces, please check out this recent post where I share 24 cheap sofas and chairs that look high-end.
Remember Laura's incredible living room? She proved that it's possible to do a beautiful room on a shoe-string budget. (just over $1,100!)
There are tons of end tables that are under $250/each and they look great. Generally, speaking, the focus will be more what's ON the table, than the table, itself. This is especially true if you have an L-shaped configuration of two sofas with a round or square table in between the two sofas. You'll hardly see it. So, no need to drop a bit wad of cash here.
For example, the linens at Rogers and Goffigon are gorgeous. However, with an average retail price of at least $180/yard, the costs for draperies, for example, will start to add up.
And, here's the thing. Unless you're right on top of the drapes, you won't notice a difference between a nice $50 linen or a $180 linen.
And, you can also find linens for less than that. I'm talking retail prices, not designer's wholesale pricing.
The same holds true of your upholstered pieces.
If money is tight, there are many beautiful upholstery fabrics in the $40-$60 range. High-end upholstery fabrics are going to be at least triple that amount.
My favorite sources for these lower-end designer upholstery fabrics are:
Designers, of course, can get their own accounts at these sources, but a great place to get these lines at a good retail price is Decorator's Best.
And my absolute favorite source that I'm about to reveal because someone must've spiked my coffee with sodium pentothal is:
Yes, I know. Their website with the gray background is not very chic-looking. However, this terrific company has been my go-to source since before I began my business. I've placed hundreds of orders with them and never had a problem. How rare is that!!!
Like, never. That's how rare.
However. This is important.
Norbar has some gorgeous fabrics and they also have some that I wouldn't line my birdcage with. So, you need samples. But what you're looking for primarily are the wonderful linens and cottons, prints, etc. They also have some nice velvets, textures and wovens. And, that's what I'm recommending. It really is a designer line and if you place some orders, they will send you a box of sample books a few times a year. I would call them and find out who your local rep is.
Norbar is in the back of Laurel's Rolodex as one of the 35 or so sources I can't live without.
However, I did find one online source that sells Norbar Fabrics at a very good retail price for the non-design pros. You can access it here at Source 4 Interiors.
My other favorite source for designer fabrics at a very good retail price online is Decorator's Best. There is some overlap at the source above. However, just being honest. If you purchase from Decorator's Best, (after clicking that link) I'll receive a little commish (at no extra charge to you.) However, with Source 4 Interiors, I will not. Do not pay any attention to their crossed out prices. That is marketing BS. But, you guys already know that!
This is important. This post linked below is a MUST read for everyone.
It hi-lights some 15 hideous mistakes I made over the years with fabric. As I always say; please learn from my mistakes.
Another online source for surprisingly cheap cottons and linens is Big Duck Canvas. I have never ordered from them, but their prices are excellent.
Of course, some of the cheapest, but nicest looking curtains are the ready-made ones. This post talks about some tricks to get them looking their best.
Sometimes, for clients, I would splurge on two of the chairs, say two slipper chairs with some more expensive fabric.
But, where I ALWAYS splurged is with the throw pillows.
The throw pillows are what you SEE, not the fabric behind them.
Rich looking pillows = rich room
Cheap looking pillows = cheap room.
But, but, but…PILLOWS. I ALWAYS had them made totally custom.
And, so, so much work! I often went to the workroom to pick them up. Huge bags of pillows that I would schlep home to store in my basement until we were ready. However, aside from that, I sometimes spent more time figuring out the throw pillows than I did the furniture they were sitting on! Often, there was also a trim or contrasting welt. And then, I had to order the inserts, as well.
Who knew that the throw pillows took hours to put together? Some of you DO know. :]
There are too many to count wonderful vendors on Etsy who all they do is make and sell pillow covers. You still have to provide the inserts. But, the prices are so affordable. Please note however, that is partly because they frequently will only do the expensive fabric on one side. But you can order it on both sides for an upcharge.
Here are two posts that I think you'll find helpful in regard to the throw pillows and sources.
Everything you always wanted to know about throw pillows
33 of my favorite sources on Etsy.
Please note that there are many more sources from Etsy, Chairish and One Kings Lane sources in the latest version of Laurel's Rolodex.
uh oh…  the following is for Rolodex owners.
For Rolodex owners who are reading this and going, "Do I have the latest version?"
You definitely should. However, if you haven't been good boys and girls and saved it someplace safe, please know that I still love you. But, BEFORE you send me an email, please look for the download link you were sent last November. Here's what you do. Do a search of your computer. On a Macbook, there's a magnifying glass in the top right. Click it and put in your search. If you have a PC, this is a tutorial.
If you've saved it to your I-pad, it's in I-books.
You can also search your email.
Put in either "Rolodex" or "Send Owl." If you put in Laurel, you'll get all of my emails. Or try "Rolodex update." If you still can't find it, please check your spam folder.
ANY DOWNLOAD LINK you have (from Sendowl, my shopping cart) will give you the latest download of Laurel's Rolodex. The latest version came out last November and says 5th Edition on the cover.
Okay, let's please move on with some more cost-saving home decor tricks. But, let's talk for a sec about where else it's wise to splurge.
Certainly with anything that's a focal point– like a fireplace mantel.
Sometimes art. But there are lots of cheap ways to get art. (like paint it yourself) :]
OR, something that speaks to you like nothing else. I have two such items. One is my antique Zuber screen. We were just strolling around New Preston,  Connecticut circa 2001. And then, I saw it. It was mad love at first sight and I HAD to have it.
$2,000 later, it was mine.
I would've paid $3,000. That's how much I love it.
The other is my antique bookcase (to the left of the screen) that cost me far more, including the custom paint job that took the painter five days to complete. But what a great job she did!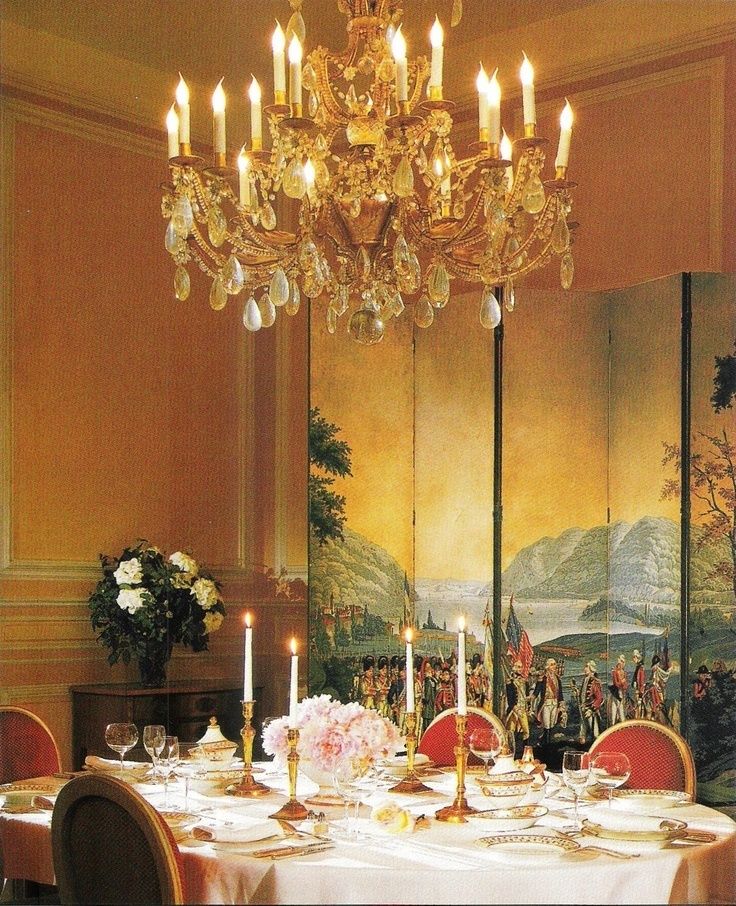 A similar screen in a dining room by William Hodgins
Let's talk a little about lighting and ways to save money.
I think that a great place to splurge are on table lamps. They are like the jewelry in the room. And, they are pieces that stand out. However, that doesn't mean that you have to spend a ton for great looking lamps. I love this post and I know that a lot of you did too. It talks about how to find cheap lamps that look expensive and a some easy tricks to upgrade a cheap lamp so that it looks expensive.
Another place one can save money and not sacrifice the look is with chandeliers. This post is devoted to that.
Laurel, I'm loving these cost-saving home decor tricks.
Please tell us, what is the one thing that gives you the most bang for your buck?

Oh, give me something difficult! That one is too easy. But, actually there are two. The first one is too obvious which is why I need two. Paint is the number one way to transform a space. And, getting the right color is so important. But it doesn't happen in a vacuum. That's what a lot of lay people seem to forget. Paint is a piece of the decorating puzzle that's completely dependent on everything else in the room and the surrounding areas. And more!
But, in the number two position and actually, in some ways it's an even bigger bang for your buck, IMO are applied wall mouldings.
There are several posts about applied wall mouldings. Everything from ceiling, crown moulding, panel moulding, chair rails, base boards and wainscoting.
This is a post about a boxy, boring home and more ideas.
And another post about a boxy ranch with low ceilings.
photo: Simon Upton for Elle Decor
Jean Louis Deniot did this beautiful design, they say for a young woman's first apartment.
Huh?
I wonder what her second apartment will look like?
Gosh, am I done, yet?
I think so.
NO, wait!!! Don't go. I'm not done. I've saved the best for last and almost forgot to tell you. Blimey!
In my internet travels, I found a company on Etsy that sells, get this- ready-made applied wall mouldings. No nails. Just stick it on the wall. AND, they're removable. But, if you want to make them permanent, all you need to do is caulk the edges.
The wall below with the nine boxes is either $459 or $559. Very reasonable.
I made this little graphic of some of their mouldings. I'm quite impressed with this. And, as you can see, it's called Luxe Architectural.
They also make mouldings for doors. And, they'll make something custom, too. They can pre-paint. I'm not sure if there's a choice of colors or not.
Now, I'm done. haha.
But, do you guys have any favorite cost-saving home decor tricks you'd like to share?
Please let us know in the comments.
xo,