Dear Laurel,
I can't even get my hubby to like white-painted walls. He thinks white walls with white trim looks bare or boring. It's hard to explain that all the stuff you put in the room breaks up all the white. Its just hard to explain anything to people who are not visual. On a side note we are thinking of installing a wood stove insert into our fireplace and I want to update the look of our 70's brick fireplace. If you do a post on fireplaces I would be really interested. I know you've done one before but most of those were painted white and the hubby is not going to go for that. thanks.
Amy
Amy is a real reader and that is her comment copied verbatim.
And anyone who's been reading this blog for a while must surely know that there are few things that get my hackles up more than reading that white-painted walls are boring.
Or,
I NEED color and white-painted walls are just so bland–BORING.
No, missy. (not speaking to anyone in particular)
It is YOU who is boring.
You're boring because you refuse to budge off of a decision based on limited information.  Plus your rigid thinking will not accept the possibility that white might NOT be boring. And that makes you infinitely dull. Sorry to be so harsh. And I realize that some people cannot change. But this one change might do you some good.
So what I thought I would do is to create a post filled with the most boring white-painted rooms gorgeous white-painted rooms I could find to prove that these rooms are anything BUT boring.
Well, at least I think so.
If husband still thinks the rooms are boring and that he MUST NOT have a white fireplace mantel, just because he thinks that's odd, then sorry, but he's an… Okay, I'll refrain from using the *I* word.
I mean, why can't he just admit that when it comes to decorating, he has no idea what he's talking about?
rhetorical question.
Of course, it IS possible for white-painted walls to be boring.
But you could paint the walls ANY color and the room could still be boring.
Like if you put in a bunch of over-scale ugly furniture and wall-to-wall speckly berber with matching end, coffee and console tables and canned art. Add to it some monstrous ersatz designs masquerading as traditional, and I don't care what color you paint the walls, the room is going to suck.
But before we get into all of the white inspo, there are some posts I'd like to lead you to that do not feature white. I mean, it's not like we haven't been through this before. We have and we will again, just because of the nature of things.

Many of you have seen this photo taken outside of my bedroom window at the height of the bombogenesis, bomb cyclone, or what we used to call a Nor'Easter. A storm so powerful, it knocked out the T and H in north!
It's pretty white isn't it? And despite my hatred of snow, I confess that it's quite beautiful.
note. Two days later it is not at all pretty.
This is God's room. And if He can have white-painted walls. So can your husband!
The other thing is.
Just because a room has white-painted walls does not mean that there is no color!
Far from it.
There are a few different types of rooms with white-painted walls
From Mark's gorgeous home in L.A.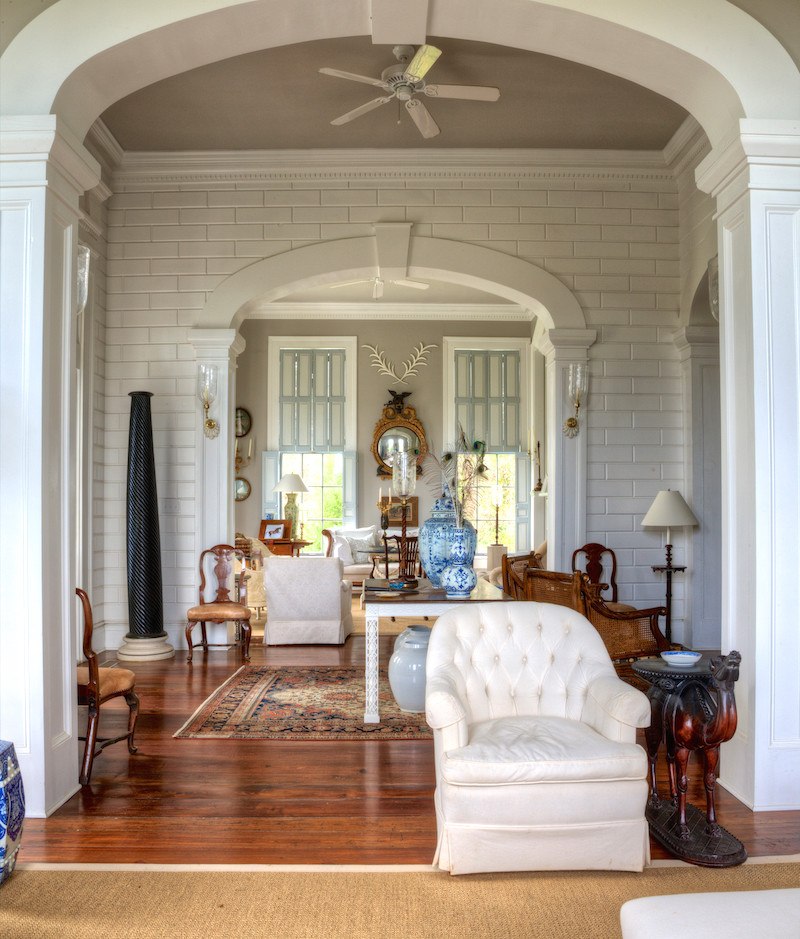 Also Mark D. Sikes and Furlow Gatewood, but Furlow is in a class all by himself and many other designers as well.
White with lots of beautiful color
via One King's Lane
Mark D. Sikes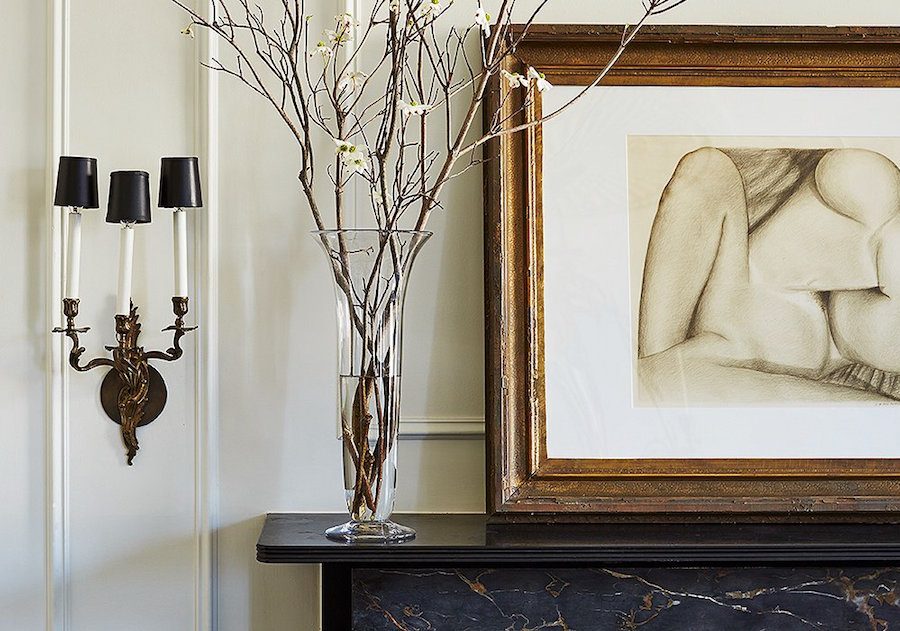 Darryl Carter is the first to come to mind above and Below. For more Darryl Carter rooms, click here.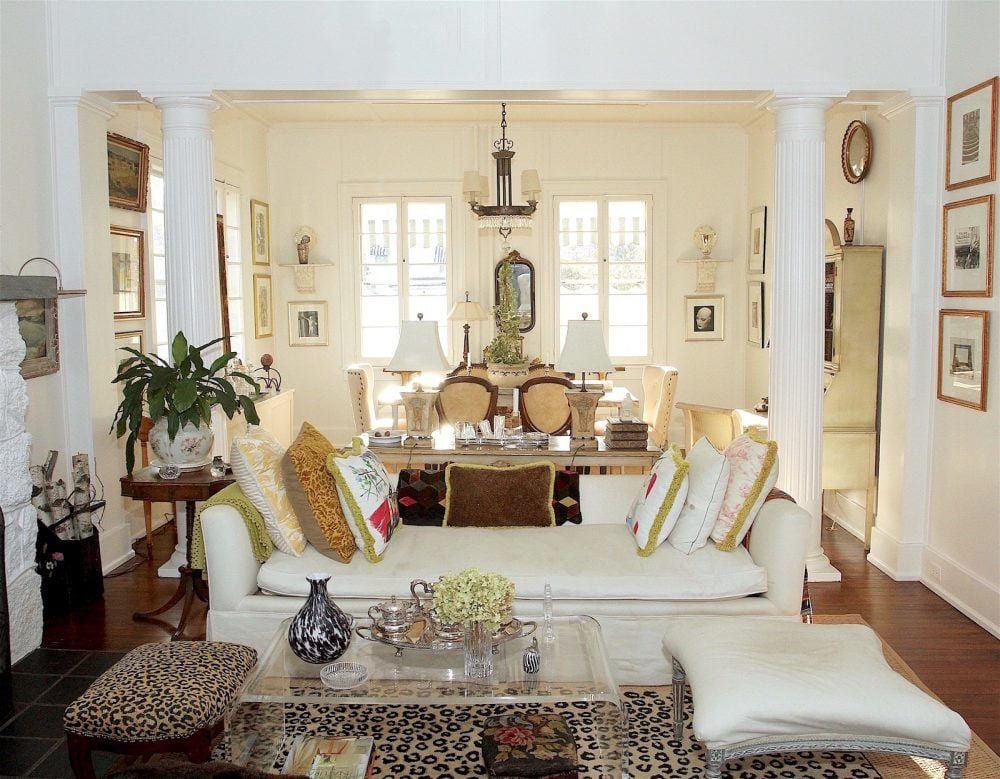 Nancy Keyes gorgeous living room!
and cool staircase!
Above and below, the sublime bedroom with not boring white-painted walls belonging to Tory Burch and designed by the exceedingly talented Daniel Romualdez.
Images via Architectural Digest
Gorgeous Chintz from Colefax and Fowler.
But can somebody explain to me why the side chairs in the location they are?
I mean, she's far too wealthy to be using the chairs as end tables. haha!
Are they just standing guard?
I'm okay with that, I guess. ;]
In addition, just because some rooms have white-painted walls doesn't mean they all must have that.
One of my favorite spaces ever. The gorgeous work of McGrath II. Classic and yet, so fresh!

The living room beyond.
and the library with beautiful toasty grasscloth
If your husband thinks that this is boring, I would take him in for psych eval. Okay. He might prefer something a little more casual, but this is an incredibly gorgeous home IMO.
Then, there are the new traditionalists.
Young, stylish designers who embrace white-painted walls like they are the hottest thing since someone came out and truthfully said that pop tarts taste like two pieces of hot cardboard with some melted Flintstone's vitamins in the center.
Although, I am not sure if Flintstone vitamins are capable of melting or dissolving.
One who has the casual easy west-coast style down with white-painted walls is Amber Lewis.
Also Summer Thornton. I love everything she does! For more of Summer's work, click here.
I adore the work of Studio McGee. And they have the most gorgeous shop on their site, too! For more posts featuring Studio McGee click here. You will also find lots of white-painted wall inspiration.
This the incredible interior and art-work of the self-proclaimed "mama's boy" the AMAZING William Rankin McLure IV. For more of William's most impressive work click here.
And there's more…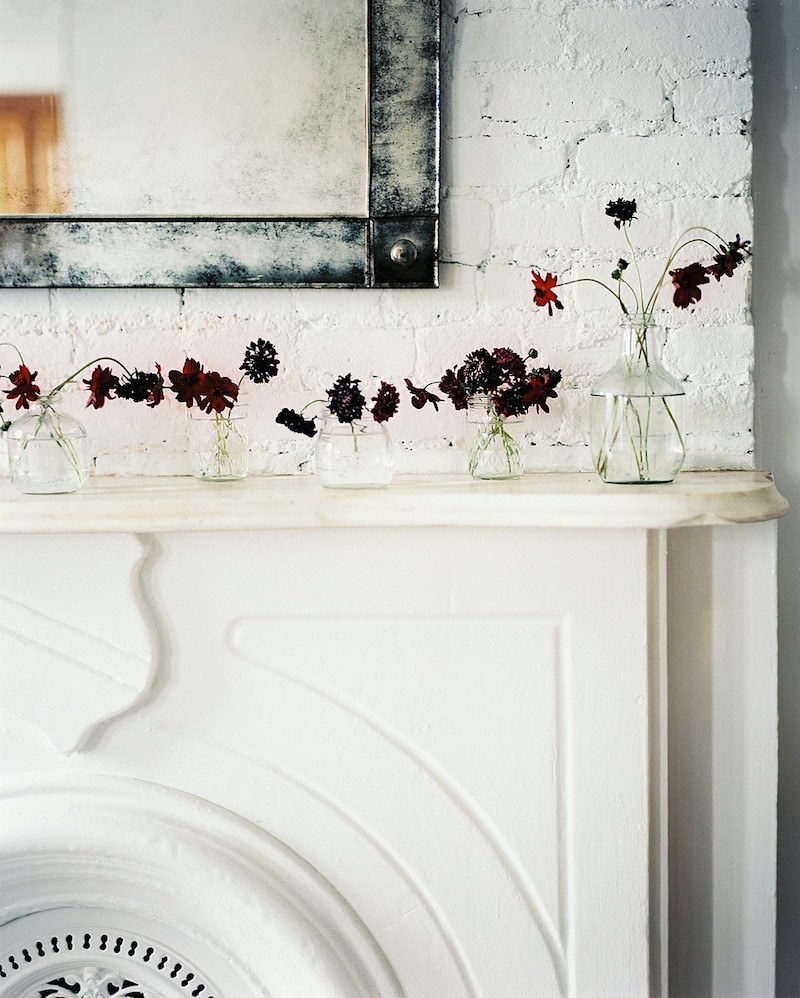 Oh, and we went through the painted brick and the painted stone issues.
Artfully Walls at Anthropologie
Artfully Walls Website with more great art prints!
Above shows a great example of how chic white-painted walls can be in contemporary spaces too.
However, there's no mistaking that the addition of tasteful mouldings can make white-painted walls the most glorious thing ever.  You can see more mouldings here and also read about hallways, many of which are painted white.
From a post last year about libraries and plenty of white walls here too!
For me, the most sublime kitchens are pretty much all white.
Sophie Burke's delightful kitchen can be seen here.
For more gorgeous white kitchen inspo click here.
Yes, indeed, we went through the "boring" white kitchen at KBIS. Not
Speaking of which, I am heading back there on Monday and very excited to be going back.
FLORIDA!!!
I will be reporting back on Tuesday evening with a little surprise too.
In the meantime, please enjoy a widget that's not only white on white, but includes some color and accents which I think would be beautiful in a room with white-painted walls. For more info, please click on the individual images.

So Amy,
I hope that I've given you and others in a similar situation plenty to work with to SHOW spouses who don't know or can't visualize your vision.
And I have to tell you; there has been many a husband in my years as a designer who balked at painting something white. And I can tell you that every single one of them hung his head in shame because when it was all done, LOVED IT! Every one!
But, in my experience, most of the husbands quite cleverly abide by the golden rule.
Happy Wife. Happy Life.
It's true.
xo,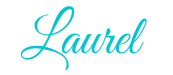 PS: Lots of new things in the hot sale pages including an updated rugs and bed and bath pages.