Dear Laurel,
I just found you on Pinterest.  Great boards.  I was googling best neutral wall color with stained wood trim and found you again.
I am desperate.  I am selling my house and the painters are coming Monday to repair all of the damage from ice dams from the winter from HELL in Massachusetts.   I have hideous, badly stained dark woodwork, not nice dark, but leaning towards orange.  I can not afford to make it white to sell my house ASAP as I am also getting divorced.  TMI?  So I have my Ben Moore fan decks out and almost picked Navajo white and Bone white until I read your hilarious descriptions about how bad they are!  Phew.
My dining and hall are already Jicama, but I thought I should tone it down.  I have to stay with some yellow to deal with the horror of the woodwork but my living room is already a cheery yellow.   I hate cheery!  But too white will make the woodwork even more Oompa Loompa.  Help!
Do I have any hope??
Folks, this one is a real email! And I do have permission to use it from this lovely lady. What is totally freaky is that I was just getting ready to start a post on this very subject!
There are several different reasons why you might want or need to keep your stained wood trim
you live in a historic home and feel that it would be sacrilegious to paint the stained wood trim
you like it.
you don't like it but can't be bothered to change it.
you hate it but don't want to spend the money to change it.
your mother likes it. [let me have a word with her. okay?] :]
your husband likes it.
your husband is threatening to divorce you if you change it.
If there is one subject that is as hotly debated in the world of interior design it's whether or not it's okay to paint over trim that's already stained. If you wanna hear people frothing at the mouth, this is a great post about whether to paint stained wood trim (on a Craftsman Home) on Apartment Therapy.
Of course…
If you are living in a home-built by Frank Lloyd Wright for instance, painting over the wood trim would be like putting a mustache on the Mona Lisa. (Leonardo probably would've liked that.) ;]   The same goes for a lot of architectural styles such as Arts and Crafts, AKA Craftsman Style and sometimes Shingle Style. (although, not all shingle homes are Craftsman). I'm going to come back to this in a bit. Then there's the Victorian period which morphed into the Edwardian period. (early Downton Abbey)
Oh, this is so difficult! I'm just not a fan of stained wood trim.
Alright. I hate it—
unless it's done super well and the colors and furnishings are incredibly cool. In that case, I DO like it. Still… this is the girl who painted her brand-new upholstered chairs and cabinet. If there's white paint and a paint brush nearby, nothing is safe. :] I love paint. I love the freshness. I lurve it!
Still… I need to exert some discipline because this post is about paint that goes with wood trim, not IF the trim should be painted.
Forget it.
I'm not disciplined. I have no self-control.
I want to live here.
not here.
Or, I could easily live here and below too.
Smith and Vansant Architects
The two above are in the craftsman influenced style. There is no wood trim except for a door. I don't see hell freezing over. Do you?
You do???
I bet you expect to see this.
and this.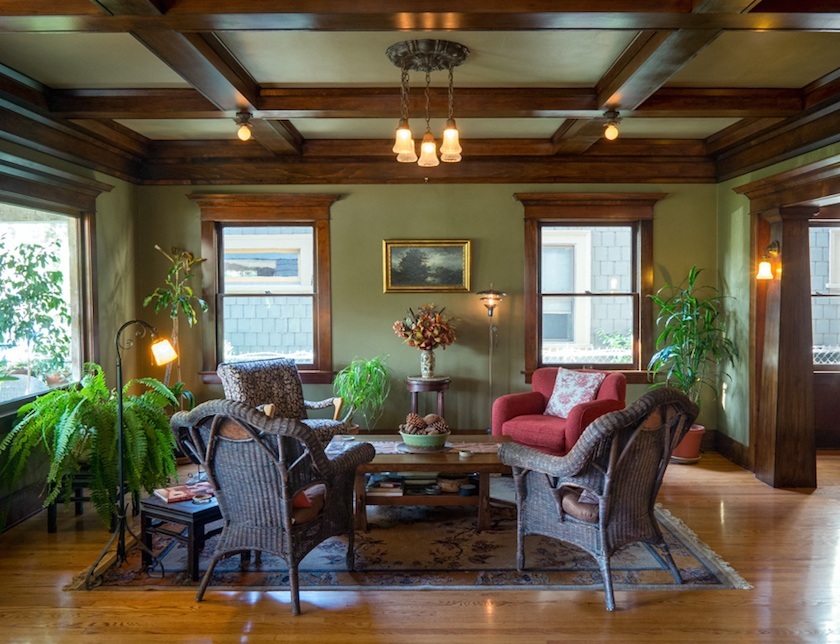 Well, okay. You're right. These are vintage craftsman homes. While I can appreciate them, it wouldn't be my preference.
Oh, but wait. Your home looks like this?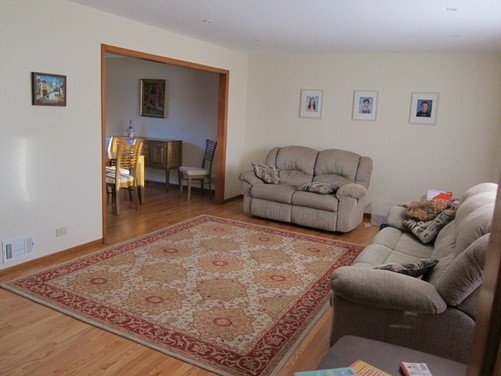 And This?
This house, you're to paint everything black for resale or else just light a match and put everyone out of their misery.
But seriously now. If you live in a home that was built in some decade when men were designing buildings apparently under the  influence of LSD and quaaludes, you MUST paint that hideous brown trim. There is nothing historical about it. It's a blight on history! Out damned spot!
I promise you, that you will get the money back on the home sale.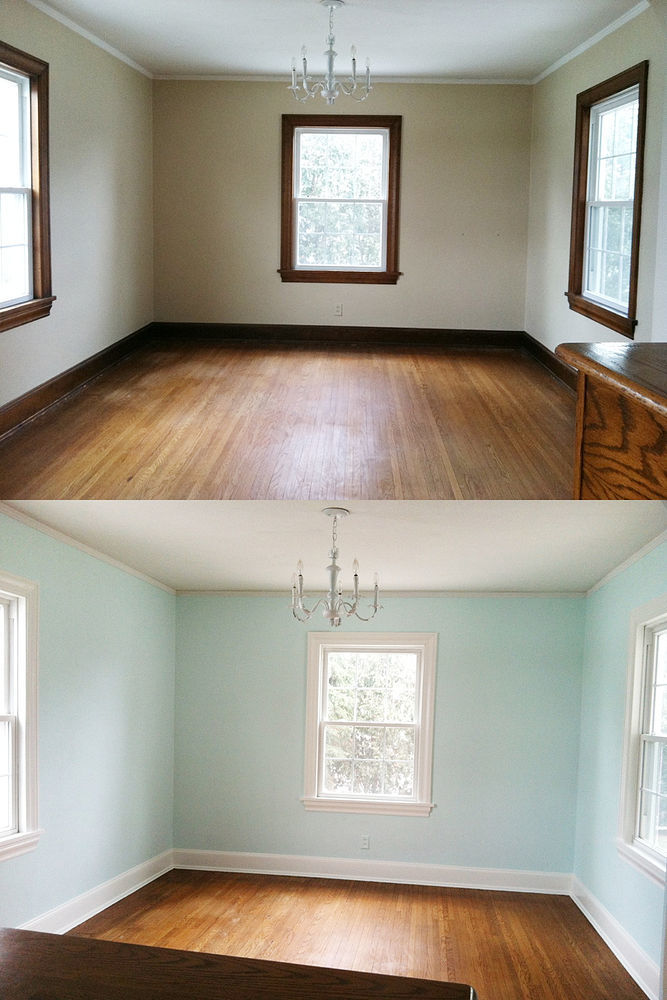 via Hometalk
Which would you rather live in? If you say the top one, please just unsubscribe right now!
Oh dear. Wait. I don't really mean that. I'm sorry. I just really hate it, the stained wood trim; not you. I grew up on a house built in the late 50s with ugly brown doors and trim. I guess that's where it stems from. And that horrid dark Oak clad Synagogue that was so dark and forboding. (Someone did burn that place down to the ground many years ago.)
Alright, I'll calm down because for whatever your reasons, you need to keep the brown trim and there are ways to make it look amazing! So, let's focus on that!
One, is gorgeous architecture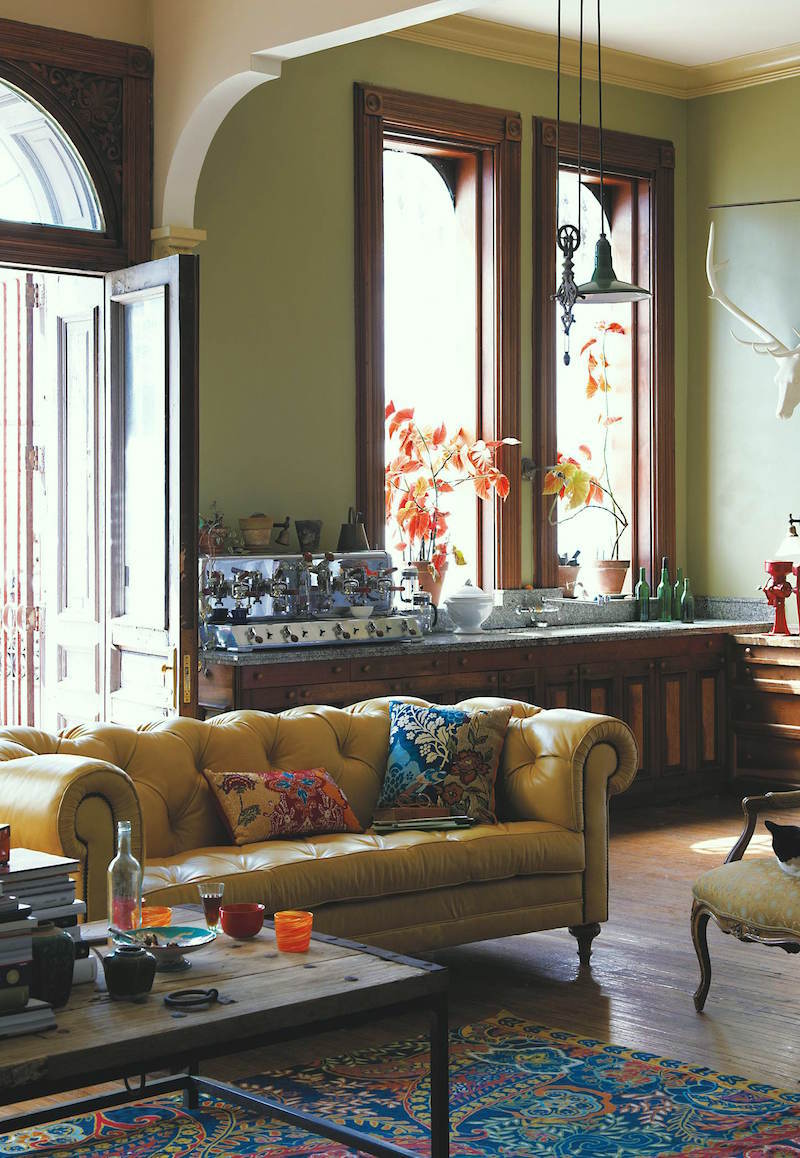 Anthropologie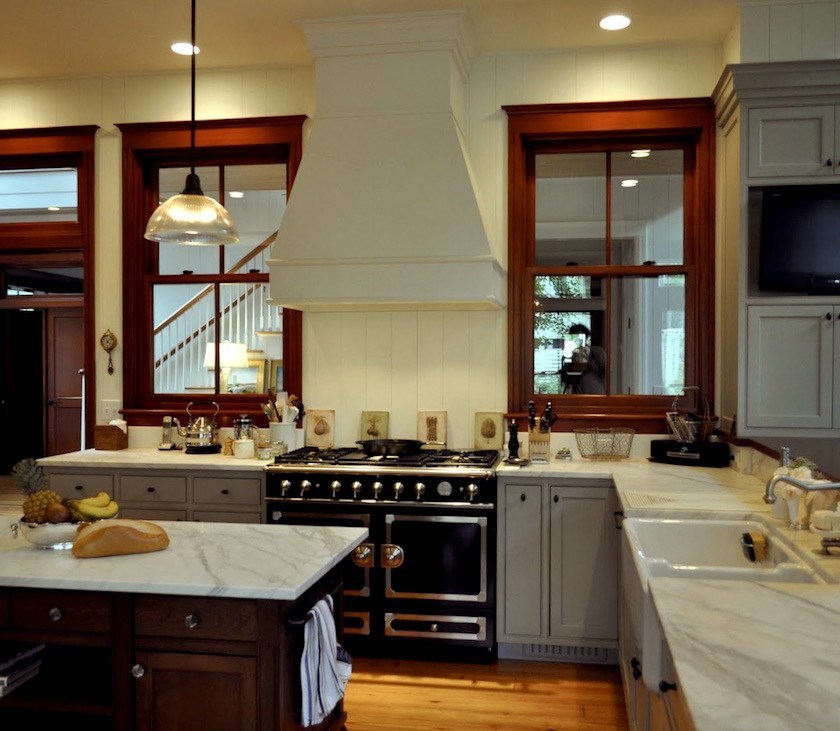 Frederick + Frederick
What a kitchen!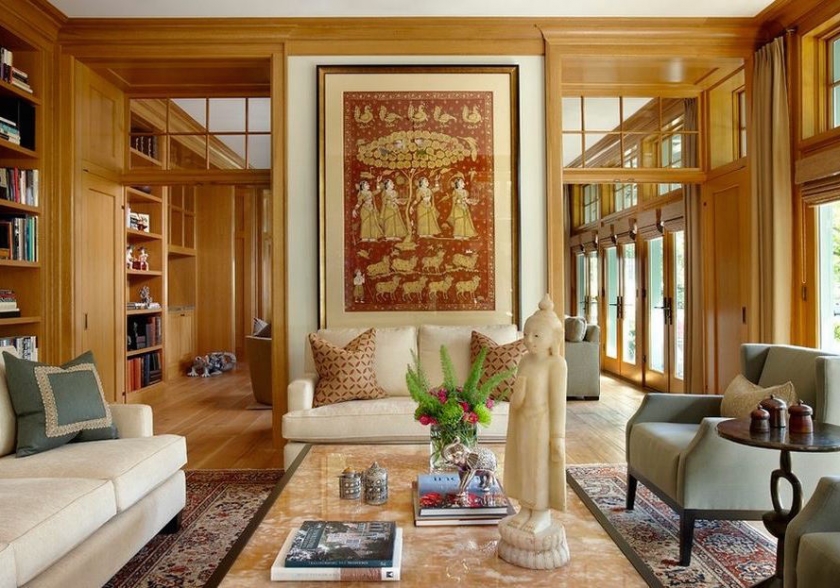 James Thomas
Interior Alterations
Another way is with beautiful colors and furnishings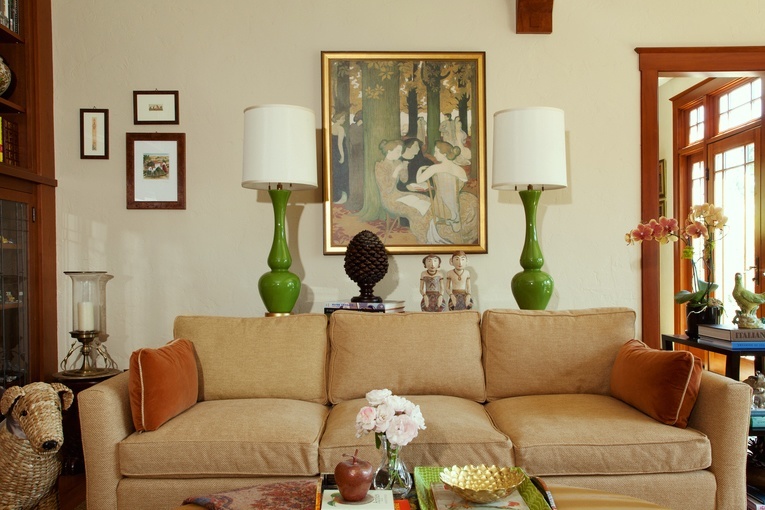 Melodie Rubin
Can you paint walls white with stained wood trim?
Yes! But with one caveat.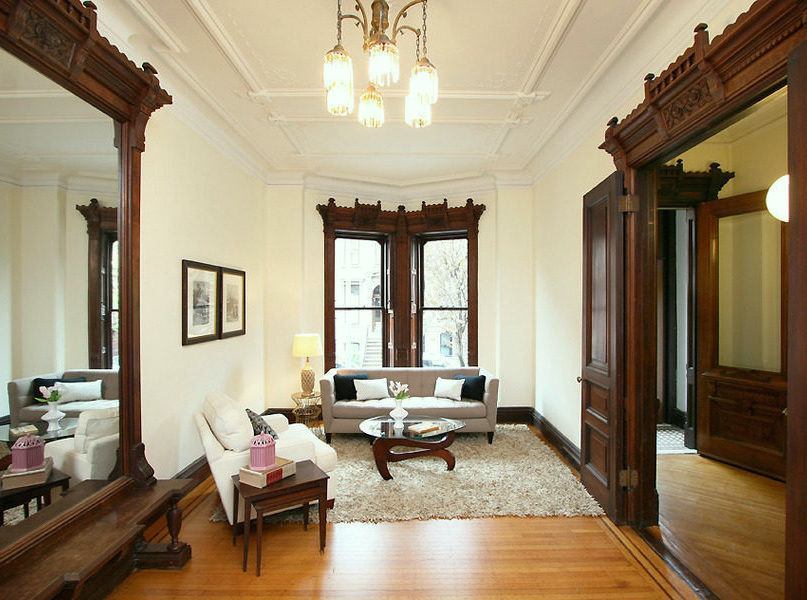 Kitchen Lab Design
The wood needs to be a deep rich color or even an ebony.
Well, Laurel, my trim isn't deep and rich and I'm not refinishing it either.
Boy, you're not making this any easier for me. Okay. You don't have to completely refinish it! You might be able to stain over the ugly orange-y trim. (with a little sanding, of course.) Uh huh! I would never do this with a large piece of furniture or a floor, but with trim, you can probably get away with it. There is a product by Minwax called Polyshades. It is stain and poly in one. You might need two or three coats, but it might be worth it to get the wood looking lovely again. I would experiment first, however.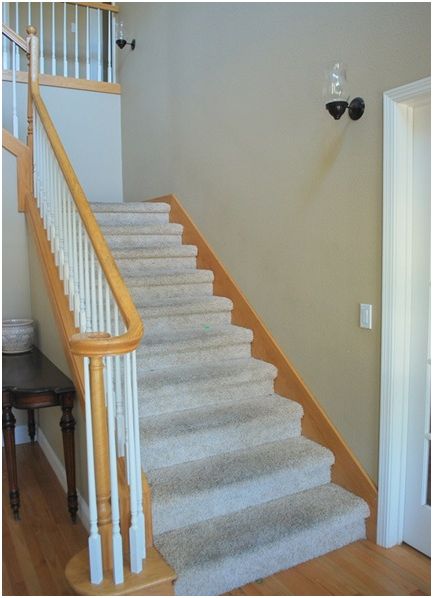 Centsational Girl took her staircase from this…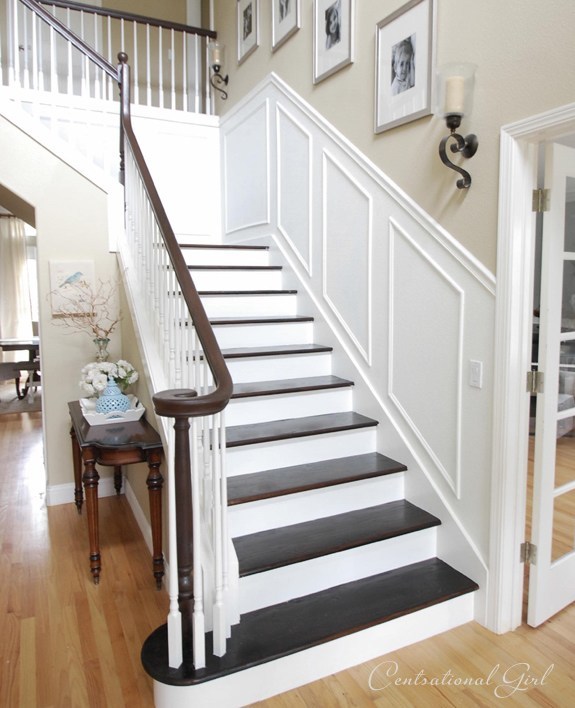 To this!
She didn't use polyshades, but some other techniques that didn't require a full refinishing.
Let's get to our colors that go with stained wood trim
First, let's talk about what not to do.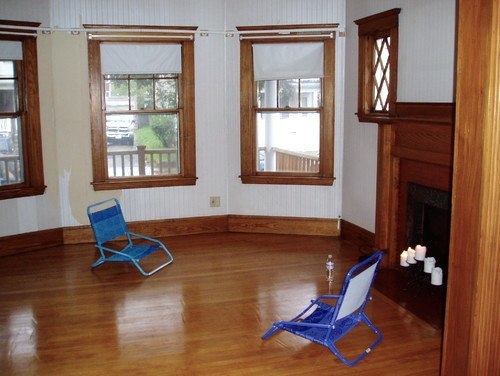 no bright white with orangey trim.
no "builder's beige" either.
More Colors That Love Stained Wood Trim
Kitchen Lab Design
(I love that they painted the spindles white which adds quite a refreshing note to this home.)
The first color is…
Green
There are so many wonderful greens. You can see some of them here and here.
The cabinets in this amazing kitchen by  Frederick + Frederick Architects look to be Benjamin Moore NANTUCKET GRAY  HC 111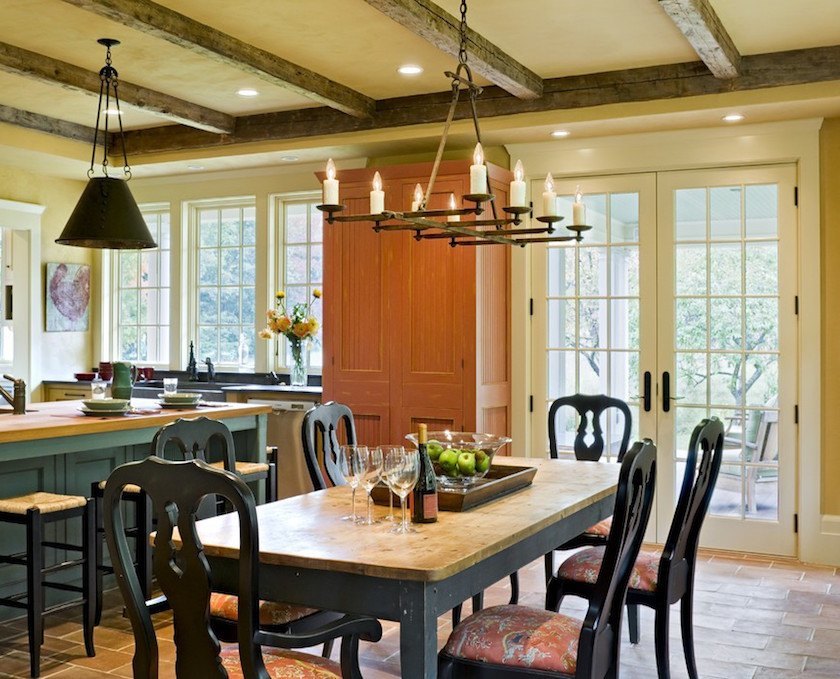 Smith and Vansant Architects
Gold is another wonderful color with wood trim. Some of my favorites by Benjamin More are:
HENDERSON BUFF HC 15
BLAIR GOLD  HC 22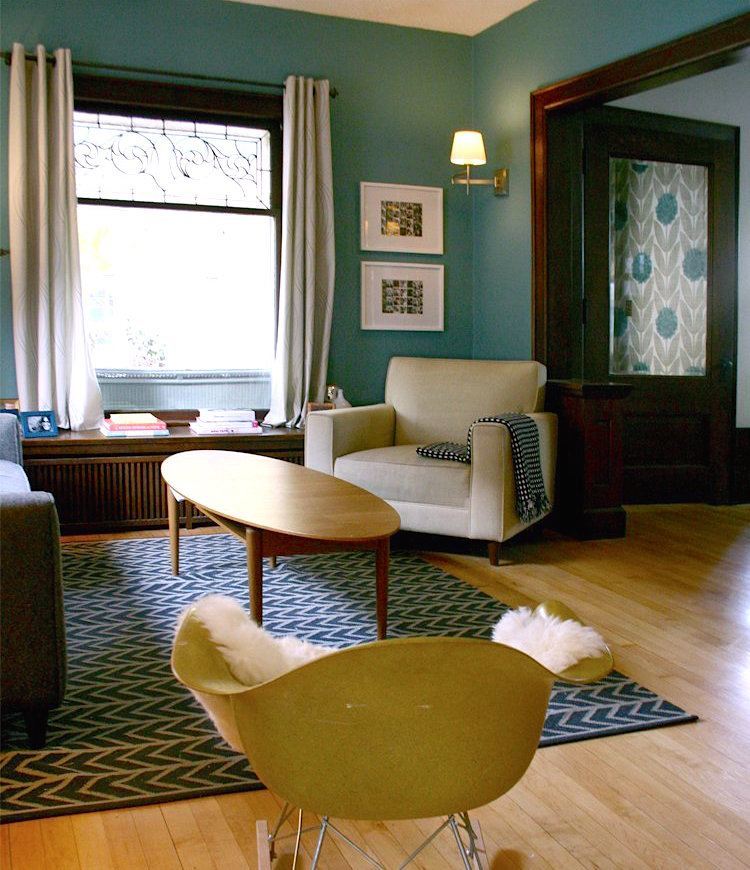 via Apartment Therapy
STRATTON BLUE HC 142 is a nice gray-teal

A color one might not think of very often but looks wonderful with stained wood trim is red. A good red to try with a warm stained wood is Benjamin Moore LADYBUG RED 1322
For a rich, warm browny, orangey red, try SPICED PUMPKIN 034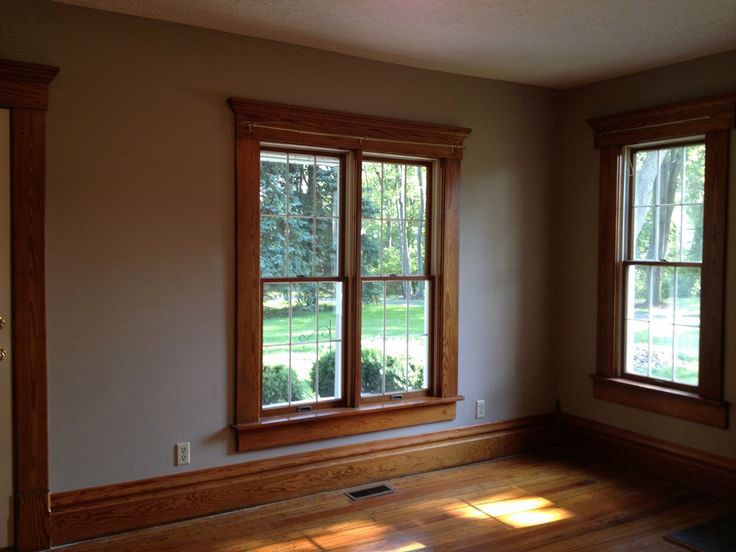 Another wonderful color with wood trim is a warm deepish brownish purpleish color. But not PURPLE! One of my favorites is ELEPHANT GRAY 2109-50. This is such a sophisticated color and a shade that provides less contrast looks elegant with the mid-tone stained wood trim.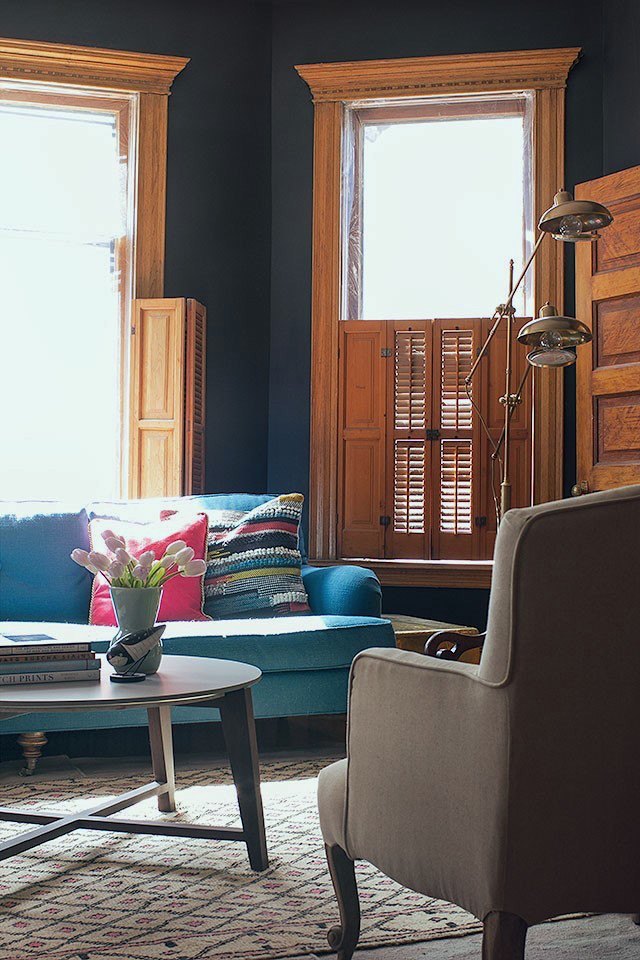 Making It Lovely
FYI, the paint color is Benjamin Moore BLACK BEAUTY 2128-10
BLACK?!?!?! LAUREL??? With wood trim?
Sure. Why not? It's really cool. If you don't know the blog above, please check it out. Her home is filled with wood trim and every room like the one above is cooler than cool!

A brown-black with a black ceiling! I'm pretty sure that if I only had one home, that I would never do this, but if I had 2 or 3 homes–definitely!
Frederick + Frederick Architects
The pale blue-gray is a refreshing change with this rich mahogany stained trim. Love it with the wicker which knocks back the formality in a refreshing way.
This color looks a lot like Benjamin Moore SHORELINE 1471
Interior Alterations
I guess I just had to end with my painted white. I truly love it. But if you don't and you prefer wood, then who am I to tell you differently? Unless it's considered a historic masterpiece, I don't see the problem with painting it. Most of the periods of time when these places were built in the late 19th and 20th century also had styles where the trim would've been painted.
It's just wood. It's just a house. Life is too short. Nobody died. Paint it. Hell paint Frank Lloyd Wright too! He called our dear Dorothy Draper an INFERIOR DESECRATOR!!! The nerve! That kind of comment will get your face smacked with a paint brush and a pair of white gloves Mr. Wright! Good Day!
Happy Sunday! It's gonna be a hot one here in NY!
xo,