Hi Everyone,
Yes, the post is a day late. And even then, I'm struggling. Oh, not in a bad way. The lateness is due to my never-ending quest to find a better balance in my life– and for loosening the reigns a bit, if necessary. So, a few times a year, this happens.
But, it's also due to the subject matter. My kitchen lights and actually all of the lights.
About two weeks ago, my contractor was here with six subcontractors.
They were here for about an hour. However, the contractor asked me for a lighting layout– "nothing elaborate, in terms of conveying that, just need to know what you have in mind."
Uh-huh. Well, I didn't say, "uh-huh." That would be rude.
Everything I know about lighting has come from years of experience and seeing dozens of homes with poor lighting. And, I've written extensively about lighting on this blog.
In addition, there's a ton of lighting information in my guide, 333 Decorating Rules & Tips You Need To Know.
However, some basic rules for excellent residential lighting include:
Great ambient lighting. This is the lighting that gives an all-over glow to a space. However, it won't be bright enough to read a book.
For book reading and the like, you need task lighting. This is more focused lighting, such as library lights. However, it depends on the size of the space.
Accent lighting is the third type which includes picture lights and cabinets that are lit from the inside, as well as under-cabinet and cove (crown) lighting.
The idea is that the best lit rooms have lighting from more than one source.
However, it is quite possible to have nothing but table lamps and have a beautifully lit room.
I had that situation in my old apartment in Bronxville. There were four table lamps in a room approximately 12.6′ x 19′. However, the room's length varied between 18′ and 20′. The ceiling was nine feet high.
My living room in Boston is 15.5′ wide by 26′ long with a 13′-6″ ceiling height.
So, today, we will focus on my entry and especially the kitchen lights.
Since these three areas are so close together, the kitchen lights must coordinate with all of the other lights.
Below are my other lighting necessities for the evening and night-time hours:
I need to:
create a warm, homey, inviting glow.
Have fixtures that are in keeping with the architectural style I'm creating, which is neo-classical.
find fixtures that coordinate in terms of finishes, style, and color
have fixtures that are the appropriate size
However, very important in terms of my contractor is to create a lighting plan and be sure that there are enough outlets which currently, there's a lack of in some areas.
I will need to discuss some of this with the electrician because what I want to do might not be possible due to unforeseen factors. Or, the cost to do so would be prohibitive. At this point, I don't know.
Remember this post from December when I quickly improvised a solution to the glaring fluorescent light over the sink. By the way, that's worked out very nicely. However, I do suspect that there will be some unpleasant surprises once the walls are opened up.
Okay, let's begin with the kitchen lights.
Part of the reason it's difficult for me is because of how awful it is with the current fixture, which I never turn on unless I really need to SEE. If it was on a dimmer and I could turn it down to about a third of what it is, then it would be very nice, I'm sure. Ummm, lighting-wise.
So, I've been playing around with my mock-up.
The first light fixture I love, but at the widest point, it's 18″ around, which is pretty large for such a small room.
You can see the fixture in numerous settings on the Circa Lighting website. I love it but fear that it will look monstrous in my tiny kitchen. If anyone has done this fixture and feels otherwise, please let me know.
After that, I began my quest for the perfect pendant.
But first, I know that whatever is in the entry is important. I could just keep the little crystal chandelier that's there.
But, what I'd really love is a small Regency style black and gold chandelier, something like the one below.
This one is about $4,000, which is not in the budget. But, now that I know that I want this neo-classical style small chandelier, I can go back to the kitchen lights.
Initially, I was going to have sconces on the sink wall. However, I don't think I want to see three sconces sticking out from the living room. And, are they essential?
And, if I do this side, I need to do the other side as well.
Before I go on, please do not suggest recessed downlights, AKA "high hats."
I know.
EVERYONE except for darling Nancy Keyes and me has them. Now, I am not adverse if you have a large kitchen.
Okay, getting back to pendant kitchen lights.
I know that I want milk glass or sometimes called opaline glass.
I found another fixture on Rejuvenation that's 15″ in diameter; it's their Neoclassical shade. However, it looks about the same size here. I am merely eyeballing it. It's probably a little smaller than it seems to be in the above mock-up.
Above, you can see the fixture amongst two others.
I also like the one on the right. That one must be the one for the 6″ fitter. However, I could not find it on the website.
I did find the 4″, however. The only thing is it's only 8″ wide and 9.5″ long.
Therefore, I could do two of them.
This beautiful fitter does work with the small shade.
Above is the shade in a semi-flush mount.
The only thing is, I believe I made the fixtures 10″ or even 11″ wide here.
Now, some of you may also object to covering up any part of the beautiful doors in the back. However, it depends on where one is standing. Once IN or even closer to the kitchen, they will be overhead and not covering up anything.
In addition to the one or two pendants, I plan to put a table lamp on the other side of the kitchen you can't see in the mockup.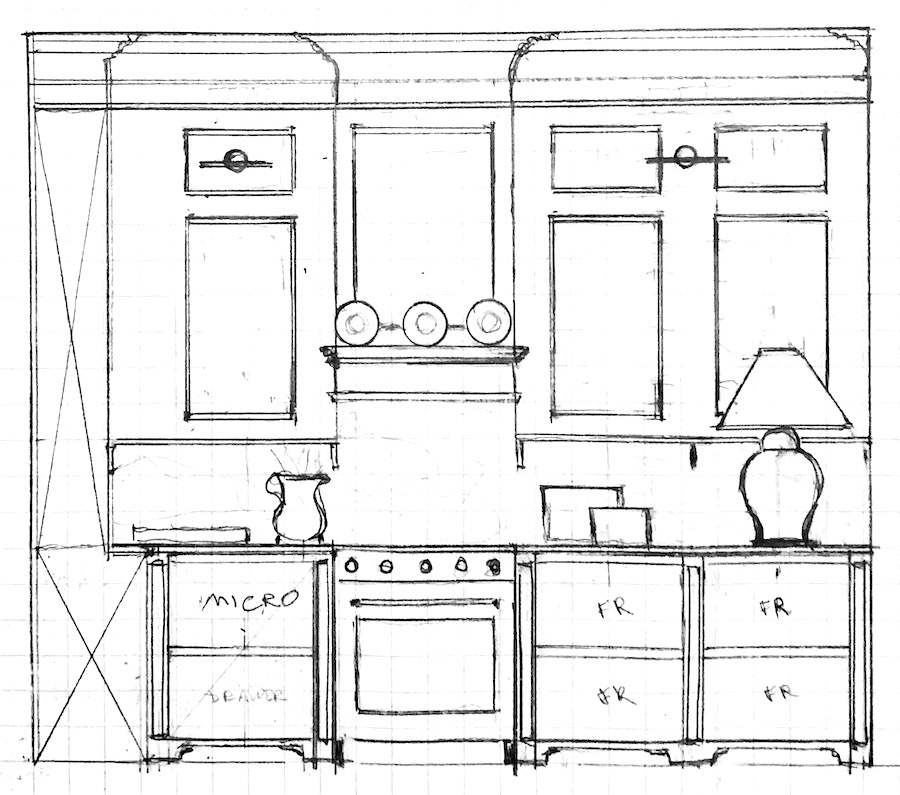 Now, here I put up some picture lights. There are so many beautiful ones in the marketplace these days. The average picture light bulb is about 25 watts, which is ample for accent lighting.
While I have them lower down, I even think they could go up on the frieze not to disturb the panel moulding.
Shouldn't they be closer to the art? In this case, it's not really for a piece of art, but just to add a bit more light over the counters.
Therefore, I could do the same thing on the opposite wall.
Do I need them?
Probably not.
But, they won't hurt, and I think they will give the kitchen a bit of a library look. I could even do some that are white that will blend in better.
Could I get away with sconces and no hanging fixtures? I think I definitely could, as I am planning on doing some tasteful lights for the glass cabinets. However, I love the look of the milk glass in the kitchen.
One other consideration is that I plan to have two very lightly antiqued doors on the huge end doors on each side of the kitchen.
This is going to capture and expand the light considerably, I believe.
For the living room, I'm planning on doing sconces over the fireplace, flanking a mirror. And then I'd like two sconces on the back wall where the new stairwell will be located.
I will go over more of the living room later on.
Laurel, you didn't talk about the beautiful sconce you put on the wall going into the kitchen.
That's right; I didn't. ;]
This is Visual Comfort's, Huntington Sconce. I did it in silver in the Bronxville bathroom but, unfortunately, didn't get a photo.
However, it is beyond stunning in person. We did the silver version for that bathroom, but I think for me, the brass one would be lovely.
I've always loved these crystal sconces with the black and gold shades at the JK Place in Capri.
I think I might want to do some small tables with table lamps on the two walls.
There is much more coming up. I'm waiting to hear back from a custom kitchen cabinet maker this week.
I hope everyone is having a great week!
xo,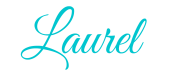 PS: Please check out the newly updated HOT SALES!
PPS: The day after writing this post I found this chandelier on eBay and got it the following day after one of you mentioned it. It needs some work, but the price was certainly right!
Here's the link to the listing. Unfortunately, the images aren't the best.
I figured I better get it before one of you does. haha Thanks so much for your very helpful comments!