Hi Everyone,
As promised, I am continuing with the decor refresh we began last Sunday for a traditional living/dining room. Thank you too, for the many terrific comments. I love your ideas!
If you missed Sunday's post about working with inherited furniture, or just wish to review it, you can find it here.
Okay, I was supposed to move into the living room. However, three hours into working on this post, I realize that this post needs to be about how to mix dining room chairs.
A lot of you have been asking, in any case.
While we've discussed dining room chairs in this past, (and here too) we've not discussed the art of mixing dining room chairs. Of course, like most things decorating, it's quite a broad topic.
However, I'm going to tell you what I've discovered over the years. And, hopefully, you'll get some good ideas for using two or even three different chairs around your dining table. And, not have it be something your sister-in-law looks askance at. She better not! ;]
Why do you need to mix dining room chairs, Laurel?
Well, if you're starting from scratch, you don't.  You really don't.
For instance, you could have all side chairs. (Although we did two armchairs for when the table has a leaf in it.) I did this room 17 years ago!
And, you can do all side chairs even if the table is always rectangular or oval.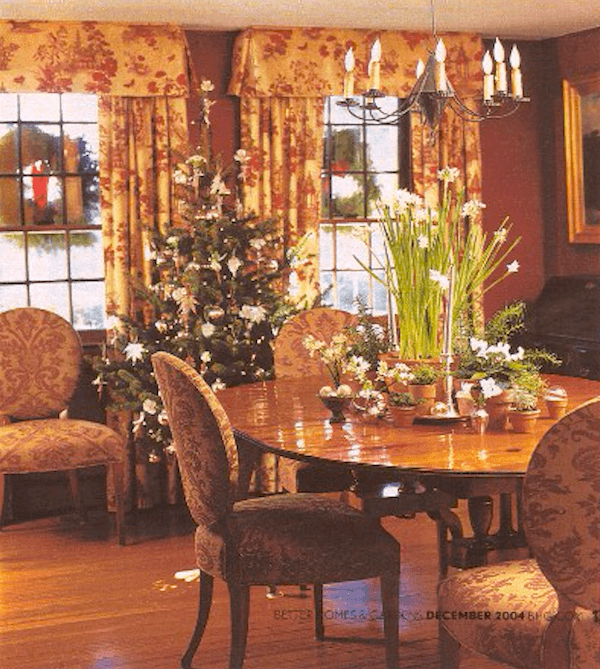 Above, another round table in a room I did in 2001 that made it into Better Homes and Gardens. The chair and table are from Baker Furniture, but sadly, both are discontinued. The fabric on the chairs is a heavy damask from Pierre Frey. Yeah, it also has bit the dust.
OR, you can also do all armchairs.
One of my favorites and a lot of other people too as this is a very popular image on Pinterest.
This armchair style lends itself to doing all of the chairs the same. But, do you? No, you don't.

You could maybe do a side chair like this Parson's style with a lower back and pretty seat detailing and then have a coordinating slipcover made.
This is another chair that would lend itself to being used as only armchairs. This is one of my favorite occasional/dining chairs ever! And, another room by me. (with my favorite sectional available at Serena and Lily and also Williams Sonoma Home!) I once saw a dining that had chairs like this, but slip-covered. It was a long time ago and it was by the brilliant designer, Mariette Himes Gomez.
Oh, BTW, I designed this chair. It's actually a chair frame from Chervan that I sent to my upholsterer to create for me.
However, I was so unhappy with what he did here. And, it never occurred to me that he would do what he did.
This fabric, the iconic Chiang Mai Dragon has a mad large repeat (45″!) and I sent him enough fabric for him to use it all. He knows better! One dragon is fine, but I should not be seeing three dragon heads on the front of this petite chair!
This fabric comes in a bunch of gorgeous colorways and also as wallpaper.  You can purchase it here.
Dining Room by Gomez Associates and John Mayfield – photo Durston Saylor
Edit: June 13th. I found one example of a dining room with the Mariette Himes Gomez barrel chair. (above) The one I saw had this chair with slip covers. It's a little bigger than the Chervan chair. I like this one, but actually I like the Chervan chair even better.
What about doing the matching armchair with side chair?
Yes, I do that all the time. Above is superb example by one of my favorite designers, architect Gil Schafer. Actually, the interior design is most likely by Miles Redd as they frequently collaborate. The tell, in this case? The drapery with the custom ruffle edging.
But, what I do the most often is a different finish for the chairs. A different finish than the table, that is.
One of my favorite looks is a wood table with painted chairs.
Here is the oft-published Bronxville dining room from 2013! I remember my client kept asking about a rug and I kept saying, "no." I rarely say, "no," however, in this case, I felt quite strongly about it.
The table is round and the room is square.
(18′ x 18′) If she had made a big fuss about it, I would've conceded and done a 12′ square custom seagrass rug.
Quadrille Veneto in New Apple on Tint – available here retail. Five yd minimum.
In case you are wondering, the chairs are by Aidan Gray (but discontinued) and I had them reupholstered in Quadrille Veneto fabric in New Apple on Tint. The dining table is custom-made by Englishman's. They are one of the 36 sources in Laurel's Rolodex that I can't live without. Their prices are quite reasonable and their products are sublime.
Englishman's helped sponsor my trip a few years ago to the Atlanta Furniture Market– Americasmart.
Englishman's also made the custom china cabinet. It's made out of yew wood. It's difficult to see here, but the painted blue inside is one of the colors in the wallpaper by Thibaut.
If you love round dining room tables as much as I do, here's one of my favorite posts about them. And almost every example has chairs in a different finish; usually painted.

One of my faves from the post and inspiration for my room is this stunner by Suzanne Rheinstein. Looking at the image more closely. Do you see how the use of plants and accents totally elevates the space?
And, I adore how they painted the back of the exquisite built-ins, the dark green.
But, what is going on along that wall? It looks there's a chair that's blocking the door? I can assure you that Suzanne did not design this room with a chair blocking the door!
So, let's say you have six or eight dining chairs and you have a rectangular or oval table and wish to do two host chairs that coordinate with the side chairs.
How does one do that?
Well, this is one of my favorite things to do because I think that it's a great look.
One common reason to do a different chair for the host chairs is the situation with Pamela. (her real name) ;]
The chairs are old and it does not appear that she has the arm chair version. So, if she needs more seating, she'll have to do a different chair.
What are the other rules of thumb regarding how to mix dining room chairs?
Well, these are Laurel's rules. But, I generally operate in a logical (or try to) fashion.
So, here goes.
The host chair needs to coordinate with the shape of the side chairs in some fashion or other.
However, by coordinating, it doesn't necessarily mean it needs to have the exact same shape. This begins to fall into the art of design, I feel. And, it's like John Singer Sargent trying to explain how he gets his paintings to look like that.
Generally, however, if your side chair has straight lines, the host chairs will too, for the most part. But that doesn't mean that the legs need to match. Nor do they need to be the same color. I realize that this is probably more vague than you were hoping for. But, I'm hoping that with some examples and a few other things to look for, that it will begin to make some sense.
For instance, you could have a Chippendale side chair with straight legs like this one I love from Wayfair.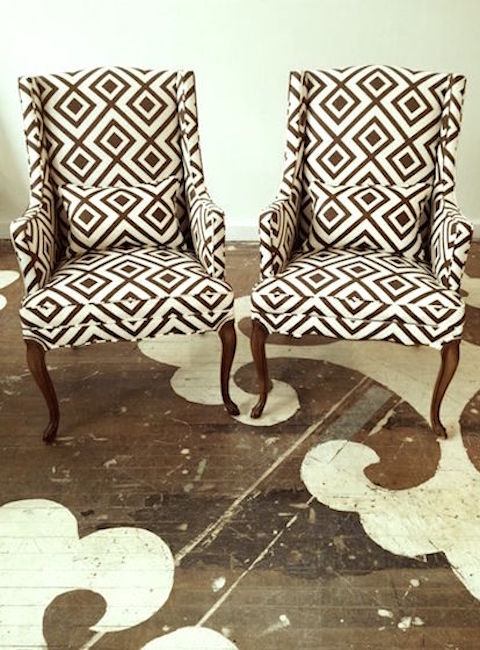 and a small wing chair with cabriole legs as shown on Chairloom.
Scale is very important for the host chairs and well, the side chairs too.
And ugh. It is difficult sometimes to find dining chairs that are not HUUUUUUGGGE!!!
And, on top of it, older chairs are almost always smaller than most chairs you find today.
However, most the time the host chairs are at least the same height or taller than the side chairs.
The above chairs could also be a good option if Pamela wanted to change all of the chairs. Of course, she doesn't have to do that. That style wing chair, I think also works with the current side chairs. Even, the geometric is a possibility if she changes the rug to seagrass.
Let's look at some other options for Pamela's dining room for host chairs.

  These chairs from Chairish measure 24.5ʺW × 21ʺD × 38ʺH.
The shape is complimentary to Pamela's chairs and they are early 20th century.
I found out that Pamela's side chairs are 35″ high, so 38″ is perfect for a host chair. One important consideration when there's a dining table with an apron is how much clearance do you have if you wish to tuck the arms under a little.
Normally, when sitting in the chair, it isn't a problem because you wouldn't need to tuck the arms under the table apron. But, if you do for some reason, it might be good to check that out. What if the color of the wood is different? Sometimes it's fine. But if you need to tweak it, you could get some minwax Polyshades. But, please, I would try to test in an inconspicuous place first. Or, have a pro do the matching and refinishing.
Above is another pretty wing chair from Ethan Allen that looks nice with this Chippendale style chair. Wing chairs are usually taller than most host chairs. But a wing chair for a dining area is usually only about 29″ high and up to 45″ tall.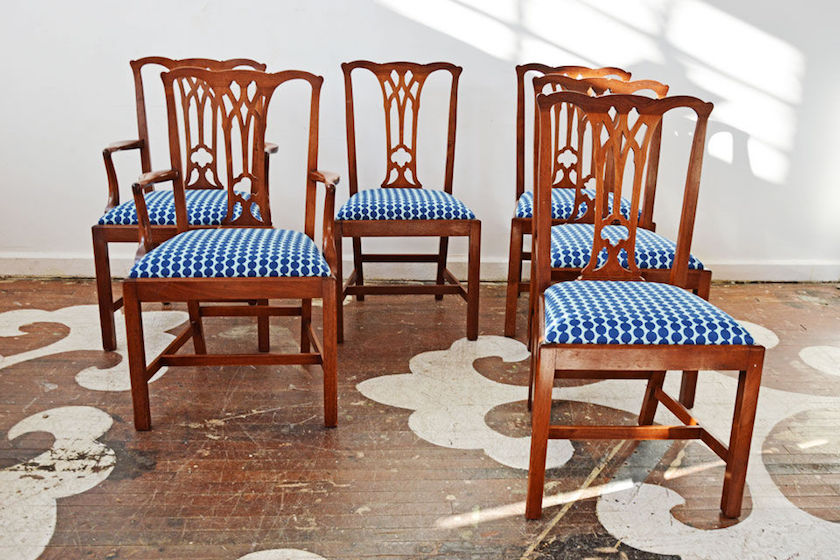 Instead of the EA Chippendale side chairs, I prefer this more authentic looking vintage Chippendale style chairs that have been refurbished by Chairloom.
This is the Antonia Bergere chair from Ballard Designs. I believe that it has been discontinued.
Here it is in a living room from Ballard Designs. This image gives a better idea of the scale which I think is excellent for a host or occasional chair. Other companies make similar chairs.
And, this one is black. Could you just do the chair in black and leave the side chairs the wood color. Yes, absolutely. But, something I would probably do is paint one other piece black, like maybe the china cabinet.
Another way to mix dining room chairs is to mix three different chairs

The copyright extortion trolls* got mad at me for posting this a while back so I took it down, but it's the best example out there of mixing three different chairs. And, it's all over the internet, in any case. Plus, it's a gorgeous dining room by Suzanne Kasler.
(*no worries; my lawyer has gotten them off my back.)
It's difficult to tell for sure, but it looks like the arm chairs are the armchair version of the blue side chairs. In this example, one might not think to mix these shapes.
But when looking at the room as a whole composition, the painted chairs totally work. That is the genius of Suzanne Kasler
I also see an armchair version of the painted chair. Love those skirts on that chair too!

One of my favorite dining rooms by the late (and great) Joe Nye featuring that fabulous wallpaper by Gracie. As you can see, the two different chairs look nothing like each other. However, the scale of the chairs looks lovely together.
If the table was extended and you needed to seat 10, could you do a different host chair?
Yes, you could.

I could see doing the Ballard Designs discontinued chair with the black frame and either off-white or upholstery to match the drapery fabric, perhaps.  Or, the one above which is not discontinued.
Let's look at some more dining rooms to see how to mix dining room chairs like a pro!
via @finding_lovely on instagram
I love how Jackie Hempel mixed this square-back chair from World Market with a rattan/wicker chair from Pier 1. However, I could not find this chair at Pier 1, only one like it without arms. Hmmm… that seems to be the theme of this post.
Discontinued
Ha! (but not really funny) Welcome to my (old) world!!! Right designers? It's like you finally find the right dress for a special event after looking for three months. Only they have every size but the one you need.
I love how Nancy Keyes mixed a vintage side chair with a contemporary chair for the host chairs. I think that the shapes are quite complementary. Please follow Nancy on instagram.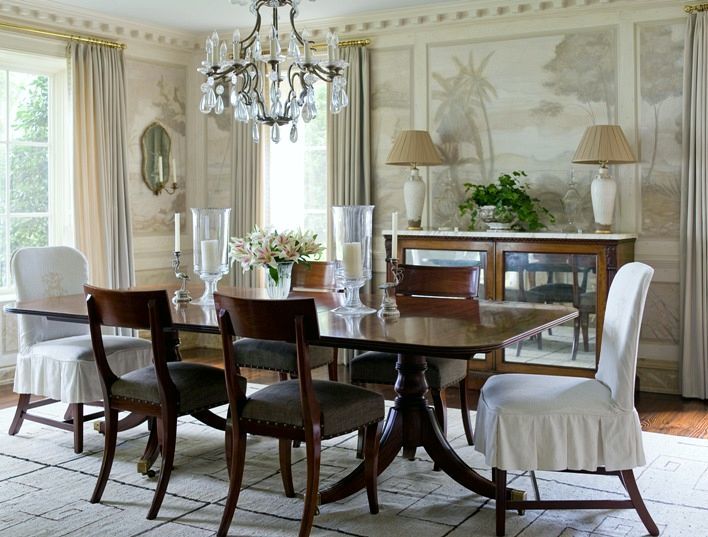 Another favorite dining room by James Michael Howard. I love how these host chairs complement the side chairs. Could he have added a similar skirt to the side chairs as Suzanne Kasler did in the blue dining room way up? Yes, absolutely.
But, maybe he kept them dark because his guests are slobs?
xo,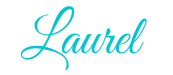 Please check out the newly updated HOT SALES. One note. There's a technical glitch (they are trying to fix) regarding One Kings Lane and if you click on one of the images which is supposed to take you to that product page, you'll go to the OKL home page. The only way to work around that until they fix it, is to do a search of what it is you're looking for, once on the site. So, if it's a Robin Bruce sofa, for example and it's green, you can search for it that way.