Laurel Bern is an award-winning New York Interior Designer, blogger, brand ambassador and keynote speaker. Laurel's design work has been featured in national as well as Westchester County shelter magazines. She is known for a having a young-traditional aesthetic and is one to buck many of the current trends unless, they happen to be classic favorites.
However, after 21 years as the principal designer in her firm Laurel Bern Interiors, she has turned her focus to blogging as a full-time occupation. Her award-winning blog, Laurel Home has drawn a large following due to her candid style of writing, useful information and warm community of readers.
In addition to designing and blogging, Laurel has authored three helpful online interior design guides, for professionals and design enthusiasts alike.
Laurel lives in Bronxville, NY, just outside of New York City.
And well, here we are… That's me at the Design Bloggers Conference handing out my cards before I got up to speak about my life as a design blogger and how I was able to morph into this new career path.
If you still want to know more about my past – click here.
My best,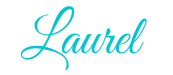 Save