Hi Everyone,
Shortly after I wrote this post exactly three months ago about a boring hallway, I came up with the solution for the bedroom closet that was in the way of my nightstand.
If you're just tuning in, please read the post from the beginning, or the middle, if you prefer.;]
The rest of you might need to refresh your memory if interested.
However, some of you, I know, do remember this cliffhanger. I apologize for leaving you hanging. Guess who was here for 26 hours?
Yes, my son, Cale, and he slept on the other side of the sofa. It worked out really well. And he made soup for me.
Please click the link below for those who wish to skip to how I fixed the door issue.
Part 1 starts below:
Hi Everyone,
Well, I've been a bad girl today.
That's how I started the post last night.
It is now 11:15 AM on Sunday. This post got away from me because I was having too much fun. So, that's why it's about 10 hours later than usual.
Did you take more pics you weren't supposed to take?
No, not that. I've been creating instead of writing.
However, there's still a post to do, and it's 10:00 PM. So, I'm doing a heavy update on an old favorite post, originally entitled A Long Narrow Hallway – Help for a Dark Scary Mess.
Okay, that didn't work out. As you'll soon see, there's plenty here for one post. Incidentally, that older post has some lovely ideas, so please check it out here.
However, this new post is still about hallways.
I need to focus on my hallway downstairs because it's nothing I've ever done.
Remember, a few weeks ago, I discussed the final plans for the downstairs bedroom ensuite. I had Furlow Gatewood's gorgeous paneled doorway jams on my mind for my currently boring hallway (that isn't even a hallway). It's just an awkward space.
Above is the configuration, currently on my lower level. As I'm sure most of you know, the spiral staircase is going, and the contractor will put in a straight-run staircase.
Right now, there is a lot of not-very-useful space next to the spiral and in the big closet. We'll be looking at the new floor plan shortly.
However, after finding this fantastic image and others on Rod Collins Smugmug filled with thousands of Furlow Gatewood images of his home and gardens on his exquisite compound, I knew I needed to incorporate this idea into that new hallway area.
Above are the panels, and one of you kindly told me about embrasure doors.  Thank you! So, I went back to the monkeyboard. (picmonkey) and tweaked a few things and created a plan to complete the new hall with two sets of these paneled walls. Only mine will be embrasure doors that sit in a pocket.
Below is a superb video narrated by Brent Hull that explains what I'm talking about regarding hallways and embrasure doors.
(I've cued it to start at the beginning of that topic, but the entire video is fantastic if you have time.)
Last week, May 11, my new architect came by to measure with an assistant. I also sent him a whole bunch of drawings and photos. We discussed the embrasure doors. He loves them, too! Terrific. He said the only problem is you can't do a light switch.
That is not a problem.
Okay, below is the floor plan after about 200 variations on a theme. haha

Okay, to explain my somewhat eccentric drawing: The hall is where you see the blue doors. The darker blue lines are the embrasure doors in their wall pockets, and the lighter blue is how they will be when closed. I love that the bedroom and the bathroom will have a little vestibule when the doors are closed.
The dashed lines indicate a soffit (overhead), however, it's only a few inches because I want to do super tall doors, if possible. However, in the two little areas where the embrasure doors are, the ceiling is flush with the top of the door, minus a tiny gap.
Below, I found a source that sells the hardware called a Harmon Hinge for these doors.
They call them pocket pivot doors, but it's the same as embrasure.
I wonder if it's okay to spray the hardware to match the doors. And, yes, when the doors are closed, there is another panel behind the doors. How cool is that! I suppose there doesn't have to be, still, it's a much more finished look, for sure.
So, let's look at the garden-level floor plan again.
My new hallway is approximately 8′-6″ long. For the width, I might need to borrow about four inches from the staircase hall to make the embrasure door hallway up to code. That is fine as the staircase hallway is currently 48″.
Some of you may remember a post from a few years ago, Mrs. Laurel Builds Her Parisian Dream House. This stunning home is loaded with charm and fantastic ideas we can use for inspiration for our hallways.
Typically, the embrasure doors are found between two spaces, such as a hall and a living room or library.
We'll be coming back to that in a sec.
Furlow Gatewood's paneled door jams connect one of the pair of front living rooms to the dining room in his extraordinary Cuthbert House. Thank God for Bunny Williams and John Rosselli, who convinced Furlow that he HAD to write a book about his "Exceptional Houses!"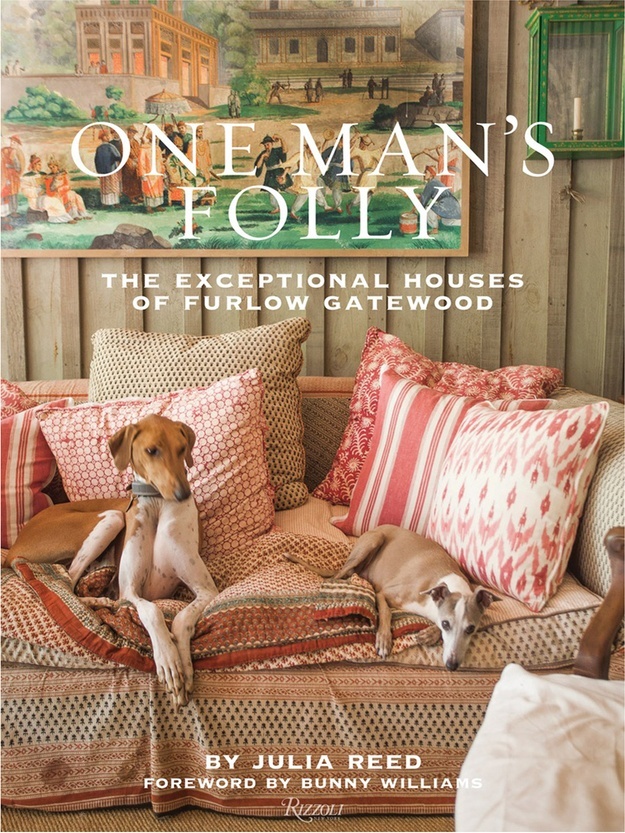 You can find it for sale here.
Like, Furlow's doors, I would like to make my doors downstairs extra tall.
Doors are typically 80″ tall, plus the door casing. All of the doors in my place, no matter how high the ceiling at this time, are 80″, except the door that's always in my way on the way to the bathroom upstairs.
However, my ceiling height downstairs is 9′-1″. I had 9-feet ceilings in my Bronxville, NY apartment, and the doors were super tall and came right under the coved ceiling. I adored this feature in my place, built in 1927.
Above is a photo from 2017 before I did the Chinoiserie wallpaper. Duh. (You can see that here.) That was a tremendous change. Here, the door is about 10 inches under the ceiling. Since the ceiling is 108″, that makes these doors 98″ high.
That's over eight feet for the door and 18″ taller than standard. However, having those tall doors made everything more elegant and made the ceilings seem even higher. In fact, I had two of those super tall doors in my little hallway.
Funny, that snaking little hallway was my favorite part of the apartment.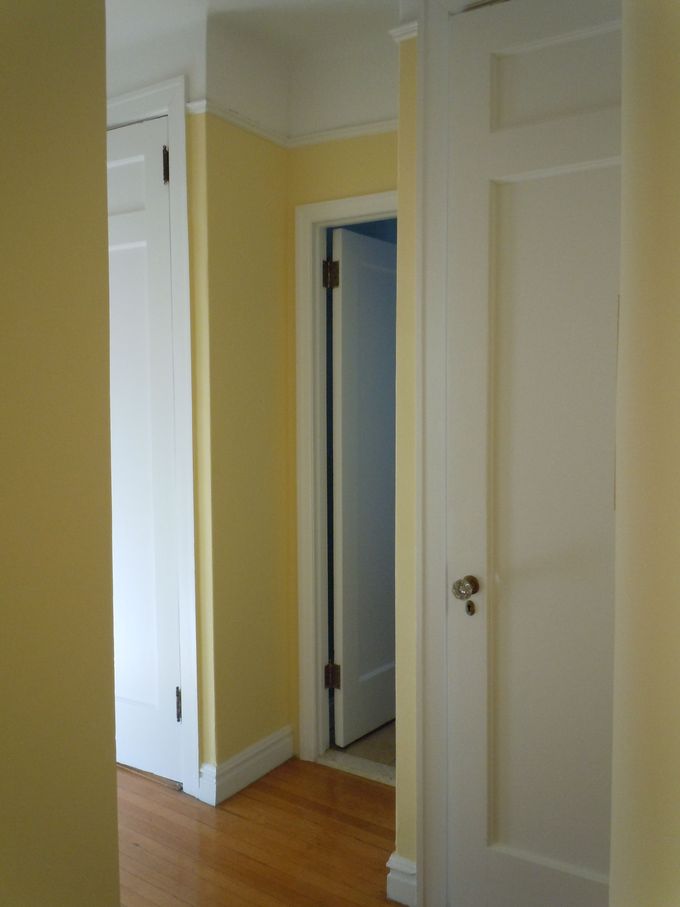 The door to the bathroom was a little taller than a typical door today. Walking down this hall, I recall the ceilings seemed more like ten feet high. It always gave me a good feeling.
If custom taller doors aren't in your budget, there's so much you can do with mouldings. I love this post featuring AB Kasha for some terrific ideas for architectural enhancements. They take these downtrodden Parisian apartments and turn each of them into the architectural gems they were 100 years ago or more.
Okay, Laurel, this is all very nice, but I don't understand what on earth you're talking about because all I see are lines on some graph paper.
Okay, sure. I realize it's a bit complicated. This is why it's on my mind. This renovation is starting in two weeks, and I think it might be helpful to clearly show the architect (who can convey to the builder) what I have in mind.
Here's what I find interesting.
Whenever I do this exercise to create a perspective drawing, it helps me hone in on other important details.
And quite often, what I was thinking in my mind turns into something else once it's on virtual paper. One example was when I did the bathroom renderings that you can see here.
I'm still contemplating that one too. Ugh, I need to stay focused on the hallway design. And then, we will look at other ideas for the often neglected, boring hallway as well.
So, when I do these drawings which I do on Picmonkey, I begin with a photo or with the kitchen; Susan Serra, the fantastic kitchen designer, sent me her renderings that I "laurelized."
Note: Don't hesitate to contact Susan via the link above if you need design help with your kitchen! I can't recommend her highly enough. And, she does long-distance consultations!
You can see those laurelized kitchen renderings here.
And, other kitchen renderings are here.
However, as I said about 30 paragraphs ago, ;] Normally embrasure doors lead into a room from a hall.
They are not in the hall but perpendicular to it.
So, I had trouble finding one image that would give me a hand with the perspective.
Then, I looked at the old sister post about the long, scary hallways and found one close enough to give me a base for my rendering.

Sorry, I don't have a source for the image. I also manipulated it to be a little more narrow than it is. My hallway will be about 40″ wide. This hallway looked at least four feet wide before I squeezed it.
I took this image from the HarmonHinge.com for the embrasure doors.
This doorway looks to be three feet wide.
While the jamb (on either side of the door in the pocket) can be flush or almost flush, I made my jams on either side of the doors have door casings as Furlow did. I can talk with my architect about which way will be best. If we do the latter, that is why we need a few more inches.
So, are you ready to see my new hall going from the bedroom to the bathroom?
Oh, I see… You've all left the room. ;] Can't say I blame you. Okay, hang on, please. I'm going to fetch it right now.
First, sorry, let me share with you what it currently looks like. I've never shown you this view.

Well, it's not a slum. However, it's certainly nothing special, either. Please notice the great job they did with the door casing to the bathroom. lol, This is what can happen when folks who have no design training have no architect or designer to help them.
In defense of this space, it used to be the kitchen for what was originally a single-family home.
That there are nine-foot ceilings on this level is very rare. Usually, they are as much as two feet lower!
Yes, the new walls will line up and will come forward about four feet. This way, the stairs breaking through the ceiling will not be seen. The bedroom is quite large, so that is not an issue.
Therefore, the new wall will be right about where the image begins in the foreground.
Okay, drum roll, please. I'm calling it Laurel's Hotel ensuite.
~~~~~~~~~~~~~~~~~~~~~~~~~~~~~

Okay, the monkey was giving me problems, and it's late. However, I'm in mad love with this. It's my fantasy of a perfect hallway. Can we make this happen?
Walnut doors, Laurel???
Yes. :]
Hopefully, you can see that the ceiling with the embrasure doors is lower than the central portion where the light fixture is. That's 109″. So, having a chandelier with a drop of as much as 29″ is not a problem. The embrasure door areas will have a height of about eight feet, and instead of a crown moulding like the center section, will be a panel that coordinates with the door panels.
Above a section from a gorgeous hall by Philip Mitchell. As you can see, his wide wall is the side of a closet. Of course, this is a regular wall panel, not a door. You can do that too.  Yes, that's Phillip Mitchell with the wonderful galley kitchen. He's the king of mouldings.
As always, I also channeled Gil Schafer. I have learned so much about design from studying his magnificent work all these years.
So, what did I learn from this exercise?
Well, remember the early, early, early iteration of this bedroom?

I always imagined a light floor in the bedroom. Well, could I switch floors from the super dark ones to something like the one above, or even a solid pale floor? Well, aside from budget issues, the answer is:
YES! Absolutely. However, here's my rule for that.
It has to coordinate yet be something entirely different, and not two kinds of wood that clash. For example, like golden oak on one and special walnut butted against it unless something ties the two floors together.
Wait, Laurel. Oh, please don't do the super dark floors; they will show every speck of dust.
***Guys, I love you and know you want only the best for me. (Well, most of you do.) ;]
I fully understand what you're trying to save me from. I have Robbie and Twiggy to eat the dust. Besides, there is surprisingly very little dust in this place. The thing is… While I adore white and super pale floors, this home keeps telling me they must be dark, rich, and lustrous.
That's in keeping with that sophisticated old hotel look I'm aiming for. This a historic home in Boston, not a beach house in Key Biscayne.
Anyway, I love super dark floors, too. I can have pale rugs to keep things lighter.
Remember that stunning Greek Revival in Kinderhook? Funny, that one IS a country home. I drooled bucketfuls over that one. There's a link in the post that shares many more images. Amazing house!
However, one way to do a coordinating floor would be to do something as Furlow did in Peacock House. Or rather, a border could be stenciled in the bedroom in dark brown or dark gray. Or, there could be a dark diamond, as Furlow did.
All photos of Furlow Gatewood's homes via Rod Collins SmugMug
Crazy, beautiful! This is the Anna Moffo of painted floors!
Please enjoy this exquisite version of Rachmaninoff's haunting "Vocalise." No one has ever done it better, and no one ever will.
She does the descant from 5:57 to 6:20 in ONE breath, up to a high C, and back down. It's like crème brû·lée. As I said, crazy beautiful and incredibly difficult to execute.
Furlow's decorative painter did an incredible job.
Well, we'll have to see. I don't think it's in the budget. That is unless I can find some super-talented, starving college students. haha
In any case, I love the new little hall and hope we can make it happen.
I hope this post gave you some good ideas for how to make more of your hallways.
For more about that, you might enjoy these posts.
I did a number in this Florida Hallway. Or, it might be in this post about architectural mistakes and easy fixes that talks about the same home.
See also 18 secret doors you'll be inspired to have.
Another fun post is 21 Hidden storage ideas for stairs, kitchens, and bathrooms.
*********************************************************
Part 2 Begins Here
August 21, 2023
As promised, here is the solution for the closet door in the way of my nightstand.
First, this is the floor plan downstairs three months ago, on May 20, 2023.

The closet door where it says storage under stairs is in the way of my nightstand.
Above is the old rendering.
This floor plan is rotated 90 degrees from the original floor plan. However, it is oriented in the direction of the rendering.
Let's look at this from right to left.
I closed up the doorway near the new Runtal radiator on the right.
It is now part of the main closet, which I love.
Then, we have the embrasure hallway leading to the main closet, out to the staircase, and the bathroom.
I might put my two small demilune tables I've had for years on those two little walls.
At one point, we were going to put the mini fridge in the closet by the left side demilune table. However, that closet is not quite deep enough and can't be made any more deep, because it would throw everything off.
However, I realized there was enough space in that closet to borrow about 14″ from it and add it to the closet under the stairs.
Now, we have enough room to move the door over about 16″ and make it a little more narrow.
And, voila! We have plenty of room for my 13.5″ deep nightstand.
A bonus is that in doing so, we created an 18″ wall (next to the closet door- 057), where a sconce will go. (You'll see a 6 inside a diamond)
Please also note that the two closet doors in the stair hall line up. The far closet has a stackable washer/dryer.
And, that's all the news for tonight.
xo,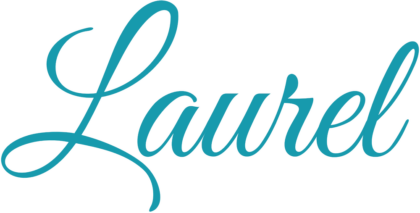 There is now an Amazon link on my home page and below. Thank you for the suggestion!
Please note that this website is a free service. However, it's very expensive to run. To provide this content, I rely on you, the kind readers of my blog, to use my affiliate links whenever possible for items you need and want. There is no extra charge to you. The vendor you're purchasing from pays me a small commission.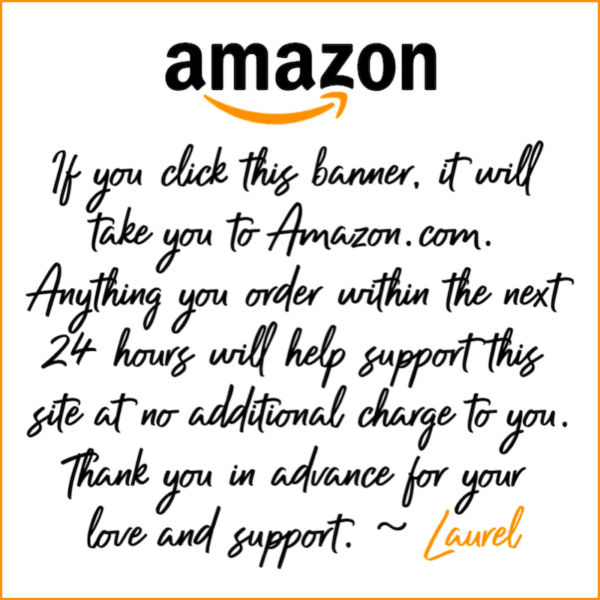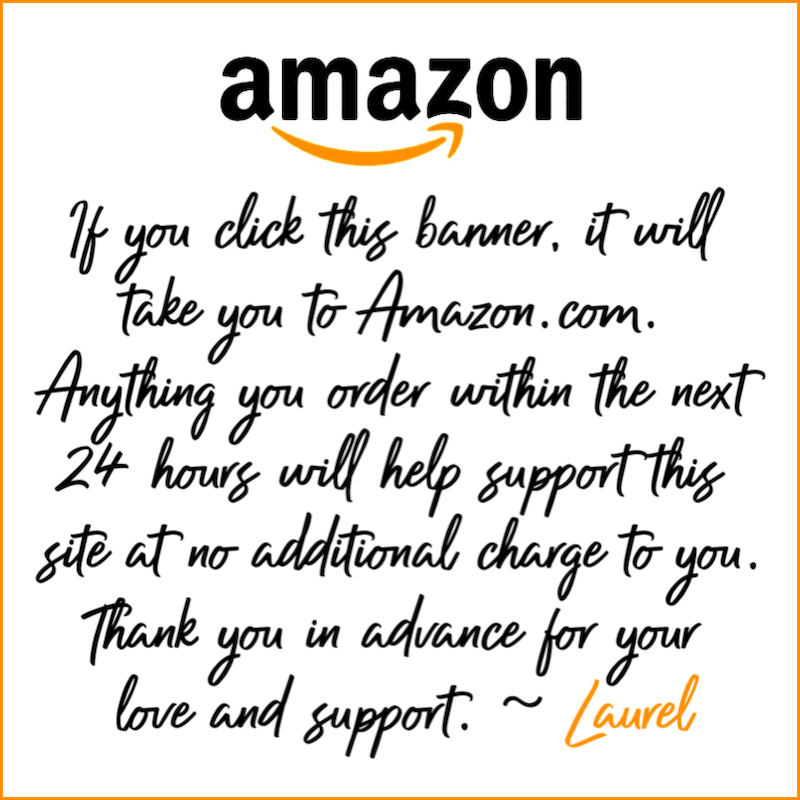 To facilitate this, some readers have asked me to put
A link to Amazon.com is on my home page.
Please click the link before items go into your shopping cart. Some people save their purchases in their "save for later folder." Then, if you remember, please come back and click my Amazon link, and then you're free to place your orders. While most vendor links have a cookie that lasts a while, Amazon's cookies only last up to 24 hours.
Thank you so much!
Your support of my work and website means the world to me!