Hi Everyone,
Welcome to Laurel's NEW Home! Tim is working around the clock fixing things that aren't working.
I won't bore you with the technical stuff. We have enough fixing to do with our two Florida Homes.
Today, we will focus on Flo-2, which features more architectural mistakes: she doesn't know what to do with it.
There's a lot to cover because I also created a new floor plan for Flo-1.
So, if you missed that post, please go and check it out. Also, if you're curious to see what I did, please do so. I took many of your suggestions and incorporated them into a vastly improved version of my floor plan.
Alas, it did require my having to cover up a window. That is discussed at the end of Flo-1's post.
Initially, I was going to put these two posts on the same page, but I feel it's a bit much. Anyway, I find if you want to take a few to review Flo-1's revision for a poorly designed home. I enjoyed doing that one so much; I want to live there. One of my favorite parts is the new library hall. I think this slightly rambling hall is the perfect remedy and will make this home feel BIGGER.
Okay, I'll go make myself a cup of tea while you're catching up.
***
Great, I see everyone is back, so let's begin with Flo-2's darling note to me, and then we'll see "what's doin'?" (as they say in New York)
Dear Laurel,
Long-time reader, first-time emailer here 🙂
I have a suggestion for a post, as I haven't seen this topic on your blog:
How to handle a room where the ceilings are *too* high?

Yes, a #FWP in every sense! Maybe others are dealing with the same problem?
The room that's giving me fits is our dining room in our new home in Florida. The room measures about 10′ x 12′ and with 14' walls. It's an elongated hexagon.
But then, capped off with not one but a double tray ceiling. So, the total height is well over 15 feet! Because it's a fairly enclosed room,  it creates the effect of a very tall, dare I say silo?
Laurel, I am struggling here.
I have a background in design but am stumped and combing Pinterest for ideas. I'm wondering if adding wainscoting will add a choppy effect. I would be happy to share photos if they would be helpful for a future post.
Thank you for your time!
***
I wrote Flo-2 back. Guys, just so you know, I answer everyone, or try to. If your email goes unanswered, it is only because
A. It's a blog day and your email got buried
B. I read it on my phone and forgot to answer later because it got buried.
I'll always take a look at your pics– unless it's a basement, or something that most people don't care about.
However, if you send me something, it's now mine. Just half joking. I'll ask you if it's okay to post the images before doing so.
Okay, here's what Flo wrote back, a few days ago concerning her silo–errrr dining room with a slew of architectural mistakes.
Thank you, Laurel! I have no expectations so if you can use this at some point, great. It's therapeutic typing it all out:)


I bet!

We are a military family with young kids who have moved a lot. We are now settled in a long-term home in Florida. When we first toured the home, I thought the dining room was quite grand and felt it had lots of potential.
Now, I'm baffled because it's not coming together.
Problems – Rather Architectural Mistakes:
15'+ height creates vast expanses of blank walls and a 'silo' effect.
Varying heights of doorways and recesses create a visual "busy" feeling.
Things we have added:
-plantation shutters, server, and lamps, chandelier
-table and chairs are new-to-us (Hickory Chair and Baker)
-sisal rug
-The room was painted, but I'm not 100% on the color. (BM Pale Sea Mist)
You can see in my photos I have been playing with tweaking the paint, along with a coral/green drapery fabric. The sconces are awful and need to go.  
I'd love to replace the china cabinet at some point (maybe with a painted piece? I know they're old-fashioned, but I need the storage) and likely need a larger mirror.
Thank you for any thoughts you or your readers may care to lend.
Architectural mistakes? You are too kind, darling Flo-2.
There's a good reason this room isn't coming together, and it's not your decorating; not at all! What you've done is lovely and perfect for a young family in Florida.
What bothers me the most is that this space has the potential to be wonderful. But, it's like they did everything in their power to screw it up.
Incidentally, I love Pale Sea Mist!
However, I think some beautiful wall art will help break up that large expanse of color. Yes, a larger mirror would also be fantastic.
One word of caution. Your selections are lovely but don't be afraid to use this color even if it's not a perfect match. The room will turn out better!
Coincidentally, Pale Sea Mist is one of the Laurel Home paint colors from the LH Paint and Palette Collection.
Below is a good example of different yellow greens, greens and gold which are not a perfect match.
And featuring Benjamin Moore Pale Sea Mist on the walls. Same color!
Above is one of the bonus boards I made in 2017.
Gosh, I barely remember doing this one. For some crazy reason, I promised a new board every month for a year. These boards and palettes are not quite as detailed as the paint collection guide's original 40 Paint Palette board.
Every once in a while, I link to the bonus palette boards which I ended up storing in my media library. Enjoy!
Oh, this is reminding me of another lovely home a reader shared with us, years ago. 
In this case, the color used was Benjamin Moore Pale Avocado, another Laurel Home paint color.
There are 144 beautiful paint colors in every color family.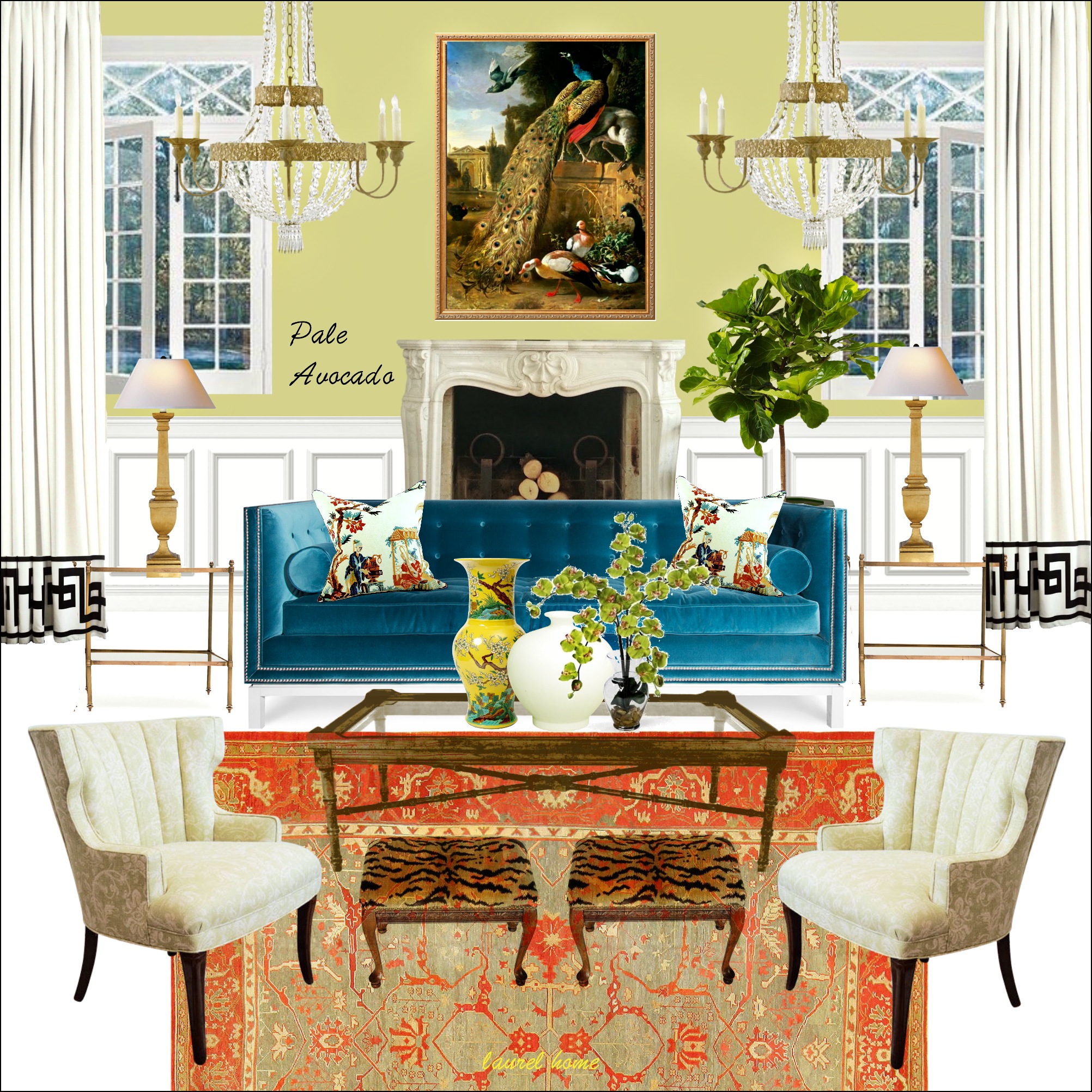 Above is another board in the collection.
I think either of these examples would be gorgeous in a Florida home.
I do not feel that any of the greens you have up are an improvement. They look a little tired in this room. But, let's try to fix this baby. That's because changing the paint color isn't going to help.
Therefore, let's put our focus back on architectural mistakes.
The most egregious of the architectural mistakes is the nearly 15′-6″ ceiling height in what should be a jewel-box of a dining room.
Laurel, is there a rule about the ceiling height ratio to room size?
That's a bloody great question, and so I've just spent the last 90 minutes working on it. I found a few different ideas, but none worked if the room was small, like 5×7, or larger than 12 x 15.
If anyone knows of a great formula that works no matter the size of the room, please let us know.
I'm sure it has something to do with the golden mean. Please read about the golden mean and how it relates to perfect architectural proportions, and the no-fail formula.
Of course, many spaces these days are at eight feet high. Actually, a super large room that's only eight feet high, is another problem to address.
However, I don't think there's any space that can't be 10 feet high.
My small kitchen and entry are both 10′-2″ high. And, they are lovely to be in.
My living room is just over 13 feet.  Standing up and walking to one end, I feel 13 feet would be too high for a room less than 150 square feet.
Flo-2's dining room is 120 square feet. I don't think it should be more than 12 feet high. Of course, 13 feet would be a lot better.
But, there are other architectural mistakes in this little room.
Let's look at a floor plan I made above.
There's the door inches away from another door? Whaaa? I think it looks dumb, and no door casing, either. Plus, the doors are at different heights. Who does that?
Unfortunately, way too many builders do that. Why they do such idiotic designs, I have no idea.
Let's look at the windows.
Eegads! Why Oh Why is there not a third window? Is it possible it's an interior wall? I guess, it's possible, but not likely.
Unfortunately, I'm not finished with this little room's architectural mistakes.
Next up are the niches. The niches are much taller than the doors. And, even taller are the transom windows. Ugh.
Oh, wait. One more. The arches. There are seven arches in four sizes and shapes.
That's gross.
Okay, yes, it's first-world-type gross. But, what does it take to make things uniform?
Look, this is an architectural mess.
To boot, check this out. When Flo-2 sent me the pics, they were attached inline and in a large size. That's fine, but this is what I saw in Flo-2's email to me.
Yes, they put this awful stucco on the bottom of each tray.
Okay, as is the case of Flo-1's home, sometimes it's folly to work with something that's gone terribly wrong. Of course, you can live with it the way it is. I'm aware Flo-2 and her husband are young and might not have the funds for major renovations.
I wonder what would happen if we turned the table so it's centered on the two windows.
Ummm… no.
Are there any cheap fixes for these architectural mistakes?
Yes, but they aren't going to make a huge difference.
One trick would be to paint the trays, on the bottom, the same color as the walls and then only paint the very top and the highest crown moulding a creamy white, like Benjamin Moore White Dove. That will make the ceiling feel ever so slightly lower. And painting out the trays will help not call attention to them.
After that, I would fill in the two niches next to the windows and where the fabrics are hanging.
She can keep the one in the center. That one, I don't mind.
Let's look at the door openings again.
One of them has to go.
After debating this for a while, I think it should be the one on the right. I would prefer if the doorway was squared off. And, of course, it needs door casing. (moulding)
Of course, Flo-2 doesn't have to do this, and I can't see what else is happening behind the dining room except for a sliver of the entry and living room.
But, if this were my home, I would lower the entire ceiling to about a foot below the bottom tray. And, then reattach the crown moulding, which will sit about 6″ above the top of the transom windows.
That will make the ceiling about 13 feet. That's still super tall, but at least it won't be as bad.
The only other option is to sheetrock over part of the transom to remove the arch and make it about a foot less high. Then reattach the moulding. No one will know that the window is taller. It will look the same from the outside.
We also talked about doing this in another post from a few years ago.
And, part II of this post concerning some strange windows.
Laurel, what on earth are you talking about?
Oh, sorry. I made another graphic!
It's difficult to make it perfect, but hopefully, you can see what I'm trying to convey. The transom is more proportionate, and the weird arches are gone. Please note: This is still a super high ceiling at about 12 feet!
Phew! These posts are fun, but take a while to put together. I hope you've enjoyed these architecturally challenged homes in Florida!
Again, if you missed part I, you can see it here, and see the revised floor plan.
xo,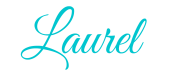 PS: Big, Big Weekend has already started in the HOT SALES! Melissa has done a wonderful job updating all widgets and fantastic home furnishings sales!