A kind reader wrote me about her scary big living room wall. And she's looking for some lower cost options, as well.
Dear Laurel
I can't tell you how glad I am that I found your blog. I've learned so much already and I've been devouring your blog archive as much as possible in my free time.
I don't think I've seen this issue addressed, so I'm wondering if not, maybe it could be a blog post. Pretty please? Actually, it's two issues.
First up is: I have this big living room wall; 20 feet of nothing but sheet rock. So, what do you do when there are no windows, doors or fireplace to break anything up?
And I do recall that it's a big no-no to line furniture up against the wall. Right?
Two, do you have suggestions for a media center that
(a) looks good,
(b) doesn't cost a small fortune, as built-in bookcase/media units do, and
(c) provide both a platform for the TV, as well as bookshelves and some hidden storage?
The units you see in furniture stores are God-awful for the most part.
Pottery Barn and Ballard Designs have some decent looking ones. But, they aren't cheap. And I have an issue paying the price for Ballard Designs and still being required to assemble it myself.
Anyway, I'd love it if you could share some awesome ideas/products that serve the same purpose as built-in cabinetry but don't cost $8000-10,000.
Thanks so much!
Serena
*********
This is 90% a real dear Laurel letter. Actually, Serena only asked about the media cabinet, not the long wall per se. But, after I answered her, she admitted that she had two long walls. And, since I was planning on doing this post anyway, I thought I would combine these two related issues.
However, I have only partially answered the part about affordability.
Certainly built-ins are always going to be the most expensive option. If you are thinking of doing them, consider if they will add value to your home or if the next owners are going to want to rip them out.
Also, think about how long you plan to be there. If you're not sure if built-in cabinetry will add value, I would instead get free-standing furniture that you can take with you.
I also have two uninterrupted large walls of 19 feet each. And, it took me a few weeks to figure out how I was going to address this.
We typically see these big walls in apartments, townhouses and if there are other rooms on the other side as we have in this family room situation we addressed recently.
We also had quite a long, empty wall in our townhouse in Goldens Bridge.
But, oh man, BREAKING NEWS BULLETIN! I JUST FOUND OUT!!!
MY total cholesterol is now only 178, down from 240!!!
And my good cholesterol is up to 78 from 72.
WHOOP, WHOOP, WHOOP!!!
Superb numbers. And, this was not a fasting blood test. If you have no idea what I'm talking about or missed the post, you can get the back story here.
I have been taking a low dose statin, baby aspirin, vitamin D and K2 and COQ-10 (doctor's approval) and one and one-half of my beta blocker for the original issue which is not cardiovascular disease, but can cause debilitating symptoms.
But, since my meds changed, I've been able to take three strenuous ballet barres a week and am walking a lot. I'm almost afraid to say that most of the time, I'm feeling quite terrific. Thank God!
Santa Laurel gave herself a Fitbit Versa for Christmas. She used her affiliate link at Nordy's. haha But, I started using it a few days ago and it's super easy to program. You use it in tandem with your smart phone.
I love that it tells me when I'm asleep and when I'm not. Freaky! It also tells me to get off my lazy arse and MOVE!  I highly recommend getting one of these, or one of the other models.
Okay, sorry, but I just had to interrupt myself.
We will now return to our regularly scheduled program. What to do with that durned BIG DRINK OF EMPTY WALL
The first thing I want to address is the lining up of furniture against a large living room wall. It is both true and not true that you shouldn't do this.
What you don't want to do what is in the post about 21 Interior Design Mistakes.
And what is going on below!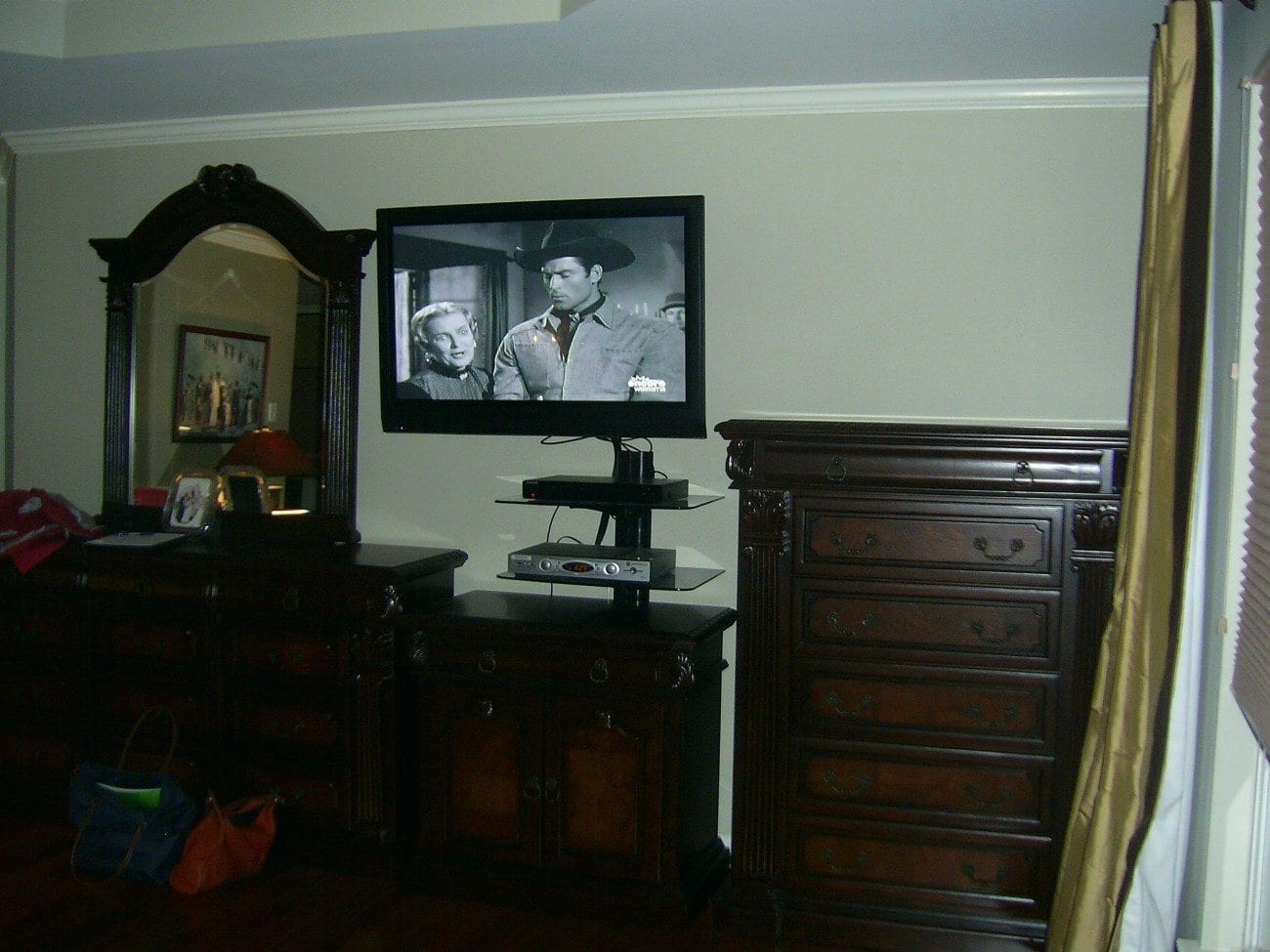 via Jill Valeri
As you can see there's a long dresser, a night stand with an alien TV stand and a high boy. So bad, so bad.
I realize that bedrooms can present with an additional challenge, however, this kind of random lining up of furniture, as you can (hopefully) see is bad design. And not to mention, that it looks like a matched set. Shudder.
We will discuss in a bit how you can put multiple pieces of furniture on one wall.
But, let's put the focus back to a large living room wall.
I like to think of the big living room wall as a composition.
And I also carry out the rule of thirds. You really can't go wrong with this. And by thirds, it doesn't necessarily mean that they are three equal parts, they don't have to be, but the two end sections need to be equal.
In other words, the best big living room wall compositions will be symmetrical.
Therefore, I feel that it is perfectly fine to line furniture up against a big living room wall, but only if it makes sense.
Let's look at some ways we can accomplish this.
If you are looking for TV decor ideas, please check out this post about decorating around the TV
This post that has more cool ideas about what to do with the television
and this post is about making your TV wires disappear once and for all.
Hmmm… I need to look at that last one too.
Here are some viable options to deal with a big living room wall.
Well, there are actually millions. In fact, I could sit here every day for a year and I wouldn't be able to come up with all of them. But, let's focus on some general ideas.
First, we could simply fill the wall with art. An art wall. And there are lots of posts here which you can find by clicking here for great ideas on how to make a gallery art wall.
I'm not going to address filling the wall with a sofa and end tables, but rather creating a focal point when there is none.
To that end, I made six quick boards to share some ideas for a big living room wall. At the top and left side you'll see some boxes. Those represent one foot. Most of these walls are about 18 to 20 feet. If your wall is bigger, you'll probably need larger furniture, or, it's also okay to have a little breathing space.
Your wall is unlikely to be more than 25 feet long.
Please also note that these are not fully styled vignettes. There are only so many hours in the day. But, I think it'll give you some ideas of the basic principles involved.
The first is from my living room. This is the Donald cabinet before Laurel impulsively (but happily) painted it Cotton Balls.  (you can see it painted by clicking on the link)
The mirrors and demilune tables came from Wisteria. And the lamps from One Kings Lane. (you can see a nice close-up shot here and find out why I had to cut the legs down a couple of inches)
Please forgive the tacky plastic tablecloth. If you read about my life with a drove of pigs, you'll understand why.
The principle here is that there's a LARGE focal point piece flanked by two smaller pieces. You could have mirrors or art. Lamps in front of a mirror are really fabulous.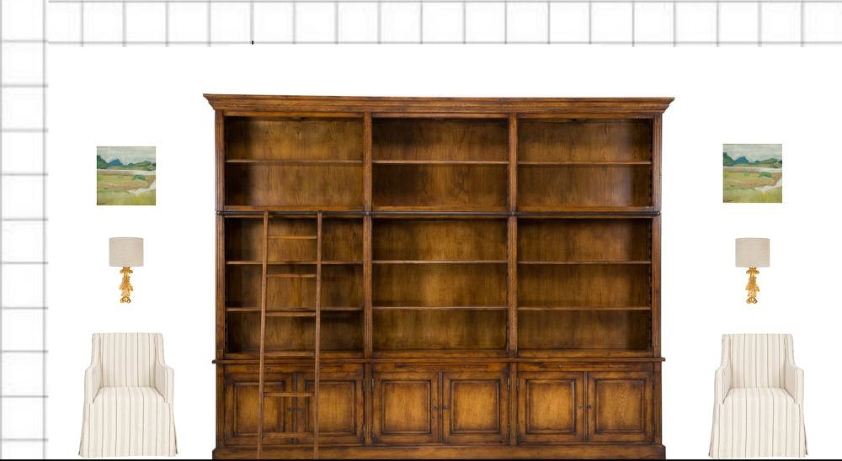 Another option, might be a big free-standing bookcase and this one is quite large, from Sarreid. Here, I have it flanked by two occasional chairs, sconces and some art to round out the composition.
I could see this in a library, home office or maybe in a mountain home. Please always double, triple check all measurements before ordering anything, but especially something as large as this.
Next up is something I have fantasized about having done in my apartment. If I could change one thing, it would be to have a fireplace. I loved my old one and miss it. I'm reposting this image above from Sunday's post because it demonstrates a "furred out" wall.
If you don't already know, furring is a technical term for the the bump out that would be necessary to create a believable looking fireplace wall.
One foot would probably be enough. It doesn't have to jut way out into the room. I have had clients who's furred out fireplace wall does jut out as much as three four feet (including the hearth) Of course, at best, I would only be able to have a gas fireplace and at worst, it would only be a total fake fireplace. Like I said: A fantasy.
Furring out the wall, would also allow a space to hide the TV behind something pretty. If you missed it, click here; this post has some great ideas.
And here's one of the best hiding the TV solutions – ever!
Then, I still need the storage, so on either side would live a tall cabinet.
(although since Done and Done came and done their thing, the need is not nearly as much as before.)
I love this Gustavian style cabinet from Wisteria.
The two thin lines are where the fireplace would come forward into the room.
Above is an alternate idea with two large chests and beautiful mirrors.

You could also do different color and styling. This would be for a slightly smaller wall. I think it's best if there's a little breathing room, like 6″-12″ on either side of the piece of furniture. But, if it's tighter than that, it should be okay. But the moulding of the piece should not touch the wall.
I love the Amma cabinet from Crate and Barrel. It's only 72″ high, so better for a room with an eight foot ceiling. However, this height looks good with a collection of Chinoiserie porcelains.
Another thing you could do with this cabinet is paint the inside. Anything, depending on the room, wall color and other colors.
Serena mentioned Ballard Designs. I've always liked that company and in the past have purchased from them for myself and clients. I think that this etagere trio is quite handsome. For a longer wall, it could be balanced out by art or sconces and an extra dining or occasional chair could be on each side.
Those of you who own the Laurel Home Essential Paint Collection which comes with the Palette and Home Furnishings Guide with forty boards have lots of far more detailed vignettes with walls. Some have windows or doors, but several of them do not. (by the way, if you have purchased a paint collection in the last year or so, I have a surprise coming your way. And no worries, it is coming to you no matter when you purchased.)
One thing I very much recommend is planning out your big living room wall.
Like doing a floor plan, you can create an elevation drawing to scale of what you are planning. You can use your quarter-inch graph paper, but I find for elevations, that 1/2″ scale is easier on the eyes. In that case, four squares will equal a square foot.
Another post which might spark some ideas is this one for rooms where there are no windows.
Below is a graphic image to pin to your pinterest boards for reference

The last thing to address is Serena's issue with having to put together the furniture.
This is what I told her:
Having unassembled bookcases is actually not necessarily a bad thing. If it came pre-assembled, you'd be paying much more to have them do it. AND paying a fortune to have it brought inside your home with all of the packing materials removed.
Plus, there's an increased risk of damages.
In addition, doors and drawers are better left installed on-site because of variations in the height of the floor. I've had dozens of large cabinets delivered and believe me, 80% of them were a massive headache and required on-site adjustments.
My rec is to get the piece unassembled and hire someone to put it together for you for however much it costs. Depending on how long it takes and the size, I would say between $200-$500– tops. However, I might be wrong about that, so please don't quote me.
Below are some of the pieces on the board examples from above and a few other things that I found. If you're interested in any of them, please click on the image.

And please check out the updated Hot Sales Pages.
xo,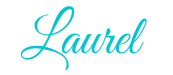 Oh, one other thing to look at is this post about wainscoting. Mouldings on a windowless, doorless wall can make a huge difference. And I used wainscoting in most of my the Laurel Home Palette Boards.