Even for a jaded interior design pro, life can be quite ironic, at times.
Right?
I mean, for YEARS, I would've given my flat files for the chance to do up my bedroom with Serena and Lily gorgeous merch!
And it's not that I'm not grateful or excited about this opportunity that for once fell right into my inbox.
If you have no idea what I'm talking about, I mentioned it recently in a note that goes out with the blog post link to subscribers; here's what happened.
Shortly before I went on the cruise, I was contacted by Serena and Lily as they very much want to partner with me!
Holy Crap!!!
I told them everything on my wish list for my bedroom facelift. And while they aren't totally giving me everything to redo it, they've very generously offered numerous products.
So, what's going on that has this interior design pro flipping out and dipping her face in concealer stick to mask the black circles around her eyes?
Fine. Yes. I'm being overly dramatic.
They're brownish-purple circles.
What's going on????????
First of all, I hate, hate, hate I'm not fond of decorating for myself.
Well, Laurel ya ol' interior design pro, don't you know what you want? Because if you don't, who does?
This is why I love you guys so much. You ask the BEST questions!
Yes! I DO know what I want– more or less.
I'd like to live in Nancy Keyes' garage. I understand that her husband is a fabulous cook. Of course, I won't intrude.
Too much. :]
But short of that, I guess I better focus on reality.
I'm living in an old building with floors that really should've been redone before I moved in, a bathroom that's ripped to shreds (due to a flood) and a kitchen that has damage too.
Plus, discovered in this post, there isn't one perfect right angle in the place.
Hardwood floors that are a little too orange, but with that glorious mahogany inlaid ribbon banding.
And then, there's my bedroom.
(the one with the makeshift drapery rod and fugly radiator that's six inches too wide for the window.)
There's also something about Serena and Lily. You guys know that I love them. I have for at least 10 years and I own several of their products.
However, I need to be honest; they have changed in the last couple of years. And it's not that it's bad; it's not, it's just different.
The look over-all has become more homogeneous. Now, I'm not to say whether this is a good thing or a bad thing. I'll leave that to them.
It's that the look has become decidedly COASTAL. Lots of blue, natural fibers– that driftwood vibe. You know, the more bourgeois word–BEACHY.
And make no mistake. I LOVE beachy.
Love it at the beach or at a lake house or even for a mountain retreat.
However, while the ocean is about 30 miles away, I live in the shadow of New York City, surrounded not by sand and water but an urban setting consisting of red brick buildings built circa 1927.
Plus, the last thing is that I do not want to turn my bedroom into a Serena and Lily showroom. It is my firm belief that it's not a good idea to do with any single brand.
So, if you haven't already, please go back to this post so that you can see where we were last April.
Let's begin with the bedroom givens. (the things that need to stay)
The orange=y oak floors which don't bother me that much.
Okay, if I could have anything I want, I would absolutely love a white floor.
Could I do that here?
Sure, but it would be a crime because these are the original nearly 100 year-old oak floors. And the building is Tudor in style. No, a white Nordic-style floor would be a big stretch here.
Do you agree?
I mean, we saw what happened when neighbors went bonkers three floors above me.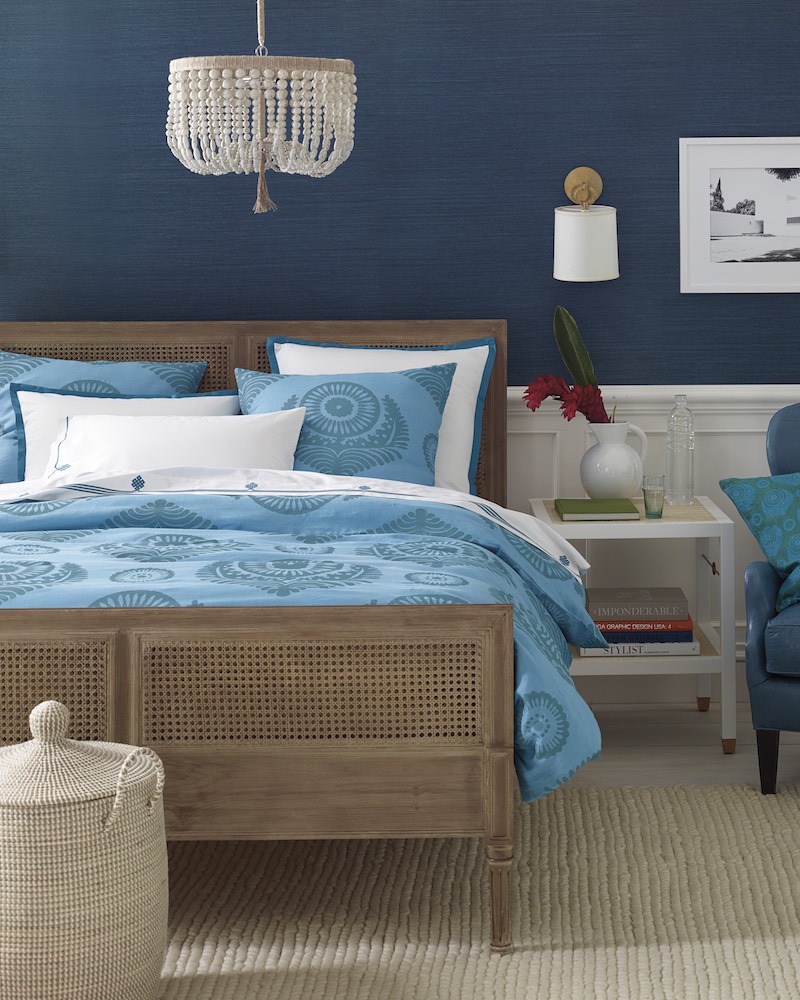 The other given is the Harbour Cane Bed which I've had over five years and still love just as much as when I got it. Right now, it works with the orange-y floor because of the dirty purple walls and goldish rug that also has some of the bed color.
I love this little rug, but technically speaking, it's too small. It's a 6 x 9 and should be an 8 x 10.
Or if it were 5 x 8, it would be the perfect size for layering. This rug came from the last house.
Now, we've come to the point where this ol' interior design pro starts to spin her wheels.
I'm telling you this for two reasons:
One, embarrassing as it is, it's the truth. (why would I make up something like that!)
Two, I bet it happens to some of you as well.
Decorating is NOT easy! Oh, sometimes it is easier, but I've struggled with rooms for clients too. And it's always the one with some "givens" that are mucking up the works.
The other thing is that the folks at S&L are all business and want me to stop pussy-footing around and just DO IT!
While it's causing a little loss of sleep, I really need that kick in the arse sometimes.
They've given me a deadline which is for the post to come out May 4th.
You know… the proverbial BIG BEDROOM REVEAL, along with a video of me (pretending to) STYLE my room.
Oh, this should be good.
Maybe I'll have a pajama party with plenty of BCP! (banana cream pie)
I promise that I'm going to stop typing garbage in a second. But, just need to get out the last problem for me.
I'm now officially a "little old lady."
Oh stop with the "oh, but you look so great and you're in such great shape!" crapola.
Yes, compared to my 95-yr-old mother, I'm in phenomenal shape.
Look, you know what I'm driving at! I need some brawny-type-bicep help. You would think that this is easy to find but it's not; at least not for me.
Can you hire a hunky "husband?"
Okay. Who remembers the show from the sixties "Occasional Wife."
haha
Well, I need an occasional husband.
One, who's looking out for my best interests, but goes home to his place every night and only comes over as needed. Maybe the male version of Barbara Eden?
He also needs to be able to run errands and deal with delivery people who don't speak English which is all of them.
I think that would be exceedingly helpful, especially if he doesn't mind emptying the dishwasher.
This is reminding me of my fantasy from 2.5 years ago.
hmmm…
I NEED that general manager, preferably in a thong (A Speedo is acceptable) to round up the other dudes. (this last statement will not sound as perverted if you read the fantasy post linked above.)
LAUREL???????
Gee willikers! Did you forget to take your meds today or something?
No, thanks for asking; I took my meds, but when I'm tired and stressed, I tend to talk too much.
Sorry. But I think that everything I'm talking about is relevant. Okay, maybe not the thong, but it does help to relax my tired shoulders thinking about it. :]
Okay, enough of these distractions! Time to focus on the problem-child-bedroom!
You see, my contact at Serena and Lily wants me to give her a list stat of what I want, (like yesterday), however, I am doing no such thing until I have a plan because it's a massive mistake to embark on any room without one.
Let's begin with the floor plan.
Without drawing anything out, I could keep my basic layout, OR I could move the bed in front of the window that looks into my neighbor's john.
But let's leave that one on the table for now.
Because what I like to do FIRST is look for inspiration.
While this room by the amazing Mark D Sikes has a little bit too much furniture, it is exactly the feeling that I'd like to have in my bedroom redo. And this look is very consistent with Serena and Lily's aesthetic.
I did track down the rug. It's actually one of Mark's designs for Merida Studio, formerly Merida Meridian. Good move to change the name.
They are a to the trade company that I worked with quite a bit about 10-12 years ago but then they changed their policy and hugely reduced their designer discount, so I took my business elsewhere. However, they do have lovely products. In fact, they are on page 137 in Laurel's Rolodex.

I do like this quite a lot. It's 100% wool. Very handsome and looks to be durable.
Here's Mark giggling because he's supposedly relaxing on top of his beautiful rugs for Merida. Believe me. This boy does not relax. You know his I-phone, has to be just under his book that the stylist is using as a prop. I love Mark; admire him immensely!!!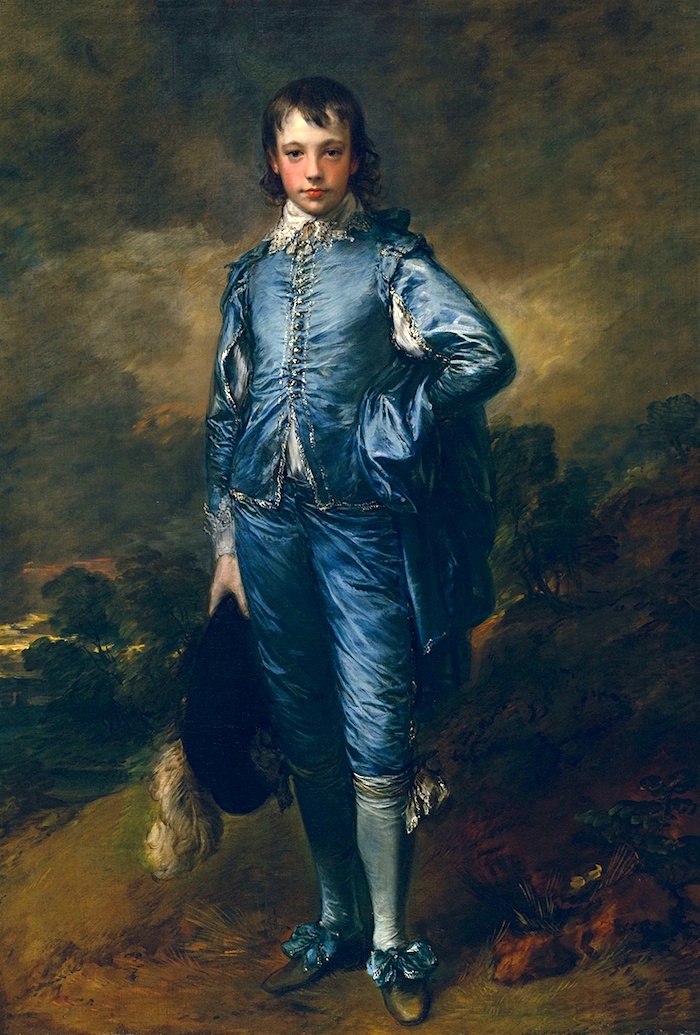 No question about it. Mark Sikes is our blue boy of the 21st century and he does it to perfection!

I also love this bedroom by Mark.
However, S & L would like to give me a rug!
But before we explore that, just to mess with my head and because I've seen so many cool dark rooms, I've gone back and forth with whether I should do a cool, rich chocolate brown or something along those lines.
But when I walk through my place and come to the bedroom, it just doesn't make sense.
It's so good to make decisions. Please remind me to shut the door on that one if I should waiver. Okay? It would be another thing if this was a two-bedroom place.
Still, I swoon every time I see William McLure's awesome former bedroom.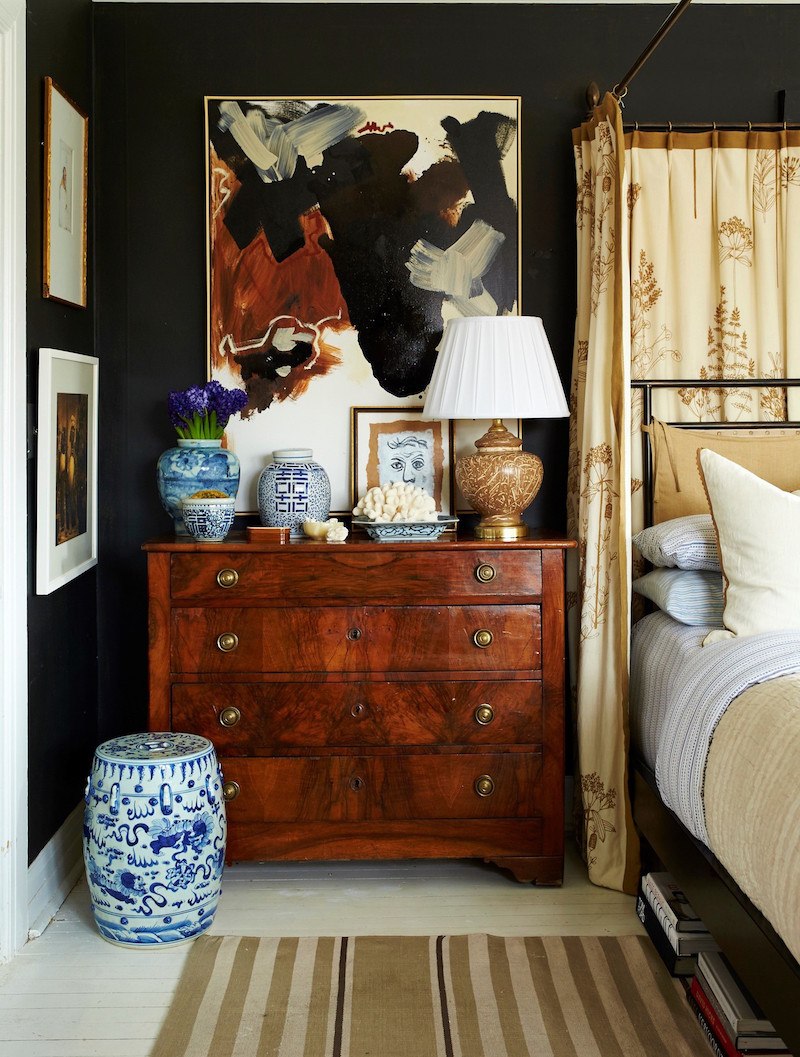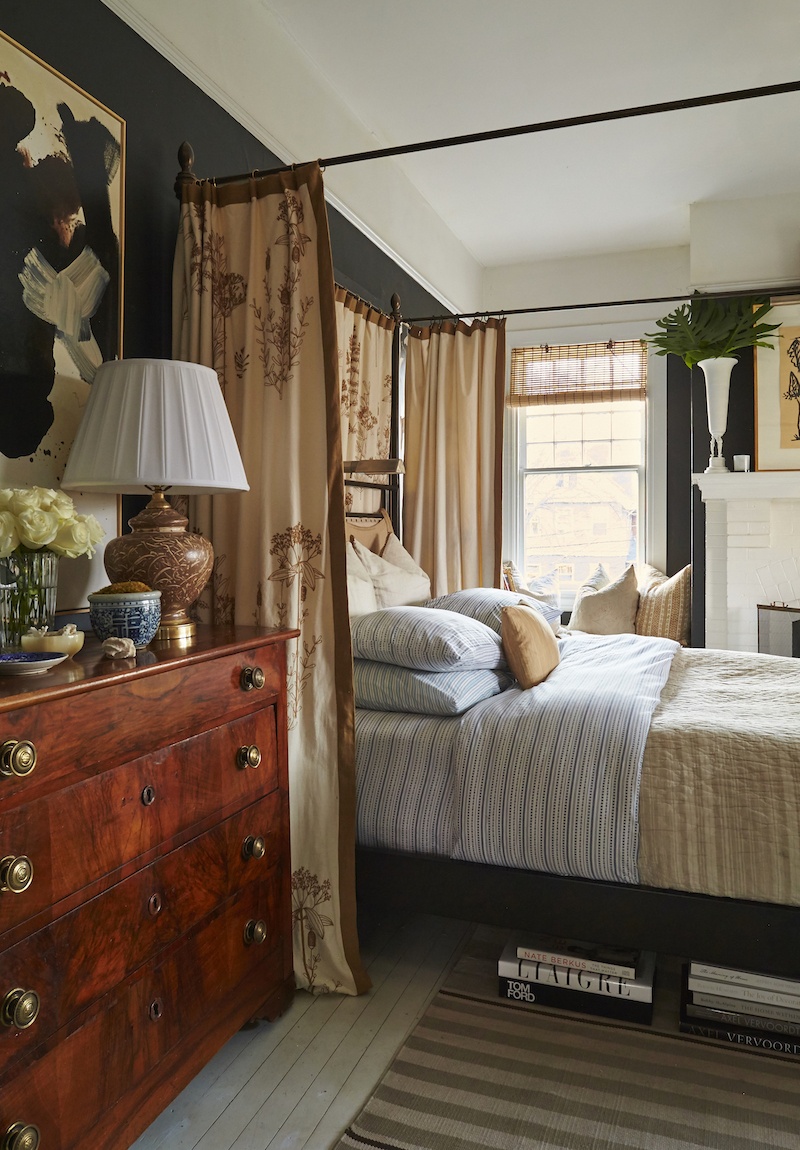 He gets to have white floors, because he always seems to live in a converted loft. In that case it makes a lot of sense.
A lot of William's and Mark's rooms have a similar look.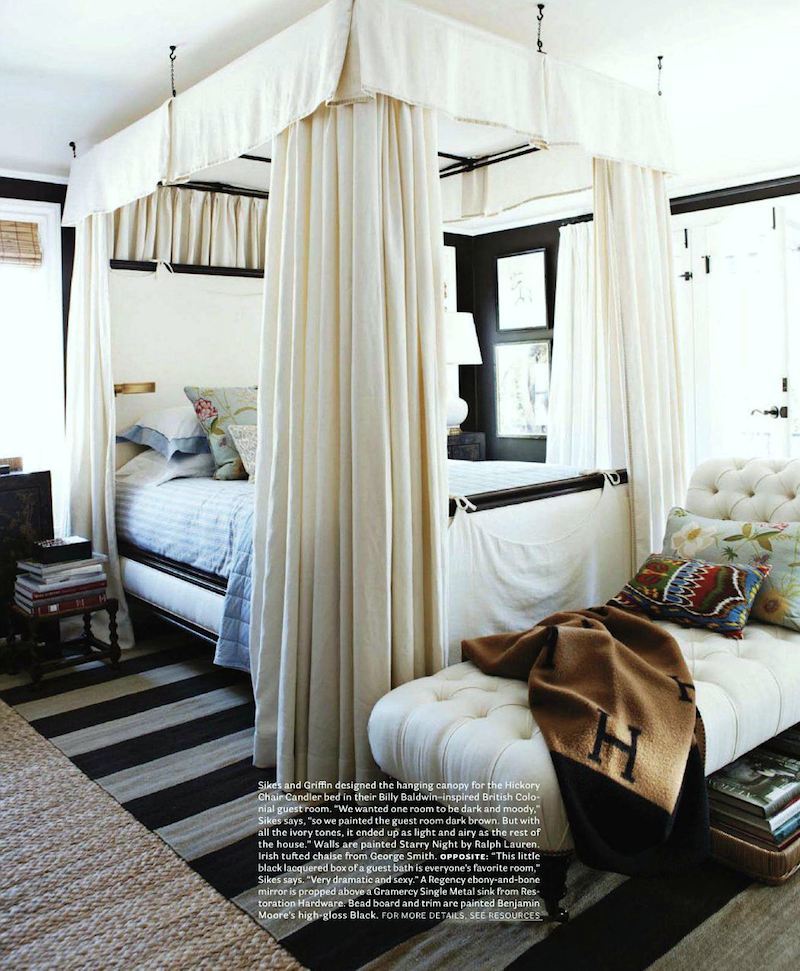 Mark also has a black bedroom
But again, I want to stick with pale. It's what I keep going back to.
And just a few hours ago, I came full circle into really thinking about the Chinoiserie wallpaper.
There are two choices. One is to paper only inside the wall boxes or take the freaking things down and just paper the walls. I know that some of you have strong opinions about that one! The latter might be better because we already have three windows and two doors in a 13′ x 13′ room. In other words, it's already quite choppy. We need to smooth things out some.
I do adore this paper from Fromental Studio

The new Abaca rug from S & L is a winner and it looks nearly identical to the one Mark uses.

I will tell you though, if I could have whatever I want, that I'd do a beautiful faded Oushak-style hand-knotted rug something like this one from Overstock. I believe that this one is sold, but they have lots of beautiful rugs and they are all deeply discounted right now. Some fabulous deals.
***Speaking of discounts*** and Serena and Lily. They are offering 20% off of ALL of their gorgeous upholstery which they only do 2 or 3 times a year. It's for another two weeks, so if you're considering it, I'd order your fabric samples. (use code: COMFY)
And for fun, I made a little widget. I wouldn't do all of these things in one room, but just some ideas. I'm feeling a lot better and hopefully, you'll see some of my design processes that I've used over the years.
To recap it begins with:
the givens
an idea to explore
some inspiration
a jumping off point
And sometimes I'm lead in a direction I hadn't ever considered.

xo,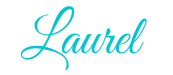 PS: I realize that this post may spark a lot of opinions and that is fine; I value your opinions as that is how we all learn and grow. However, every once in a while someone feels it their place to veer into the bashing territory. Again, it's the exception. All I ask is that we be kind to each other. Thank you so much!
And please don't forget to check out the hot sales! There are lots of beautiful new furnishings on the main page and the clothes are totally updated!