Dear Laurel,
I just found you on Pinterest. Great boards. I was googling best neutral wall color with stained wood trim and found you again.
I am desperate. The contractors are coming Monday to repair all of the damage from many hellish winters in Massachusetts. The wood is largely a medium oak stain in a 1905 Victorian in Boston.
My husband and I are getting a divorce, but I'm staying here and want to make the place my own. Finally!
And no, it isn't because we had a fight over whether to paint the stained wood trim or leave it stained.
I read this other post you wrote about stained wood and laughed so hard because this does sound a lot like my husband, soon to be, what do you call yours? Wasband?  haha! Too much, Laurel!
Actually, I've come to like the wood trim in this old lady and I've been told by a lot of people that painting it would be a mistake. But, I want to make this place wow. And BTW, I feel so inspired by some of your recent posts, particularly the one from the other day about Laura who painted her music room, Jack Pine.
The other thing is that when the contractor gave me the quote to paint all of the stained wood trim, I nearly passed out. It made the entire job more than double the price. No can do!
It's just that the walls are this kind of weird yellow and it's not really me and it's not looking so great with all of that wood trim. But I want to feel uplifted here.
So I have my Benjamin Moore fan decks out and if you could, maybe just point out some of the best colors that will make my stained wood trim sing!
Thank you,
Jackie Woods 
Hey Everyone,
Well, as said yesterday, we had a storm today and I've been slaving away at this post. It is actually a re-working of a very old post and this time it's new and improved. And no, you won't find the old post. It's gone.
The note is partly made up and partly not. But over-all, it is based on a real situations.
In this post, we are going to go through a few things regarding stained wood trim and talk about a few colors and then I've made a chart for you of 16 of my favorite colors that look beautiful with wood trim.
And then, I actually put a little sample of wood next to the chip on the chart so you can see how they look together. More about that later on.
The first question many people have is:
How do you know if you should keep the stained wood trim, or paint the stained wood trim?
That's a very good question and here's how I feel about it. Much of the time, it's simply a matter of preference.
But, there are some times when you shouldn't paint the wood trim because the architect meant for it to be stained. Plus, he's a legend, like Frank Lloyd Wright, for instance who's famous and deceased. And if you paint his lovely oak, he will be forced to abandon his grave and give you a big thwack across the knuckles with his architect's scale!
If you are living in a home-built by Frank Lloyd Wright, painting over the wood trim would be like putting a mustache on the Mona Lisa. (Leonardo probably would've liked that.) ;] The same goes for a lot of architectural styles such as Arts and Crafts, AKA Craftsman Style and sometimes Shingle Style.  Although some Craftsman Style homes were painted and still are.
Here are some other reasons you might want or need to keep your stained wood trim
You:
Like the stained wood trim.
Don't like it but can't be bothered to change it.
Hate it but don't want to spend the money to fix it.
Your mother likes it.
Your husband likes it and you enjoy making him happy.
Or, your normally sweet husband turns into a raving lunatic at the very mention of painting the stained wood trim!
Some things just aren't worth fighting over.
And, truth be told, I've softened my stance (a little) about stained wood trim vs. painted wood trim and this is why.
Although, I invariably prefer most things to be painted, stained wood trim CAN be beautiful.
Now, let's look at some examples of stained wood trim vs. painted wood trim.
First of all, trim, if you don't already know, is anything made out of wood, including window and door casings, crown moulding, baseboards, stair railings, panel mouldings, wainscoting and cabinetry. Oh, and sometimes either coffers or beams in the ceiling.
Below is a New York City Brownstone. Lucky Dogs! I've seen these homes with stained wood trim and painted as it is below. In this case, I do prefer it painted, but I've seen some beautiful rooms like this with stained wood trim that look lovely.
The one below is very heavy, however. I mean, I wouldn't refuse to live here, haha.
source unknown
Above is a painted Craftsman style home. Sorry, original source unknown.
Smith and Vansant Architects
This is another Craftsman by an architectural firm that I've long admired. There is no wood trim except for a door. And, that is a legitimate design decision. Usually, in the 19th and 18th century, doors were stained a rich chestnut color and not painted.
However, below is a more typical Craftsman style home that we often associate as having stained wood trim.
and this.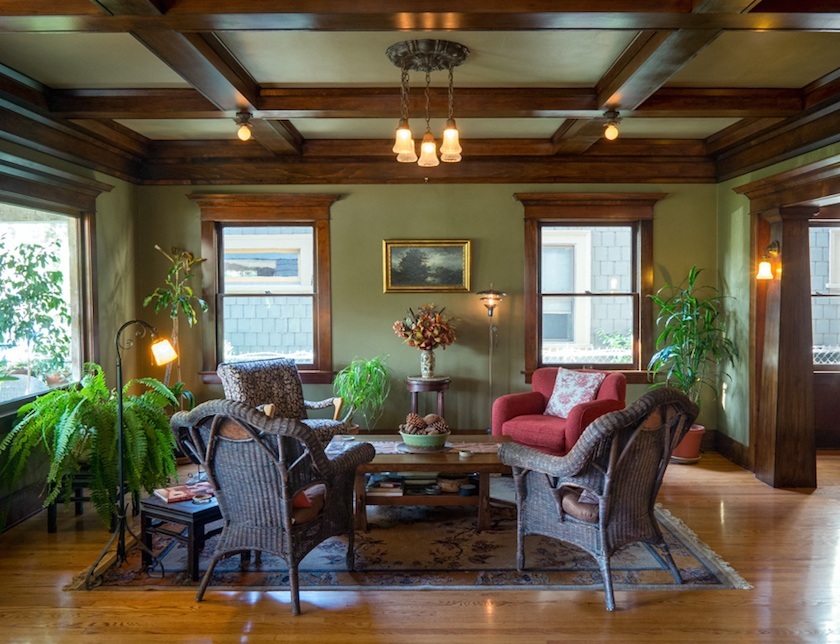 Well, okay. You're right. These are vintage craftsman homes. While I appreciate them, it wouldn't be my preference.
If you have any one of these and you'd like to paint it, I don't have a problem with that. If you need to keep the stained wood trim that's cool too.
But, What If Your home looks like this?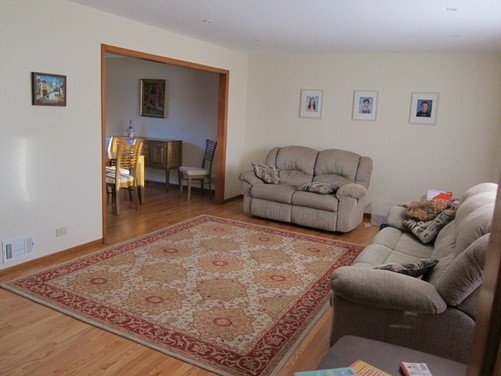 Or This?
This is true. If you live in a home that was built post War and it has wood trim, you can probably paint it unless it's an ultra modern house. And you'll probably need to add more mouldings for interest, unless the home is strictly in the modern style.
Getting the bones of the home right is crucial.


I promise you, that you will get the money back on the home sale.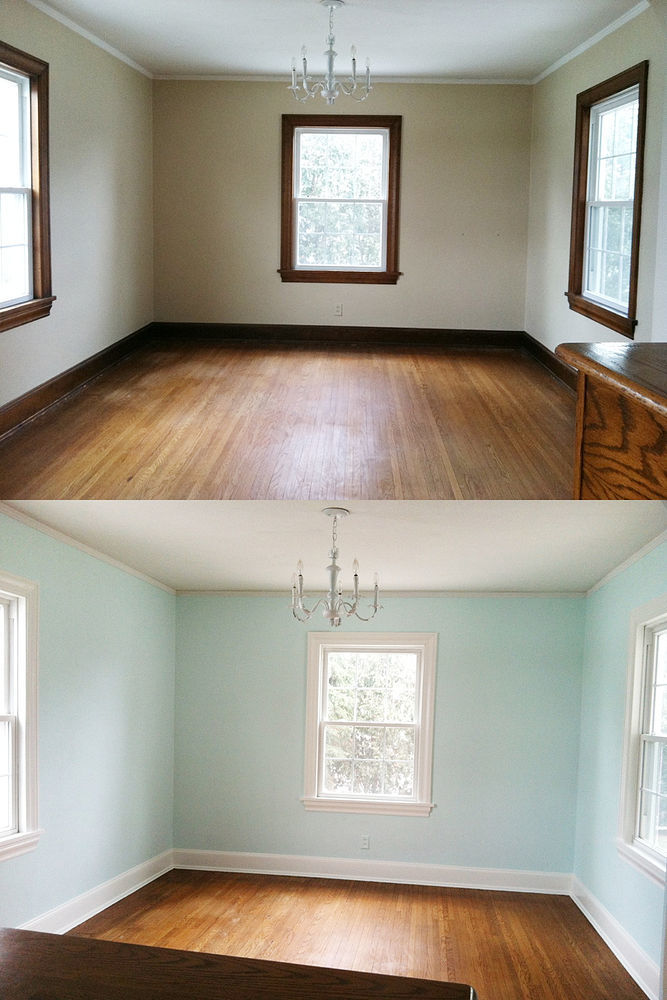 via Hometalk
The first one feels sad to me. But, it's also important to remember that any relatively plain, painted room won't fully come alive until the furnishings are back in.
Below is a great example of an old home with beautiful stained wood trim and a becoming paint color.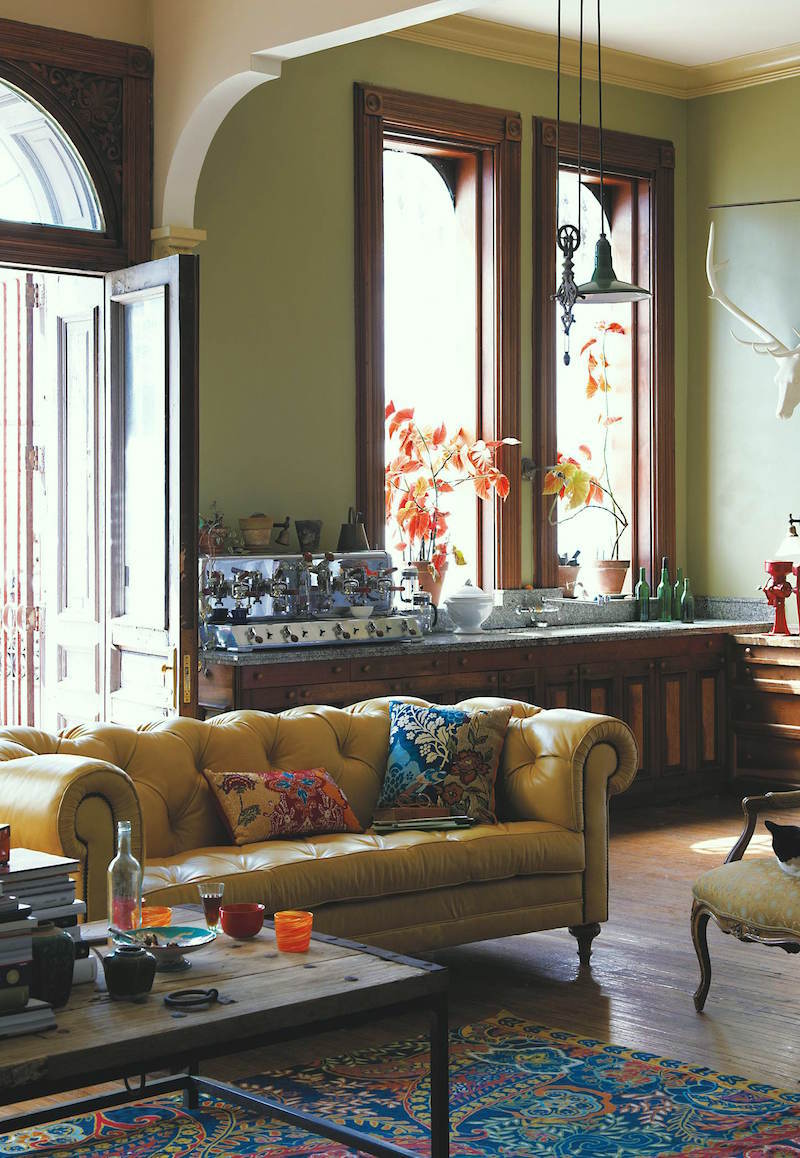 Anthropologie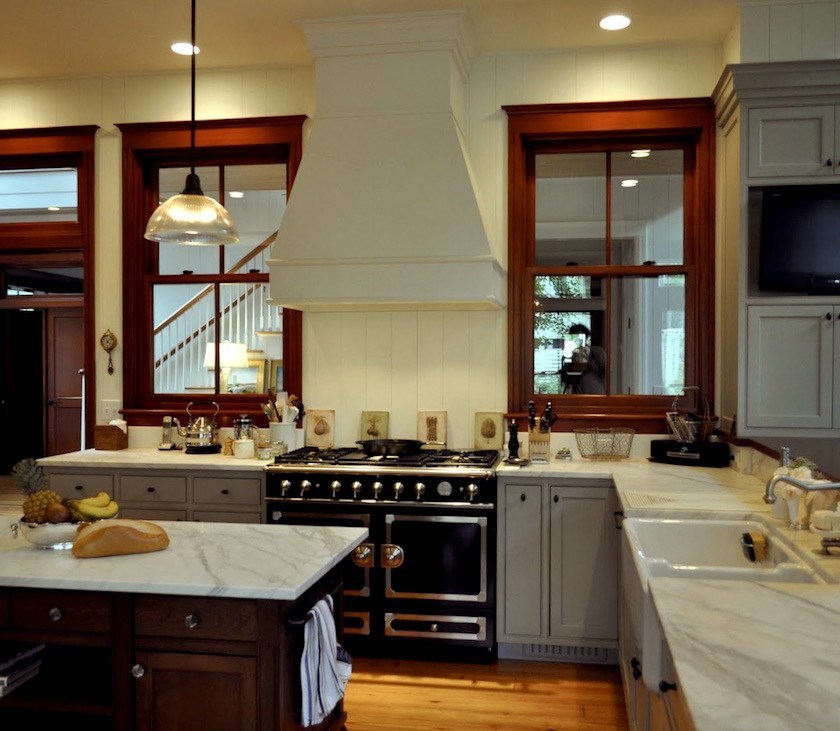 Frederick + Frederick
A gorgeous kitchen with a combination of stained wood trim and painted cabinetry.
James Thomas
This home with fine custom millwork would be one that I would not paint.
Interior Alterations
Interesting, above one room has stained wood and the one across is painted trim.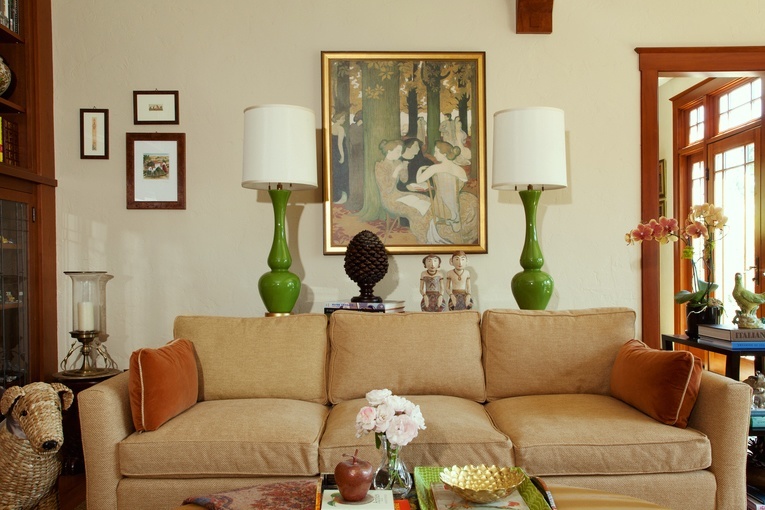 Melodie Rubin
The beautiful colors and furnishings look great with this stained wood trim.
A color you may not have considered but looks great with stained wood trim is a warm, rich red, like Benjamin Moore RACING ORANGE – 2169-10
In fact, lots of colors in the orange family look amazing with wood trim. Here's a post full of great orange colors.
Can you paint walls white with stained wood trim?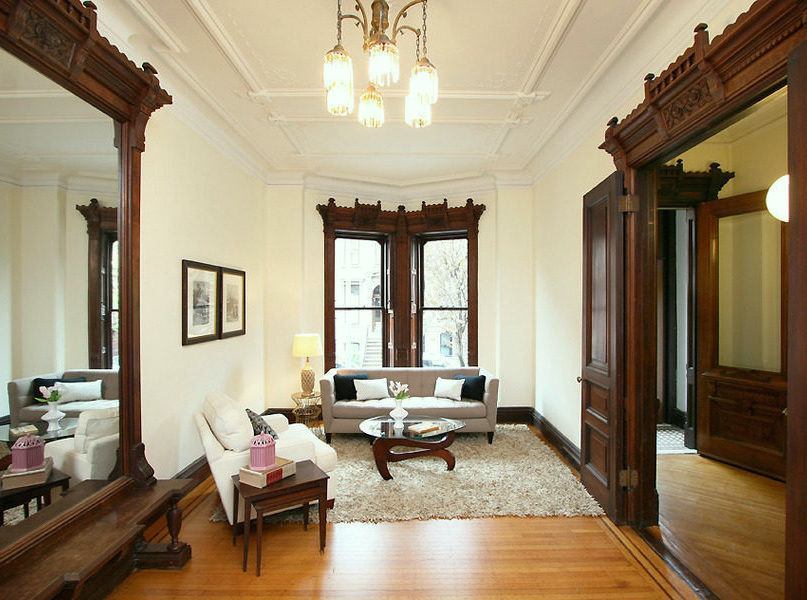 Yes, I think so. Although, I prefer a more classic moulding like the one Gil Schafer has in his amazing brownstone.
Or, the amazing Greek Revival home of Gerald Bland in Duchess County, NY.
Well, Laurel, what if my trim color is yucky, and I don't want to paint it.
You should probably consult with a professional, but they may be able to go over the trim to deepen it. You can't lighten stained wood trim, but it is sometimes possible to make it a deeper, richer color.
There is a product by Minwax called Polyshades. It is stain and poly in one. You might need two or three coats, but it might be worth it to get the wood looking lovely again. If you can't afford a pro, I would experiment first, however.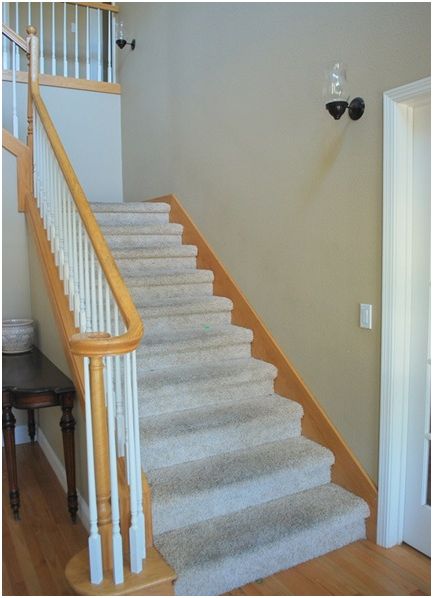 Centsational Girl took her staircase from this…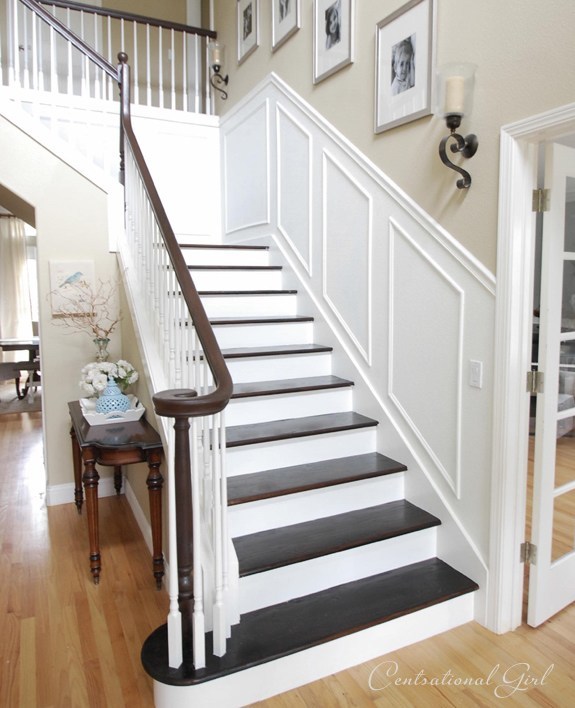 To this!
She didn't use polyshades, but some other techniques that didn't require a full refinishing. You can read more about that in the link under the first image.
Let's look at more colors that look great with stained wood trim
Actually, most colors are fine. Cool colors with gray in them, always look good. Most of the colors in the Laurel Home Paint Collection are terrific with stained wood trim.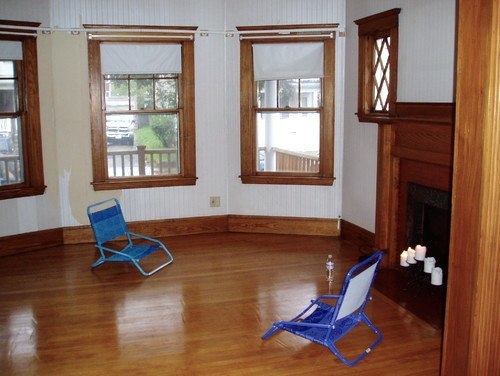 This is a bad photo, but with the right wall color, this could be a very pretty room.
Kitchen Lab Design
I love that they painted the spindles white which adds quite a refreshing note to this home.
The first color is…
Green
There are so many wonderful greens. You can see some of them here and here.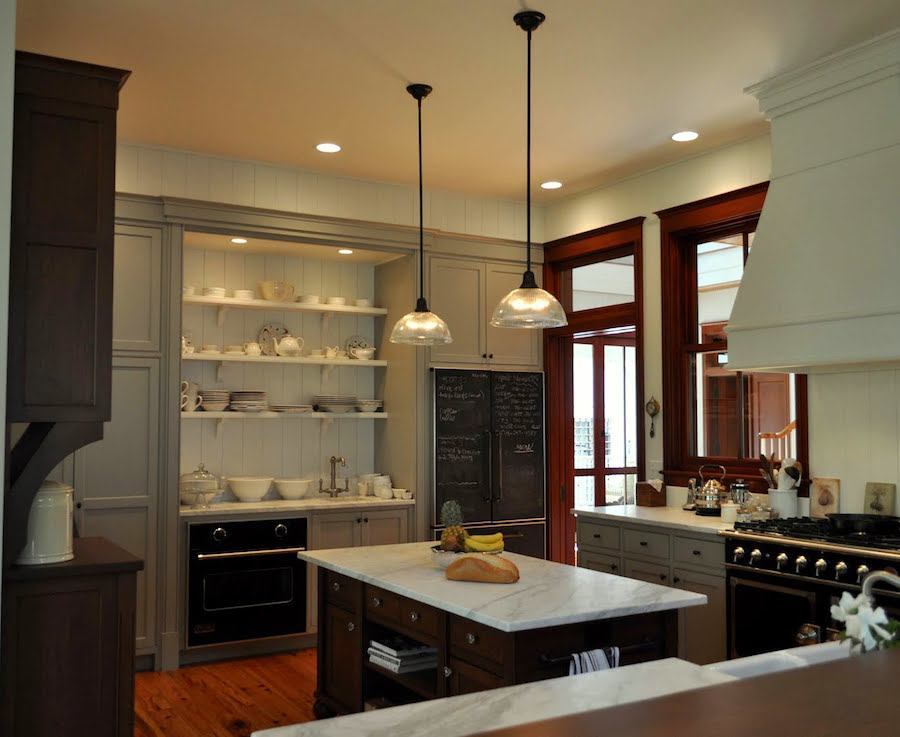 The cabinets in this amazing kitchen by Frederick + Frederick Architects look to be Benjamin Moore
NANTUCKET GRAY HC 111 – which is really a warm, very muted green.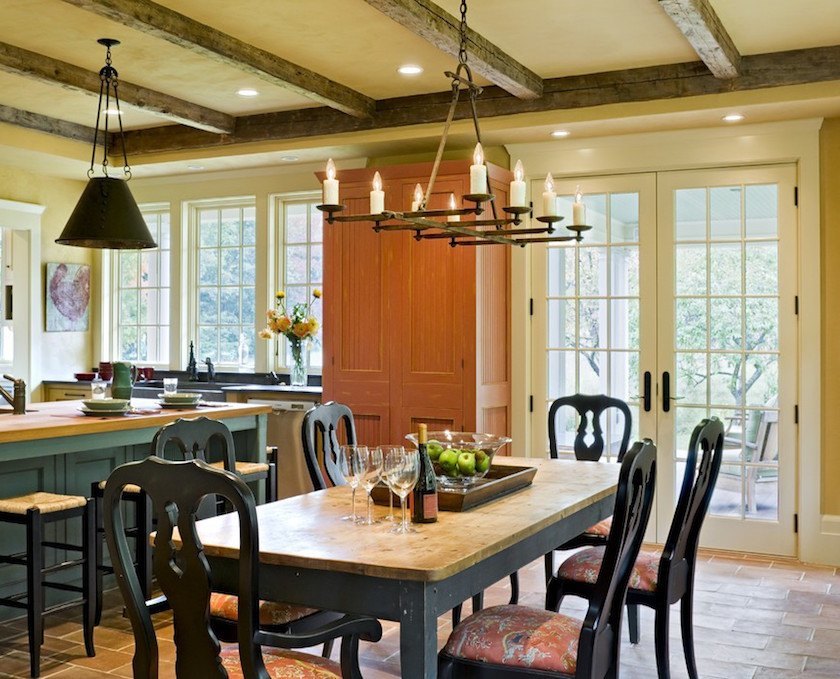 Smith and Vansant Architects
Gold is another wonderful color with wood trim. Some of my favorites by Benjamin More are:
HENDERSON BUFF HC 15
BLAIR GOLD HC 22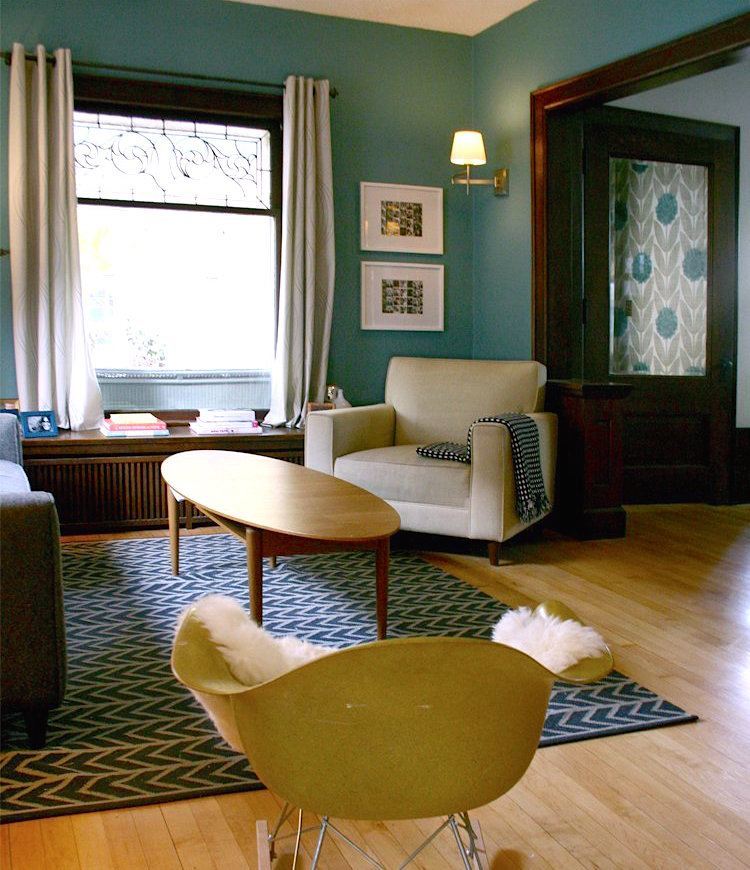 via Apartment Therapy
STRATTON BLUE HC 142 is a nice gray-teal
It is a bit bluer than JACK PINE that Laura did in her music room.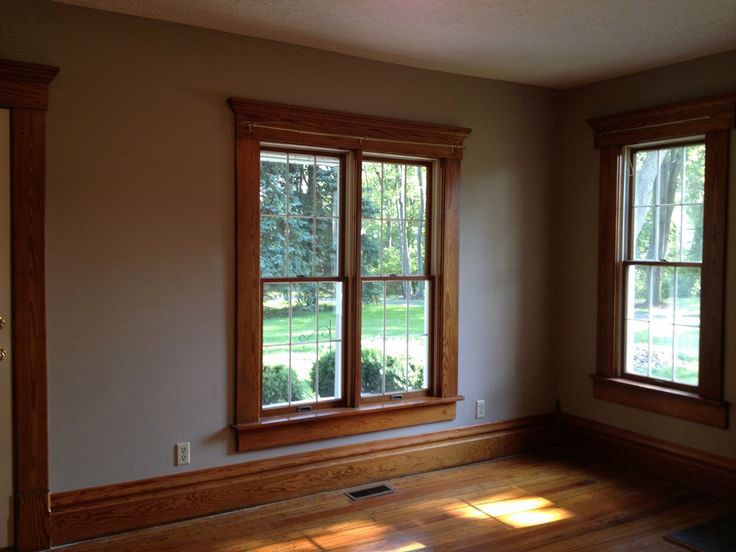 Another wonderful color with wood trim is a warm deepish brownish purpleish color. But not PURPLE! One of my favorites is ELEPHANT GRAY 2109-50. This is such a sophisticated color and a shade that provides less contrast looks elegant with the mid-tone stained wood trim.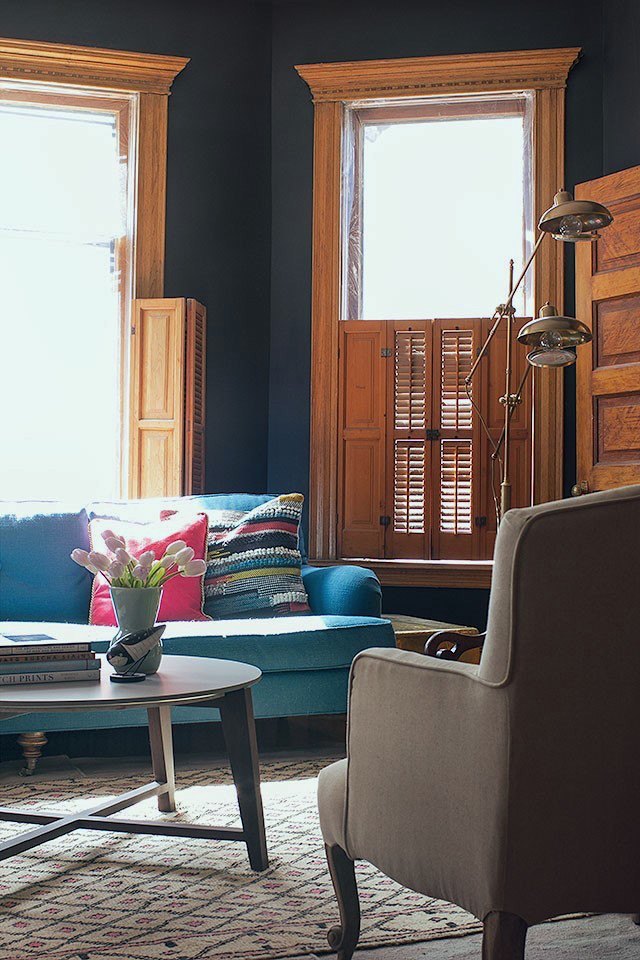 Making It Lovely
FYI, the paint color is Benjamin Moore BLACK BEAUTY 2128-10
BLACK?! LAUREL? With wood trim?
Sure. Why not? It's really cool. If you don't know the blog above, please check it out. Her home is filled with wood trim and every room like the one above is cooler than cool!

A brown-black with a black ceiling! I'm pretty sure that if I only had one home, that I would never do this, but if I had 2 or 3 homes–definitely!
Frederick + Frederick Architects
The pale blue-gray is a refreshing change with this rich mahogany stained trim. Love it with the wicker which knocks back the formality in a refreshing way.
This color looks a lot like Benjamin Moore SHORELINE 1471 that I have in my bathroom
Below are five favorite and/or common wood stains from Minwax.
Please note that these are approximations of the color as it's stain and depending on the color of the individual pieces, it may change the color a fair amount.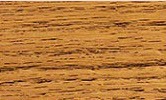 Golden Oak
Special Walnut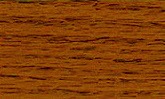 Cherry
English Chestnut (my favorite)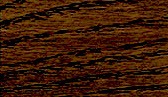 Jacobean or dark walnut.
And below is a graphic to save to your Pinterest boards for reference. These are 16 of the 144 beautiful colors in the curated Laurel Home Paint/Palette Collection that comes together in two volumes sold together.
Some of these wood colors, of course, are interchangeable. But, some of the combinations, I think are particularly nice.
As for how this all translates into one's home?
Ahhh… there's the rub. And I say this because it's not just wall and trim color that one has to consider.
This is why one needs to create a plan and there needs to be a jumping off point.
For Laura, her jumping off point was wood trim and a pipe organ. She instinctively knew that to make it all work together, that she needed a hunky color.
If you can't work with a design professional and you don't already have my two-part paint guide of 144 paint colors and 40 paint palette boards and a lot more, you might find it helpful.
Donna just commented yesterday about the paint and palette guide and how it saved her time and money:
Speaking of saving money…. I bought the rug that was recommended for my color palette from Overstock and it was about $400 less than you said it would be in your Ultimate Paint Palette and Home Furnishings Collection guide, Laurel. Overstock is having a sale on Safavieh rugs! I can't wait for it to arrive! If you don't have the Ultimate Paint Palette and Home Furnishings Collection guide, buy it people! Heck, I just saved enough money on this one purchase to pay for the guide twice!
Thank you Donna!
Okay. I promised you some big news and some of you may know already.
While I did make the "short list" of five bloggers in my category, I did NOT win the Amara blogging contest.
No biggie. Although, I do know that so many of you voted for me, so thank you for trying. Part of the vote was from three young judges from London who have no idea who I am.
However, the woman who won is a supremely talented interior designer and very deserving.
But, there's another chance for redemption–
because remember last year I was nominated for the Modenus Designhounds Contest and came in FIRST PLACE! I was shocked. But, that one is strictly because of all of you who voted. Sorry to trouble you, but they are doing it again and someone nominated me, so no backing out now.
You can vote as much as you like– That is, once a day through November 2, ending at 10:00PM ET. Just a few days and it'll be over.
The first place prize is A trip to Las Vegas for the kitchen and bath show (KBIS) and only one person gets this honor.  I so appreciate your help because I'd love to go!
And then look for my logo and blurb. (hopefully, I'll move up ahead of 26th place very soon)

Just click the thumbs up and you're done! Until the next day, if you so choose. :]
Thanks so much guys! I very much appreciate your support!
xo,