It's January. The holidays are over. Time to take down the decorations. (although, as far as I'm concerned, you may leave them up as long as you like)
Uh oh.
Things are looking mighty bare over on that thar fireplace.
I've written about fireplace mantel decor before, but I'm revisiting it because a lot of people keep asking for ideas. Since it's January 10th, what better time!
This time, I'm including not only new inspiration but I want us to examine exactly how the stylists do it so we can get ours to look just as good.
We'll also look at what doesn't work.
Oh before I go on, I need to be a snobbish snotface.
The word is MANTEL
not mantle.
thank you. :] I feel better now.
I always love to look at old, fine art for reference and inspiration in all matters decor.
Attributed to Jan Gossaert, called Mabuse (Flemish, 1478-1532), Madonna of the Fireplace, ca. 1500
I believe this is supposed to be the Blessed Mother. I thought they lived in Israel. Oh, never mind. Maybe it was northern Israel. :] But let's take a closer look at Mary's fireplace.
What on earth? I know that this means something and before I get myself in some hot mikvah, if you know, please do share!
Marriage A La Mode by William Hogarth c.1744
Hogarth's masterpiece depicting a marriage clearly in shambles brought on no doubt by a life of debauchery. Ahhh… the idle rich…
Let's take a closer look at what's doing with their fireplace mantel decor
whoa dude!
Quiringh van Brekelenkam – A Couple Having a Meal before a Fireplace c. 1660
No mantel at all… no decor, no money, barely any fire, a simple meal, yet they seem so content.
food for thought…
Young Lady at the Fireplace – by Wladyslaw Czachorski, ca. 1882
Clearly, she has just located her Iphone! Not much to see on the mantel, but I just had to post this because of the colors and that tapestry!
Helen Allingham (1848-1926) "In The Nursery"
Charming water-color artist. Here the mantel is looking more familiar. Very Victorian!
Alright. I'm not sure what we learned from that which can help us in terms of our fireplace mantel decor. But no worries— it's all coming! Our fireplaces are largely decorative, of course. We don't usually use them to heat the entire home or cook the family meals. Well, unless you're feeding the family a diet of fireplace s'mores! haha!
via pyknic
Alright. Time to get more serious!
Below is a mantel that I painstakingly "erased" that which lay upon it.
Before we get started decorating our mantels, there are several things to consider
the over-style of the room. Is it ornate, minimal, boho, modern, traditional…?
the over-all architecture. The mantel should be an integral part
is the mantel the primary focal point? Is there competition from an adjacent bookcase, window or something like that? Rooms are about balance. Therefore it's always important to think of each element as it fits into the entire scheme.
90% of the time, a good motto for fireplace mantel decor is less is more
the fireplace mantel decor should complement the other furnishings and colors and vice versa
consideration should be given to the entire fireplace mantel wall. What's going on either side and how does that fit in?
Thinking in threes. This is a little difficult to explain because there are a multitude of ways that something can be a part of a trio. Like three gold frames but one is a mirror and then something silvery like the mirror. Or three basic colors used. Or different pieces but in only one or two colors.  What's not good is having elements like gold, wood, glass, art, mirrors, ceramics, a piece of drift wood and your son's hockey trophy all on one mantel. There's no connection.

a little layering is usually good, but over-crowding is a no-no. And it is EASY  to overcrowd. Mantels aren't usually that big!
breathing room at the end of the mantel. Just like with a piece of art, I would not place anything right on the edge. If it's right at the edge, it's too big or it needs to move over. How much over? I think it should not go past the overhang of the shelf, for the most part
avoid lots of ditzy small things. Better to have one large glorious statement piece!
balanced symmetry is always the most pleasing. This does not mean identical twins necessarily left and right of center, but visually balanced.
Careful editing. When in doubt. Leave it out!
First are some examples where I think they missed the boat but could've made it with further editing.
If this is your room or you know who did it, my aim is never to embarrass anyone. This is only my opinion and I don't expect everyone to agree. My sole aim is for us to learn. I am learning along with you! Styling is not the same thing as interior design. Yes, there's overlap but they are separate skills! It's like there are surgeons and then there are neurosurgeons!
This is a very clever idea, I think,  and it isn't terrible, but there are just too many clocks for one fireplace mantel! And I think that there are too many little books. It looks a little cluttered. Otherwise the color scheme is good and they adhered to the rule of threes in terms of color and number of types of elements.
Some great ideas and I love every element here but not all together. It's more than three. I don't think that the mirror is the right shape for this mantel, the big blue and white porcelain is too large.
First, I would remove all of the candle sticks. It would be okay to have two or three lower votive candle holders, I think. I love the obelisk, but again, it's competing with the vase flowers behind. But, I would replace the strange white leaves with some pretty chartreuse hydrangeas possibly.
And then, I think I would prefer to see two white vases and leave the blue and white for the small pieces. We would have unity in terms of color and kinds of items. You can have more than three different types of items if they are unified by color.
Hey, I'm the queen of dead plants, but the entire mantel is like what my old one looked like. (no, you cannot see a photo. It's that bad! lol) Stuff just thrown up there. Keepsakes.
Okaaaaaaaaaaay. fine. Here it is. The proof.
There. From a few weeks ago. Hopefully redeemed! Yes, that's the same painting which I got years ago in Tiverton Four Corners, Rhode Island.
Where were we? Oh yes, the ditsy crap on the dead plant mantel and the little ditsy art. We can keep the small pieces for an art wall, but we need a couple larger pieces to make it feel more substantive.
This one is from a store which is why there are tags. I love all of the ceramic pieces and the books. The candle sticks make for too many elements, so I would take them away. Oh, and definitely the fan! lol The dead twigs would look better with something flowering. It's fine to do silk. Then, I would add another ceramic bowl either in green or blue.
Double decker tag sale look. This is such a shame because almost every element on both shelves is wonderful. Love the vintage art pieces! I would put the wedding photo elsewhere. Less art and less chachkas!
There are times when just one thing is appropriate.
photo: Nelson Hancock
This is a perfect example. We have an exquisite antique carved fireplace mantel. Imagine junking up the top of it.  We could add some elegant sconces or candle sticks and that would be all I would do here!
photo: Patrick Cline for Lonny
Are we all in agreement that this exquisitely styled fireplace mantel by Jessika Goranson is perfect, perfect, perfect!?! Below is a close up. And here is why. She used the rule of THIRDS. Please notice the number of threes. This is subliminally pleasing to the eye. And this rule goes for ALL styling and design in general. It's a wonderful rule of thumb to adhere to!
In addition, the rest of the room echos the design elements of the fireplace mantel. Or maybe it's the other way around! Spectacular room!
Peter Benson Miller via One King's Lane
Love the vintage creamware . I think a large collection is fine if that is ALL it is. That is a rich look!
Josie Moran Via Lonny – Art by Artfully Walls
A few special art pieces make for a satisfying display on this lovely mantel.
Lonny
I love this! It looks lived in and loved. Slightly Boho and just a chill room to hang out and read, watch TV or chat.
Jeffrey Bilhuber
For more of Jeffrey's unique and awesome home please click here.
Jeffrey's work is always cool and innovative. Love the little lamps on the mantel. It's difficult to see, but there are little outlets behind each lamp! Since there isn't much room overhead, most of the mantel decor is on the wall. Really well-done! Love the red inside of the cabinet!
Above and below by the wonderful Sheila Bridges
Sheila can do no wrong in my book. Everything she does is exemplary. She innately understands the rule of thirds.
Superb display and just right in every way! Oh, why isn't there a matching sentry on the other side? I don't know but a little quirk is often what's necessary. Also, we can't see the entire room so there maybe another element balancing that out.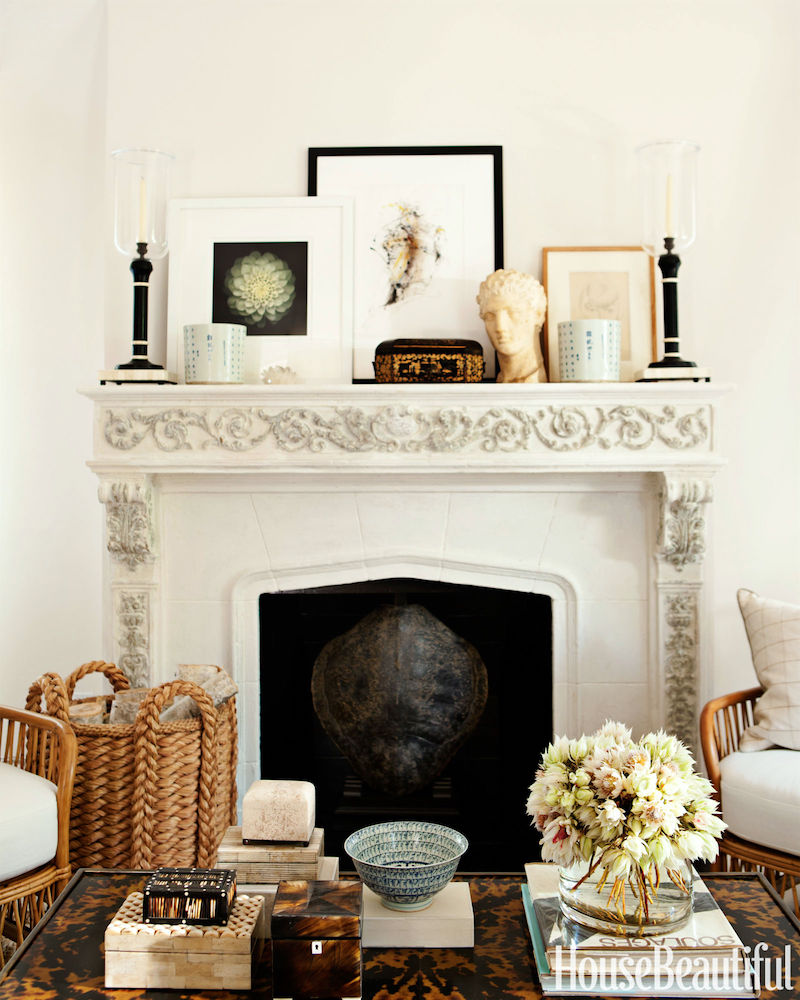 Mark D Sikes
An oft-posted image like Jessika Goransons and for good reason. It's absolutely perfect. Just the right amount of layering, unity in color and form.
Carolyne Roehm
This is a wonderful example of how the fireplace mantel decor integrates beautifully with the adjacent walls as part of a total composition.
Designed by Hal Williamson via House Beautiful
How pretty is this! Very simple decor is all this mantel needs. The black marble really grounds the other elements! But something I want to point out! Notice the variation in the wall color?
This is exactly why it's so important to test your colors and put them on a separate board that can be moved around so that you can see all of the different variations of the color better. The color, is Benjamin Moore DRIFTSCAPE TAN 2106-50. It is darker than it looks here which is often the case with wall colors in photos.
From the JK Place Capri by Michele Bonan.
This is where I would like to live.
India Hicks
Okay, I love India Hicks. Very stylish. Very rich. Gorgeous home. It's the old-money-I-don't-care-if-the-sofa-hasn't-been-reupholstered-in-25-years-look-just-because…
I adore this vignette! But please just tell me why she has a palm tree growing out of her fireplace that's sitting precariously close to the edge in a very large glass vase? Alright, I realize that I'm going out on a long palm frond here. After-all… who am I to question something that was published in a book by decorating royalty?!?
I'm concerned for your safety is why.
You have to understand. I raised two HELLIONS. Sure, go ahead and laugh. You have no idea. You may think you do, but you don't. Alas, I'm alive to tell the tale.
barely. (to be clear, I love my two monsters insanely. They are handsome, very talented young men now! And safe to take out in public!)
If this was in my home while they were growing up, the room would be covered with palm fronds, water and thousands of shards of broken glass.
Besides, isn't it just too overbearingly huge?
Maybe India thinks so too? Me thinks a stylist stuck it up there so we would be sure to understand that this is her ISLAND home.
This is also India. Love this room! Total redemption! It's old-guard and yet totally fresh. It's subtle, but it's things like the lamp, painted bergere and the rug. The mantel decor is perfect.
Saskias Havekas
Well, we have the rule of thirds, unity of color and form. Besides it's a Paris apartment.
It's romance personified.
I could move there right now and I wouldn't change a thing!
Happy Sunday!
xo,