Hey Everyone,
I recently received a real "Dear Laurel" lovely note:
Dear Laurel –
About a year ago, a close friend sent me the link to your website. And, you'll never know how much enjoyment I've derived from your candid and fun blog posts. I also refer back to, save, share, and am continually inspired.  I so enjoy your candid and fun way with words, too.
Not only have you expanded my horizons, you've saved me money!


[Laurel needs to interrupt to say that this lovely woman is not on my payroll. haha!]


Thanks to your timely hot sales alerts, we ordered two chairs, bedding, shams/comforter, and a Robin Bruce Sleep sofa (your feature on sleeper sofas got us over the hurdle). All have been received except the sofa, and we are thrilled with everything!
You've energized me to revisit my long-time favorite Blue & White Chinoiserie, so I'm underway on that too!
I need your suggestions for a rich, dark blue wall paint to go in the adjoining small-ish guest bath. The tile, tub, sink & wc are Kohler crisp white, the floor is stained wood.
All Best Wishes,
Judy
Gosh, that was a darling note. Thank you Judy! How can I say no?
In addition, a few others have been asking for a post about the best dark blue paint colors.
Okay, then! Here it is…
Also, there are a few surprises coming up, that I hope you'll enjoy.
It's been a long time since I did a post devoted to a specific color group. Well, except for the recent reworking of my top 20 best shades of white paint colors.
However, in the past, we've covered most of the other color groups, such as the best:
warm grays (which sometimes veer into violet, beige/greige and khaki)
cool grays (which sometimes veer into blue, green, indigo)
pale blues that don't scream out BABY BLUE.
some of my favorite green paint colors
green paint colors that aren't called green
yellow paint colors and a popular shade from the early 18th century
orange paint colors, from pale to deep
How to Work with the Color Pink
And brown, masculine shades preferred by the wife, not her husband
There are more posts about paint. If you are looking for more. You can either try the search box in  near the top of the sidebar. Or, you can go to the categories (lower down on the sidebar) and look for "interior paint colors."
But, one thing that often comes up is that most of us have connotations with certain colors, myself included. And, blue is one of those that comes up quite frequently
I'll never forget my COLOR professor at the New York School of Interior Design saying to a student in 1988, "No, you don't like blue; you like indigo. Blue is a horrible color."
It is?
Strange thing to say to a student, if you ask me. Mostly, I like all colors, but some need to be in very small doses. haha. Here's a good example of that, with a child who picked a shocking color for his bedroom.
Below is a classic example from Breakfast at Tiffany's where a ravishing Audrey Hepburn explains to her newly met love-interest, in the film, George Peppard, the difference between the "mean reds" and "the blues."
Love the Tiffany blue sleep mask.
And, Audrey darling; you have a long way to go before you have to worry about getting fat.
This, I believe, is the color of getting fat.
Of course, it's not a place that she needs…
Oh, I do hope that when she gets her life together, she goes and shops my hot sales for some beautiful new furniture!
Feeling sad has never felt like the color blue to me; quite the opposite, actually, which we'll soon see.
Mark Rothko
However, feeling blue, or the blues is prevalent in art and especially in music, as well.
uhhh… The Blues. Everyone knows that.
The blues have long been associated with a genre of music that evolved in the deep south after the civil war.
But, did you know that virtually all music today is a direct evolution of the original blues? Gospel, Spiritual, Soul, Rhythm 'n Blues, Jazz, Big Band, Rock (in all of its forms), Hip Hop, Funk, etc.
And, now, for a special treat related to the blues in music.
Most of you guys know that I love to mix things up sometimes when I find something classic of superb quality, I can't help but share it.
And, especially when there's a strong cross-over in artistic disciplines. I feel that it's all connected. Plus, classic can be from any time in history and is not reserved to strictly classical music, art and architecture.
Coincidentally, I recently discovered a fabulous radio show every Tuesday at 9:00 PM Pacific time. but (available online on Mixcloud.com) called Magnuson Blues Show on Space 101.1fm, (Best Blues, Vintage Soul, R'n'B, Gospel)
The exceedingly knowledgeable host, John Wooler, does an incredible job of introducing the pieces.
And, it's no wonder. John's 25-year career in the music industry includes working as a senior VP at Virgin Records for nearly 20 years as well as heading his own music production company where he discovered and launched the careers of many successful artists and bands. He has also taught music production at the college level.
And, he is a 26-time Grammy Award nominee with five wins!
Pretty impressive, right?
So, it's safe to say that John knows much about blues music. Plus, he has the most charming Scottish accent. :]
Here's a link to John's Blues (+ Vintage Soul, R'n'B, Gospel) radio show on Mixcloud.com which I'm enjoying listening to and learning about artists I've never heard of before. I highly recommend it. You can subscribe to the channel by clicking on the link.
It seems to me that the blues is really more about a catharsis of sorts; like a good cry.
I see the blues as a means to heal through music. If there was no healing going on, there would be no music at all.
But… that is also how I feel about the color blue. It is the color of healing.
In fact, many years ago when I studied acting in New York City, we had an exercise, amongst many where we imagined a healing blue light flowing through our bodies. Our teacher told us we could summon this say, at an audition to calm nerves.
The reason I'm going on about this is that a lot of us have preconceived notions about color, based on either what we hear or what we think we believe.
And, while some of you already love rich, dark blue paint colors, some of you might not be there yet. And, it's fine if you never get there. But sometimes it helps to think of old things in new ways, I find.
Here's what the color blue is to me.
Blue is infinity.
photo-Kyle Gregory Devaras – unsplash
Photo – Steve Halama – Unsplash
It is spiritual.
Markus Spiske via Unsplash
Dark blues are mysterious– enigmatic.
I love black and blue together (except when I hit my shins on my dishwasher door. haha)
@foemedia – Fabian Oelkers via unsplash
blue is calming
Blue is magical. Photo: via NASA. Pretty cool!
And Dramatic
No images of interiors today. But, there are dozens of images featuring rooms with deep blues in these and other posts.
Wonderful color palette featuring blue
Beautiful blue and white rooms with inspiring architectural features
Dark blue and black – gorgeous color scheme
Laurel?  Paint colors???
Yes, yes. :] Thank you for your patience. They are right here. All of these are by Benjamin Moore and are in the Laurel Home Paint and Palette Collection except for Hague Blue which is by Farrow and Ball.  To see the Benjamin Moore equivalents to Farrow and Ball, click here.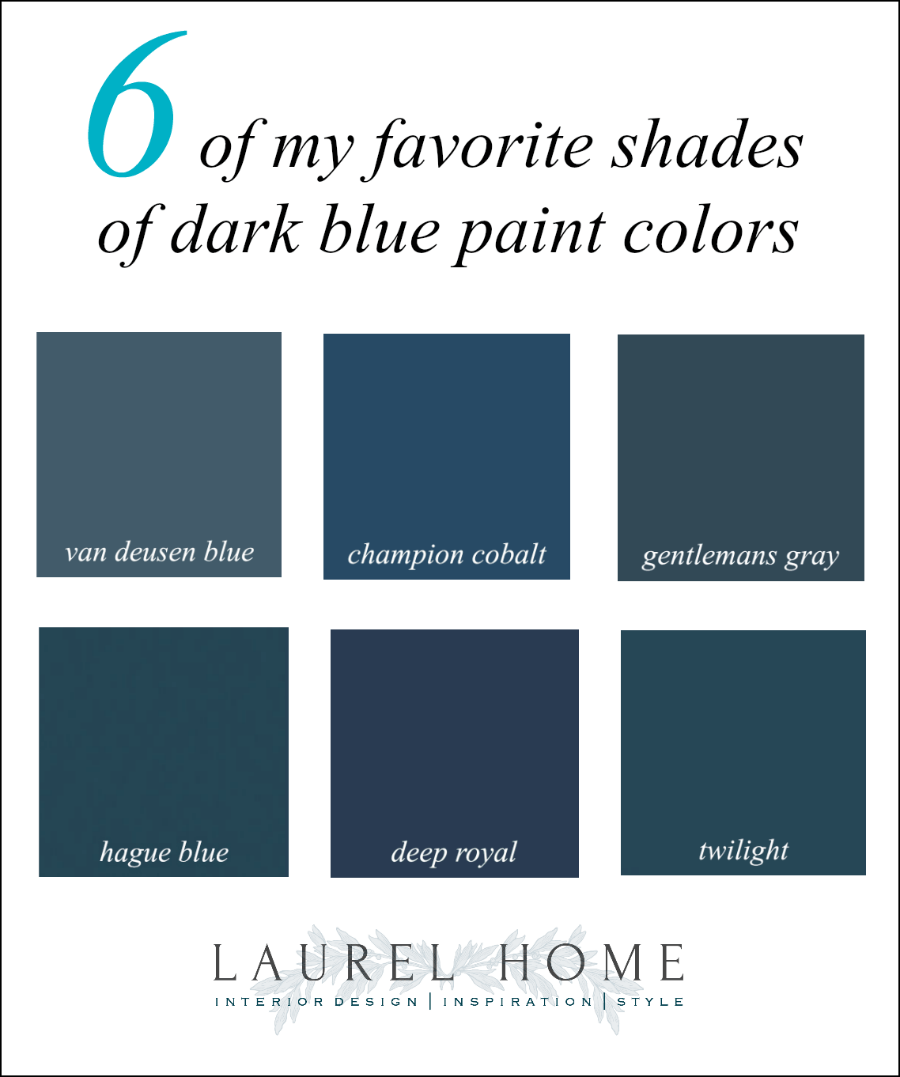 The blue section in the LH Collection is the largest with 18 shades from super pale to navy. Some may wonder why I did not include the popular Benjamin Moore color, Hale Navy.
This is why.
Three years ago before the paint collection came out, I was at the High Point Furniture market and that is when I saw Deep Royal at the Dunes and Duchess booth. Well, that was it for me. It is the perfect Navy Blue.
One thing you might notice is that most of the blues have an element of warmth to them. These are not quite teal, but heading in that direction. It's a personal preference. I suppose, I could've put in a nice indigo. (blue veering towards purple), but I didn't.
What are your best dark blue paint colors? Do you have any favorites? If so, have you used them and in what room(s)? Please share in the comments.
xo,