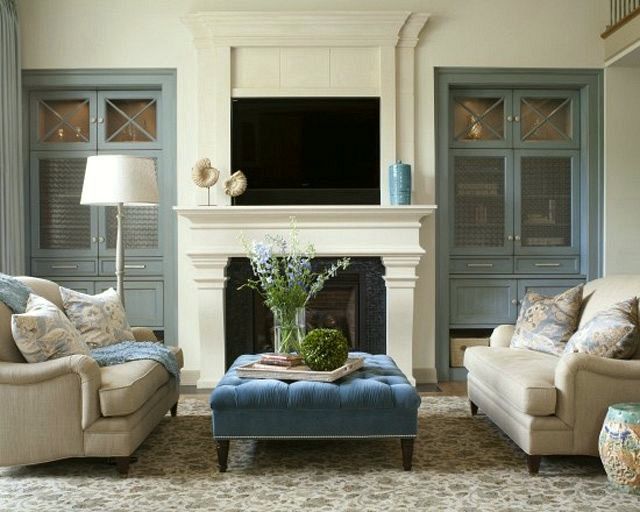 source unknown (love how you barely even notice the TV! brilliant!)
Remember the professor that I had at the New York School of Interior Design?
Mrs. E? You can read the story here, but if you don't feel like it, you may recall that she accused me of "improvising" my fireplace mantel decor. My response some 25 years later is…
soooooooooooo??? Oh, and I had actually put a LAMP on my mantel. She crucified me for that one. I am here to tell you, that I think that lamps on a mantel are way cool (as long as the mantel shelf is deep enough) as are sconces– an enduring classic and actually anything that you want to put up there… but…
Ideally, it should make sense within the decor of the room. Minimal room. minimal mantel. Crazy, quirky room. Crazy, quirky mantel.
(Sorry, I had the source for this, but lost it, but it's someone English. [I know that's extremely lame, but it's getting late]. This was actually one of the more tame rooms in the home! There's a part of me that kinda likes this because it's real and feels very personal and that to me, is a wonderful home! But yes, even so, that mantel is a bit too much, I think!)
Well, you get it. However, especially since the fireplace is usually the focal point of the room, there are some principles which I think will help you. If you heed these it will hopefully not make you feel like you are "improvising" when it comes to decorating your fireplace mantel.
fireplace mantel decorating ideas
it's not brain surgery– display what you love!
but do not over-crowd!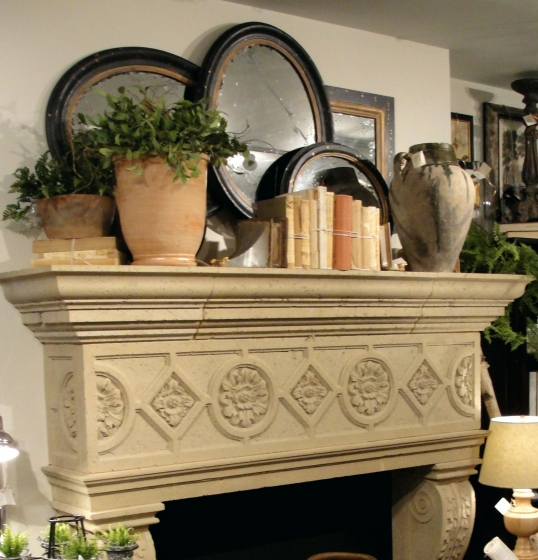 some layering is good, but this is over-kill! No?
too much going on here and too much stuff. (although, a lot of it, I love!) The clock doesn't work either, IMO
do not make overly symmetrical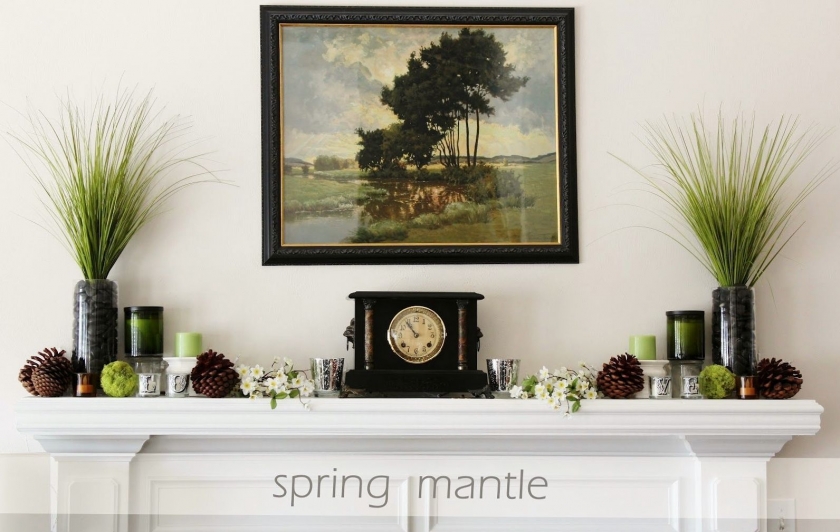 do not over-mix materials, such as glass, with pewter, with gold, with driftwood, with porcelain
less is always more
one fabulous mirror might be all you need
or one fabulous painting might be all you need
or one fabulous TV :]
OR maybe the mouldings will be so incredible, that you won't need anything else! (except lighting, of course!)
I did not credit those images  (above) because I don't want to hurt anyone's feelings. These are only my opinions and if you like the way they look, that is fine. (If other photos below are uncredited it is because I could not find the original source.)
Alright… here are my do's  and some wonderful fireplace mantel designs!
Here is one of my all-time favorite rooms. Everything about it is sheer perfection. It is the work of the incredible Alexa Hampton who has really come into her own in the last few years. If you don't already know, she's the daughter of the legendary, late Mark Hampton. Obviously, she inherited every ounce of his enormous talent!
Gil Schaefer
No need to gild this lily!
This room is by Sarah Richardson, a Canadian Designer who you may have seen on HGTV.  I love her rooms! They are always fresh, inspired, rooted in tradition, but with a slight twist which makes them very interesting. I love all of the architectural detailing and that she left the mantel largely bare. Perfect!
Fabulous room by  Hunter Barnes (sorry, I could only find their twitter feed)
I adore mercury glass!
and Venetian Mirrors!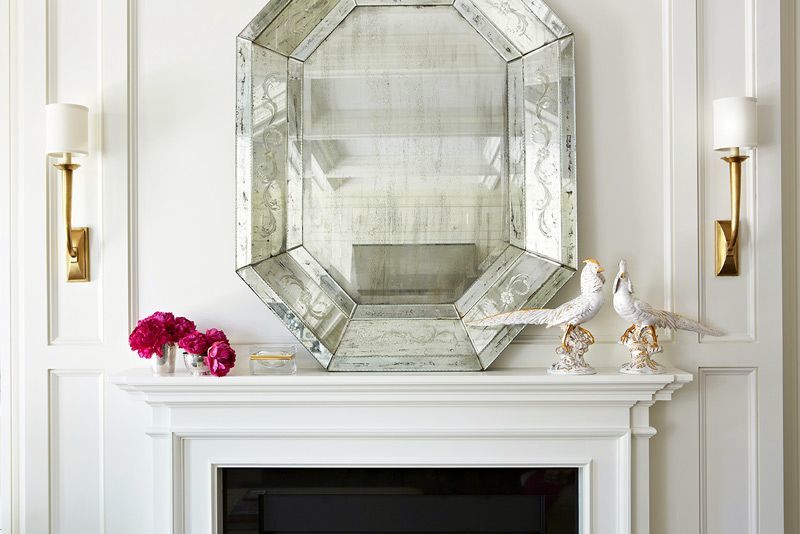 Detail and room above by one of the best there is, the  McGill Design Group
***Lamps on the Mantel***
Jessica Goranson via Lonny
Lovely styling with just enough layering
Love, love, love the murals and the simplicity of her mantel design by  Phoebe Howard
I love the mirror built into the mouldings and the entire feel of this sophisticated space.
Modern living room with one smashing piece over the fireplace by Charlie and Bunny Turner and Carmody Groarke Architects
A bit of whimsy is always a nice touch.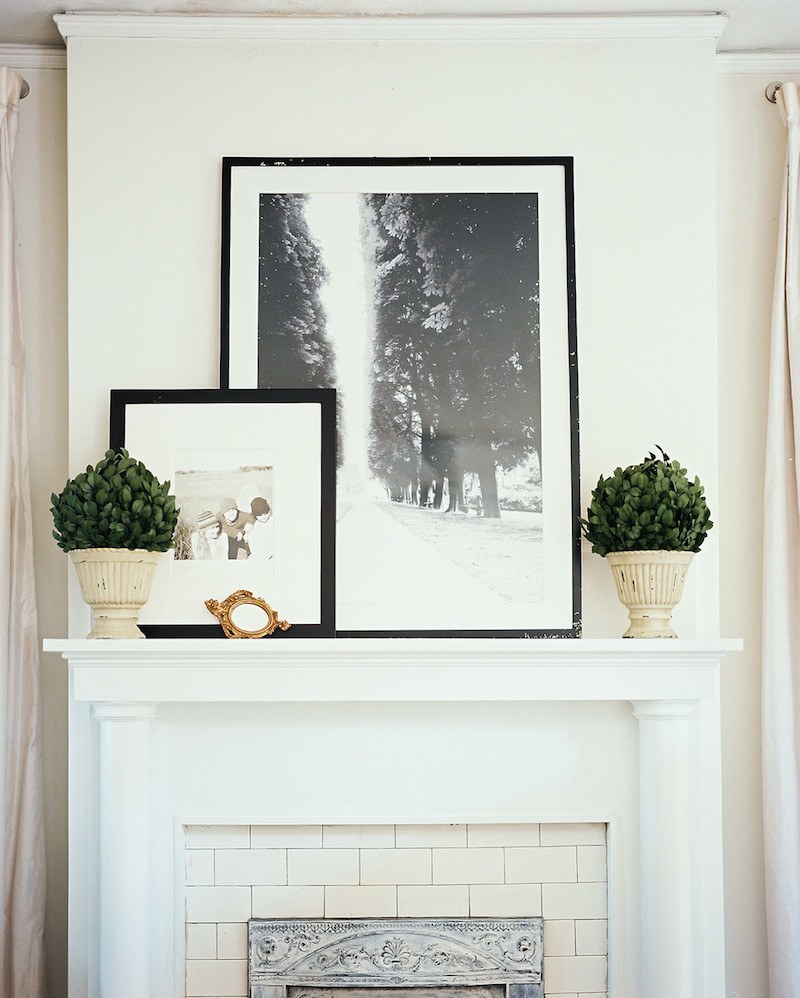 Simple, clean and fresh. It reminds me of San Francisco, for some reason.
Alright, I confess… the antlers might be growing on me. I dunno. I never use them, however, I don't mind them here. I adore everything that Michael Smith does. He's a true genius!
The team of Alexandra and Michael Misczynski are not only the most brilliant designers, but cleverly call themselves, Atelier AM
Another gorgeous Victoria Hagan design. Love the fireplace and the stone! oh, while I'm thinking of it. You know those awful, cheap, shiny brass thingy inserts you see so often? Ya know with the tacky doors that turn brown? Well, you can yank all that out!
This is one of my most popular pins on pinterest by Leta Austin Foster
New England Home Magazine  Fresh modern-traditional-New England style living room.
For more terrific fireplace mantel decorating ideas please click here, here, here, and here.
Well… that's all for now… Can't wait to dig my car outta the snow—- again. :/
xo,

Save