Dear Laurel,
I've noticed that you don't have a lot of posts about bedrooms. Is there a reason for that? Could you do a post and give some ideas for what you think are the elements that make for the most gorgeous bedrooms?
There are so many choices out there in terms of beds, linens, window coverings.
But here are other questions I have in my quest to create the best bedroom I can.
Should I do wall-to-wall carpeting (over a hardwood floor). Or, is it better to do an area rug?
Are dust ruffles passé? Oops. I guess we call them bed-skirts now.
What about the nightstands? Must they always match? And if not, what are the rules regarding that?
How do you avoid the matchy-matchy look with nightstands, dressers, bed, etc.?
What are the best bedroom colors?
OH, and lighting. Ack! Anything to know there?
I guess I'm being greedy if I asked if you could go over linens and bed-making?
Please help and I'd love to also see some examples of your favorite gorgeous bedrooms.
Thanks so much,
Beddie Rume
*******
Hi Everyone,
Gee? Anything else? haha.
Of course, over-the-top Beddie is an amalgam of many readers who've asked these questions regarding how to create a beautiful bedroom.
In a lot of ways, I think that most things we do in a living room can be translated into a bedroom.
That is, everything but the bed.
So, while I don't talk nearly as much about bedrooms, the posts where I discuss window treatments, tables, art, rugs/carpets and lighting mostly apply to bedrooms, as well.
However, there are a few differences. So, let's jump in and examine what I feel goes into creating the most gorgeous bedrooms. Plus, some common mistakes that folks make that can bring a bedroom design down.
Let's begin with area rugs vs. wall-to-wall carpeting.
I feel pretty strongly that if there's a hardwood floor in a bedroom that an area rug is preferable.
However.
After being in this business for over 30 years, I do know that a lot of people prefer wall-to-wall carpeting in their bedrooms.
I'm not going to argue with you in that regard. And, that's because I like to save my arguments for the really important things in life. Like, should I have decaf or regular coffee. :]
Point being. I'm totally fine with you having wall-to-wall carpeting in your bedroom. lol
And, I do like wall-to-wall seagrass carpeting in bedrooms. Actually, I don't mind you putting it in any room. I guess it's the stylish woven texture that makes seagrass so appealing. However, I do realize that a lot of people want wall-to-wall carpeting in their bedrooms because of the softness of it. Seagrass is not soft. But, it makes a terrific callous remover!
Okay, then. Let's say that you don't have a real hardwood floor in your bedroom.
It's a plywood subfloor and you have to have carpeting on top. You could do a sea grass rug and then layer it with a softer Oriental rug. Or, a flat weave rug, ala Mark D Sikes.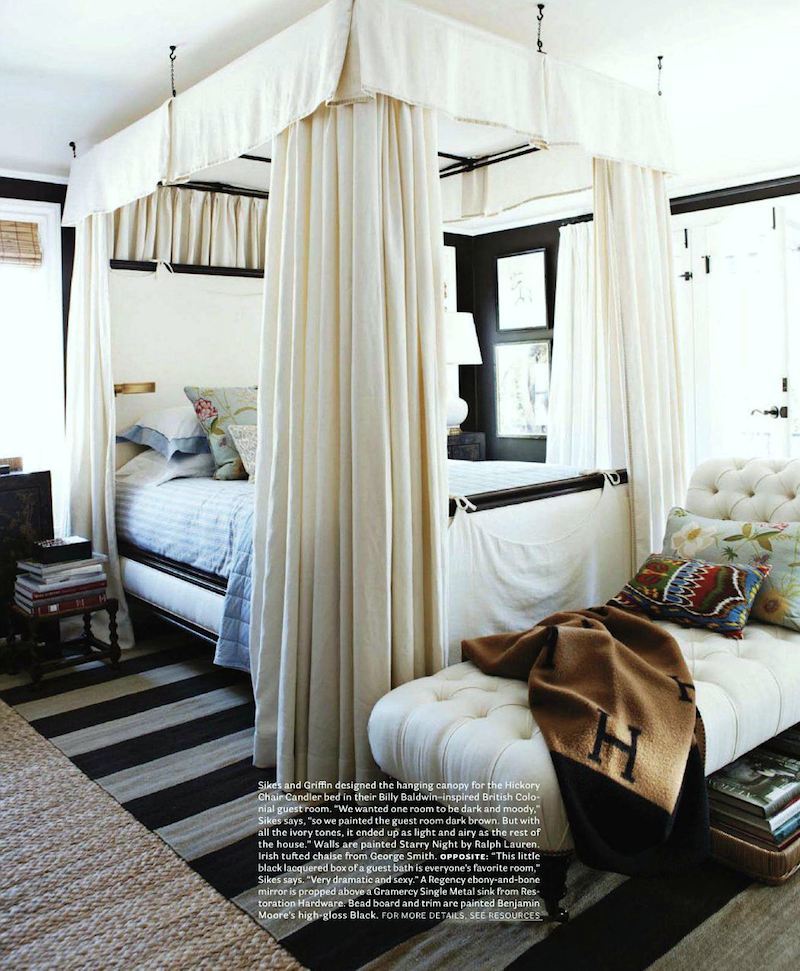 This is most likely a jute natural fiber rug. And, I don't know if it's wall-to-wall, but it gives you an idea of what I'm talking about. For more rugs layered over seagrass, click here.
Dust Ruffles – aka: Bed Skirts. Do Gorgeous Bedrooms have them?
Yes, absolutely! In fact, if you only have a metal frame, sometimes called a "Harvard frame," you have to have a bed skirt. That is unless you want to see the ugly metal frame holding up the box spring.
Below are some of my favorite bedrooms which show a bed with a bed skirt.
William T Baker architect – Suzanne Kasler interior design
Elegant, sophisticated bedroom. But all of Suzanne's designs are!
Veere grenney-photo-David Olive
This has to be one of the most charming small jewel-boxes of a bedroom ever!
For more of Rose Uniacke's gorgeous work, please check out this post about who will decorate Meghan Markle and Prince Harry's new home.
There are some beautiful ready-made bedskirts in the bed and bath sales page. The ones from Pottery Barn come in both 14″ and 18″ drops and are on sale right now.
Nightstands, must they always match?
Well, as you can see in Rose Uniacke's beautiful bedroom, no. However, if they don't match, I feel, like here, that they have to be quite different but complimentary to each other.
For instance. This board from the Laurel Home Paint and Palette Collection features a bedroom with mis-matched night tables. One, as you can see, is a desk. Usually, I prefer them to be within an inch of each other in height. That is, unless the lamps are also different. I've never actually done either of those when designing a bedroom. I prefer that they match each other.
I prefer symmetry.
How to you get furniture to coordinate to create a gorgeous bedroom, instead of something predictable and ugly?
Well, coordinating mismatched tables is an art. And, it also depends on the size of the bedroom and if there's a big closet nearby or not.  But, below, I'm putting in some bedrooms where I think they did a beautiful job of the mix of furnishings. And as it relates to the linens, colors and window treatments.
Amy Studebaker
I love the mix of furnishings in this charming country bedroom.
Wonderful design by Meredith Ellis via Traditional Home
Photograpy: Amy Bartlam and Ryann Ford
This is one of my favorite bedrooms – ever! You know, what always makes it for me is the Greek Key duvet cover!
The bedroom above and the two below are all by Mark D Sikes. Each one IMO, is sublime.
And what are the best bedroom paint colors?
Well, here's a link to a fairly recent post on that very subject.
Another topic that Beddie didn't ask is about four-poster beds and how to treat them.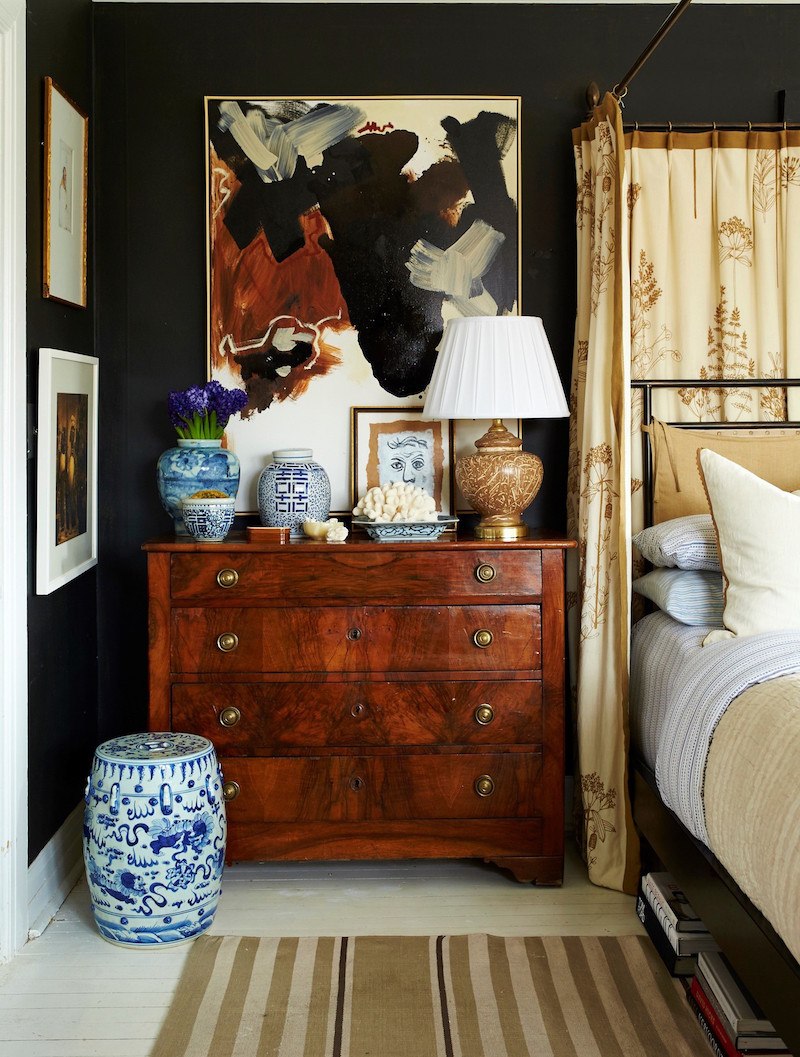 However, there are other four-poster beds on this post including the wrought one above in the old bedroom of young William McLure. He takes handsome to an all-new level.
To do any kind of bed hangings there must be at the very least be rails connecting the four posts. Usually, this system and there are many variations is called a tester, if you don't already know that.
Lighting a bedroom
The worst mistake and I've probably mentioned it before is the single (usually boob flush mount) light planted on the ceiling in the middle of the room.
The light is harsh and cold in and of itself.
If you move into a home and it's already there, you can keep it. There are some gorgeous flushmount and semi-flushmount light fixtures in the market place.
And sometimes it's good if you need to quickly flick on the lights before entering the room.
But, I recommend putting that light on a dimmer.
The rest of the lighting is really can come from table lamps, sconces/swing arm lamps and maybe even a floor lamp.
And actually, the lighting for a bedroom could be a post in and of itself because this post is an over view of elements to make for a beautiful, stylish bedroom.
There is an older post about bed linens here and some of my favorite sources.
For items on sale and also some other favorite ideas for bedrooms please check out the bed and bath hot sales page.
By the way. Occasionally, I get a little dig about promoting items for sale.
First of all. You don't have to buy anything! I am NOT expecting you to. Not at all! However, some readers love the links to products I like and especially the items that are on sale. It's impossible to please everyone. So, if you see something that doesn't interest you, please don't take it personally. Just keep going…
In either case, the hot sales widgets are also full of little bites of advice such as I saw this bed in person and it's wonderful. Or, I ordered this lamp for myself and the base is creamier than it looks here. Stuff like that.
As for HOW to make a bed?
Ahhh… haha! You're speaking to the wrong chica. While I know that some of you are expert-sheet-ironing-with-lilac-water-afficionados. Unfortunately, I was born without the sheet-ironing gene.  Sure, I can fake it if I have to. And, I can order the necessary components for my clients. But, living that way doesn't come naturally to me. Just being honest.
However, the Matouk brand of bed linens has put together this wonderful diagram.
1. euro sham
2. standard sham
9. fitted sheet
10. bed skirt
One Kings Lane has an extensive collection of exquisite bed linens by Matouk as shown above. You can also see in this post a display of them at the One Kings Lane store in SoHo, NYC.
If interested in see the collection, this link will take you directly there.
But only go there if that interests you. If it doesn't interest you, then I forbid you to look. ;]
If you should happen to see something you like, All of the Matouk linens will take the promo code: OKL20CARD. And, you'll get 20% off.
That is the promo code that I have nicknamed "Laurel's Private Sale." So named, because it's not advertised. It came on the back of a catalog I received last summer. Apparently, it still works. It doesn't work for everything. But it works for the entire One Kings Lane brand as well as others. AND, it works for everything in the vintage department.
20% off!
Some have mentioned that their promo code has maxed out.
If so, I have some suggestions. So, if you want help with that, please contact me through the contact link which you can access in the top menu bar.
You can find out here how to get early access above. Also, you'll see some of my favorite items in home furnishings and women's clothing and accessories.
In addition, there are some very nice linens, mattress covers, sleeping pillows, goose down comforters available. The best is that all are at Nordy's deepest discounted prices of the year.
***
In addition to some great sources, I hope this post gave some good ideas for ways to create your own gorgeous bedrooms!  I'm sure I've left some things out, so if you have any questions or thoughts, please let us know in the comments.
xo,